Jurassic World: Dominion Dominates Fandom Wikis - The Loop
Play Sound
Abigail Deveraux-DiMera
Days of Our Lives
Portrayed by
Megan Corletto (2001–03)
Jillian Clare (2003–04)
Ashley Benson (2004–07)
Emily Montague (2007)
Kate Mansi
(2011–16, 2018–20)
Marci Miller
(2016–18, 2020–22)
Current status
Former; Contract
Duration
1992–98, 2000–07, 2011–22
First appearance
October 19, 1992 (on DOOL)
August 1, 2019 (on ChabbyParis)
Last appearance
June 2022
Cause/reason
Murdered
Created by
Sheri Anderson
Introduced by
Ken Corday and Tom Langan (1992, 2000)
Ken Corday and Gary Tomlin (2011)
Ken Corday, Albert Alarr and Greg Meng (2016)
Spin-off appearances
Chad and Abby in Paris (2019)
Profile
Fullname
Abigail Johanna Deveraux DiMera
Nickname(s)
Abby
Abs (by J.J.)
Alias(es)
Abigail DiMera
Abigail Hernandez
(married names)
Gabby Hernandez
Dr. Laura
(alters)
Abigail Grayson
Namesake(s)
Abigail Grayson
(maternal great-great-grandmother)
Gender
Female
Born
October 19, 1992
(born onscreen)
Aged to 16
(2004)
De-aged to 20
(2012)
Aged to 28
(2019-20)
Age
29
Cause of death
Stabbed by an unknown assailant
Occupation
Reporter at The Spectator
Residence
DiMera Mansion
Salem, Illinois (at time of death)
Abigail Johanna "Abby" Deveraux DiMera is a character from the soap opera Days of Our Lives, and has also appeared on its web series spin-off Days of Our Lives: The Digital Series. The role has been particularly portrayed by Ashley Benson, Kate Mansi and most recently Marci Miller. She is the oldest child and only daughter of legendary super couple Jack and Jennifer Deveraux. She is the sister of JJ Deveraux and half-sister of Gwen Rizczech. She is the wife of Chad DiMera and together they have two children; Thomas and Charlotte DiMera and is one half of the supercouple Chad and Abigail DiMera also known as Chabby. She was born onscreen October 19, 1992.
On February 16, 2018; Abby was revealed to be suffering from Dissociative Identity Disorder, after she unintentionally killed her brother-in law Andre, and her alter calls herself Gabby Hernandez, based off of Gabi Hernandez. On March 1, a new alter appeared and she calls herself Dr. Laura, based off of Abigail's grandmother Laura Horton, and she is the gatekeeper, she watches over and protects Abigail and her other alters. On April 9, the alters finally integrated and Abigail finally took complete control.
Casting
Abigail was created by scriptwriter Sheri Anderson and executive producer Ken Corday. Abigail's story-lines often focused on young love and budding romances. She is a member of the high class, core family, the Horton's. She was often ritualized as the show's younger leading heroine during her time on the show and is known for her popular fan pairing with Max Brady, which spanned from 2005 to 2007, when her character left for London, England, to be with her parents. The character returned to the series in March 2011.
The role of Abigail Deveraux was originated by Meghan and Michael Nelson on October 19, 1992, who shared the role until December 8, 1994. Paige and Ryanne Kettner took over on December 20, 1994, until December 27, 1995, in a recurring capacity. The Kettners were contracted to appear as Abigail, their run started on January 16, 1996, and ended on June 5, 1998, however they returned on October 13, 2000, and had their final run end on January 2, 2001. Megan Corletto portrayed the role of Abigail from January 31, 2001, and remained until May 27, 2003. She was replaced by Jillian Clare from August 28, 2003 to June 24, 2004.
On October 31, 2004, it was announced that the character would be recast and rapidly aged to a teenager with fifteen-year-old actress Ashley Benson signed on to appear as Abby, she first appeared on November 12, 2004. Benson remained with the show for three years until her departure from the soap on May 2, 2007.
In 2010, it was reported that the character of Abby would be brought back to the canvas. In December 2010, it was announced the newcomer Kate Mansi would resume the role of Abigail. Mansi first aired on March 2, 2011.. In January of 2016, Mansi confirmed that she was leaving the show.[1]
In January 2016, it was revealed that Mansi will be exiting the show; she last appeared on June 24, 2016.[2] In June 2016, Soap Opera Digest broke the news that newcomer Marci Miller had been cast as Abigail. In the November 14, 2016, issue of Soap Opera Digest, it was confirmed that Miller would make her first appearance as Abigail on November 10, 2016.
On May 9, 2018 it was announced that Miller chose not to renew her contract and will be exiting the show sometime in the coming months. It was also announced that former Days actress Kate Mansi will return to play Abigail first appearing sometime in the summer.[3] On October 30, it was revealed Marci Miller's last date as Abigail is on November 19.
Mansi returned to the show on November 29.[4] Her last airdate will be on February 21, 2019.
On May 5, 2019, it was revealed that Kate Mansi will reprise her role as Abigail Deveraux this fall, a long with her onscreen partner, Billy Flynn.[5]
On July 29, 2019, it was revealed that the NBC soap opera is getting an original companion series, Days of Our Lives: The Digital Series. The first season premieres on Thursday, August 1, on The DOOL App with the eight-episode arc "Chad and Abby in Paris." Billy Flynn and Kate Mansi will return to their iconic roles as Chad and Abby and we will see what they're up to in France before they return to Salem and Days of Our Lives this fall.[6]
In October 29, 2019, it's been confirmed on TvInsider that Chad and Abigail are set to return to Salem on November 11.[7]
In June 18, 2020, it's been confirmed on Soapoperanews, as Kate Mansi recently wrapped her on-screen run as Abigail DiMera, on May 27, the news is now circulating that Marci Miller who stepped into the role after Mani's original five-year run, will be returning. So far details are limited. There is no word yet if this will be a long term return or something temporary. No air date has been revealed yet, please stay tuned for updates.[8] It's confirmed that Marci Miller will be returning as Abby DiMera following Kate Mansi departure in May 2020.[9]
Marci Miller returns on September 4, 2020.[10] In September 30, it's revealed that Marci is now on contract.[11]
In June 2022, Miller departs the series when the character is murdered. She will last air sometime in June 2022.
Storylines
The elder child of Jack and Jennifer Deveraux, Abby was very loved by both of her parents. Jack delivered her at an abandoned cabin when his and Jennifer's car went off road. As an infant, she came down with aplastic anemia, as the result of a polluted water well. She desperately needed a bone marrow transplant, and because of Jack's Hodgkin's he was not able to donate to her, but luckily her mother's friend and co-worker Austin Reed was a perfect match. Abby was barely out of the woods when Jack, who discovered he was responsible for her anemia, took off. Before long, Abby was starting to associate Jennifer's new boyfriend Peter Blake with fatherhood, but Jack soon came back into her life. After a series of misadventures, (including her father going to prison and her mother being presumed dead), Abby and her family left Salem for Africa.
A few years later, Abby and her mother were living in Ireland, but returned home after encountering her honorary uncle Bo Brady there. Abby was thrilled when Jack followed not long after that, and began hoping that her parents would find their way back to each other, despite her mother's relationship with Brandon Walker and Colin Murphy. She was overjoyed when her parents were married, but devastated when, not long afterward, her father was murdered by the Salem Stalker. When Jennifer had to make the decision to take Jack off life support, Abby blamed her, and turned to her grandmother Jo and honorary grandfather Vern for comfort. Her emotions seesawed for a few months (she was happy when her mother got pregnant, angry when her mother considered terminating the pregnancy for health reasons), but eventually she started accepting the way things were, and with new friend and Deveraux boarder Patrick Lockhart, is eagerly anticipating her new sibling's birth.
Abby was away at camp when Jennifer decided to take off and go looking for Jack. When she returned home, she resented the fact that her mother had sent her away. Even though she was happy to meet her new brother, when she realized that her father was (once again) presumed dead, she blamed her mother, and wished that Jennifer was dead instead of Jack. Jennifer started rebelling from her mother after she came home with her new baby brother, Jack Jr., and spent a lot of time with her new friend Chelsea, who was pretending to be sweet and kind around Jennifer but was really a bad influence on Abby. She even had Abby going alone with her in her plans to drug Patrick so that she could sleep with him. When Jack finally came back from the dead for real, though, Abby was thrilled, and although still close friends with Chelsea, her closeness with her family changed Abby somewhat. Abby was devastated to learn that her father, Jack, was dying and that she would soon lose him again, but Chelsea was there to offer comfort to her friend.
Abby was overjoyed when things turned around for Jack, and he went into remission again. Shortly thereafter, though, Jack and Jennifer announced their plans to move to London. Although Jack Jr. went with their parents, Abby elected to stay in Salem and finish school, and shortly thereafter, as a university student, began working at Max Brady's garage. She soon developed a crush on Max, who at the time was back and forth between Chelsea and Stephanie, but when he broke things off with Chelsea and Stephanie left town, Max admitted that he had feelings for her as well, the two began to see each other, much to the dismay of Abby's family, who thought Max was too old and too experienced for Abby. When Abby's relationship with Max proved to be too difficult, she left Salem to attend school in New York.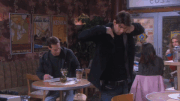 Abby returned to Salem in 2011 to be with a newly-single Jennifer. Abigail had a hard time dealing with her parent's divorce and the fact that her dad had walked out on the family. But, she wanted her mom to be happy. Abigail reluctantly supported Jennifer's relationship with Daniel Jonas, despite how much Abigail was hurting from missing Jack. On March 3, Abigail met Chad DiMera, They began slowly dating, but Abigail remained concerned about getting romantically involved with Stefano DiMera's son, especially after he decided to move into the DiMera mansion. The DiMera's and the Horton's were also apprehensive about Chad and Abby's relationship.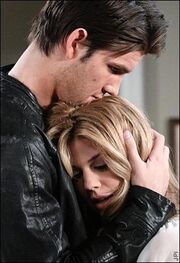 In August 2011, while on a date with Chad, Abby met Charles Woods, the man that Chad had called his father before he found out Stefano was his father. Abby saw first hand how Charles treated Chad, and later comforted Chad after Chad rejected Charles attempt at making amends. Soon after, Chad was shot in the shoulder by a Kiriakis henchmen, who was retaliating against Stefano. Chad decided to cut ties with the DiMera's, and moved out of the mansion
In September of 2011, Jack suddenly appeared back in Salem. Abigail was furious with her father for leaving them without saying anything, being out of touch for a year, and then suddenly reappearing. It turns out that Jack had gone to Afghanistan to investigate a story about a drug ring without telling his family where he was going. While he was there, he was kidnapped, tortured, and held hostage. Abigail felt bad for the suffering that her father endured, but still had a hard time forgiving him for leaving without telling anyone.
Chad was there for Abigail through Jack's return and the two grew closer, both personally and professionally. Abigail contributed articles to Chad's website, SalemSportsFan.com, and even won a journalism award for one of the columns that she'd written. Things went well until Chad started noticing that he had more in common with Abigail's best friend, Melanie; and Abigail realized that she was starting to have feelings for the much older, Austin.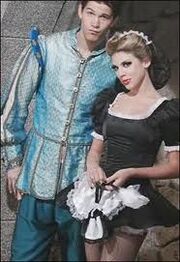 On Halloween, Abby and Melanie both wore make outfits, and Chad ended up kissing Melanie thinking she was Abby. Abigail and Chad made the mutual decision to break up on New Year's Eve 2011. A few days later, Abigail caught Chad and Melanie looking very close and realized that the two of them had feelings for each other. Abigail was furious at both of them, especially Melanie. Despite Melanie's offer to give up Chad, Abigail could not forgive Melanie. Abigail turned her attention towards Austin. Thanks to a work-study element of her financial aid, Abigail was required to have an on-campus job. Austin offered her the position of his student assistant. Abigail was thrilled to work so closely with Austin and frequently fantasized about him returning her feelings.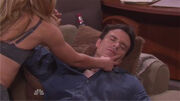 Abigail also applied for an intern with Madison James at Mad World Cosmetics. Madison hired Abigail and offered her a job as a model in her ad campaign that featured real-life best friends. The only condition was that Melanie was the other model. Thus, unless Melanie and Abigail could mend their broken friendship, they could not be in the ad campaign. However, as Abigail grew more obsessed with Austin, she forgot about Chad and even told Melanie that they could be friends again. A few days later, Austin appeared back in his officer, completely intoxicated. Abigail was there. She tried to comfort him. He told her that Carrie had betrayed him. Abigail kissed him. He told her to stop. She reassured him that it was okay and kissed him again. Then, Austin passed out on the couch. Abigail took her clothes off and lay down next to him. When he woke up, Abigail told Austin that they had slept together. Horrified, Austin went to make things better with Carrie. When Abigail saw Austin kissing Carrie later, she was heartbroken. When Austin came to her and wanted to fix their marriage, Carrie agreed to give it a try. The two of them went away for a romantic weekend. But, a heartbroken Abigail tracked them down. When Austin refused to return her feelings, Abigail announced that the two of them had slept together. Carrie was furious with Austin and left.
Abigail believed that she and Austin were meant to be together. While ranting to Melanie about her love for Austin, Abigail let it slip that the two of them did not slept together. Melanie urged Abigail to tell the truth. Abigail confessed to Austin that she had made up the whole affair. Carrie, Jack and Jennifer overheard her confession. Carrie slapped Abigail and accused her of ruining Carrie's life. Despite Jack and Jennifer's protest, Carrie insisted that Abigail was an adult and must be held accountable for her actions. Carrie left the Town Square in tears. Austin chased after her. Jack and Jennifer comforted Abigail. She swore that she would never do anything like that again. Abigail spent her time hanging out with her friends and trying to forget the embarrassment of her lie about Austin. One day, she bumped into a handsome stranger, Cameron Davis - Lexie's half-brother. The two began a flirtation that soon turned into a relationship. Her relationship with her father improved as well. He worked with Marlena and a support group to recover from PTSD. Eventually, he was able to open up to Abigail about it and she soon forgave him.
In July 2012, Abigail and Cameron attended a memorial/autism fundraiser. However, there was a great explosion that night in the tunnels underneath Salem. Many buildings were damaged, including the banquet hall where Lexie's benefit was being held. Abigail was trapped in the elevator.
Jennifer, Jack, and Cameron worked to get Abigail out. When they were able to pry the doors open a little, Jack went into the elevator to rescue Abigail. But, the elevator cables continued to break. Cameron and Jennifer were able to open the doors again and Jack pushed Abigail out. Then, the doors closed and the final cables broke. The elevator crashed with Jack inside. Roman reported that the EMTs pronounced Jack dead upon impact. Heartbroken, Abigail and Jennifer traveled to London to be with J.J. They returned a few weeks later after his memorial service. Heartbroken by her father's death, Abigail threw herself into her relationship with Cameron. But, when Cameron felt that Abigail was trying to deal with her grief by wanting to have sex with him, he broke things off with Abigail. He went on a few dates with a woman named Emily, but that relationship did not last. Soon, he got back involved with Abigail. Abigail was embarrassed when Cameron found out that she had been a member of the "Golden Circle" club in high school -- a group of kids who promised to wait to have sex until they were married. But Cameron assured Abigail that they could take their relationship at her pace.
But, Cameron was still keeping a secret from Abigail. He was working a second job as a stripper to make money to pay off one of Celeste's debts. When Abigail found out about it, she was shocked, but more concerned that if Anne Milbauer from HR found out about it, she would have Cameron fired. So, Abigail arranged for Anne to be present on a night when several of Salem's men (Rafe, Cameron, Daniel, and Brady) would strip to raise money for a new wing at the hospital. When the hospital board heard how much money was raised, they dismissed Anne's objection. But, things weren't perfectly smooth for Cameron and Abigail, as Chad had since made it known to Abigail that he was interested in her too. Both guys agreed to give Abigail the time to figure out which guy she wanted to be with. On the Fourth of July, Chad fell and hit his head, causing Cameron to insist that Chad have it checked out. When Cameron looked at the scans of Chad's head, Cameron told Chad that there was an indication of a brain tumor and urged Chad to see a specialist.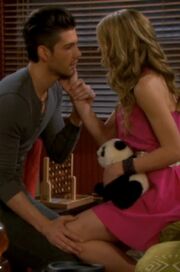 Chad got a clean bill of health, but told Cameron that he did have a brain tumor. Cameron backed off Abigail and urged her to spend more time with Chad. Abigail and Chad grew closer and Cameron went on a few casual dates with Gabi. But when Chad got shot and went into emergency surgery, EJ was forced to come clean and let Cameron know that Chad wasn't on any drug protocols because Chad didn't have a tumor. Cameron told Chad to come clean with Abigail. Chad moved forward with her, taking her on several dates. When Abigail had trouble with her family, she leaned on Chad for support and their relationship became serious. Chad was able to track down and advanced copy of Jack's book and gift it to Abigail. The two continued to grow closer and they ended up sleeping together. Abigail was extremely happy with Chad and began accompanying him to family events.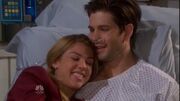 On the night of Sami and EJ's engagement party, for which Chad served as best man, Marge Bernardi came into the party and tried to shoot EJ. Chad jumped in front of the gun and took the bullet. Abigail fell down at his side and tried to stop the bleeding with her hands. When Chad was rushed to surgery, EJ was forced to tell Cameron that Chad didn't have a brain tumor and was not on any type of treatment drugs. Cameron was mad at Chad and urged him to tell Abigail the truth. While Chad's surgery was a success, the doctors found an abnormality with Chad's heart that required immediate surgery. The best doctor was in Boston, so Stefano made plans to fly to Boston with Chad for the second surgery. Before he left Chad came clean with Abigail. She broke up with him, deciding that this wasn't the best time for them to be together. Then, she went to confront Cameron about turning her over to Chad without a fight. Cameron tried to apologize, but Abigail was furious. A few days later Cameron got a job offer from Doctors Without Boarders. He accepted the position and left Salem. After Chad's surgery, he called EJ to tell him that the surgery was a success, but to let Abigail know that he wouldn't be coming back to Salem.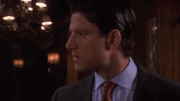 In 2014, EJ DiMera, Chad's older brother and Abigail were getting close and in January, 7 they began having an affair that lasted till March. EJ was desperate to keep the secret of the affair a secret to his then fiancé, Sami Brady. Soon the affair was exposed, and Sami was determined to make EJ and Abigail suffer. She eventually started dating Ben Weston.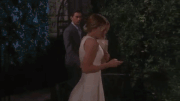 In September 12, 2014, Chad returned to Salem and upon seeing EJ,he punched him for sleeping with Abigail after finding out about their affair in Will's article. Chad reconnected with "T", Will (Guy Wilson), Sonny, and Abigail, whose feelings for him had resurfaced once more. He does not like the fact that Abigail is dating Ben Rogers (Justin Gaston, Robert Scott Wilson). He tried to get Ben fired from his club by accusing him of stealing but Sonny disagrees with Chad. Chad charmed Abigail and soon became interested in Ben's sister Jordan Ridgeway (Chrishell Stause). Chad and Jordan began dating, but they soon broke up.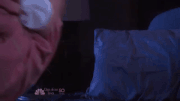 Jordan soon after leaves Salem after receiving a new job opportunity. After Jordan leaves Salem, Chad went back into pursuing Abigail, but, his life got changed once more when he discover his adoptive sister Kristen was killed, and now know that he was the last child in the family. In June 3, 2015, Abigail cheats on Ben and sleeps with Chad. Chad tells Abigail that he was just using her to get revenge on what happened with EJ, but the truth is he is still in love with her and wants to protect her from his father.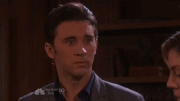 Abigail becomes pregnant and the father is revealed to be Ben after Ben's father, Clyde Weston threatened the doctors facilitating the paternity test. Chad is disowned by Stefano and, depressed, goes to a bar where he meets Serena Mason. Serena rejects his advances and Chad drunkenly goes after her, waking up the next morning without any memory of anything that happened after he left the bar and soon finds out he's the prime suspect after Serena is found strangled by the "Necktie Killer" in the park. Abigail sticks by him even though she's still with Ben. After the murder of Paige Larson and when Dr. Marlena Evans is attacked when she's unable to help Chad remember what happened the nights Serena and Paige were murdered. After Will was killed, Chad realized it was Ben who was the Necktie Killer he confronted him and they got into a fight that ended with Chad entering into a coma. Abigail continues to believe in him, despite Ben claiming Chad attacked him. Chad was taken into custody after he woke up and continues to be convicted of the murders.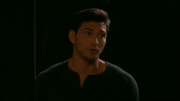 While getting ready for Hope Brady's wedding to Aiden Jennings, Abigail tells her mother that Ben is acting weird, which Ben overhears. She soon finds pictures of Chad on his phone, many pictures of him and she realizes that he was stalking him. When Abigail suggested to give this to the cops to clear Chad's innocence, Ben admits to being the Necktie Killer and to framing Chad. Abigail tries to get him to get help from Marlena but he refuses. Then when Abigail tries to get away he goes barking mad and knocks her out and takes her to an abandoned cabin in Mammoth Falls and handcuffed her to a chair so she couldn't escape. Abigail tried to escape a few times but failed.
Chad is released after Aiden Jennings attacks Hope Brady on their wedding night and he is believed to be the "Necktie Killer." Chad goes to Abigail and Ben's apartment to thank Abigail for believing in him, but Ben (who is the real killer) makes him leave threatening to call the cops. Abigail, who Ben is keeping hostage in a cabin in the middle of nowhere, is forced to call Chad and tell him that she's done with him, she is able to communicate with Chad that she's in trouble without Ben knowing. When Chad found out that there was something wrong he asked Rafe Hernandez to help find her and after some arguing Rafe agreed. The police tracked Ben and Abigail's location and Chad went looking for them.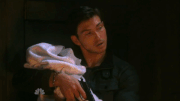 A little while later, she started getting pains which she thought were cramps but they later turned out to be labor pains. Abigail gave birth to a healthy baby boy, thanks to a midwife named Wendy Taylor who was killed by Ben after she helped in giving birth to Abigail's son.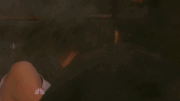 Soon after, Chad arrives at the cabin, but Ben knocks him out and ties him and Abigail to the bed, setting it on fire and leaving with Abigail's premature son. Chad is eventually able to get himself and Abigail free and he carries her to safety. They are found by the police and Chad and Abigail were returned to Salem. Ben was arrested for the murders thanks to JJ and Lani and Abigail testified and revealed to the police all of Ben's actions. He was put in a jail cell with 24 hours suicide watch over him.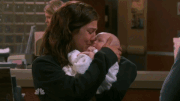 Stricken over the disappearance of her son, Chad and Abigail's brother JJ Deveraux go back to Mammoth Falls, where Abigail was being held hostage and find her son at a motel and then reunite them at the hospital in Salem. He was named "Colin" by Ben but Abigail wanted her son to have his own name and so she renamed him Thomas Jack Deveraux, after her father Jack Deveraux and great-grandfather Tom Horton.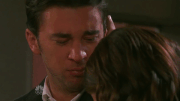 Afterwards, Chad and Abigail start to plan their future together. Abigail revealed to Chad when she first started dating Ben she knew deep down in her heart that she couldn't really be in love with him for she never stopped loving Chad even to this day she still never stopped loving him vice versa with Chad. Chad is later hypnotized by Marlena but is brainwashed by his older brother, Andre DiMera, after he hijacks the session, to do the family bidding and get close to Belle after Sami stole the DiMera fortune. He is also forced to break up with Abigail.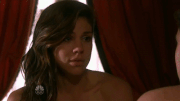 On New Years Eve, after Thomas gets sick it's revealed that Chad is his father, not Ben. He and Abigail eventually get engaged. Weeks later, Chad buys the DiMera mansion, and he and Abby move in with their son, Thomas. Chad was later shocked that his father has been murdered. Andre claims that Hope killed Stefano, and Rafe helped her cover it up.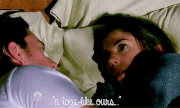 Chad doesn't believe Andre, and refuse to help him after he has been arrested for Stefano's murder. On Valentine's Day morning, Chad and Abigail Vowed to each other that "A Love Like Ours Comes Once In A Life Time." Chad and Abby plan their wedding, but Chad then learns that Ben has escaped custody.
On their wedding day, Abby sees Ben outside the window and lets out a blood curdling scream. After it's determined that Ben is nowhere on the property, Abby and Chad get married and in their vows they both declare that they are everything to each other, along with their son and promise to love one another forever. Abby continued to be haunted by Ben even on her honeymoon with Chad. When they get back to Salem, Abby hallucinates seeing and interacting with Ben. "Ben" even picks up Thomas and goes to leave orb him. Abby shouts at Chad and JJ to stop Ben, but they don't see him there.
Abby continues to have hallucinations of Ben until the real one shows up. In April 7, Ben broke into the DiMera Mansion, and in the living room he confronted Abigail and made it clear to her that he wants her and "their" son back. Abby gets Ben to drop his guard by lying about Chad abusing her, and then seducing him. Abby seduced Ben by lying about Chad abusing her, and then he was taken to her bedroom where she continued to seduce him till she stabbed him in the shoulder with a pair of scissors, and then knocked him out with a lamp. Chad calls her to check up on her, Abigail doesn't tell him that Ben is at the house instead she decides to take care of Ben herself and tells Chad to pick up some groceries so he wouldn't interrupt what she's about to do to him.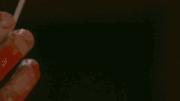 Abby tied him to the bed, and woke Ben up just so she could taunt him. Abby struck one match after another which terrified him since he slowly began to realize what she was gonna do. Ben told her that even if she killed him, he will always be with her, though Abigail was not worried as she believed she was doing a public service. Without hesitation, Abby lit Ben on fire. Chad arrived and put out the fire. Ben was burned heavily in his legs. Despite the pain, he tried to make his escape but Chad knocked him out and gave him a busted lip. Abby was furious with Chad as she wanted Ben to die. Ben got arrested and was condemned by the District Attorney Justin Kiriakis to be sane enough to be sent to a Maximum Security Prison.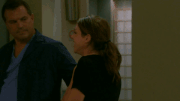 Later on, Abby overheard Chad and Marlena talking about admitting Abby into a mental institution, and Abby took Thomas and fled to a motel. Chad and JJ found them, and talked Abby into returning home. When Abby couldn't calm Thomas down, but Chad was able, Abby realized she needs help, and agreed to go get help. While being evaluated at the hospital, Abby had a nightmare about Ben. "Ben" told Abby now that he knows she doesn't love him, she has to die, and Abby woke up alone and afraid.
Abby eventually requested that Chad no longer visit her, but in June, Abby was injured in a fire. Chad went to see Abby, who insisted that Ben was there. In Abby's mind, she could still see Ben. Chad was horrified and confused that Abby seemed to be getting worse, not better. Chad got even more bad news when he learned that Abby was the one who set the fire. As Abby slept, she remembered seeing Ben again. Abby opened a drawer in her room that had a lighter and can of gas, which Abby used, hoping to rid herself or "Ben" for good. Then, Abby imagined that Jack had appeared and dragged her out of her room, before she got too injured. When Abby woke up, she declared that she wanted to leave, and Chad agrees to help her escape.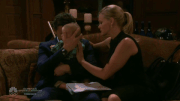 Abby disappears, and Chad pools all his resources into finding her. JJ and Jen wonder if Chad broke Abby out, and is hiding her, but Chad swears he isn't. Andre offers to help if Chad bequeaths him an old safe house of Stefano's outside of town. Andre claim he found a letter. Chad reads the meter and becomes convinced Andre has Abby. Andre denies the accusation, but tells Chad he lied when he said that he found the letter. Andre says he saw Abby, and she gave him the letter. Chad still doesn't believe Andre, and leaves. Chad later decides to get close to Andre to find out if he does Abby. Andre claims Abby died in a plane crash, leaving Chad devastated. As Chad spirals more and more out of control, Jen decides to sue a had for custody of Thomas, believing he can't take care of Thomas. Chad hires Belle as his attorney, but eventually realizes he is in no shape to take of Thomas while he is grieving Abby, so he decides to give up custody. Jennifer also realizes she can't take of Thomas, so the both of them decide to let Thomas stay in the DiMera Mansion with Lucas and Adrienne helping Chad raise him.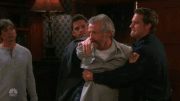 Later in September, Clyde Weston escaped prison and made his way to Salem where he had every intention of kidnapping Thomas, who in his delusional mind believed should be Ben's son, even though he knows he isn't his, and reunite him with his "deranged serial killer of a son" believing it will redeem him for the abuse that he had done to Ben as a child. However, his plans had been foiled by the DiMeras and with the help of Adrienne and Lucas, he was arrested once more and sent back to prison.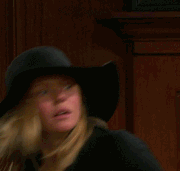 In November 2016, Abby returns to Salem after faking her death with Andre's help, and being cared for by Laura. Abby goes to see Thomas and runs into Andre at the mansion. Abby hides when Chad comes home, and waits until he leaves before she comes out of hiding. Andre promises Abby he won't tell Chad she has returned to Salem. Abby briefly holds Thomas, before leaving the mansion.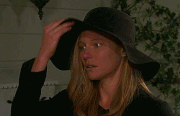 Abby reveals herself to Jennifer, and explains why she ran away. She hides out at home with only Jennifer knowing she is alive. When Andre comes over to talk to Jennifer, Abby attempts to run. Andre catches her, and to Abby's surprise, Andre encourages Abby to reveals herself to Chad, and reclaim her life. Andre goes to take Abby to the mansion, but they see Chad at the square. Abby attempts to run, but Andre stops her, and tells her it is fate. Abby slowly approaches Chad, but then runs away when she sees Gabi come up to him. Andre catches up with Abby, and advises her to take some time to think about it. He gives her an untraceable phone to call him anytime she needs to.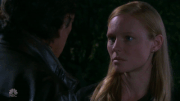 Abby hides out in the attic at Jennifer's, and is eventually discovered by JJ, who is happy to see his sister alive, and agrees to keep her secret. Andre continues to push Abby to reveal herself. Abby sees Dario Hernandez down by the docks, and blackmails him into keeping her secret using his illegal activities as leverage. Abby sees Chad talking to a memorial for Abby in the park, and she has a panic attack and runs into Dario, who comforts her.
Abby meets with Andre, and tells him she is finally ready to reveal herself and reclaim her life. Andre goes with Abby to present her to Chad, but they walk in on Chad and Gabi as they are passionately kissing. Abby runs off, and starts to have a panic attack. Andre catches up with her, and assures her that Gabi is just a distraction, and Chad will drop her when Abby reveals her. Abby thinks the best thing for everyone is to leave Salem for good. She thanks Andre for his help, and says that despite his initial motive for using Abby to get back into Chad's good graces, she believes he wants them both to be happy, and asks him to respect her decision. Abby says goodbye to Jennifer and is all set to leave Salem. Andre has Abby meet him and tells her if she won't tell him she is alive then he will. Abby threatens to tell Chad about Andre's involvement, and Andre backs off. Abby goes to say good bye to Thomas and Chad sees her.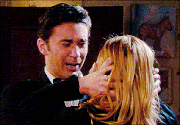 Chad is shocked and relieved to know Abby is alive, but wants to know where she was. Abby explains everything to Chad and he is frustrated and shocked by Abby and Andre's actions. Abby says Chad has every right to hate her, but Chad yells he doesn't hate her, but doesn't understand how she could do this. Thomas wakes up and starts crying, and Chad asks Abby if she can be a mother for Thomas.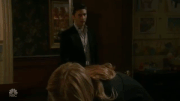 When Gabi arrived at the mansion the next day, Abigail revealed herself and she explained that she had recently seen Gabi and Chad kissing in the mansion. Despite knowing that she had no right to be upset, Abigail couldn't help wondering on how long has that been going on. Gabi realised that Abigail was the one who had told J.J. about the kiss. Gabi explained that they both thought she was dead and wondered how long Chad was supposed to wait and if they had any idea that she was alive it would never have happened. Abigail wondered if Gabi was sure about that.
Before Gabi could respond, Chad returned and told Abigail to stop, stressing that it isn't Gabi's fault. If there is someone to blame it was herself. J.J. arrived as Gabi was exiting the study. Abigail explained that she had begged J.J. not to tell anyone that she was alive, prompting Gabi to wonder how Dario had found out. Chad was shocked that Dario knew she was alive. Meanwhile, Gabi agreed to go somewhere else with J.J. so they could talk privately. Before leaving, she gave Abigail another hug, tearfully declaring, "Seeing you is the best Christmas present." After Gabi and J.J. left, Abigail turned to face Chad. He wondered if he was supposed to just pick up where he had left off with her and pretend that the last few months had never happened. She believes its possible but he's not sure if its possible.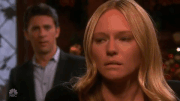 Chad wondered if she knew what it was like to live without her. Abigail stressed that she was sorry for what she had put him through. He believed her but insisted that things could have been much different if she had just allowed him to help her. She explained that she hadn't wanted to be a burden to him. He countered that his pain and suffering was the real burden! She started to respond, but he interrupted, adding that they vowed to love each other in sickness and in health! That was his responsibility, not a burden, and he would have done it for her gladly! He would have stood by her, no matter what! Abigail asked if he will stand by her now as she approached Chad and put her hands on his chest. He stammered as he backed away from her, unsure of how to respond to her question. She admitted that J.J. had helped her realise that she had put Chad through the exact same thing Jack had put them through, and that was why she knew just how much pain she had truly caused him. But she told Chad they are meant for each other, she was getting ready to walk out of the nursery, and she was never coming back, but somehow, something caused Chad to walk in there the exact moment that she was there. And it might have been fate, or destiny, or God -- whatever it didn't matter what mattered is that he found her.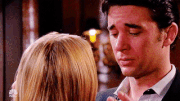 Chad stressed that he loved Abigail and would do anything for her and Thomas. But he doesn't know if he can get through this. He doesn't know when he's gonna stop being mad at her, he doesn't know if he can trust that she won't run away every time things get tough again. Abigail wondered where that left things between her and Chad. Fighting back tears, he stroked her cheek as he replied, "All I know is that I don't want to let you walk out that door." He made it clear that although he was going to need some time to figure things out, he wanted her to stay at the mansion during that process. She happily agreed.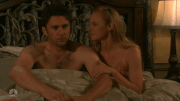 Chad keeps his distance, but allows Abby to stay at the mansion, so Thomas can still have his mother. On New Years Eve, Abby attempts to romance Chad, but fears they are moving too fast. After Thomas goes to sleep, Abby comes into the room. They talk things through, he also confides in Abby about Stefano being alive, and says he is tired of people lying to him. Out of the blue, they almost make love before they stop. Abby leaves, but thinks to herself how Chad still wants her.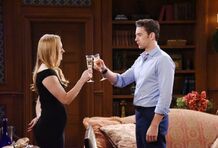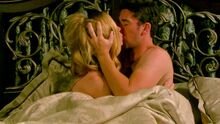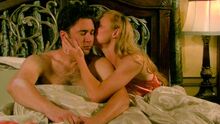 Chad keeps his distance, but allows Abby to stay at the mansion, so Thomas can still have his mother. On New Years Eve, Abby attempts to romance Chad, but fears they are moving too fast. After Thomas goes to sleep, Abby comes into the room. They talk things through, he also confides in Abby about Stefano being alive, and says he is tired of people lying to him. Out of the blue, they almost make love before they stop. Abby leaves, but thinks to herself how Chad still wants her.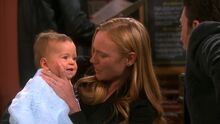 The next day, Chad and Abigail took Thomas outside so they can have a little family time. Abigail was a bit afraid to come out in the open, but Chad encouraged her to be brave and to be at ease from all her issues. Abigail reminded Chad, she still is charged with having started a fire in the hospital she was in. But he comforted her knowing they will handle it together. Chad, Abigail, and Thomas sat in the café and worked to get Thomas to say "dada." Chad took out his phone to record the moment, and he cheered jubilantly when Thomas managed to say "dada."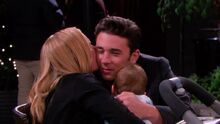 Abigail grew teary eyed. Abigail was sad that she had missed so many firsts in Thomas' life, and she was happy she had been there with Chad to hear Thomas' first word. Abigail marvelled at how easily Thomas had accepted her. Chad said that Abigail was Thomas' mother, and it was a bond that could not be broken. Later on while Abigail was feeding Thomas her favourite food, Chad bumped into Gabi as she walked through the square, she awkwardly greeted Chad and Abigail. Chad asked Abigail if he could talk privately with Gabi. When Abigail stuttered a yes, Chad assured her that everything would be fine. Chad kissed Abigail's forehead, and he walked into the park with Gabi. At the DiMera mansion, Abigail put Thomas in his crib in the living room. Abigail told Thomas how happy she was to be home with him and Chad and assured him that she would never leave him again. While Thomas slept, Abigail struggled to collapse the stroller as she silently cried. Andre entered, startling Abigail. Abigail told Andre that Chad was out and that he blamed her for disappearing, not Andre. As Abigail fidgeted, Andre asked what was bothering her. Abigail explained that Chad was angry and hurt. Abigail was worried that Chad would not be able to trust her again.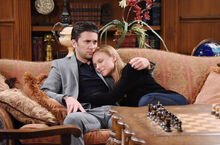 When Chad returned home to the DiMera mansion, he told Abigail that he was willing to commit to rebuilding their family. But he pointed out that it would take time to trust Abigail again.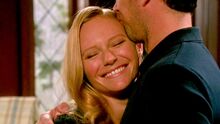 Abigail informed Chad that Jennifer wanted to babysit Thomas overnight. Grinning, Chad asked Abigail if that was a plan for an evening together. Chuckling, Abigail said it was her mother's plan. Abigail said she was excited to go out on a date with Chad. At The Horton House, Jennifer told Abigail that she was happy to give her a night alone with Chad. Smiling, Abigail said she was going out to dinner with Chad and would take things slowly with him. Abigail lamented that her relationship with Chad had always been riddled with problems. Jennifer advised Abigail to concentrate on dinner and have a nice time.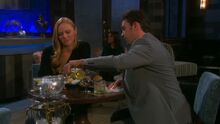 At Club TBD, Abigail and Chad awkwardly chatted as they stared at the dinner menu. Chad wanted to call Jennifer about Thomas, and Abigail smiled. Chad admitted he had turned into an overprotective dad. When Abigail noted that Chad's reaction was normal for a single parent, Chad countered that Gabi was a single mom and not so overprotective. Chad apologised. Abigail said she did not resent that Chad had mentioned a friend who had helped him through a difficult time. Abigail told Chad not to walk on eggshells with her.
As Abigail and Chad smiled and looked into one another's eyes, Chad suggested they order wine. After drinks, Abigail and Chad ordered food. While Abigail slurped down oysters, Chad laughed. Abigail explained that oysters had been her favourite food as a kid, but she had not had any since she had eaten a bad batch years earlier. Abigail said that recently, she had decided to stop avoiding the things she loved in life simply because something bad might happen if she embraced them.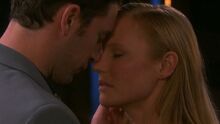 Abigail told Chad that she had done everything because she loved Chad and Thomas. Chad said that he loved Abigail, but he needed her to be herself. While Chad poured more wine, Abigail said she would never take anything for granted again. When their favourite song started playing, Chad asked Abigail to dance. Abigail and Chad danced slowly together, wrapped in one another's arms. Chad leaned his forehead against Abigail's and they both felt at peace for the first time in a long time.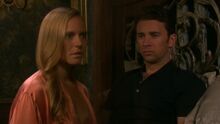 After dinner, Abigail and Chad returned home, and he escorted her to her room. Abigail thanked Chad for the wonderful evening. After changing into her nightgown, Abigail walked down the hall to Chad's room, and stood in the hallway, staring at the door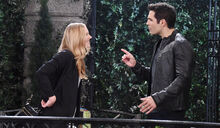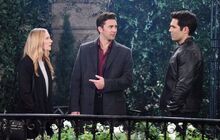 The next day, after she went to get some clothes for Thomas Abigail came across Dario. They made jokes on how she's finally free and how they are friends. She made it clear that she will keep his secrets about the chips. Chad later arrived, bothered by how Dario is at the company of his wife for he is angry at him for keeping his wife's presence in Salem a secret to him.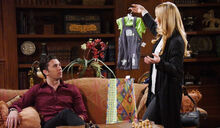 I home, Abigail showed Chad the new clothes she bought for Thomas. She offered to cook for him and he happily agreed.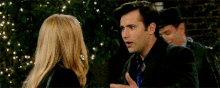 Sonny runs right into Abigail at the square. They hug. He meant to call. They catch up and she brings up Gabi and though Sonny won't betray Gabi's confidence, he's still there for Abigail. She digs to find if there's a special man in Sonny's life. Sonny tells her about kissing Paul on New Year's. She's psyched even though he's hesitant that their old flame will reignite.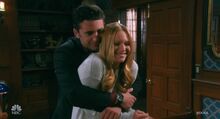 Chad arrives home to Abigail. He tells her he just saw Gabi and why. Abs says she doesn't think he needs to tell her when he sees Gabi, but doesn't look convinced of her own words.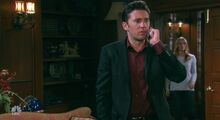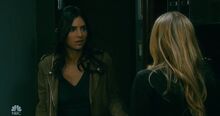 Later, she eavesdrops on him calling Sonny for a meeting about the shipping. Abigail and Gabi sneak into TBD's office, worried about the fight between the Kiriakis and DiMera families. They overhear Chad asking Dario to broker peace before there's a war between them. Dario's not sure he can trust them. They all agree that Andre's rogue and dangerous, which is why they want to put a leash on everyone. Dario learns how Sonny figured out that GDR was smuggling the microchips in the handbags.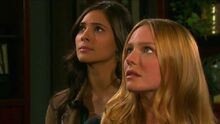 In the office, Gabi gasps, realizing why her brother was asking so strangely about her purse. Meanwhile, Dario refuses to share the technology of the device they're now calling 'The Orwell', with the other men. Dario says their buddy, Myron, will have it up and running in a month. Sonny reminds Dario they have the programming. Dario issues a veiled threat about getting that programming back. Sonny says the reason it was stolen was because Eduardo's an assassin and they didn't trust him. Dario takes offense and Chad tells Sonny to chill. Sonny doesn't like taking orders from Chad and all hell breaks loose. In anger, Chad takes off. Gabi and Abigail arrive at the park, glad they're still friends. They agree to work together to try to solve the war over the Orwell device. They decide to find it and destroy it themselves.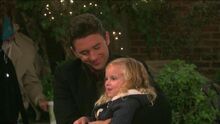 Both Gabi and Abigail meet at the DiMera mansion and brood over hearing Sonny, Chad and Dario arguing at TBD about the Orwell device. "They're like little boys," Gabi says and they need women to keep them in line. Abigail wants to talk about Gabi loving Chad but Gabs doesn't want this to be awkward. She only wants to focus on the task at hand. Abigail's sorry and agrees to it. They hug, agreeing to remain friends. They talk about Myron, who knows about the Orwell device. Gabi mentions that he's a nerd, who hits on every woman in the club and talks about how tech savvy he is.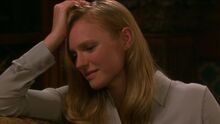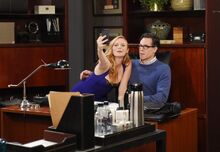 Abigail agrees to seduce him to get information. Abigail finds Myron working in the TBD offices. She creates a southern accent and flirts with Myron, who laps it up like a dog in heat. She tells him she has an issue with her cell phone and once he fixes it, she takes some selfies with him as Gabi watches from the door. Abs asks Myron for help uploading the photos on his laptop, all the while, encouraging him to talk about his 'top secret' work.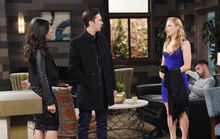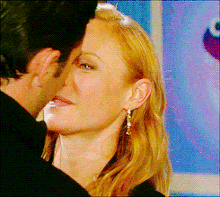 While Gabi keeps Dario occupied when he shows up, Abigail learns that Myron lost all of the data they needed for his work but he's trying to recreate it. She receives a text from Gabi, telling her to get out of there just as Dario walks in. Abigail quickly covers and runs out. Chad appears, causing Gabi to stammer. When he sees Abigail dressed up, he's confused. They cover, saying they were having coffee. Gabs runs off and Chad's still baffled by her outfit. Chad and Abigail walk through the square and get amorous. They take it home.
At the DiMera house, Abigail tells Chad she and Gabi are working on their relationship. She tells him that she "belongs" to him and this family. He likes that and kisses her. She wants to take him to bed. Abigail and Chad make out at the mansion when Andre and Kate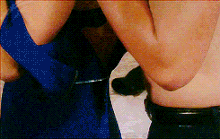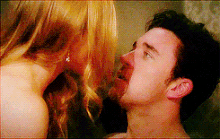 interrupt to call a family meeting. Andre makes Kate a scotch neat and Chad tells the women that Andre sunk a Titan ship. They're shocked. Andre explains he retaliated against the Hernandez and Kiriakis men who stole his Orwell device. Chad tells them they can stay and strategise how to get it back while he takes his wife out. Once they're gone, Kate and Andre argue over who Chad should be with. She's on team Gabi while he's on team Abigail. Kate doesn't understand why. Andre thinks she's just angry that he ruined her budding relationship with Eduardo. She says yep, it's true but maintains that Abigail isn't right for Chad. Chad takes Abigail to the Salem Inn for a romp. They start feeling less awkward and more amorous. "I love you," he whispers, as they kiss. He undresses her and they make love. Afterward, Chad tells his wife he wants to be a good husband to her. They eat fries and gossip about Kate and Andre, who are probably gossiping.
On February 1, at the DiMera mansion, Chad takes in Abigail's beauty and she says she's meeting Gabi, which at first confuses him. She asks why. Is he worried about something? Puzzled, he says no and questions why she'd even say so. She wanders off, not answering.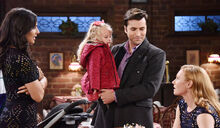 Gabi meets Abigail at the pub. They rehash what they've done so far and agree to change tactics. They need to go to people who trust them. They talk about how good things are between Abby and Chad, then agree Chad has nothing new to tell them about the Orwell device but Sonny does. Sonny shows up with Ari, and Abby steals his keys as Gabi questions what's up at Titan. Sonny tells her to stay out of it. Soon, Abby returns and pretends to find Sonny's keys on the floor. He goes off and Gabi asks Ari what's in the safe is at the Kiriakis house. "Black box," she says.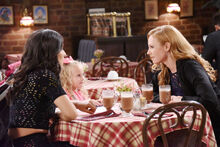 Gabi tells Abigail she will have to learn to crack Sonny's safe. She heard Henderson takes a sleeping pill while watching "Housewives," so Gabi will let herself in when he's asleep.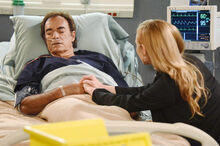 Chad calls Abby and tells her that Andre is in the hospital, and to meet him there. Once she arrives, he fills his wife in and wants to get to Deimos. Abigail refuses to let him. The doctor appears and confirms Andre's been poisoned. They pumped his stomach and hopefully got most of it. He goes and Chad cries, thinking it could have been Abigail. She calms him down. They disconnect and Chad finds her. She's shocked to hear about Andre's state and that Chad's accusing Deimos. Gabi lets herself into the Kiriakis mansion and gets to work at cracking the safe. She quickly opens it and takes out the content just as Chad walks in. He sees the device in her hand and wants it. She refuses him. Meanwhile, in Andre's room, Abigail visits him, rooting for him and singing his praises. JJ and Lani arrive and she fills them in, then worries when she can't find Chad.
Meanwhile, Andre wakes up with Abigail at his side. She fills him in on the positioning. Andre worries for Chad but she insists he's fine. Back outside, Kate gets food for Eduardo. He's touched. "You're a good kid," he says. They rehash his accusations that she stole the Orwell and she says she thought what they had was special. He calls them two of a kind. If they ever get around to trusting each other, they'll be unstoppable. Later, JJ goes to Andre and Abby, letting them know about the poisoning and Dario's beating. Neither answer questioning so JJ takes his sister into the hall and she opens up about the fight over the Orwell.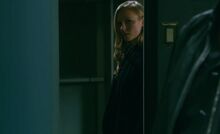 Later Kate and Eduardo receive a text from Deimos, asking to meet in Andre's room. They head in and Andre asks if Dario's okay. Eddie says the surgery was a success. It's awkward. Deimos walks in with flowers. Nobody welcomes him. He wants the key to the Orwell device. Nobody knows what the heck he's on about so he shows them a photo of Gabi and Chad to use as leverage. He wants the key in return for their lives. Eduardo goes at him calling him a "sick son of a bitch." Kate pries Eddie off of Deimos and Deimos gives them 48 hours to get the key back to him. None of them know what he's talking about. Abigail overhears their conversation.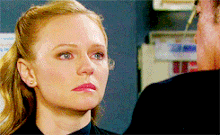 On February 8, Abigail wanders into Andre's hospital room waiting for Andre to get released so he can help her find Chad and Gabi. Andre asks Abby not to interfere with Deimos. He's deadly. Andre chastises her for getting involved at all. She shoves him. "You think I'm fragile?" she asks. She won't stop until she brings her friend and husband home. Later, Jen rushes into the pub where she meets Abigail and she needs her advice and confidentiality, letting her mom know Chad and Gabi were kidnapped by Deimos who thinks they stole technology - some key - from him. Jennifer flashes to finding Drew at the docks and goes pale.
On February 10, when Abigail visits Dario, he wakes up. He's feeling alright and wants to get his hands on Deimos. Abigail says he can't, and lets him know about Gabi being taken. Dario leaves the hospital of his own accord, and goes to Club TBD where he is feeling dizzy waiting for Myron. He collapses, worrying Abigail.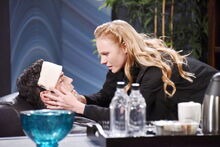 On February 13, at the TBD office, Dario tells Abigail he's sure that Deimos kidnapped Gabi out of revenge. Dario thought his father would be proud of the hit but he wasn't. Dario admits he shocked himself. This isn't his usual MO. Abigail calls him better than that. She thinks he's smart and "sometimes charming." He grins. She doesn't want him to try to be someone he's not. "Okay," he says, admitting he finds it hard to resist her. Myron walks in, ready to get back to work. Dario wanted to know if he could get the Orwell running. Myron believed he could do it. Dario planned on making it worth it to him if he could do it. Dario ordered Myron to do something to help Gabi and Chad. Abby begged Myron to keep trying to come up with a solution.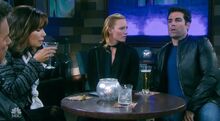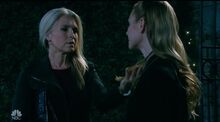 Abby meets with Kate, Eduardo and Dario at TBD. They discuss the key tha Deimos is looking for and who may have it. Abby gets a text and must go pick up Thomas, but Dario tells her she's not going anywhere because it's not safe. Abby says she can survive Salem after dark. Kate whispers to Eduardo that Dario's concern for Abby is sweet. He replies that he'll be the same with her if she gives him another chance. Abby leaves, and Dario makes some calls to a friend at the docks. Jen and Abby meet up in the park. Jen promises her daughter that Chad and Gabi will be okay, and feels things will be resolved very soon.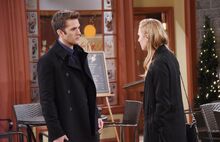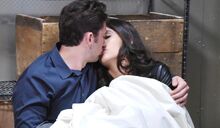 On February 20, In Horton Square, JJ tells Abby that Chad and Gabi have been kidnapped; he needs her help regarding Andre. Abby explains Andre's kept her at arm's length recently. After, Abby meets Andre, who assures her he's on top of the situation with Chad. Andre is called aside and Abby accesses the information on his phone, as she flashes to JJ telling her to do so.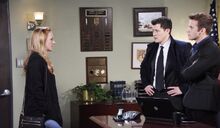 Abigail appears in the police station and confronts Paul and JJ. She wants to figure out a way to get their loved ones back – she took a photo of Andre's call list from his phone. Paul frets that Sonny's out there all alone – at least Gabi and Chad have each other. Abby finds herself alone in the offices and photographs JJ's list of Titan properties. Paul and JJ reappear with an update and leave to check out a possible lead on Sonny. Abigail tells herself she will find Gabi and Chad.
On February 21, Abigail goes to Dario at TBD. He hasn't found Chad and Gabi. She shows him the list of all Titan properties nearby and tells him to do whatever it takes to bring them home. Dario makes a call and hears someone he knows is protecting an abandoned warehouse. He takes off, asking her not to follow, but she does. Abigail burst into the Kiriakis warehouse freezer, and sees Chad and Gabi, half nude and barely breathing. She's startled but quickly starts CPR on Chad, begging him to breathe. He starts breathing and Dario grabs Gabi. At the hospital, Abigail and Dario hear that Chad and Gabi will make a full recovery, though they're still unconscious. Abigail hesitates in visiting Chad. Dario knows it's because they were found nearly naked. Abby says they could have been conserving heat but wonders if she's just being naive. She visits Chad and cries, holding his hand. She's angry with him because she almost lost him. Meanwhile, Dario apologizes to Gabi for not protecting her better. Dario goes to visit Chad, who says Gabi's name while Abigail goes to see Gabi and she says Chad's name.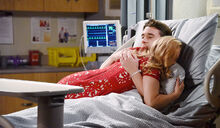 On February 23, Abigail rushes into Chad's room and hugs him, glad he's awake. Dr. Grant interrupts, examines him, and goes. Once she's gone, Chad admits to Abigail that he kissed Gabi. Abigail tears up. She blames it on the hypothermia, knowing he's committed to her. She goes and Chad flashes to her return after faking her death and dancing with her.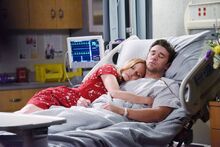 Abigail walks to the park and gazes at the statue Chad had created in her memory. She regrets letting Chad believe she was dead, and starts beating on the statue with her purse. She grabs the statue and throws it to the ground, smashing it. Dario finds her. She opens up about the kiss between Gabi and Chad. Dario's sorry. He's not surprised. He heard Chad call Gabi's name in his sleep in the hospital. Abby wonders if it's too late for her and Chad. Dario doesn't want to see his sister hurt but thinks Chad will forget about Gabi. Abigail thanks Dario for his friendship and hugs him. Abigail returns to Chad's bedside at the hospital and snuggles him. She doesn't notice the bit of lavender (Gabi's favorite flower) he's holding, hinting he's still lingering onto his feelings for Gabi.
Abigail tells Chad she's glad he felt he could be honest about kissing Gabi. They agree to put this behind them. He's being discharged this afternoon. Happy, she snuggles close to him as he laughs. She doesn't regret going after the Orwell device and says she wasn't about to stay home knitting while he took care of business. She sounds like her old self. She invites him on a second honeymoon - to Cancun. Chad says Gabi suggests Cozumel instead. Later at home at the DiMera mansion, Abigail and Chad get cozy on the bed and profess their love for one another and then make love.
Chad offers Abigail a job at DiMera Enterprises. They come up with an idea to bring honour not to the DiMera name by starting a fundraisers where children are read to. They also invite Kate and Andre to move into the DiMera mansion. Chad, Abby, and Andre are at Horton Town Square when Gabi and Ari see Chad, and Ari runs into Chad's arms. Abby leaves and Andre follows. He tells Abby that she has won, but Abby states she and Gabi stem never in competition with be each other. Later, Abby sees Chad on stage with Gabi and Ari as Chad reads to Ari. Andre tells Abby she has to find a way to keep Chad and Gabi apart permanently.
Abby and Gabi took up belly dancing classes and helped Chad close a deal by performing a belly dance for the art dealer, who mistakenly believed that Chad has hired them because his ex-wife was a belly dancer. Chad and Abby argued when she found out that Chad ad Deimos kidnapped and beaten. Abby feared that Deimos would retaliate. Abby and Chad decided to renew their vows, but then she, Gabi, and Chad were kidnapped by Deimos. They were all tied to chairs, and Abby and Gabi were injected with poison with an antidote where Chad would be forced to save only one of them. Chad have half to Abby and then threw the vial to Gabi, which put Abby's doubts to rest until she saw their yearbook, which showed that Chad and Gabi used to be on the baseball team together, so Gabi wondered if Chad only saved her frost because he knew Gabi would catch the vial.
Abby continued to have lingering doubts, and showed Andre their yearbook that shows Chad and Gabi played on the baseball team. Andre assured Gabi that Chad wants Abby, and Abby wondered if Chad belongs with Gabi. At the vow renewal ceremony, Abby broke up with Chad, and encouraged him to be with Gabi. Dario told Abby that he was going to be deported, and convinced Abby to marry him, so he could stay in the country. When Chad and Gabi returned to Salem after being stranded on a deserted island, he and Abby fought over her plan to marry Dario, even though he and Gabi had officially gotten together. Chad accused Abby of cheating on him with Dario while they were married.
The tension continued well into
Eli Grant
's party where all the guests here drugged by Deimos. Chad and Abby mistakenly beloved they were together and renewed their vows. Chad saw Deimos running down the hall, and Abby followed him. Deimos was found dead the next morning, and Chad and Abby had no recollection of the previous night. Abby and Chad got an annulment, And she married Dario. Abby became suspicious of Dario, who was laundering money, and eventually discovered that he was stealing from DiMera Enterprises. Abby threatened to turn Dario over to the police, but Dario shows her a photo of Chad standing over Deimos' body, wiping prints off the knife. Dario threatened to show the police the photo if she turned him in.
On January 1st, Vivian Alamain arrived in Salem, accompanied by her and Stefano's long lost son, Stefan DiMera. After Stefan introduced himself, and explained how he found out who he really was, he announced that he has become the new CEO effective immediately. Chad and Abby did some research on who Stefan was, and found out his birth name was Sam Maitlin, and that he was known as a corporate raider. Chad believed Stefan planned to destroy DiMera, and sell it off. Stefan assured them that wasn't the case at all. Abby and Chad demanded another DNA test, and Stefan obliged. Abby took a hair from Stefan's head, and she and Chad stayed while Vivian, Kate, and Andre went to get the hair tested. Stefan told Chad and Abby he bought the back that owns the mortgage on the DiMera house, making him the new owner.
The DNA test came back that Stefan was a DiMera, and Chad stormed off. Abby convinced Chad to stay on at DiMera, so they could keep a closer eye on him. Abby went to talk to Stefan, and he told her to come in when he was naked. Abby was frustrated and offended and told Stefan to get dressed while they talked business. At DiMera, Stefan continued to hassle Abby, who attempted to find out more about Stefan as a way to get some dirt on him, but Stefan didn't take the bait. Stefan asked Gabi out in front of Abby, but Gabi didn't like Stefan and turned him down. Abby told Stefan that asking out his employee was inappropriate, and sexual harassment. Stefan accused Abby of being upset that he wasn't sexually harassing her, causing Abby to slap him, and Stefan apologized.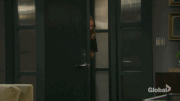 On January 19, Abby ran into Gabi, who was upset and accused Andre of stealing her company. Gabi vowed to kill Andre, and the next morning when Abby went to visit Andre, she found him lying dead on the floor. Abby went into hysterics and called Chad after she calmed down enough. Chad comforted Abby over Andre's death. Abby kept quiet about Gabi claiming that she would kill Andre. Andre had been killed with an urn, and the lid was missing. As Abby mourned Andre, she had a dream where she found Andre barely alive and asked him who killed him. Andre just grunted before dying in the dream. Abby had the dream again where Andre managed to say "it was", before dying. Gabi was arrested for killing Andre after surveillance footage shows a woman that looked like her leaving Andre's office with the lid to the urn.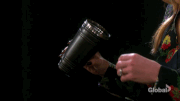 Abby had another dream where she entered Andre's office and dipped her hand into the opening of the urn. When she pulled her hand out, it was covered in blood. Gabi wondered into the office holding the lid to the urn. Abby woke up with a scream and Chad assured her it was just a nightmare. The police realized Abby was holding out them, and Chad encouraged Abby to tell the police what she knew, so Abby told them what Gabi had said.
On Valentine's Day, Gabi furiously confronted Abby for what she said to the police. As Chad and Abby sat down, Julie showed up and revealed that Stefan had sent over Champaign. Julie made herself scarce, so Stefan offered to pour the champagne and assured Chad and Abby that it was just a coincidence. When they got home, Chad told Abby he thinks Stefan killed Andre, and also told her he thinks Andre was working with Stefan and Vivian, but Abby refused to believe it, so Chad dropped it. JJ called Abby to tell her that he and Lani are engaged, and Abby and Chad offered their congratulations.
When Abby went to bed, she had the same nightmare as previously, but this time Abby told Gabi that Chad was wrong, and that Gabi did kill Andre. Abby awoke with a start and checked on Chad. That night, someone that looked like Gabi from the back wondered around the mansion. They climbed the stairs, and went into someone's room. They planted Gabi's key card, and took the lid to the urn out of their pocket. They were about to put the lid in a desk drawer when the light turned on, and Stefan saw the intruder. Stefan called the intruder Gabi, but when they turned around, Stefan was shocked to see it was Abby wearing a wig. Abby claims her name is Gabby and it is revealed that Gabby goes through a secret passage in the living room where she has stored a wig and various clothes that resembles the clothes Gabi wears. Stefan notices the urn lid in Gabby's hand and quickly realizes she killed Andre. Stefan takes the urn lid, and Gabby mocks him over the fact that now he is implicated in Andre's murder. Gabby tells Stefan not to tell Chad because she saw him and Vivian standing over Andre's body after he had been murdered. Gabby kisses Stefan and then leaves. She changes back into the clothes she wore as Abby and bids herself a good night after having a long day. Gabby goes to sleep and Abby wakes up, shocked and confused.
The next morning, Abby is confused by Stefan's subtle hints as he tries to fish around for information about what happened the previous night. Abby suffers from a headache and switches again with Gabby. She goes back into Stefan's room where she flirts with him and kisses him until they hear a knock at the door. Stefan gets Gabby to hide until he gets Chad to go away, and then has her leave.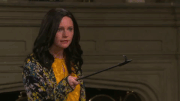 During one of Gabby's outing, she encounters Vivian, and becomes annoyed by her insistence that she is Abby to the point she picks up a fire poker and tries to attack with her. Stefan diffuses the situation and gets Gabby to come with him. He tells Gabby he will protect her by framing someone else with the urn lid, and advises her to keep a low profile. Gabby agrees and goes back down to change when she sees Chad entering the secret passage. Gabby calls out to Chad and another alter takes over, and throws the wig on the floor. She pretends to be Abby, though she acts more aggressive with wording, which turns Chad on, but she manages to get out of sex by reminding Chad that he promised to put together Thomas' train set. After Chad leaves, the alter picks up the wig and tells Gabby she almost got them caught, but not to worry she is here, and everything is under control.
During a conversation with Chad, Abby realizes she has parts of her memory missing. As Abby tries to remember, Gabby takes over and pays Stefan a visit. Stefan tries to get Gabby to see she is not the real Gabi Hernandez. He shows her Gabi's photo, and has her look in the mirror. When that doesn't work, he pulls off her wig. Gabby starts freaking out, so Stefan goes to call a doctor, but the other alter switches in, and says there is no need to call a doctor.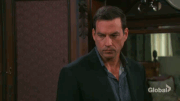 Gabby was created because since Gabi had murdered Abby's cousin
Nick Fallon
, Abby believed she could handle the burden of murdering Andre, and her psyche created a personality to reflect that. Dr. Laura also called Stefan out on his obsession with Abby, noting that he would settle for Gabby if he couldn't have Abby. Dr. Laura insists Abby loves Chad, and tells Stefan to stay away from Abby.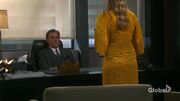 Abby had a dream where she went to report to Stefan, and Andre was sitting behind Stefan's desk. Abby was surprised to see Andre, and he asked if she was happy to see him. Abby said she was, and noted that he was dead. Andre agreed that he was, but said he has so much unfinished business. He asked Abby to get him his coffee, and Abby went to grab the urn. Andre reminded her that that was an urn, and wondered why those two would get mixed up. As Abby gave Andre his coffee, he looked at her suspiciously. Andre said that they need to spin the press release properly given Gabi was caught trying to destroy evidence. Abby said she thinks Gabi is being set up by Stefan. Andre wonders if Abby thinks Stefan killed him. Abby was confused as she thought that is what Andre was trying to tell her. Andre told her she needs to pay attention, and Abby wondered who did kill him, asking if it was the woman dressed like Gabby. Andre said it was possible, and said he liked the dress she was wearing. Abby was shocked that she was wearing it as she had never seen it before, and Andre noted that it was GabiChic.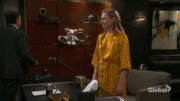 wondered why she couldn't remember wearing the dress, and Andre said maybe because she doesn't want to remember. Abby wondered why, and Andre walked to the shelf where he picked up Abby's "old friend" Lulu that had blood on the side of the head. Andre suggested that they ask Lulu because elephants never forget.
Abby awoke with a start, and Chad comforted her. Abby went to see Kayla to talk about the times where she is missing memories. Abby said she was worried she could have early Alzheimer's, so Kayla left to order an MRI. While Kayla was gone, Dr. Laura switched in. She took Kayla's glasses, and left the room, vowing that Abby can't know the truth. Dr. Laura showed up at the mansion just as Stefan was exiting the secret room. Dr. Laura told Stefan he had no right to snoop behind there, and Stefan requested that he speak to Gabby. Dr. Laura refused to let Stefan talk to Gabby, saying it's not good for her either her or Abby, and held out her hand for Stefan to give her the wig. Stefan instead said he could call the police and say that Abby murdered Andre. Dr. Laura tried to call Stefan on his bluff, but feared he wasn't bluffing, so she let Gabby take over. Stefan suggested Gabby go on a business trip with him to Hong Kong, so she has a chance to be herself. Gabby agreed to Stefan's proposal, but then Jennifer called Abby, so Gabby returned to the hospital, pretending to be Abby to alleviate Jennifer's concerns. Gabby then set about convincing Chad to let her go to Hong Kong under the pretense as part of their plan for her to find evidence on Stefan. Chad was determined not to get Abby go, but eventually reluctantly relented.
Stefan and Gabby arrived at Hong Kong having adjacent rooms. Gabby was ecstatic to be away from Abby's loved ones, so she could fire to be herself. Stefan and Gabby were spotted by Hope, but Gabby made herself scarce before Hope could see her face. Chad showed up in Hong Kong, and Gabby had to pretend to Abby until he left, including kiss Chad. When Stefan returned, Gabby told him that Chad was in Hong Kong, and Stefan promised to take care of. He suggested Gabby stay in her room, but Gabby was too antsy, and temporarily left the room. Gabby later returned to the room as Chad saw her from the back, but she was seized by security and Gabby got into her room. She later learned Stefan had been responsible, and was thankful for his help. Gabby kissed Stefan and implied she wanted to sleep with him. Stefan was reluctant as Abby didn't give her consent. This upset Gabby as Stefan had always treated her like she was her own person.
Gabby listened to the messages Chad left on Abby's phone, and then Abby broke free. Stefan returned and was shocked to see that Abby was back. Abby was confused as to why she was wearing a wig, and GabiChic clothes. Stefan tried to explain to Abby that she wore them as part of a fashion experiment, but then Dr. Laura took over and left Stefan to find Chad. Dr. Laura managed to convince Chad to return to Salem to be there for Gabi.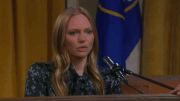 At Gabi's trial, Dr. Laura pretended to be Abby and vouched for Gabi when questioned about what Gabi said about making Andre pay. Afterwards, a recess was called, and when it resulted. Dr. Laura took the stand and said that Gabi confesses to Abby that she murdered Andre. Gabi stood up and accused Dr. Laura of lying, who quickly fled the courtroom. After being confronted by Chad about what she said on the stand, Dr. Laura started to go upstairs when Gabby started to bug Dr. Laura wanting a face to face. Dr. Laura retreated into Abby's mind where she and Gabby squared off.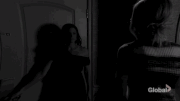 Gabby wanted Dr. Laura to let her out, so she could be with Stefan. Dr. Laura reminded Gabby that she was just an alter and her feelings for Stefan were not good for Abby. Dr. Laura refused to let Gabby leave, and said she will have to go through her. Gabby punched Dr. Laura and took the key from her, but then noticed that the door was open, which meant that Abby was in control. Abby headed straight to Marlena's office and asked Marlena for help. After telling Marlena that she was losing time, and also remembered hearing voice, Marlena was about to tell Abby what was going on with her when
Dr. Laura took over and told Marlena that Abby wasn't ready to hear she had Dissociative Identity Disorder. Marlena and Dr. Laura started talking and Dr. Laura implied the existence of another altar, but refused to elaborate. Marlena threatened to expose Dr. Laura, saying she could if she felt she was a danger to herself or others. Marlena tried to get Abby to come out, and Dr. Laura pretended to be Abby, and then left the office. When Dr. Laura returned to the mansion, Gabby started trying to get out and Stefan showed up. Gabby broke free and was happy to be with Stefan. Gabby kissed Stefan and wanted to make love robin, but Stefan suggested they go to a nearby hotel, so know one will see them.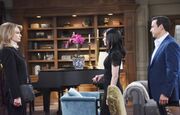 Marlena showed up and Gabby and Stefan tried to pretend she was Abby just trying on GabiChic clothing until she could take it no longer and said something. Marlena enquirer about Gabby and realized she was the woman on the security footage. As Marlena and Stefan argued about Gabby, Gabby knocked Marlena out with a fire poker. Gabby and Stefan took Marlena into the secret tunnel where Gabby kept all of her clothes. Gabby ended up having an encounter with Kate, so she knocked her out as well and they stashed her in the tunnels. Gabby and Stefan planned to run away, and after Stefan imprisoned Vivian in the tunnel with Kate and Marlena, they were convinced nothing would stop them.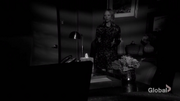 Abby found herself in a locked room that resembled Marlena's office where she had a vision of Andre that promised to help her. Abby knew Andre was dead, and believed it was a dream, but she talked to the vision of Andre about losing time in Hong Kong and that she didn't remember getting on the plane. Abby wonders why she is in Marlena's office with the door locked and the phone not working. Andre told her to try the phone again, and Abby heard John's voice. Abby called out to John for help, but Andre said she has to rescue herself this time. Andre asks if she remembers why she went to see Marlena, and Abby says she does, but blacked out before she could hear Marlena's diagnosis. Andre talks about how Abby took back her life and beat her demons last time. He brings up Laura, and Abby says the name sounds familiar.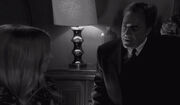 Andre asks why that is, and Abby says she thinks Laura is one of the voices in her head. Abby thinks she is going crazy and blames it on the night Andre died. She talks about how traumatic finding his body was for her. Andre is sympathetic and assures her Gabi won't get away with it since she was tried and convicted. Abby doesn't think Gabi killed Andre, and he wonders who she thinks did kill him. Abby thinks Stefan killed him, and hired a woman to frame Gabi. Andre says Stefan is a snake, and asks if she really thinks she would let his brother get the drop on him. Andre insists he was caught off guard and killed by someone he trusted. Abby wonders why Andre won't tell her who killed him, and Andre says Abby already had the answers and just has to be brave. Abby says she is alone low that Andre is dead, but Chad will find her. Abby bangs in the door and calls for help and the vision of Andre disappears.
Abby briefly broke free, and took over, but Gabby fought her way back. Gabby talked Stefan into making love with her before they left, hoping it would cause Abby to stay trapped permanently. Chad burst in the room while Stefan and Gabby were together, and when she saw Abby with Stefan, he lost it and brutally beat Stefan. Gabby tried to get Chad to stop, but a weak and bloodied Stefan told Gabby to run, so she did, but she called the cops on Chad.
Gabby snuck in to visit Stefan in the hospital, but was eventually caught by Steve, who insisted Gabby come with him. Since Steve was blind, Gabby tried to run and ran right into hope. Gabby was taken to the police station where she lashed out at Chad and Jennifer, who mistakenly beloved Stefan had brainwashed Abby.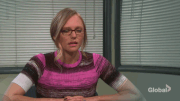 While in interrogation, Dr. Laura chastised Gabby for the mess she got them into and revealed that she had taped the door shut to kill the three women. Gabby was horrified by Dr. Laura's actions, and offered to tell them where the women were if she and Stefan got immunity, and she requested a phone call with Stefan. While Gabby was talking to Stefan, Dr. Laura paid Abby a visit in her mental prison. She tried to convince Abby not to leave her mind, but Abby outsmarted Dr. Laura, and got a hold of the key to the door. She emerged while Gabby was still taking with Stefan and was confused as to why she heard his voice. When Stefan kept calling her Gabby, Abby angrily told her it was Abby, and Stefan begged Gabby to come back to him.
Hope came back into the room and quickly realized it was Abby. They embraced, but Dr. Laura quickly took over again. She was brought to see Marlena, who insisted that Dr. Laura help her help Abby. She also says she knows Abby killed Andre, but Dr. Laura insisted it was Abby's altar, Gabby. Dr. Laura was confident that they would be released in forty-eight hours and says she will take Abby far away when they are released.
Chad paid a visit to Dr. Laura, and managed to help Abby break free by declaring his love for her. Chad explained to Abby that she had DID. Chad walks Abigail through the night Andre was murdered. They go to the park where Abigail and Gabi had their encounter. Abigail remembers that she went to talk to Andre when she had originally thought she and went home. Abigail and Chad go to Andre's office where Abigail hearing Andre talking to Tony's urn about his feelings for Kate, and struggling to tell her the truth about his alliance with Vivian. Abigail had burst into the office and accused Andre of betraying them and demanding he tell her the truth. Andre tried to deny it, but admitted it was the truth. Andre had begged Abigail to listen to him. He explained how he was unable to have a prominent role in his family's company, and that he was the eldest, and Chad trying to make the company legitimate was causing the company to crumble. Abigail told Andre he should have talked to Chad and left to go tell him the truth.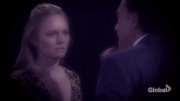 Abigail and Andre struggle as he desperately tries to convince her not tell Chad about his betrayal. Andre ran and grabbed Abigail, and walked her away from the door. Andre said he loved her and his family with all his heart, especially Kate, who told him that she loved him. Andre said he could count on one hand the number of people that have said that to him, and if she finds out that he betrayed her, she would never forgive him. Abigail tells Andre it is too late, and Andre asks if this is about Gabi then he can rehire her, and smooth things over. Abigail says it is not about Gabi, but that he has been lying to them for months, and that he can't just fix that. Andre screams that of course he can, but Abigail says she is going to go to Chad and tell him everything. Andre says she can't do that and asks Abigail to swear to him that she isn't going to say anything to Chad. As Andre gets more desperate, he tightens his grip on Abigail wrists, and she cries out that he is hurting her. She demands Andre let her go, and Andre says he is sorry, but he is not going to let her destroy his life.
Without thinking, Abigail reached behind her on Andre's desk, grabbed the urn and whacked Andre in the head to get him to let her go. Andre clutched his head and fell to the ground. Abigail immediately knelt by Andre's side to make sure he was okay. Upon Abigail remembering she had whacked Andre with the urn, she knelt down where Andre's body had been, and remembered telling Andre that she was sorry, saying she was so scared that he was going to hurt her. Andre looked at Abigail and weakly said that he loved her before dying.
Abigail checked for a pulse and started sobbing and screaming Andre's name when she realized that she had killed him.
In the present, Abigail gasped and started sobbing as when realized she had killed Andre, and Chad wrapped his arms around her to comfort her. Dr. Laura took over and Chad was confused since now that Abigail remembered killing Andre. The altar's should be gone. Dr. Laura says she is here to help determine what happened next. She tells Chad that Abigail killed Andre, she needed to get away from what she had done. Abigail had ran out of Andre's office, and Dr. Laura led Chad to the GabiChiic office where Abigail had happened to run into to catch her breath.
Once inside the office, Abigail had saw a photo of Gabi in the wall. Abigail kept flashing back to her struggling with Andre, her hitting him with the urn, him saying he loved her and then dying right in front of him. With the image of Gabi burned in her head, Abigail unintentionally began to convince herself that she didn't do. She saw herself dressed as Gabi, and holding the lid to the urn, so she started thinking it was Gabi, which created both altars. Dr. Laura took control and put on Gabi's coat, picked up her ID card, and put on a dark wig. She then let Gabby take over, who headed to Andre's office where she overheard Stefan and Vivian talking. She waited until they left before she walked in and knelt over Andre's body. Gabby said a Andre deserved to die for stealing her company, fully believing herself to be the real Gabi and Andre's killer. Gabby wiped down the urn and took the lid, thinking it might come in handy.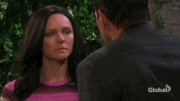 Dr. Laura and Chad went back to the park where she told Chad that he can not interfere and to let the fifth between Abigail and Gabby play out. Stefan shows up with the wig, and she and Chad both pledged their love to their respective loves. Gabby took over, and Stefan believed she had won, but Gabby tearfully told Stefan that she is here to say goodbye. Gabby said she feels herself slipping away, but is grateful that she got to know Stefan and experience love. She kissed Stefan goodbye, and Chad pulled them apart. The wig fell off as Gabby disappeared, and Abigail fell backwards unconscious. Abigail awoke, finally emerging victorious over her altars.
Laura Horton returned to town and took Abigail away for treatment. Abigail returned a couple weeks and she and Chad shared s happy reunion, although he struggled with getting to intimate with her. Abigail soon learned she was pregnant, and feared Stefan would be the father, so she took a paternity test without Chad's knowledge that confirmed her fears.
Abigail planned to have abortion, but Stefan stopped her after learning the truth. Abigail told Chad that Stefan was her baby's father, which eventually led to Chad moving out. Abigail soon came to suspect Gabi was out to get her, and shared these suspicions with JJ.
Things would get worse for Abigail as soon everyone became to worry that Gabby was back. Abigail denied it and accused Gabi of setting her up, especially when she and Kate claimed that Gabby had attacked them. Abigail refused to get her evaluated, so Chad planned to have her committed against her will as her husband. Abigail fought back by divorcing Chad and marrying Stefan.
Chad responded by kidnapping Abigail and taking her to the Horton cabin where Abigail went into labor and Chad helped her deliver her baby girl that she named Charlotte. As soon as Abigail and Chad returned to Salem, she was committed because Chad had agreed to give Stefan Charlotte if he had Abigail committed.
Abigail was devastated, and this was only made worse when Gabi visited her and revealed that Abigail has been right all along. Gabi taunted Abigail about her situation and showed her the wig. This caused Abigail to snap and she started choking Gabi.
Chad came in and Gabi said that Gabby had emerged and attacked her. Abigail insisted Gabi as lying and had the wig in her bag. Chad checked the bag and didn't find a wig, so he believed Gabi, and Abigail was locked in a padded room.
Abigail was eventually released, and the truth came out about how Gabi had switched the paternity tests. Chad offered Abigail a heartfelt apology for not believing her and she forgave him. On New Years Eve, Eve Donovan returned to Salem with a surprising guest: Jack Deveraux. Abigail and JJ were stunned and happy to see that their father was alive, but Jack didn't remember anything from his past and rejected his children.

Abigail and Chad got remarried in January 2019, and Jack attended the wedding even though he had no recollection or connection to his family. Abigail and Chad soon left to start over in Paris as Chad formed a truce with Stefan and decided to let him run DiMera while he headed up the Paris office.
While in Paris, Chad and Abigail had e brief run in with Austin and were later visited by Chad's brother Tony DiMera, who they thought was Andre because they look alike. Tony assured them that while he and Andre are family, he wasn't looking to avenge him. Instead, Tony had come to Salem to ask Chad to return to Salem and head up DiMera, but Chad refused.
Chad's job was threatened when his assistant Juliette attempted to frame him for sexual assault, so she could get his job, but then Juliette's assistant Sylvia outed Juliette, and Chad was cleared if all charges. He and Abigail soon left Paris and returned to Salem when they found out Jennifer was in a coma.
While Chad and Abigail were away, Stefan had died and Jack had regained his memories. Jennifer awoke from her coma A year later, and during this time, Chad has also unexpectedly reconnected with his father. Stefano had been in touch with Chad as they schemed to get control of DiMera away from Gabi, who had become the CEO after tricking Stefan into marriage. Abigail supported Chad's desire to reconnect with Stefano even though she didn't like him.
Eve had been arrested for Jennifer's fall, and had been sent to prison. Eve contacted Abigail and asked for her help in clearing her name. Abigail realized that while Eve had motive for wanting to kill Jennifer, she decided to investigate to see if Eve was telling the truth. Eventually, Eve's name was cleared when security footage placed Stefano's loyal employee Dr.
Wilhelm Rolf
as the one who pushed Jennifer, but Stefano claimed he had no idea what Rolf had done.
Chad and Abigail eventually discovered that Stefano wasn't really alive and instead his AI had been implanted into Steve's brain. Chad and Abigail realized this after catching "Steve" nearly strangling Hattie Adams to death. Chad pulled "Steve" off of Hattie and he asked his son to let go of him.
Chad and Abigail were stunned by this development, and Stefano tried to convince Chad to join him in his quest to take over DiMera Enterprises, but Abigail told Chad to refuse Stefano's offer. Stefano got angry and pulled a gun on Abigail. Chad got in between them, and Stefano lashed out at Abigail for killing André, but decided not to kill her yet.
As Stefano went to leave, Chad tried to stop him. They wrestled over the gun, and Stefano was shot. Stefano got away, and locked Chad and Abigail in the warehouse, but it wasn't long before they were freed. Chad was brainwashed by Stefano, and he got Tony and Kristen to come to Stefano's new home at his request.
Abigail, John, Anna, and Brady all soon arrived and Abigail subdued her brainwashed husband at gunpoint. She broke him out of Stefano's brainwashing by kissing him, and Chad removed the Phoenix Ring that Stefano had him wear, renouncing his loyalty to his father once and for all.
Stefano's AI chip was removed from Steve and he returned to normal. Abigail and Chad were also able to get Gabi removed as DiMera's CEO, and celebrated their victory, but soon Abigail started having strange hallucinations. She imagined seeing Stefan, and also believed at one point, Stefano had assaulted Chad and teamed up with Kayla to have her sent away.
Abigail left town for treatment, and returned months later where she befriended the new nanny Gwen Rizczech. Abigail learned Jack and Kate had a one night stand while Jennifer was in her coma, and exposed it publicly after getting drunk at her parents anniversary party.
Abigail also met and became friends with Stefan's twin brother Jake DiMera. Chad started exhibiting signs of jealousy, which confused Abigail, but eventually she learned that someone had been manipulating the situation to make it look like she and Jake were having an affair.
That someone turned out to be Gwen, who had gotten a jealous and angry Chad into bed on New Years Eve. Abigail was furious with Gwen and kicked her out of the mansion, but Abigail would be in for a shock when Gwen claimed to be Jack's daughter with another woman before he had came to Salem.
Laura returned to town and confirmed it was all true, and explained why Gwen was angry. Gwen's mother had came to town years earlier to ask Jack for help with Gwen. Laura had instead paid her off. Abigail and Gwen had a heated confrontation that resulted in Abigail punching her.
Gwen had a black eye as a result, and tried to get Abigail arrested for assault, but Chad figured out Gwen was using make up to make it look worse than it really was. Laura died in a confrontation with Gwen, and Abigail believed Gwen had killed her. Gwen denied it, but Abigail was determined to get the truth. She teamed up with Gabi to kidnap Gwen and threaten to inject her with the same stuff she had injected her with. Gabi realized Abigail was going too far and instead they let Gwen go.
Jack realized his daughters feud was going on too long and sat them down to try and talk things out. Abigail agreed to give Gwen a chance if she could look her straight in the eye, and say she didn't kill Laura. Instead, Gwen ended up throwing up on Abigail. Turns out, Gwen was pregnant with Chad's baby, which only made Abigail hate her more to the point where she tried to pressure Gwen to get an abortion.
Abigail and Gwen got into a heated confrontation at the top of the stairs when she was looking for Chad, and Gwen lost her balance, and fell down the stairs. Gwen lost the baby, and Abigail was so racked with guilt, she left town for a bit. When Abigail returned, Gwen offered to make peace with her, and Abigail learned about how Gwen had been blackmailed by Clay Snyder to run drugs for him. Abigail didn't buy that it was because Gwen was a former prostitute, and eventually found out she had miscarried before their fight and lied about it.
When it was revealed that Kristen had posed as Sarah Horton to fake a break up with Xander Kiriakis, Xander and Abigail went looking for the real Sarah. Gwen was involved with Xander and believed Abigail was looking for Sarah just to hurt her.
EJ was accused of kidnapping Sami and was arrested. Abigail went to EJ's trial to cover it for the spectator. Chad went to testify, but suddenly couldn't breath. Abigail went to check on Chad to make sure he was okay.
EJ cornered Abigail and said he couldn't stop thinking about the time they were together, and forced a kiss on her as Chad walked in. Chad was furious, and turned his back on EJ completely, letting him be convicted and sent to prison.
Abigail and Xander tracked down Ned Grainger, the former DiMera pilot that quit around the time Sarah allegedly left town. Ned wouldn't give them any info without being paid, and eventually admitted he was hired by Kristen to transport Sarah, but refused to say where.
Sarah seemingly returned to town and claimed she broke up with Xander, and wanted everyone to stop looking for her. Abigail didn't buy it, and believed Gwen was posing as Sarah. Abigail tracked Sarah down and started a fight, trying to take the mask off.
Gwen showed up, and it seemed Abigail was wrong. Abigail tracked Sarah down to a airfield and ended up ripping off the mask, revealing Ava Vitali. Abigail wondered what Ava was doing acting as Sarah, and Ava claimed it was just a prank.
Before Abigail could interrogate Ava further, she was knocked unconscious and woke up on an island as Kristen's guest. Abigail realized that she was being held on the same island as Kristen. Kristen entertained Abigail's deduction, but wouldn't answer any direct questions and held a gun to her, threatening to shoot her if need be.
Abigail ended up drugging Kristen and then looking around. She realized Sarah was here, and found a diary that belonged to the late Renee DuMonde. Kristen found her and admitted Sarah was here, and the drugs messed with her brain so much that she thought she was Renee after reading the diary.
Kristen locked Abigail in the room, advising her to read the diary as it was a real page Turner. As Abigail read it, she agreed it was a page turner, but she was soon rescued by Chad and Tony along with Steve, Kayla, and Sarah.
Upon her return to town, Abigail believed Gwen was involved in her kidnapping, but couldn't get any evidence. Ava was arrested, but got away. When Leo Stark was set to marry Craige Wesley, Will and Sonny recruited Chad to seduce Leo and get him into bed. They would set it up, so Craig would catch them together.
Abigail played along and went to Leo, acting like she and Chad were having problems, but Leo saw right through her. Chad went to Rolf, and got an antidote made to help Sarah return to normal, but it only caused her to mentally regress.
Xander and Gwen went ahead with their plan to get married, and Gwen asked Abigail to be her maid of honour. Abigail was hesitant, but agreed to do it for Jack's sake. Abigail later saw Gwen and Leo together and realized they were friends and planning a double wedding.
Abigail got a call from Ava, who had been arrested for framing Rafe. Ava told Abigail that if she could cut her a deal, she'll tell her what she wants to know about Gwen. Abigail got Ava her deal and all the info she needed on Gwen.
Craig dumped Leo at the altar when it was revealed he was already married, and Abigail publicly exposed Gwen as not only aiding in keeping Sarah captive, but also switching the syringes, which caused Sarah's mental regression.
Gwen accused Abigail of trying to ruin her life, and Rafe showed up to arrest Gwen. Abigail apologized to Jack, saying she wished it wasn't true, but Gwen furiously told Abigail she got what she wantezd, which was her gone.
As Rafe went to take Gwen away, she hissed into Abigail's ear that she killed Laure on purpose. Abigail told Jennifer what Gwen had said, which confused them both as to why she would confess and make her situation worse.
Abigail and Jennifer went to confront Gwen and demanded the truth. Gwen said she only said that to hurt Abigail since she couldn't punch her with her hands cuffed behind her back. After Jack and Jennifer left, Abigail returned to the visitors room, and told Gwen it's just them, so she wanted Gwen to tell her the truth.
Gwen smirked that it was not knowing the girth was eating Abigail up inside and vowed to never tell her the truth, saying payback's a bitch. EJ was eventually released when the evidence that pointed to EJ kidnapping Sami was planted by The Devil.
Abigail decided she wanted to have another baby and asked Chad how he felt about it. Chad was ecstatic and they got to work, trying. Abigail then revealed to Chad that her next big story was to find out who kidnapped Sami. Chad vehemently protested the idea, which confused Abigail.
Abigail got in touch with a contact, who tracked down one of the guys that had been paid to hold Sami captive. He had been arrested for another crime, and Abigail was going to fly down and see him. Chad was against the idea and argued with Abigail.
Chad then admitted he knew who had kidnapped Sami, and that it was Lucas. Abigail was shocked that her uncle was the kidnapper, and agreed to keep quiet for Chad and Lucas's sake.
Abigail found Thomas in the DiMera tunnels, and Thomas said he saw the tooth fairy, and promised not to say anything. Abigail thought Thomas was just making it up. EJ's mother Susan Banks was saying at the house, and aid she sensed a presence in the house.
Abigail wondered if the tooth fairy could be a real person, and then received a call from Gwen to go down to the prison, and see her. Abigail did so, and Gwen showed her the mug she made for Jack's birthday.
Abigail laughed at Gwen, saying her attempts were pathetic. Gwen said it was for their father's birthday. Abigail wondered why she couldn't just mail it, and Gwen said it could take months, and he might not even get it at all.
Abigail admitted she was visiting her parents later, and Gwen asked her to take the mug with her. Abigail agreed, and took the mug, but then dropped it on the floor, and stepped on it.
Gwen was horrid, and Abigail told Gwen she had some nerve asking her for anything after she tried to ruin her life. Gwen told Abigail she will make her pay as Abigail left the visitors room, laughing and mocking Gwen.
Abigail told Chad what had happened, and claimed she dropped it by accident, but Chad knew better, so she admitted she did it on purpose. Abigail and Chad went back to the mansion and tried to make a baby again.
Afterwards, Abigail stayed in their room to do some work while Chad went downstairs to watch a movie. After the movie, Chad came back to go to bed, and finds Abigail laying on the bed unconscious. Chad turns her over and sees that she is bleeding from her torso.
Chad immediately calls 9-1-1, and tries to stop the bleeding as he gently calls out to Abigail. Abigail awakens and weakly says the attacker had a knife. Chad asks Abigail who did this to her, but she just tells Chad to take care of the kids.
Chad hollers for help, and Belle and EJ rush into the room. Chad asks them to find the kids. Abigail weakly tells Chad she loved him and is cold before passing out. Abigail is rushed to the hospital and dies soon after.
Chad, Jack, and Jennifer all visit Abigail's body in the morgue and say goodbye to her. When Chad got home, he saw Abigail like she was alive, but knew she wasn't really there Upstairs, in the bedroom, Chad tried to touch Abigail, but couldn't, reminding him that she was really gone.
Gallery
References
See also