Obi-Wan Finale - The Loop
Play Sound
Angelo Vitali
Days of Our Lives
Portrayed by
Angelo Tiffe
Current status
Former; Recurring
Duration
2008, 2017, 2021
First appearance
March 24, 2008
Last appearance
January 5, 2021
Cause/reason
Left Town
Profile
Occupation
Mobster
Angelo Vitali is a character from the soap opera Days of Our Lives, portrayed by Angelo Tiffe from March 24, 2008 to June 17, 2008. He reprised the role from April 4, 2017 to August 3, 2017, and again in January 5, 2021.
Despite his countless crimes, he is very much fond of his cousin Ava Vitali, who he says is his favourite, and her son Tripp Dalton.
Storylines
Angelo was one of Ava's cousins and arguably her right hand man. Angelo did whatever Ava wanted him to do, and later betrayed his uncle Martino Vitali, and told Ava that her father was drugging her. After Martino's death, he continued to work for Ava until she left town. When Ava returned, Angelo was nowhere to be found.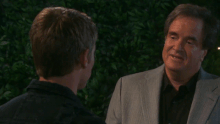 On April 4, 2017 Angelo came to Salem to meet Ava's long thought to be dead son, Tripp Dalton. Angelo expresses sorrow over Ava's death, and mentions how Tripp has his mother's eyes and that he looks just like her when she was his age. When he asks about who his mother really was and he informs him about the pain and suffering his mother had to face in her life because of her father Martino and his father Steve. He also says he tried to keep her from going after Steve, so she could move on. 
Tripp wonders on how the ISA could make his mother a target, Angelo tells him that he doesn't buy that story for his mother was no terrorist and that he shouldn't trust his father. He gives him a file that reveals to him that he is the heir to the Vitali family fortune, given Ava was Martino's only child and he is her son. Tripp was stunned with all the money he just got and yet he revealed to Angelo that he'd give it all up just for one day with his mom. Soon they parted ways but not before wishing him luck and giving him some CD recordings of his mother when she was pregnant with him. 
Steve later met with Angelo and ordered him to stay away from Tripp. Angelo said Tripp was his family, and told Steve that he is lying to Tripp. Angelo reveals that he knows that The ISA didn't order a hit on Ava, and accused Steve of murdering Ava in cold blood, and getting the ISA to cover for him. Angelo tells Steve that Tripp doesn't need Steve, and that he is wealthy. Angelo reveals that he inherited the Vitali fortune when Ava died, and that he gave Tripp a portion since he knows that is what Ava would have wanted.
Somehow, someway Ava came back and reunited with Angelo, yet he did not disclose this information to her son Tripp.
In 2020, it's revealed that Angelo has issues with Philip Kiriakis as he owes him a huge amount of money due to his gambling. He has his very much alive cousin Ava sent to Salem to ensure that he's keeping his end of the bargain by laundering the Vitali family's money through Titan Industries.
On January 5, 2021, Angelo is confronted by John Black and Steve. They accuse him of raping Allie Horton. Angelo denies it, saying he was in jail for two months last December on bogus charges. John calls to confirm it, and Angelo suggests that maybe it was Ava's other son, Charlie that she had after Tripp.
Gallery