Jurassic World: Dominion Dominates Fandom Wikis - The Loop
Play Sound
Baby Banning
Days of our lives
Current status
Former;Mentioned
Profile
Fullname
Baby Banning
Died
1983
Cause of death
Miscarriage due to falling off the horse.

Baby Banning was the late child of the late David Banning and Renee DuMonde.
Background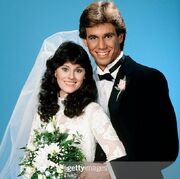 Baby Banning was the only child of Renee and the second child of David's.
Baby Banning was conceived during their parents marriage.
Baby Banning was the second grandchild of Stefano DiMera and unfortunately the second deceased grandchild.
Baby Banning was so loved by their parents when they were married.
Baby Banning died due to a miscarriage when Renee was going horseback riding with her horse and she fall off and sustained injuries that caused her to lose the baby in late 1983.
Renee grief the lose of hers and David baby hard and to the point she moved into the DiMera manison because Stefano demand she stayed married to David and so they worked out their marriage but also Renee developed a jealously for Tony and Anna marriage and when Tony and Anna found out they were pregnant Renee was so angry thinking about the baby she lost with David she decided to plot a plan to kill Anna because she had developed feelings for Tony instead having to fix her marriage and when Anna and Tony decided to take a trip that when Renee set a trap she rigged the yacht and that caused Anna and Tony to go over board and they landed up in the water where David found them and saved them both but Renee was upset this unfortunate accident cost Anna and Tony their child when Anna miscarried.
David and Renee divorced when David found out she caused the yacht accident which killed Anna and Tony child and Renee turned to Tony where they made love but it was only short lived when Renee married Alex and even that marriage was short lived.
Renee was killed that same year she suffered a miscarriage on September 2,1983 by the Salem Slasher Her brother André DiMera.