We're Getting Mutants in the MCU - The Loop
Play Sound
Baby Girl DiMera
Days of Our Lives
Current status
Former; Mentioned
Duration
2020,2021
First appearance
2021
Last appearance
April 29, 2021
Profile
Fullname
Baby Girl DiMera
Gender
Female
Born
Never born
Died
April 29, 2022 (due to the time jump)
Cause of death
Miscarriage at 5 months into the pregnancy
Residence
Salem, Illinois
Baby Girl DiMera was a fictional character from soap opera Days of Our Lives. Baby Girl DiMera is the late daughter of Chad DiMera and Gwen Rizczech.
Background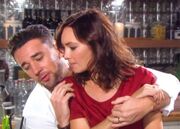 Baby Girl DiMera is the late daughter of Chad DiMera and his ex-mistress Gwen Rizczech.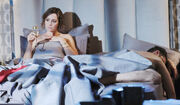 Baby Girl DiMera was conceived during her parents ONS in 2022.
Baby Girl DiMera is the only child Gwen had as she had non another children and Baby Girl DiMera is also Chad fourth child and second deceased child the first being Chad older firstborn daughter and Baby Girl DiMera older paternal half-sister, Grace DiMera who was born in January of 2009 and died in June of 2009 at six months old from bacterial meningitis .
Baby Girl DiMera is the fifteenth grandchild of Stefano DiMera and unfortunately the eighth decreased grandchild.
Gwen found she was pregnant in early 2022.
Baby Girl DiMera father Chad was married to her aunt Abigail Deveraux at the time of her parents relationship.
Gwen had lots of morning sickness during the pregnancy.
Gwen had lots of fight with Abby during the entire pregnancy while Gwen father Jack Deveraux supported her during her enitre pregnancy.
Gwen and Chad broke up when she found out she was pregnant.
Gwen had lots of stomach pain during the pregnancy. Gwen had a some stomach pains that made her go to the hospital and Dr.Clay Snyder where she found out she was having a baby girl but also she had a miscarriage On April 29,2022.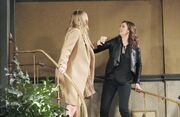 Gwen blamed Abby for her miscarriage to the point she fell down the staircase when she was confronting Abby on the stairs and she made everyone believe Abby had pushed her down the stairs and caused her miscarriage the whole year and until Abby returned and everyone was shocked when she revealed the truth she didn't cause Gwen miscarriage after all.
Gwen and Xander Kiriakis grew close after her miscarriage and the lost of her daughter and she was engaged to him but then Xander ex-fianceè Sarah Horton who prior also greieved a lost of a daughter Mackenzie Horton who was born and died on the same day May 10,2020 and she too grew close to Xander after grieving the lost of her Baby Girl and she shows up in Salem from being brainwashed and kidnapped by Kristen DiMera and that Wilhelm Rolf was the one who programmed Sarah into believing she was Renee DuMonde on a remotel island and that Gwen knew about the whole brainwashing and didn't want Xander to found out about and until Ava Vitali told Abby the whole truth and at the double wedding and Jack was angry and also she was revealed to have killed Jack ex-girlfriend and Abby grandmother Laura Horton and that Jack disowned Gwen at her wedding to Xander that didn't happen.