Benjamin "Ben" Weston is a fictional character from the NBC soap opera, Days of Our Lives, portrayed by Robert Scott Wilson since 2014.
In late 2015, he became an obsessive psychotic serial killer known as The Necktie Killer. Years later, in 2018, he was released from Bayview sanitarium after being deemed sane by Dr. Marlena Evans.
He is one half of the popular couple Ben Weston and Ciara Brady also known as Cin.
Casting
Created by head writers Gary Tomlin and Christopher Whitesell, the character was introduced by co-executive producers Lisa de Cazotte and Greg Meng in February 2014 as the estranged brother Jordan Ridgeway (Chrishell Stause). Actor Justin Gaston originated the role and was quickly replaced by Wilson in April 2014. Ben's arrival upsets Jordan's new life in Salem. The character's most significant storylines include his romance with Abigail Deveraux (Kate Mansi), trying to live down his secret past threatened by the arrival of his abusive father Clyde Weston (James Read), his feud with Chad DiMera (Billy Flynn).
Ben is mostly known for being a serial killer known as the "Necktie Killer" and claiming four victims, most notably gay legacy character Will Horton (Guy Wilson). While killing off the character of Will proved to be quite controversial, Robert Scott Wilson received critical acclaim for his portrayal of Ben's descent into an obsessive and crazed psycho killer. One blog christened the character with the nickname "Batty Ben".
In September 12, 2017, Wilson's return was confirmed by Soap Opera Digest. Robert Scott Wilson (Ben) will start airing again on DAYS during the week of September 25. "Honored and excited to Bring Ben back to his old stomping grounds," the actor tells Digest exclusively. "I couldn't have asked for a better entrance back to Salem — when no one sees it coming. Bad times don't last, but bad guys do." Wilson was last seen as a regular cast member in 2016. He made a return on a recurring status starting October 2017. His last appearance during this stint was on November 30. In December 2017, Wilson showed photos of him inside Days Studio set. In April 26, in the new issue of Digest, Robert Scott Wilson confirmed that he is back on contract as DAYS's Ben. "I'm really grateful," the actor tells Digestexclusively. "There is still so much with Ben; he's so layered and such a fun character to play. I just like jumping back into him. I love what Ron [Carlivati, head writer] and the whole team has been doing with him thus far, so I'm really excited to see where they take him after this." Wilson returned on May 4, 2018 as a series regular.
While the character was initially not well received, the shocking serial killer plot and Wilson's portrayal led to Ben becoming a fan favorite. One blog christened the character with the nickname "Batty Ben" while TVSource Magazine hailed Ben as "The sexiest serial killer in soap history." Wilson received critical acclaim in the soap press and many were quite surprised the actor did not receive Daytime Emmy Award nomination for his work. However, Ben's multiple return stints garnered the series multiple daytime Emmy nominations, and wins, including the Daytime Emmy Award for Outstanding Drama Series in 2018. The Boston Herald also praised Wilson for "bringing vulnerability, remorse and a bit of mystery" to Ben during his redemption plot in 2018.
Background
Ben Weston is the son of Clyde Weston, the local drug lord in Poplar Bluff, Missouri and an unnamed woman. He was born as Oliver Weston. He's blood-type O. He has a half-sister named Tammy-Sue. While growing up he was heavily abused by his father, it was believed that he was whipped with a belt during childhood. He'd be whipped for countless unknown reasons. Eventually, his mother died in an accident, but in reality and unbeknownst to him his mother was pregnant when she was accidentally killed by his half-sister Tammy-Sue. He was forced to live under the house of his abusive father. Through out his young life, Ben suffered from a strong mental illness related to his bad-temper that he probably got from his childhood abuse, in addition to having witness his father committing heinous crimes as well as help him in covering them up. Because of his problems, Ben had gotten into many brutal fights. However, despite his illness he was still aware of his actions.
In 2006, in one night both he and his sister ran away from home and they both went off to live different lives. He had taken many different identities over the years; he even met Eve Donovan and her daughter Paige Larson while in Florida as Kevin Reynolds. He fled different states from time to time to avoid being caught by his father and most likely for breaking number of laws in different states like in Houston and Miami.
Over the years he caught up in many different number of troubles; for instance in Miami, Florida he became an assistant in an Illegal Gambling business during his time there as Kevin Reynolds, where he helped in assisting a man who worked for a guy a big time criminal named Wollensky. In exchange for a relatively small amount of compensation -- less than two hundred dollars per week -- he had pointed the guy out to people who had indicated they were looking for a little gambling action. According to Ben, he did this so he can pay up for his education. At the time of when Wollensky and his major gambling ring, that had been operating out of a place Ben had worked, got busted by the Florida Bureau of Investigation, Ben left the state the same day and he soon made his way to Salem to be with his sister. He changed his name to Ben Rogers when arrived in Salem.
Storylines
Casting and Creation
In the summer of 2013 Soap Opera Digest reported that the soap had put out two separate casting calls, one of which was for the role of Ben. In February 2014, it was reported that actor and country singer Justin Gaston, known for his appearance on the television series, Nashville Star had been cast in the contract role of Ben. Gaston filmed his first scenes in October 2013 and was slated to make his first appearance on February 26, 2014.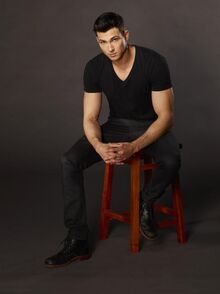 During the week of April 7, 2014, rumors circulated that Gaston had been replaced by actor Robert Scott Wilson, with neither actor nor the show commented on the speculation. On April 14, 2014, Soap Opera Digest confirmed the rumor and reported that Gaston was indeed replaced by Wilson, known for being the first male model on The Price Is Right and his portrayal of Peter Cortlandt in the short-lived online reboot of the ABC soap, All My Children. Wilson commented on the news that he would soon depart from the game show, and thanked fans. The following day, Wilson confirmed his final appearance on The Price is Right as April 15, and assured fans that he was not leaving on bad terms but did not comment on his new gig at Days of Our Lives. Wilson made his debut on May 22, 2014, in scenes opposite Kate Mansi as Abigail and Days veteran Kristian Alfonso as Hope Brady. At the time, Wilson was testing for another project on Fox. When the project fell through, Wilson returned to Boston to visit his family for Christmas which is when he learned he got the job. "It came at a time when I didn't expect," Wilson told Soap Opera Digest. Ironically, Wilson had just purchased a brand new Mercedes Benz the week before booking the gig. "Fortune favors the bold" he said of his luck. He started filming on January 8, 2014, and had filmed twelve episodes by the end of February. Wilson accredited his landing the role to his time on All My Children and one of his former costars, Jill Larson who played his mother, Opal. Wilson also found common ground with former AMC alum, Chrishell Stause who played Ben's sister, Jordan Ridgeway and said Stause and [Kate] Mansi helped him make the transition. After landing the gig, Wilson learned he would also be working opposite [Kristian] Alfonso, another Boston native.
Crimes Committed
Maladies and Injuries
Victims
Article: Ben's Victims
Trivia
According to a police report, his birthday is March 13th.

Ben is a Pisces. Pisces is the sign of illusions, and those born under this zodiac have a tendency to lose their grip on reality.
13 is an unlucky number.
Gallery
Community content is available under
CC-BY-SA
unless otherwise noted.