Jurassic World: Dominion Dominates Fandom Wikis - The Loop
Play Sound
Chad Michael DiMera is a character from the soap opera Days of Our Lives, and has appeared on its web series spin-off Days of Our Lives: The Digital Series. The role was originated by Casey Deidrick on June 19, 2009. Deidrick vacated the role in 2013. Billy Flynn currently portrays the role, making his first appearance on September 12, 2014. Chad is the youngest son of Stefano DiMera and his former mistress Madeline Peterson-Woods. He is the husband of Abigail Deveraux and together they have two children; Thomas and Charlotte DiMera and is one half of the supercouple Chad and Abigail DiMera also known as Chabby.
Chad shares a bond with a few members of his family namely his father Stefano, his sisters Kristen and Lexie, and his brothers EJ and Andre, and his niece and nephews Theo, Johnny and Sydney. Following the apparent deaths of Stefano, Lexie and Andre, a long with the reveal of his newly founded deeply hated brother Stefan, he became distant from the rest of the family and only sees Abigail and their children as his one true family. However, after Stefan's death, Chad, Kristen, a newly recovered EJ and their resurrected brother Tony have gotten close and he welcomed them back into his life. When Stefan's unknown twin Jake was revealed, Chad and the rest of the family dismissed him as nothing more than an interloper and a pretender like his late twin before him.
Casting
The casting and character was announced in late May 2009. Casey Deidrick had joined the cast as Chad. Deidrick revealed in an interview that he originally auditioned for the role of Tad. Despite very positive feedback, Brendan Coughlin was cast in the role of Tad. Deidrick's audition caught the attention of casting director, Marnie Saitta and he was soon called back to audition for the newly created role of Chad. Deidrick tested opposite Taylor Spreitler, whom he had previously met through a mutual friend. Deidrick learned a few weeks later that he had won the role and signed the standard four year contract.
Introduced by head writer Dena Higley and co-head writer Christopher Whitesell in 2009, Chad is the troubled ex-boyfriend of Mia McCormick and father to their daughter, Grace Brady. Chad factors into a romantic triangle between himself, Mia and her new boyfriend, Will Horton. After the baby story line, then executive producer Gary Tomlin fought to keep the actor and the character on canvas. In 2010, the series introduced Chad's parents, including his mother, Madeline Peterson Woods and Chad is revealed to be the illegitimate son of crime lord Stefano DiMera. Chad struggles to accept his new family but eventually forms strong bonds with his father, sister Lexie Carver and brother, EJ.
In the spring of 2013, the series released a casting call for an actor matching Deidrick's description which led to speculation that the role of Chad was to be recast. At the time, Deidrick's screen time had declined dramatically and he had also booked several guest appearances in prime time. On June 20, 2013, Deidrick confirmed his departure from the series through Twitter and posted a picture of his final script. Deidrick's last air date was October 30, 2013. Michael Fairman revealed that Deidrick made the decision to leave the series earlier that year and also hinted at the possibility of the role being recast. Deidrick told Soap Opera Digest that he wouldn't be opposed to a decision to recast, if it happened. However, the actor also said he was open to return to the series for future guest stints. Of his departure, Deidrick said, "I basically wanted to pursue other opportunities." However, Deidrick was grateful for all he learned. In June 2014, a picture of a script autographed by the Days of our Lives cast members was auctioned off at a charity event, and Billy Flynn was one of the signatures. On August 12, 2014, the producers officially confirmed Flynn's casting to Soap Opera Digest. Flynn was cast in the role of Chad and his first airdate was September 12, 2014. Chad returned in 2014, and immediately mixes it up in the business world, partnering with Kate Roberts (Lauren Koslow) and works secretly alongside his father.
In September 16, 2018, SOAP OPERA DIGEST CONFIRMS KATE MANSI HAS WRAPPED HER RETURN STINT, Billy is set to depart from the show with his onscreen partner per the new issue of Soap Opera Digest. Mansi's last Instagram post from the "Days" set, a photo of the Deveraux family, was on August 21, so look for her and Billy to air until at least the end of February 2019. The two will reportedly last air in the episode scheduled for Thursday, Feb. 21. "You won't wanna miss it," Flynn tweeted of his final episode, adding the hashtag "#chabbyforever."[1]
On May 5, 2019, it was revealed that Billy Flynn will reprise his role as Chad DiMera this fall, a long with his onscreen partner, Kate Mansi.[2]
On July 29, 2019, it was revealed that the NBC soap opera is getting an original companion series, Days of Our Lives: The Digital Series. The first season premieres on Thursday, August 1, on The DOOL App with the eight-episode arc "Chad and Abby in Paris." Billy Flynn and Kate Mansi will return to their iconic roles as Chad and Abby and we will see what they're up to in France before they return to Salem and Days of Our Lives this fall.[3]
In August 22, 2019, it's revealed according to Jason47, that the new behind the scenes photo of the cast chart in the make-up room confirms several things which include exits, rumors, the recurring cast and those who are on contract. The report states that Billy Flynn who is returning on screen this fall as Chad DiMera in a contract capacity. There's no word on the length of the contract.[4]
In October 29, 2019, it's been confirmed on TvInsider that Chad and Abigail are set to return to Salem on November 11.[5]
Storylines
Critical
TV Source Magazine labeled Deidrick a fan favorite and described the character of Chad as "one of the soaps' most popular younger characters of the late '00s." Stephanie Sloane of Soap Opera Digest commented that Chad's paternity seemed to envelope the series, but applauded the writers for "wisely" connecting him to the DiMera clan. Sloane also disagreed with how long the story took to play out. She praised Deidrick for Chad's very brief interactions with his future family members, Stefano, Kate and EJ. Nelson Branco of TV Guide Canada refers to Deidrick's performance in May 2011 as "infectious." In June 2011, Deidrick ranked at #3 along with costar, Chandler Massey in the "Top Young Actors to Watch" category. In 2012, Deidrick earned an Emmy pre-nomination in the Outstanding Younger Actor category for his portrayal of Chad. Michael Fairman applauded Deidrick for his portrayal of Chad in January 2013 when the character took revenge on Gabi and Nick, by revealing that Nick is not the father of her baby. The ratings also spiked for the episode, giving the series its highest ratings in two years.
Omar Nobles praised Deidrick's portrayal and stated: "Deidrick's enduring charm and emotional performances helped turn the tide in favor of the one-time bad boy" which would lead to his popularity. Upon the announcement of Deidrick's departure, Michael Fairman described the actor as "one of the best young actors on daytime." Jamey Giddens said "As much as I'm going to miss the tall, drink of DiMera, I can't say I blame Deidrick." Giddens attributed the decision to Chad's dramatic decline in screen time following Burnett's departure. Though sad about Deidrick's departure, Nobles said the actor had a great "future ahead of him." Fairman praised Deidrick for his portrayal of Chad's final scenes which aired on October 30, 2013.
Relationships
Prior to the announcement about the gay story line fans and critics alike pushed for a romantic pairing between Chad and Will due to the chemistry between the actors. Errol Lewis of Soap Opera Network explained that the two would have great potential as a romantic pairing, due to their heritage alone; with Chad being a DiMera, and Will being a Brady, would solidify the pairing as "star-crossed lovers" because of the long-standing feud between their families being staple within the series for so long. Despite both characters being involved in romantic pairings with females at the time, the pairing had already established a large fan base. The two, however, remain friends even when Will does turn out to be gay. The pairing is referred to by fans by their portmanteau "Chill." Despite the joke between costars, fans immediately began pushing for the pairing. Deidrick said he would be open to the potential pairing if the writers were to go in that direction. In June 2011, the duo ranked at #2 in the "Top Dream Couples" category on TV Guide Canada's "Soapgeist". Critics praised the writers for maintaining Chad and Will's friendship, and developing his friendship with Sonny despite both characters being gay. However, fans also pushed for a Sonny/Chad pairing after Chad defends him to a gay bully in September 2011. In response Smith jokingly shot down the idea and said that Chad is a little too tall for Sonny. Greg Hernandez said it was Chad's friendship with Will and Sonny that endeared him to the character. Fans also spoke out when Chad's friendship with Will and Sonny started taking a back seat to other story lines.
The onscreen pairing of Chad and Abigail became very popular among fans and garnered the squish name, "Chabby". Jamey Giddens enjoyed Abigail and Chad's new dynamic displayed in their snooping around Cameron. Giddens said that while he wasn't a fan of their initial romance, "Abby and Chad's scenes were fun, and made me wish I could see more".
Personal Possessions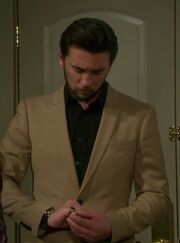 "Phoenix Ring": The Ring was his father Stefano's most iconic possession. It was once worn by his father and his half-brother Andre. A gold ring with a black flat square on top. It is embodied with a Phoenix, and said to be the reason why Stefano keeps coming back to life. It is also said that Stefano doesn't need it to rise from the ashes. Andre also wears the ring, and it can apparently bring him back to life as well, since he is the son of the Phoenix. This was briefly contradicted in 2007 when Andre was revealed to be posing as Tony (who was assumed to be Stefano's son), and therefore was Stefano's nephew, this is corrected in 2015 when Andre was revealed to be Stefano's son, and he wore the ring from Stefano's "final death" in 2016 to his own death in 2018. In June 2018, Kate gave Chad the ring and told him to accept his birth right as the new Phoenix, who will rise from the ashes like Stefano and Andre had so many times. However, on January 8, 2019, Chad gave up the ring as he realized he was becoming a monster and losing his sense of right and wrong. Kate kept the ring until Stefano returned to Salem in Steve Johnson's body, and he now wears the ring again. Stefano later passed the ring onto Chad, officially naming Chad as his successor. After drugging Chad and making him susceptible to his influence, Stefano instructed Chad to wear the ring and Chad dutifully did.
Gallery
References