Chad Michael DiMera is a character from the soap opera Days of Our Lives, and has appeared on its web series spin-off Days of Our Lives: The Digital Series. The role was originated by Casey Deidrick on June 19, 2009. Deidrick vacated the role in 2013. Billy Flynn currently portrays the role, making his first appearance on September 12, 2014. Chad is the youngest son of Stefano DiMera and his former mistress Madeline Peterson-Woods. He is the husband of Abigail Deveraux and together they have two children; Thomas and Charlotte DiMera and is one half of the supercouple Chad and Abigail DiMera also known as Chabby.
Chad shares a bond with a few members of his family namely his father Stefano, his sisters Kristen and Lexie, and his brothers EJ and Andre, and his niece and nephews Theo, Johnny and Sydney. Following the apparent deaths of Stefano, Lexie and Andre, a long with the reveal of his newly founded deeply hated brother Stefan, he became distant from the rest of the family and only sees Abigail and their children as his one true family. However, after Stefan's death, Chad, Kristen, a newly recovered EJ and their resurrected brother Tony have gotten close and he welcomed them back into his life. When Stefan's unknown twin Jake was revealed, Chad and the rest of the family dismissed him as nothing more than an interloper and a pretender like his late twin before him.
Casting
The casting and character was announced in late May 2009. Casey Deidrick had joined the cast as Chad. Deidrick revealed in an interview that he originally auditioned for the role of Tad. Despite very positive feedback, Brendan Coughlin was cast in the role of Tad. Deidrick's audition caught the attention of casting director, Marnie Saitta and he was soon called back to audition for the newly created role of Chad. Deidrick tested opposite Taylor Spreitler, whom he had previously met through a mutual friend. Deidrick learned a few weeks later that he had won the role and signed the standard four year contract.
Introduced by head writer Dena Higley and co-head writer Christopher Whitesell in 2009, Chad is the troubled ex-boyfriend of Mia McCormick and father to their daughter, Grace Brady. Chad factors into a romantic triangle between himself, Mia and her new boyfriend, Will Horton. After the baby story line, then executive producer Gary Tomlin fought to keep the actor and the character on canvas. In 2010, the series introduced Chad's parents, including his mother, Madeline Peterson Woods and Chad is revealed to be the illegitimate son of crime lord Stefano DiMera. Chad struggles to accept his new family but eventually forms strong bonds with his father, sister Lexie Carver and brother, EJ.
In the spring of 2013, the series released a casting call for an actor matching Deidrick's description which led to speculation that the role of Chad was to be recast. At the time, Deidrick's screen time had declined dramatically and he had also booked several guest appearances in prime time. On June 20, 2013, Deidrick confirmed his departure from the series through Twitter and posted a picture of his final script. Deidrick's last air date was October 30, 2013. Michael Fairman revealed that Deidrick made the decision to leave the series earlier that year and also hinted at the possibility of the role being recast. Deidrick told Soap Opera Digest that he wouldn't be opposed to a decision to recast, if it happened. However, the actor also said he was open to return to the series for future guest stints. Of his departure, Deidrick said, "I basically wanted to pursue other opportunities." However, Deidrick was grateful for all he learned. In June 2014, a picture of a script autographed by the Days of our Lives cast members was auctioned off at a charity event, and Billy Flynn was one of the signatures. On August 12, 2014, the producers officially confirmed Flynn's casting to Soap Opera Digest. Flynn was cast in the role of Chad and his first airdate was September 12, 2014. Chad returned in 2014, and immediately mixes it up in the business world, partnering with Kate Roberts (Lauren Koslow) and works secretly alongside his father.
In September 16, 2018, SOAP OPERA DIGEST CONFIRMS KATE MANSI HAS WRAPPED HER RETURN STINT, Billy is set to depart from the show with his onscreen partner per the new issue of Soap Opera Digest. Mansi's last Instagram post from the "Days" set, a photo of the Deveraux family, was on August 21, so look for her and Billy to air until at least the end of February 2019. The two will reportedly last air in the episode scheduled for Thursday, Feb. 21. "You won't wanna miss it," Flynn tweeted of his final episode, adding the hashtag "#chabbyforever."[1]
On May 5, 2019, it was revealed that Billy Flynn will reprise his role as Chad DiMera this fall, a long with his onscreen partner, Kate Mansi.[2]
On July 29, 2019, it was revealed that the NBC soap opera is getting an original companion series, Days of Our Lives: The Digital Series. The first season premieres on Thursday, August 1, on The DOOL App with the eight-episode arc "Chad and Abby in Paris." Billy Flynn and Kate Mansi will return to their iconic roles as Chad and Abby and we will see what they're up to in France before they return to Salem and Days of Our Lives this fall.[3]
In August 22, 2019, it's revealed according to Jason47, that the new behind the scenes photo of the cast chart in the make-up room confirms several things which include exits, rumors, the recurring cast and those who are on contract. The report states that Billy Flynn who is returning on screen this fall as Chad DiMera in a contract capacity. There's no word on the length of the contract.[4]
In October 29, 2019, it's been confirmed on TvInsider that Chad and Abigail are set to return to Salem on November 11.[5]
Storylines
Chad appeared in Salem on June 19, 2009 when he showed up at the Java Cafe looking for his ex-girlfriend, Mia. He wanted to reconcile with her, but Mia immediately refused. Not wanting to take no for an answer, Chad transferred high schools as well as got a job at the Java Cafe so he could spend more time with Mia, despite her discomfort over the entire situation.
Prior to his arrival, sometime in 2008, Chad and Mia had had a sexual relationship which produced a daughter born on January 26, 2009 (whom Mia gave to Nicole Walker to raise and whom Nicole subsequently switched with Sami Brady's daughter thus Sami raised Mia's baby named Grace, while Nicole raised Sami's baby named Sydney). But, Chad had no idea that Mia was ever pregnant because his parents had sent him to military school because of his troublesome behavior which included drug use. When Chad returned and Mia rejected his reconciliation, he quickly became suspicious of the time they spent apart.
Chad went searching for answers. His friend Kinsey informed him that Mia was in rehab while he was away. Chad knew Mia wouldn't do drugs as he had tried to coax into doing so on several occasions and she always turned him down. Mia lied and tried to assure him she was a recovering addict to ensure he didn't find out about the baby, but he still held his doubt. On Mia's behalf, Nicole posed as her sponsor and had a conversation with Chad. She warned him not to upset Mia as she was truly in recovery. Chad agreed to back off, but remained suspicious of Mia's story.
By August, Chad decided to up his plan to get Mia back. He teamed up with Kinsey, who wanted Mia's boyfriend Will all to herself. But their plan break up Will and Mia did not work. Still, Chad knew that Mia was lying about the rehab story, so he stayed close to her in hopes of overhearing something that would let him in on the truth.
One day he overheard Mia talking to Brady Black about "the baby". Chad demanded that Mia tell him everything. She confirmed to him that she had a baby -- his baby -- and that baby was now living with Nicole and E.J. DiMera. Chad went to EJ and demanded his daughter back, but EJ refused. On many occasions afterward, Nicole attempted to convince Chad that "his" baby would be better with her and E.J. Mia also tried to convince Chad of that, but he wanted custody of his child.
Finally, after months of back and forth, the devastating truth was revealed – Nicole had switched the babies and the baby Chad had with Mia, Grace, was dead. Chad and Mia were both crushed as well as appalled by Nicole's actions. Together, they mourned for their daughter, which drew them closer together.
Although still mourning for Grace, Chad became optimistic that he and Mia would reunite. Despite the fact she was still dating Will, Mia encouraged Chad's hopes by accepting his invitation to Salem High's 2009 winter dance. The problem was she had already accepted Will's invitation too. Chad was upset when he learned the truth and decided to move on with his life, without Mia. He then began dating Gabi Hernandez.
Chad and Gabi would find little peace thanks to a jealous Mia. Ignoring his relationship with Gabi, Mia began to play dirty and tried to win Chad back, all the while lying to him that she and Will – who had become exclusive – were about to break up. Mia cited that Will was going through a hard time and she would dump him as soon as he was in a better place. Although he cared for Gabi, he loved Mia and broke things off with Gabi to pursue things with Mia once again. Gabi, however, knew Mia was lying, and soon Chad discovered that too. He promptly broke up with Mia.
Although not officially a couple, Chad and Gabi began to spend time with each other once again. Things became a little strained for them when Chad's father, Charles, was attacked on the pier. Charles blamed Gabi's brother Rafe, but she remained adamant he didn't do it. When Chad questioned his father's accusations Charles verbally tore into Chad, stating, among other insults, that he should have left him in boarding school. Chad was deeply hurt by his father's harsh words, but was comforted by his mother, Madeline.
A short time later, Chad became intrigued by his mother's connection to Kate Roberts-DiMera. He had noticed them exchanging heated glances, but Madeline tried to assure Chad she simply has contempt for the DiMeras, a family of lifelong criminals, and didn't want his involvement with them to hurt the Petersen-Woods's good name. Chad became more skeptical of his mother's story when she acted irrationally towards him going to a study group at Will Horton's, who was now living at the DiMera mansion. The group later met at the Java Café instead, and Chad and Will began to bond over the secret Kate and Madeline shared.
Unfortunately, Chad found out Madeline's secret, but was hardly ready for what she told him. She turned to prostitution to pay her way through law school. He was furious with his mother and the two got into a heated argument on the pier. As Madeline tried to explain, Chad walked away. She followed him up the stairs, but, when he tried to get away from, she fell.
While barely clinging to life, Madeline told Chad that she lied for him – everything she did was for him. She was rushed to the hospital where she later died. As it turned out, Madeline suffered from hypertension as well as aneurysms and one in her brain had ruptured causing her death. Chad was a wreck with guilt and sadness, and it didn't help that Charles blamed him. Kate, however, knew she held Chad's future in her hands' by holding the key to Madeline's secret-that Stefano was Chad's biological father.
When Stefano and Chad found out about their relationship, Chad was skeptical to join the DiMera family. But, Stefano kept trying. Eventually, Chad took the job with DiMera Enterprises and moved into the DiMera mansion. Neither move went over well with his girlfriend, Abigail.
Eventually Chad got caught at the wrong place in the wrong time. During a feud between the DiMeras and the Kiriakises, Chad was shot in the chest. He recovered, but realized that being so close to the family was not a good idea. He quit his job and moved out of the mansion. He focused on Abigail and his friends, Sonny, Will, Melanie, and Gabi.
Chad, Will, and Sonny decided to start a website together that covered sports at their school - SalemSportsFan.com. The site was a big hit and soon they began discussing how to monetize it. However, one day Chad noticed some suspicious activity going on in the chat rooms. Someone was using their chat room to post odds for an illegal gambling ring. Worried that the could go to jail, the boys decided to shut down the website.
But, the men behind the gambling ring were not happy. They kidnapped Chad and Melanie and held them hostage until Will and Sonny got the site back up. Terrified that they were going to die, Chad and Melanie confessed their true feelings for each other and shared a kiss. When they were rescued, Melanie told Chad that it was a mistake and they couldn't hurt Abigail by being together.
But, the damage to the relationship had already been done. Abigail began to have feelings for someone else and Chad knew that his feelings for Melanie weren't going away. On New Year's Eve, Chad and Abigail mutually decided to end their relationship. Chad told Melanie about the break-up, but Melanie was still worried about how Abigail would feel. When Abigail saw Chad and Melanie talking, Abigail knew that something was going on between them and was furious with both of them. Melanie told Chad that they can't be together until Abigail forgave them. Abigail was angry for a while, but finally decided that Chad and Melanie would make a good match. Chad and Melanie started dating.
Chad also got some attention from another woman, Kate DiMera, who cast him as a model in one of her cosmetic ads. Gabi Hernandez appeared along side him in the pictures. Their close photo shoots led to Gabi developing feelings for Chad. Gabi schemed to get rid of Melanie by planting an earring in Chad's bed during a platonic visit to Chad's apartment. However, Chad asked Gabi to explain the earring to Melanie. Chad and Melanie continued on their happy relationship.
But, Gabi's obsession grew. She hired a photography assistant, Andrew, to pose as her stalker. Chad asked Gabi to move in with him and Melanie for Gabi's safety. But, Andrew spiraled out of control and kidnapped Melanie and held her hostage. When Gabi found out, she was horrified. But, she still believed that she could get Chad to fall for her. So, she told Andrew to keep Melanie.
Andrew sent an email to Chad from Mel's phone saying that she was going to visit her mom in Europe. Chad didn't think much of it. But, when Melanie didn't return Chad's calls, he got worried. Chad soon discovered that Mel didn't go to Europe. The police began looking for Melanie. They tracked her to Andrew's house. But, Gabi warned Andrew that the police were coming. So, Andrew hid with Melanie under the tunnels of Salem. When the police arrived and his house, Gabi faked like she had been drugged and the police assumed that Gabi was a victim too.
Melanie was able to get hold of Andrew's phone and call Chad. Gabi was standing right next to him and encouraged him to go down and look for her while she called the cops. Chad agreed. But, rather than call the police, Gabi went searching for Andrew too. She found him and Melanie first. Just as Andrew was going to tell Melanie about Gabi's involvement with the scheme, there was a huge explosion in the tunnels. Andrew seemed to get away. Melanie and Gabi were eventually connected with Chad and Brady and the four made it out of the tunnels.
Andrew was retrieved and brought to the hospital. With his dying breath, he promised Gabi that Chad would find out what she did. Chad overheard the conversation and ripped into Gabi. He didn't want to burden Melanie with the news that Gabi betrayed her, but he told Gabi to move out of the country and leave them alone. He turned his attention towards helping Melanie.
A few days later, Melanie learned that Nick Fallon, another of her former stalkers, was up for parole. Chad urged Melanie to testify against Nick. When Melanie couldn't bring herself to do so, Chad vowed to protect Melanie. He proposed to her and she accepted.
When Melanie learned that Nick would have to remain in Salem as a condition of his parole, Chad was horrified. Chad would worry if he couldn't get a hold of Melanie during the day. One day, Melanie met and talked with Nick, and the two made their peace. However, Melanie accidentally left her scarf behind. Nick put it in his pocket to give back to her later. And, Chad saw Nick with Melanie's scarf, Chad thought that Nick had done something to Melanie. Chad attacked and beat Nick.
Gabi broke up the fight. Horrified that Nick was hurt, Gabi confessed to Melanie that she hired Andrew to pretend to be Gabi's stalker. Gabi also told Melanie that Chad knew about it since Andrew's death and was keeping it from Melanie. Melanie ripped into Gabi and ordered her to leave. Then, Melanie turned her anger towards Chad. She broke up with him and decided to leave Salem. Additionally, Nick blackmailed Chad into singing a document that forbade Chad from testifying against Gabi's part in Melanie's kidnapping. If Chad were to talk, Nick would turn Chad in for assault.
Chad was furious with Gabi and went to E.J. to ask for help making her pay. Chad told E.J. the whole story. E.J. looked into getting the legal document that Chad signed voided, but was not successful. E.J. promised Chad that the time for revenge would come. Kristen, who had recently returned to town, echoed that sentiment as well. But, she urged Chad to wait until he could think a bit more logically about his revenge.
The time for revenge came when Chad overheard Gabi talking to her doctor about Nick not being the father of her baby. Because of his new relationship with Abigail, Gabi's maid of honor, Chad was invited to Nick and Gabi's wedding. Chad stood up during the ceremony and announced that Nick was not the father of Gabi's baby. Rafe tried to attack Chad for making Gabi upset. Hope arrested Chad for disturbing the peace and Chad was escorted out. Abigail was furious with Chad and ended their relationship.
What Chad didn't know was that Will was the father of Gabi's baby. Sonny asked Chad to explain the outburst at the wedding. Chad admitted that he had no idea that Will was the father, but that Chad had a score to settle with Gabi because of her role in masterminding a scheme that got Melanie kidnapped. Chad also told Sonny that Nick blackmailed Chad into never saying anything and asked Sonny to keep the secret. Sonny agreed. Chad also apologized to Will and the two began to rebuild their friendship.
With his friendships back in place, Chad focused his attention on rebuilding his relationship with Abigail. The task proved to be more difficult because Abigail had began dating Cameron, Lexie's maternal half-brother. Because of his respect for Lexie, Chad backed off. When Abigail came to Chad for help getting Cameron out of a jam, Chad agreed and helped. But the additional time they spent together made Chad's feelings grow stronger.
Chad was honest with Cameron about his feelings for Abigail. The two decided to let Abigail decide which one she wanted. Abigail was torn and spent time with both of them while trying to make her decision.
Chad was also building a relationship with his siblings, E.J. and Kristen. He was happy for E.J. when E.J. and Sami got engaged. One day he saw Sami getting into a fight with someone. He thought it was comical, so he video taped in thinking he could use it at a gag reel for her birthday. But, the man she was fighting with turned out to be Detective Bernardi, the man she would later shoot in defense of Rafe. Chad didn't know this and shared the video with E.J. and Sonny. E.J. was worried and asked the boys to keep it a secret. They agreed. But, Sonny forgot that he'd shared the video with Adrienne, who did not like Sami, nor the fact that Sonny was dating Will. Adrienne took the video to the police. They arrested Sami and charged her with first degree murder.
Abigail also happened to see the video while looking over Chad's shoulder. Chad convinced Abigail to keep quiet about it. Chad and Abigail kept spending time together, including the Fourth of July celebration. While swimming, Chad hit his head on a rock. Abigail and Cameron insisted that Chad get checked out. Cameron performed some tests and then sent Chad to a specialist. Chad told Cameron that he was diagnosed with a brain tumor. Chad ordered Cameron to keep quiet about it.
Chad moved forward with his life, including redecorating and rebranding the coffee shop he owned with Sonny to a new night club in town, Club TBD.
Due to Chad's "condition," Cameron backed off Abigail. Chad moved forward with her, taking her on several dates. When Abigail had trouble with her family, she leaned on Chad for support and their relationship became serious. They ended up sleeping together.
Cameron was upset when he found out. He thought that Chad should tell Abigail about the brain tumor. But, it turned out that Chad didn't have a brain tumor. He had used it as an excuse to get Cameron to back off. But Chad had to keep up the lie. So he researched treatments online and passed the information off as his own. E.J. discovered Chad's secret and used it to blackmail Chad into moving back into the mansion, but got Cameron to back off from asking any more questions about Chad's treatment.
On the night of Sami and E.J.'s engagement party, for which Chad served as best man, Marge Bernardi came into the party and tried to shoot E.J. Chad jumped in front of the gun and took the bullet. When Chad was rushed to surgery, E.J. was forced to tell Cameron that Chad didn't have a brain tumor and was not on any type of treatment drugs. Cameron was mad at Chad and urged him to tell Abigail the truth.
While Chad's surgery was a success, the doctors found an abnormality with Chad's heart that required immediate surgery. The best doctor was in Boston, so Stefano made plans to fly to Boston with Chad for the second surgery. Before he left Chad came clean with Abigail. She broke up with him, deciding that this wasn't the best time for them to be together. After his surgery, he called E.J. to tell him that the surgery was a success, but to let Abigail know that he wouldn't be coming back to Salem.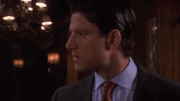 In 2014, EJ DiMera, Chad's older brother and Abigail were getting close and in January, 7 they began having an affair that lasted till March. E J was desperate to keep the secret of the affair a secret to his then fiancé, Sami Brady. Soon the affair was exposed, and Sami was determined to make EJ and Abigail suffer. She eventually started dating Ben Weston.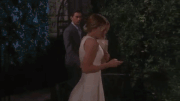 In September 12, 2014, Chad returned to Salem and upon seeing E J, he punched him for sleeping with Abigail after finding out about their affair in Will's article. Chad reconnected with "T", Will (Guy Wilson), Sonny, and Abigail, whose feelings for him had resurfaced once more. He does not like the fact that Abigail is dating Ben Rogers (Justin Gaston, Robert Scott Wilson). He tried to get Ben fired from his club by accusing him of stealing but Sonny disagrees with Chad. Chad charmed Abigail and soon became interested in Ben's sister Jordan Ridgeway (Chrishell Stause). Chad and Jordan began dating, but they soon broke up.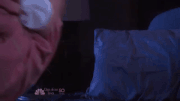 Jordan soon after leaves Salem after receiving a new job opportunity. After Jordan leaves Salem, Chad went back into pursuing Abigail, but, his life got changed once more when he discover his adoptive sister Kristen was killed, and now know that he was the last child in the family. In June 3, 2015, Abigail cheats on Ben and sleeps with Chad. Chad tells Abigail that he was just using her to get revenge on what happened with EJ, but the truth is he is still in love with her and wants to protect her from his father.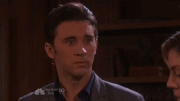 Abigail becomes pregnant and the father is revealed to be Ben after Ben's father, Clyde Weston threatened the doctors facilitating the paternity test. Chad is disowned by Stefano and, depressed, goes to a bar where he meets Serena Mason. Serena rejects his advances and Chad drunkenly goes after her, waking up the next morning without any memory of anything that happened after he left the bar and soon finds out he's the prime suspect after Serena is found strangled by the "Necktie Killer" in the park. Abigail sticks by him even though she's still with Ben. After the murder of Paige Larson and when Dr. Marlena Evans is attacked when she's unable to help Chad remember what happened the nights Serena and Paige were murdered. After Will was killed, Chad realised it was Ben who was the Necktie Killer he confronted him and they got into a fight that ended with Chad entering into a coma. Abigail continues to believe in him, despite Ben claiming Chad attacked him. Chad was taken into custody after he woke up and continues to be convicted of the murders.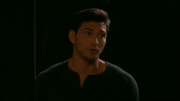 While getting ready for Hope Brady's wedding to Aiden Jennings, Abigail tells her mother that Ben is acting weird, which Ben overhears. She soon finds pictures of Chad on his phone, many pictures of him and she realizes that he was stalking him. When Abigail suggested to give this to the cops to clear Chad's innocence, Ben admits to being the Necktie Killer and to framing Chad. Abigail tries to get him to get help from Marlena but he refuses. Then when Abigail tries to get away he goes barking mad and knocks her out and takes her to an abandoned cabin in Mammoth Falls and handcuffed her to a chair so she couldn't escape. Abigail tried to escape a few times but failed.
Chad is released after Aiden Jennings attacks Hope Brady on their wedding night and he is believed to be the "Necktie Killer." Chad goes to Abigail and Ben's apartment to thank Abigail for believing in him, but Ben (who is the real killer) makes him leave threatening to call the cops. Abigail, who Ben is keeping hostage in a cabin in the middle of nowhere, is forced to call Chad and tell him that she's done with him, she is able to communicate with Chad that she's in trouble without Ben knowing. When Chad found out that there was something wrong he asked Rafe Hernandez to help find her and after some arguing Rafe agreed. The police tracked Ben and Abigail's location and Chad went looking for them.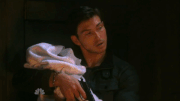 A little while later, she started getting pains which she thought were cramps but they later turned out to be labor pains. Abigail gave birth to a healthy baby boy, thanks to a midwife named Wendy Taylor who was killed by Ben after she helped in giving birth to Abigail's son.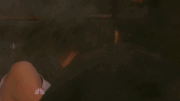 Soon after, Chad arrives at the cabin, but Ben knocks him out and ties him and Abigail to the bed, setting it on fire and leaving with Abigail's premature son. Chad is eventually able to get himself and Abigail free and he carries her to safety. They are found by the police and Chad and Abigail were returned to Salem. Ben was arrested for the murders thanks to JJ and Lani and Abigail testified and revealed to the police all of Ben's actions. He was put in a jail cell with 24 hours suicide watch over him.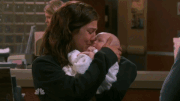 Stricken over the disappearance of her son, Chad and Abigail's brother JJ Deveraux go back to Mammoth Falls, where Abigail was being held hostage and find her son at a motel and then reunite them at the hospital in Salem. He was named "Colin" by Ben but Abigail wanted her son to have his own name and so she renamed him Thomas Jack Deveraux, after her father Jack Deveraux and great-grandfather Tom Horton.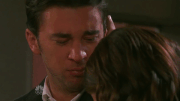 Afterwards, Chad and Abigail start to plan their future together. Abigail revealed to Chad when she first started dating Ben she knew deep down in her heart that she couldn't really be in love with him for she never stopped loving Chad even to this day she still never stopped loving him vice versa with Chad. Chad is later hypnotised by Marlena but is brainwashed by his older brother, Andre DiMera, after he hijacks the session, to do the family bidding and get close to Belle after Sami stole the DiMera fortune. He is also forced to break up with Abigail.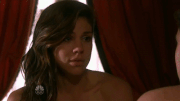 On New Years Eve, after Thomas gets sick it's revealed that Chad is his father, not Ben. He and Abigail eventually get engaged. Weeks later, Chad buys the DiMera mansion, and he and Abby move in with their son, Thomas. Chad was later shocked that his father has been murdered. Andre claims that Hope killed Stefano, and Rafe helped her cover it up.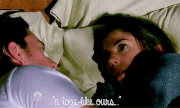 Chad doesn't believe Andre, and refuse to help him after he has been arrested for Stefano's murder. On Valentine's Day morning, Chad and Abigail Vowed to each other that "A Love Like Ours Comes Once In A Life Time." Chad and Abby plan their wedding, but Chad then learns that Ben has escaped custody.
On their wedding day, Abby sees Ben outside the window and lets out a blood curdling scream. After it's determined that Ben is nowhere on the property, Abby and Chad get married and in their vows they both declare that they are everything to each other, along with their son and promise to love one another forever. Abby continued to be haunted by Ben even on her honeymoon with Chad. When they get back to Salem, Abby hallucinates seeing and interacting with Ben. "Ben" even picks up Thomas and goes to leave orb him. Abby shouts at Chad and JJ to stop Ben, but they don't see him there.
Abby continues to have hallucinations of Ben until the real one shows up. In April 7, Ben broke into the DiMera Mansion, and in the living room he confronted Abigail and made it clear to her that he wants her and "their" son back. Abby gets Ben to drop his guard by lying about Chad abusing her, and then seducing him. Abby seduced Ben by lying about Chad abusing her, and then he was taken to her bedroom where she continued to seduce him till she stabbed him in the shoulder with a pair of scissors, and then knocked him out with a lamp. Chad calls her to check up on her, Abigail doesn't tell him that Ben is at the house instead she decides to take care of Ben herself and tells Chad to pick up some groceries so he wouldn't interrupt what she's about to do to him.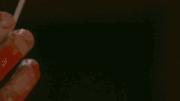 Abby tied him to the bed, and woke Ben up just so she could taunt him. Abby struck one match after another which terrified him since he slowly began to realize what she was gonna do. Ben told her that even if she killed him, he will always be with her, though Abigail was not worried as she believed she was doing a public service. Without hesitation, Abby lit Ben on fire. Chad arrived and put out the fire. Ben was burned heavily in his legs. Despite the pain, he tried to make his escape but Chad knocked him out and gave him a busted lip. Abby was furious with Chad as she wanted Ben to die. Ben got arrested and was condemned by the District Attorney Justin Kiriakis to be sane enough to be sent to a Maximum Security Prison.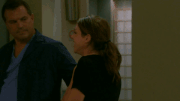 Later on, Abby overheard Chad and Marlena talking about admitting Abby into a mental institution, and Abby took Thomas and fled to a motel. Chad and JJ found them, and talked Abby into returning home. When Abby couldn't calm Thomas down, but Chad was able, Abby realised she needs help, and agreed to go get help. While being evaluated at the hospital, Abby had a nightmare about Ben. "Ben" told Abby now that he knows she doesn't love him, she has to die, and Abby woke up alone and afraid.
Abby eventually requested that Chad no longer visit her, but in June, Abby was injured in a fire. Chad went to see Abby, who insisted that Ben was there. In Abby's mind, she could still see Ben. Chad was horrified and confused that Abby seemed to be getting worse, not better. Chad got even more bad news when he learned that Abby was the one who set the fire. As Abby slept, she remembered seeing Ben again. Abby opened a drawer in her room that had a lighter and can of gas, which Abby used, hoping to rid herself or "Ben" for good. Then, Abby imagined that Jack had appeared and dragged her out of her room, before she got too injured. When Abby woke up, she declared that she wanted to leave, and Chad agrees to help her escape.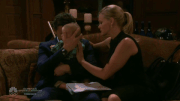 Abby disappears, and Chad pools all his resources into finding her. JJ and Jen wonder if Chad broke Abby out, and is hiding her, but Chad swears he isn't. Andre offers to help if Chad bequeaths him an old safe house of Stefano's outside of town. Andre claim he found a letter. Chad reads the meter and becomes convinced Andre has Abby. Andre denies the accusation, but tells Chad he lied when he said that he found the letter. Andre says he saw Abby, and she gave him the letter. Chad still doesn't believe Andre, and leaves. Chad later decides to get close to Andre to find out if he does Abby. Andre claims Abby died in a plane crash, leaving Chad devastated. As Chad spirals more and more out of control, Jen decides to sue a had for custody of Thomas, believing he can't take care of Thomas. Chad hires Belle as his attorney, but eventually realizes he is in no shape to take of Thomas while he is grieving Abby, so he decides to give up custody. Jennifer also realizes she can't take of Thomas, so the both of them decide to let Thomas stay in the DiMera Mansion with Lucas and Adrienne helping Chad raise him.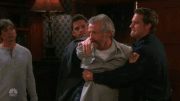 Later in September, Clyde Weston escaped prison and made his way to Salem where he had every intention of kidnapping Thomas, who in his delusional mind believed should be Ben's son, even though he knows he isn't his, and reunite him with his "deranged serial killer of a son" believing it will redeem him for the abuse that he had done to Ben as a child. However, his plans had been foiled by the DiMeras and with the help of Adrienne and Lucas, he was arrested once more and sent back to prison.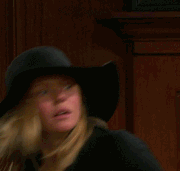 In November 2016, Abby returns to Salem after faking her death with Andre's help, and being cared for by Laura. Abby goes to see Thomas and runs into Andre at the mansion. Abby hides when Chad comes home, and waits until he leaves before she comes out of hiding. Andre promises Abby he won't tell Chad she has returned to Salem. Abby briefly holds Thomas, before leaving the mansion.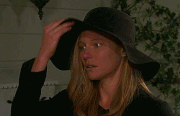 Abby reveals herself to Jennifer, and explains why she ran away. She hides out at home with only Jennifer knowing she is alive. When Andre comes over to talk to Jennifer, Abby attempts to run. Andre catches her, and to Abby's surprise, Andre encourages Abby to reveals herself to Chad, and reclaim her life. Andre goes to take Abby to the mansion, but they see Chad at the square. Abby attempts to run, but Andre stops her, and tells her it is fate. Abby slowly approaches Chad, but then runs away when she sees Gabi come up to him. Andre catches up with Abby, and advises her to take some time to think about it. He gives her an untraceable phone to call him anytime she needs to.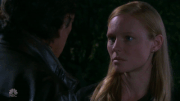 Abby hides out in the attic at Jennifer's, and is eventually discovered by JJ, who is happy to see his sister alive, and agrees to keep her secret. Andre continues to push Abby to reveal herself. Abby sees Dario Hernandez down by the docks, and blackmails him into keeping her secret using his illegal activities as leverage. Abby sees Chad talking to a memorial for Abby in the park, and she has a panic attack and runs into Dario, who comforts her.
Abby meets with Andre, and tells him she is finally ready to reveal herself and reclaim her life. Andre goes with Abby to present her to Chad, but they walk in on Chad and Gabi as they are passionately kissing. Abby runs off, and starts to have a panic attack. Andre catches up with her, and assures her that Gabi is just a distraction, and Chad will drop her when Abby reveals her. Abby thinks the best thing for everyone is to leave Salem for good. She thanks Andre for his help, and says that despite his initial motive for using Abby to get back into Chad's good graces, she believes he wants them both to be happy, and asks him to respect her decision. Abby says goodbye to Jennifer and is all set to leave Salem. Andre has Abby meet him and tells her if she won't tell him she is alive then he will. Abby threatens to tell Chad about Andre's involvement, and Andre backs off. Abby goes to say good bye to Thomas and Chad sees her.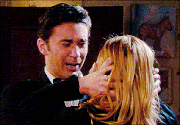 Chad is shocked and relieved to know Abby is alive, but wants to know where she was. Abby explains everything to Chad and he is frustrated and shocked by Abby and Andre's actions. Abby says Chad has every right to hate her, but Chad yells he doesn't hate her, but doesn't understand how she could do this. Thomas wakes up and starts crying, and Chad asks Abby if she can be a mother for Thomas.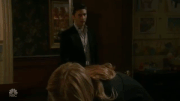 When Gabi arrived at the mansion the next day, Abigail revealed herself and she explained that she had recently seen Gabi and Chad kissing in the mansion. Despite knowing that she had no right to be upset, Abigail couldn't help wondering on how long has that been going on. Gabi realised that Abigail was the one who had told J.J. about the kiss. Gabi explained that they both thought she was dead and wondered how long Chad was supposed to wait and if they had any idea that she was alive it would never have happened. Abigail wondered if Gabi was sure about that.
Before Gabi could respond, Chad returned and told Abigail to stop, stressing that it isn't Gabi's fault. If there is someone to blame it was herself. J.J. arrived as Gabi was exiting the study. Abigail explained that she had begged J.J. not to tell anyone that she was alive, prompting Gabi to wonder how Dario had found out. Chad was shocked that Dario knew she was alive. Meanwhile, Gabi agreed to go somewhere else with J.J. so they could talk privately. Before leaving, she gave Abigail another hug, tearfully declaring, "Seeing you is the best Christmas present." After Gabi and J.J. left, Abigail turned to face Chad. He wondered if he was supposed to just pick up where he had left off with her and pretend that the last few months had never happened. She believes its possible but he's not sure if its possible.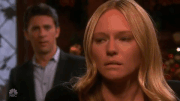 Chad wondered if she knew what it was like to live without her. Abigail stressed that she was sorry for what she had put him through. He believed her but insisted that things could have been much different if she had just allowed him to help her. She explained that she hadn't wanted to be a burden to him. He countered that his pain and suffering was the real burden! She started to respond, but he interrupted, adding that they vowed to love each other in sickness and in health! That was his responsibility, not a burden, and he would have done it for her gladly! He would have stood by her, no matter what! Abigail asked if he will stand by her now as she approached Chad and put her hands on his chest. He stammered as he backed away from her, unsure of how to respond to her question. She admitted that J.J. had helped her realise that she had put Chad through the exact same thing Jack had put them through, and that was why she knew just how much pain she had truly caused him. But she told Chad they are meant for each other, she was getting ready to walk out of the nursery, and she was never coming back, but somehow, something caused Chad to walk in there the exact moment that she was there. And it might have been fate, or destiny, or God -- whatever it didn't matter what mattered is that he found her.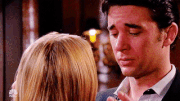 Chad stressed that he loved Abigail and would do anything for her and Thomas. But he doesn't know if he can get through this. He doesn't know when he's gonna stop being mad at her, he doesn't know if he can trust that she won't run away every time things get tough again. Abigail wondered where that left things between her and Chad. Fighting back tears, he stroked her cheek as he replied, "All I know is that I don't want to let you walk out that door." He made it clear that although he was going to need some time to figure things out, he wanted her to stay at the mansion during that process. She happily agreed.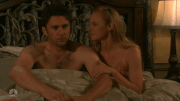 Chad keeps his distance, but allows Abby to stay at the mansion, so Thomas can still have his mother. On New Years Eve, Abby attempts to romance Chad, but fears they are moving too fast. After Thomas goes to sleep, Abby comes into the room. They talk things through, he also confides in Abby about Stefano being alive, and says he is tired of people lying to him. Out of the blue, they almost make love before they stop. Abby leaves, but thinks to herself how Chad still wants her.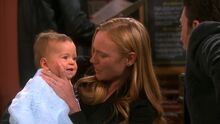 On January 1st, Chad and Abigail took Thomas outside so they can have a little family time. Abigail was a bit afraid to come out in the open, but Chad encouraged her to be brave and to be at ease from all her issues. Abigail reminded Chad, she still is charged with having started a fire in the hospital she was in. But he comforted her knowing they will handle it together. Chad, Abigail, and Thomas sat in the café and worked to get Thomas to say "dada." Chad took out his phone to record the moment, and he cheered jubilantly when Thomas managed to say "dada."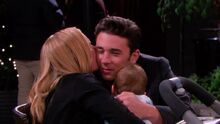 Abigail grew teary eyed. Abigail was sad that she had missed so many firsts in Thomas' life, and she was happy she had been there with Chad to hear Thomas' first word. Abigail marveled at how easily Thomas had accepted her. Chad said that Abigail was Thomas' mother, and it was a bond that could not be broken. Later on while Abigail was feeding Thomas her favorite food, Chad bumped into Gabi as she walked through the square, she awkwardly greeted Chad and Abigail. Chad asked Abigail if he could talk privately with Gabi. When Abigail stuttered a yes, Chad assured her that everything would be fine. Chad kissed Abigail's forehead, and he walked into the park with Gabi. Chad told Gabi that he cared about her feelings, but Gabi cautioned Chad to concentrate on his wife. Chad said that he'd meant what he had told Gabi about his feelings for her. Chad stressed that Gabi had woken him up from a waking sleep after his wife's "death." Gabi said that she had meant it when she had told Chad that she loved him, but the situation between them had changed. Chad agreed. They wished each other happiness. When Chad returned home to the DiMera mansion, he told Abigail that he was willing to commit to rebuilding their family. But he pointed out that it would take time to trust Abigail again.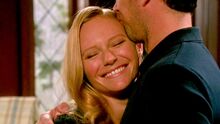 Abigail informed Chad that Jennifer wanted to babysit Thomas overnight. Grinning, Chad asked Abigail if that was a plan for an evening together. Chuckling, Abigail said it was her mother's plan. Abigail said she was excited to go out on a date with Chad. At Club TBD, Abigail and Chad awkwardly chatted as they stared at the dinner menu. Chad wanted to call Jennifer about Thomas, and Abigail smiled. Chad admitted he had turned into an overprotective dad. When Abigail noted that Chad's reaction was normal for a single parent, Chad countered that Gabi was a single mom and not so overprotective. Chad apologized. Abigail said she did not resent that Chad had mentioned a friend who had helped him through a difficult time. Abigail told Chad not to walk on eggshells with her.
As Abigail and Chad smiled and looked into one another's eyes, Chad suggested they order wine. After drinks, Abigail and Chad ordered food. While Abigail slurped down oysters, Chad laughed. Abigail explained that oysters had been her favorite food as a kid, but she had not had any since she had eaten a bad batch years earlier. Abigail said that recently, she had decided to stop avoiding the things she loved in life simply because something bad might happen if she embraced them.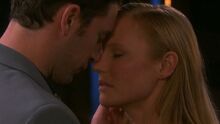 Abigail told Chad that she had done everything because she loved Chad and Thomas. Chad said that he loved Abigail, but he needed her to be herself. While Chad poured more wine, Abigail said she would never take anything for granted again. When their favorite song started playing, Chad asked Abigail to dance. Abigail and Chad danced slowly together, wrapped in one another's arms. Chad leaned his forehead against Abigail's and they both felt at peace for the first time in a long time.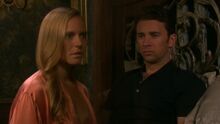 After dinner, Abigail and Chad returned home, and he escorted her to her room. Abigail thanked Chad for the wonderful evening. Chad sat on his bed, staring at the wall. Chad later arrived, bothered by how Dario is at the company of his wife for he is angry at him for keeping his wife's presence in Salem a secret to him. I home, Abigail showed Chad the new clothes she bought for Thomas. She offered to cook for him and he happily agreed. DiMera Enterprises became involved in a three way war with TITAN, the company owned by the Kiriakis family, and GDR, a company recently founded by Dario, and his and Gabi's father,
Eduardo Hernandez
. Andre was in possession of some microchips that contained the data to create a world wide surveillance device called Orwell. He had stolen the data from
Drew Donovan
, and kept the microchips in a DiMera owned warehouse in China. GDR stole the microchips and had the data downloaded into a laptop that was later stolen by
Deimos Kiriakis
. Gabi called Chad to the mansion to break up a fight between Andre and Deimos. On January 18, Chad meets Gabi in the park, thanking her for helping him stop the argument between Deimos and Andre. Gabi's afraid somebody will get hurt. Chad asks her to stay away from it.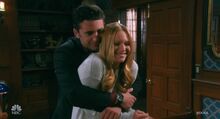 Chad arrives home to Abigail. He tells her he just saw Gabi and why. Abs says she doesn't think he needs to tell her when he sees Gabi, but doesn't look convinced of her own words.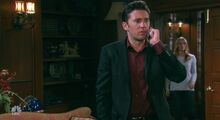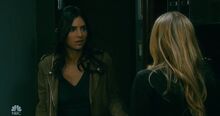 Later, she eavesdrops on him calling Sonny for a meeting about the shipping. They overhear Chad asking Dario to broker peace before there's a war between them. Dario's not sure he can trust them. They all agree that Andre's rogue and dangerous, which is why they want to put a leash on everyone. Dario learns how Sonny figured out that GDR was smuggling the microchips in the handbags. Dario refuses to share The Orwell technology with the other men. Dario says their buddy, Myron, will have it up and running in a month. Sonny reminds Dario they have the programming. Dario issues a veiled threat about getting that programming back. Sonny says the reason it was stolen was because Eduardo's an assassin and they didn't trust him. Dario takes offence and Chad tells Sonny to chill. Sonny doesn't like taking orders from Chad and all hell breaks loose. In anger, Chad takes off. Chad meets Kate at home. He's upset that she and Eduardo broke up over the Orwell device.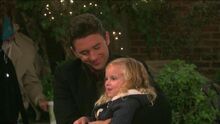 On January 25; Chad runs into Gabi at the Horton square. While Chad's coming from a meeting, Gabs says Ari can't sleep due to having bad dreams. Ari jumps into Chad's arms. He calls himself the 'bad dream banisher' and uses an invisible magic wand to banish bad dreams and bring on good ones with puppies and kitties. Chad tells Gabi about a woman in his meeting urging him to incorporate colour into his wardrobe. Gabi offers to help. He stays with the kid and she rushes off to buy him a grey shirt at Janet's Boutique for his meeting in the morning. They discuss family and how many people love Arianna. Chad tells her she and Ari are always welcomed in his house but Gabi says he has his own family.
Andre finds Chad at Mandalay. He tells his brother that Gabi and Abby are hanging out and that he and Abigail are on track. Andre's glad to hear. They get down to business. Chad's contact at Titan says tonight there's another shipment - something to do with the Orwell. They'll intercept. Andre gloats. Pier 119 at 10:00 PM. Chad says, "No bloodshed." They'll seize the ship quickly. Andre is proud of the way his brother is running the company and proud to be working with him. "And I'm proud that you are my brother," he says.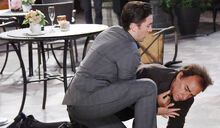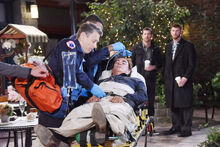 Later Andre takes a drink of champagne and drops it, then undoes his tie, gasping. Chad goes to him and he falls to the ground, poisoned.
Chad tends to him, calling for help. Paramedics arrive and take him to the hospital. Andre is wheeled in with Chad following. Chad calls Abby to meet him there. Once she arrives, he fills his wife in and wants to get to Deimos. Abigail refuses to let him. The doctor appears and confirms Andre's been poisoned. They pumped his stomach and hopefully got most of it. He goes and Chad cries, thinking it could have been Abigail. She calms him down. They disconnect and Chad finds her. She's shocked to hear about Andre's state and that Chad's accusing Deimos.
Chad goes to the Kiriakis mansion to confront Deimos, and sees that Gabi has broken into the safe. He sees the device in her hand and wants it. She refuses him.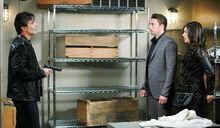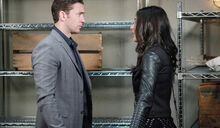 Chad and Gabi hide in a closet at the Kiriakis mansion as Deimos walks in. When they think he is gone, they attempt to flee, but He surprises them at the door with a gun in hand. Deimos demands the Orwell. Gabi gives it back and he asks for the key. Chad and Gabi have no idea what he means. Deimos gets unhinged, and demands it. This goes on a while and Gabi unhooks her necklace and drops it on the floor as Deimos moves them to a sound-proof supply closet elsewhere. Once he gets the key, he'll let them go. He takes their phones and snaps a shot of them to prove they're alive. He locks them in and they scream and pound on the door. Later, Gabi tells him how she and Abigail have been reenacting scenes from "Scooby Doo," in the case of the Orwell device. Chad sighs. He fills her in on Andre's poisoning and Dario's beating. Gabi's in shock and pounds on the door, needing to get to her brother.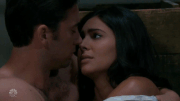 The freezer turned on and the room started to get really cold. Chad and Gabi covered up, and stripped to their underwear to get warm by skin on skin contact. As hyperthermia set in, Chad and Gabi shared a passionate and erotic kiss before passing out. Chad awoke in the hospital to find Andre by his bedside. Andre told him he had to tell Abby to go home, get some rest, and take care of Thomas, since she wouldn't leave his side. Andre informed Chad that Stefano was alive, so Chad told Andre to allow Hope to be released from prison, and that she has suffered enough. Abby came back to visit Chad, and they cuddled together on the hospital bed.
Chad relayed the news to Theo about Stefano being alive. Theo wondered if they would ever hear from him again, and Chad said he would rather not. Chad asked Theo to not go anywhere near Deimos, but did not agree with Andre that he should stay away from Claire and Ciara. Once home, Chad hired Abby to work at DiMera Enterprises, and asked Andre and Kate to move back into the mansion. Chad and Abby organized a fundraiser to read books to kids. He got on stage with Gabi and read to Ari on stage.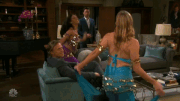 Chad recruited Andre to help him get a meeting with an art collector that was selling Deimos stolen art. Chad planned to return the art to its rightful owners, but Andre suggested reselling it to make a profit. Chad shot down Andre's suggestion with a look. Chad met with Grigor, an art dealer that worked with Deimos. Grigor refused to break his arrangement with Deimos until Abby and Gabi came back from their belly dancing class. The art dealer assumed Chad had researched that his first wife was a belly dancer, and assumed that Chad had prepared a show for him. Before Chad could respond, Abby volunteered for her and Gabi to perform a belly dancing show for him. The art dealer was pleased and agreed to do business with Chad.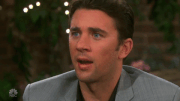 Chad decides his feelings for Gabi are so strong that he has to stay away from her. During a party at Club TBD, Chad tells Gabi he has feelings for her, but says Ben has to stay away from her because he wants his marriage to work. Later, Chad introduces Abby, but she doesn't show up. Dario brings Abby's purse to Chad, and Chad receives a text to con to a wearhouse. Once, Chad gets there, he is knocked out and awakens with metal restraints on husband chair. Abby when Gabi are on each side of him. Disguising his voice,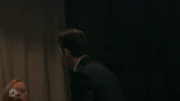 Deimos tells Chad there is only one antidote, and he only has thirty seconds to administer the antidote to one of them. Once released, Chad heads for Abby and gives been half before throwing the vile to Gabi, who unties her hands and drinks the other half. This allowed both Abby and Gabi to live until they could get to the hospital and be treated properly.
Chad and and Abby decided to renew their vows while Chad had Deimos kidnapped and beaten in relation. Abby found out about that, and she and Chad argued about it, though they still planned to renew their vows. However, the day Chad and Gabi were set to renew their vows (with Andre, Kate, Jennifer, and J.J. in attendance), Abby said she couldn't stay married to Chad, and asks for some privacy. Alone, Abby tells Chad she knows he and Gabi have a deeper connection because they played baseball in high school. Chad says that was a long time ago, but Abby is convinced that Chad only saved her first because he knew Gabi could catch the vile. Chad tries to reassure Abby, but she takes off her wedding ring, and leaves. Andre finds Chad alone, and he says Abby left him. Andre encourages Chad to fight for Abby, saying DiMera's don't give up so easily. Chad gives Andre a hug and leaves the room.
Chad sees Eli and Gabi kissing when his phone beeps; Abby is calling him. Eli and Gabi break from their kiss, and Chad tried to talk to Gabi, but she tells him to go home to Abby. Chad and Kate are on a business call when Kate asks him to come to club TBD. Chad arrived to see Abby and Dario together. Chad asks Kate why she called him, and Kate says she pocket dialed him by mistake. Dario wants Chad to leave, but Chad is angry and they get into an altercation that Abby and Kate have to break apart.
Chad and Kate decided to acquire an amulet that was worth millions of dollars, but was also said to be cursed. Kate and Chad knew Andre believed in curses, and would be against the idea, but he was on vacation, so Chad headed to Greece to acquire the amulet. Andre and Hope turned up in Greece where Andre tried to get Chad to stop pursuing the amulet, saying that Stefano went after the same amulet, but cancelled the transaction after the man that he sent to retrieve it was in a boating accident, and paralyzed. Chad evaded Andre and Hope by pinching a woman's butt, and making her think Andre did it. When Hope and Andre caught up with Chad, he said he cancelled the transaction, but this was a lie, and Chad acquired the amulet.
Gabi, Paul, Eli. Lani, JJ, Paul, and Sonny all showed up in Greece to look for Nicole, who had been kidnapped by Xander Cook, and Deimos was suspected to be the mastermind. Chad and Gabi spent time together, and were held at knife point by a Guy Mantzoukas, who was after the amulet. Chad gave Guy the box, but Gabi had the amulet in her purse. Eventually Nicole was rescued, and Deimos and Xander Cook were arrested. Hope took Deimos back to Salem on a different plane, but as the group headed home on the Kiriakis jet, it had to make an emergency landing on a deserted island.
On the deserted island, the group found a diary from a woman that was stranded with her husband. She talked about how her husband had contracted jungle madness, which Chad and JJ were familiar with since Peter had gotten it and tried to hurt Jack and Jennifer.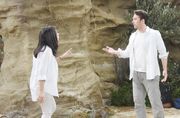 Gabi convinced Chad to get rid of the amulet, but later found out he deceived her. Chad and Gabi have into passion and made love on the island. Paul contracted jungle madness and attacked Eli and Gabi. He held Sonny hostage, who attempted to reason with him, but ended up throwing him down against a rock. John and Marlena arrived to save the group, and Chad finally decided to leave the amulet on the island.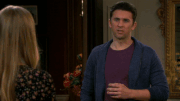 When Chad and Gabi got home, they made no attempt to hide their relationship. Chad was angry when Abby announced she was marrying Dario, and accused her of cheating on him during their marriage.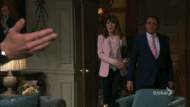 Andre and Kate welcomed Chad home, and Kate was ecstatic that Chad and Gabi were finally together. Andre and Kate they had gotten married, so Kate could become CEO for six months since the board would have dismantled DiMera Enterprises with Chad gone, and they considered Andre unfit to run the company. Chad was worried this was a May by Andre to take over the company, but Andre assured Chad that he and Kate would get divorced in six months, and hand the company back to Chad. Chad later admitted to Andre that he did get the amulet, and Andre blamed the plane crash on the amulet. Chad told Andre he had left it on the island.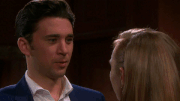 In late June, a party was hosted by
Julie Olson Williams
for the survivors. Tensions were high among Chad, Abby, and Gabi since Dario had to leave early. Unbeknownst to them, Deimos had snuck into the party and drugged everyone with Halo. Under the influence, Chad and Abby believed they were renewing their vows. They then saw Deimos running down the hall and chased after him.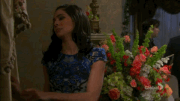 The next morning, Gabi discovered Deimos was dead, and an investigation was launched since know one could remember what happened the previous night. Jennifer begged Chad to stop Abby from marrying Dario, knowing he still loves her. Chad and Gabi walk into Club TBD just as Abe is officiating Abby and Dario's wedding. Chad tells Abby not to marry Dario, saying Ben is manipulating her. He insists on staying to watch the wedding, convinced Abby wouldn't go through with it. As the wedding proceeded, Chad fantasized about stopping the wedding, and professing his love to Abby. In reality, Abby and Dario got married, and Chad insisted Dario would never be a father to Thomas before leaving.
When Chad found out that Abby was going into witness protection with Dario, he raced over to the Martin Mansion where he arrived as they were leaving. Chad furiously confronted Abby about leaving their son again, and told her to stay gone since she was dead to him.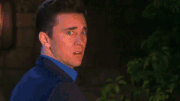 Dario and Chad got into an argument and a car headed straight for them. Dario got out of the way, but Chad was frozen in shock, so Abby pushed him out of the way and got struck the car instead. Fearing for his life, Dario ran away, and Abby was hospitalized. Chad, Gabi, and Andre waited at the hospital, and
Andre told Chad that Dario was blackmailing Abby to leave town because there was a photo of Chad wiping the knife that had been used to kill Deimos. Andre explained that they had Theo delete the photo, so Abby didn't have to leave with Dario.
Against Andre's wishes, Chad turned himself over to the police and shared a cell with Sonny, who had previously confessed to killing Deimos. Chad and Sonny remembered finding Deimos, but Chad believed Sonny had killed Deimos, so he wiped Sonny's prints off of the knife, and then they moved the body to where Gabi had found it.
Chad and Sonny were able to recant their confessions and were released. Gabi broke up with Chad, realizing he and Abby still loved each other, especially after learning about Dario's blackmail. Chad and Abby made plans to remarry much to Andre's delight, but Kate was more worried about Gabi's feelings, though she eventually relented and offered her support.
Chad and Abby saw Andre holding a press conference and claimed Kate was having an affair with Roman. He announced his plans to divorce her, and take over as CEO, having been certified sane by Marlena. Chad felt that Andre was trying to take over the company, but then Marlena announced that Andre was mentally incompetent and said he needed professional help. Chad and Abby then watched as Andre was dragged away by two orderlies.
Chad was furious with Andre, but Abigail tried to be more understanding. Kate suggested they leave Andre alone to get the help he needed, but it was soon revealed that Hattie Adams had been impersonating Marlena, so her assessment of Andre was unreliable and he was soon released. Andre faced an angry Chad and Kate, and Abigail had to defuse the situation and convince the family to work together again and make peace. Chad later complimented Abigail for helping to keep the family together.
In September, a double wedding was planned for Chad and Abigail with Sonny and Paul. Andre gave Chad his favorite watch as wedding gift, and the brothers hugged in reconciliation. The wedding was crashed by Ben Weston, who announced that Will was alive. Paul and Sonny decided not to get married, but Chad and Abigail remarried in a private ceremony with Andre and Jennifer as witnesses.
Chad confronted Andre about what he had done to Hattie Adams. Andre offered to make a public apology, but when Sonny showed up to explain that Stefano's former employee, Dr. Rolf, had been the one to reveal that Will was alive. Chad later convinced Andre to help track down Rolf as a way of redeeming himself.
When someone was hacking DiMera, Kate suspected it could be Andre. She shared these suspicions with Chad, who outright accused Andre of sabotage. Andre vehemently denied sabotaging DiMera and Chad and Kate believed him until Theo was shot trying to break into an abandoned warehouse. Things for worse for Andre when it was revealed he had left a message for Theo, and Chad kicked Andre out of the mansion until Abigail convinced him to give Andre the benefit of the doubt.
In December, Chad learned that Kate was the reason Theo got shot. He demanded he step down as CEO and leave the mansion. Andre stuck up for Kate, saying he would leave the mansion with Kate if Chad kicks her out. Chad told Andre that he will hold him responsible if Kate steps out of line.
In January 2018, Chad and Abigail's New Years Eve party is crashed by Vivian Alamain and her long lost son with Stefano, Stefan DiMera. Stefan announced that the board named him as the new CEO of DiMera. He later announced that he had bought the bank that owned the mortgage to the mansion, making him an owner by proxy.
Abigail did some digging online and found out that Stefan's both name was Sam Maitlin and that he was a corporate raider., who bought companies, dismantled and then sold them off. Chad feared Stefan was an impostor and wanted to destroy DiMera and then sell it off, so a DNA test was done that Stefan was a DiMera.
Andre was murdered after being struck in the head with Tony's urn. Chad became convinced that Stefan and Vivian were responsible for Andre's death. Security footage showed a woman leaving Andre's office the night of the murder. The woman looked like Gabi from the back, making her a prime suspect, but Chad believed it was a woman hired by Stefan.
When Stefan and Abigail went on a business trip to Japan, Chad followed him. He saw Stefan with the woman from the security footage and tried to apprehend her, but she evaded him. Chad, Stefan, and Abigail returned to Salem in time for Gabi's trial. At the trial, Abigail claimed that Gabi had confessed to her that she had killed Andre. Chad and Gabi were shocked, and Gabi was found guilty and sent to prison.
After receiving a message from Kate that the mystery woman was in the mansion, Chad found her in Stefan's bed and was shocked to find it was Abigail. Chad went ballistic and nearly beat Stefan to death while Abigail begged him to stop, and said she loved him. Chad was confused and Abigail fled in the confusion while Chad continued to beat Stefan until Rafe and Hope showed up.
Chad was detained and was convinced that Stefan had brainwashed Abigail, but Kate revealed that Abigail had DID, and her altar named Gabby had fallen in love with Stefan. She also revealed that Abigail had killed Andre. Chad spoke with Abigail's altar, Dr. Laura and managed to get through to Abigail.
Determined to help Abigail face her demons, Chad walked Abigail through the night Andre was murdered. They first went to the park where Abigail had ran into a furious Gabi that had just been fired by Andre, who had also used a loophole in Gabi's contract to steal GabiChic, Abigail believed she had went home but then remembered she had went to confront Andre about firing Gabi. They went to Andre's office where Abigail verified that Andre had betrayed them by giving inside information to Vivian and Stefan. Abigail broke down when she realized she had killed Andre, and Chad comforted her.
Dr. Laura took over to explain how she and Gabby came into being. She took Chad to Gabi's office where Abigail had fled to after killing Andre. The guilt by what she had done, coupled with seeing Gabi's photo, and Gabi being angry with Andre, caused her mind to split and her subconscious blacked out the event.
Dr. Laura and Chad returned to the park where Stefan showed up with Gabby's wig. Dr. Laura told Chad she has to let this play out and not interfere or else he would make things worse. Stefan pledged his love for Gabby, who emerged and Chad thought he had lost Abigail forever, but then Gabby told Stefan she came to say goodbye and said she let herself slipping away. Stefan kissed Gabby goodbye and Chad pulled them apart as Abigail collapsed and soon woke up as Abigail.
Abigail wanted to take full responsibility for her actions, but Chad convinced District Attorney Melina Trask to not press charges against Abigail. Chad and Abigail moved or out of the mansion and moved in with Jennifer. Abigail left town for treatment with her grandmother Laura to help integrate her altars.
While Abigail was gone, Chad convinced Victor to let him run TITAN while Sonny worked to clear his name in a sexual harassment suit. Chad's plan was to use his position at TITAN to take Stefan down, and then reclaim his position at DiMera while Sonny inevitably cleared his name.
When Chad shared his plan with Kate, She revealed that she was the one behind the sexual harassment lawsuit. She convinced Chad not to say anything, doe she could make it go away and he could take his revenge on Stefan. Kate gave Chad the Phoenix Ring that has been given to her as Andre's widow and encouraged him to become the New Phoenix. Chad accepted the ring and reluctantly accepted Kate's plan.
Abigail returned home and surprised Chad. As they cuddled, she noticed he was also wearing the ring. Chad said it is the only thing he has left to connect him to Stefano. Chad kissed Abigail, but then flashed back to finding her in bed with Stefan and pulled away. Abigail recalled how Chad had difficulty making love to her.
Chad was elated when Abigail revealed she was pregnant, but that joy turned to disappointment when Abigail revealed that he wasn't the baby's father. Chad had a hard time with Abigail carrying Stefan's child and eventually moved out. He moved into the Kiriakis mansion and started to spend time with Gabi and Ari.
Eventually, Chad started to worry that Gabby May be back. Those worries were seemingly verified when both Gabi and Kate claimed that Gabby had attacked them. Abigail denied that Gabby was back and refused to get re-evaluated. Chad attempted to use his position as Abigail's husband to get herb forcefully committed, but Abigail fought back by divorcing Chad and marrying Stefan.
Desperate, Chad turned to Ben Weston, who had been declared sane and released, for help. Chad paid Ben to subdue Stefan while he kidnapped Abigail. Chad took Abigail to the Horton cabin where Abigail went into labor, and Chad delivered Abigail's baby girl that she named Charlotte.
Chad made a deal with Stefan that he would give him Charlotte if he agreed to have Abigail committed, so Stefan agreed. Abigail and Jennifer were furious with Chad, but Chad's fears appeared to be concerned when he walked in on Abigail choking Gabi, who claimed Gabby had come out and attack her. Abigail claimed Gabi had the wig in her bag, so Chad checked the bag and found no wig.
Abigail was locked in a padded room, and Chad visited her, but Abigail ordered him to leave. However, she asked him to stay when Chad revealed he brought photos of Thomas and Charlotte. Abigail looked at the photos and begged Chad to help her. Chad refused to get her out, so Abigail screamed at him to get out and made the orderly escort him out.
Chad was confronted by Sonny and forced to admit he knew about the bogus sexual harassment lawsuit. Chad said sorry and begged for Sonny's forgiveness, but Sonny angrily told Chad that he can't trust him anymore. Chad eventually learns that Abigail had been telling the truth and Gabi had been the one making them think Gabby had returned as revenge for her going to prison for Andre's murder.
Chad also learned that Charlotte was his daughter, and not Stefan's. Chad gave the Phoenix ring back to Kate because he did not want to become like his father. Chad and Stefan made a truce and agreed to run DiMera together as Co-CEO's, but Chad and Abigail left town for the Paris office soon after.
In Paris, they faced a new obstacle in the form of Chad's assistant Juliette, who attempted to seduce Chad and later sued him for sexual abuse. Li Shin fired Chad from DiMera, but then Juliette's assistant and cohort, Sylvia betrayed Juliette and showed Shin evidence of Juliette's lies. Juliette was fired and Chad was rehired.
While in Paris, Chad would be visited by his previously deceased brother
Tony DiMera
, who he was meeting for the first time. Chad and Abigail thought he was Andre due to his resemblance to him, but Tony assured them that he was not Andre nor was he seeking revenge for Andre's death. Tony tried to get Chad to return to Salem and resume the position of CEO, but Chad refused.
After Jennifer wound up in a coma, Chad and Abigail returned to Salem in late 2019. Tony was the current CEO of DiMera, but in March of 2020, he lost the position to Gabi due to the machinations of his wife Anna.
Tony was initially furious with Anna, but Chad encouraged Tony to forgive Anna and enjoy his retirement with her. Tony and Anna left Salem, and Chad did his best to match wits with Gabi.
At some point between March and November, Chad would get in contact with Stefano, and secretly be working with him against Gabi. In November, Chad finally told Abigail about his secret alliance with Stefano.
Chad was getting impatient and wanted to see his father, but Stefano made Chad play him in a game of online chess before he could we him. Chad eventually won, but was briefly troubled on how he won since Stefano made such a simple mistake.
Chad went to meet Stefano, but was shocked to find Wilhlem Rolf instead. Rolf was fanatically devoted to Stefano and Chad wondered if it had been Rolf who has been messaging him because he was trying to imitate the man, who he looked up to. Rolf assured Chad he was talking to Stefano, but he needed to be patient and trust his father.
Stefano instructed Chad to go find Kristen, and get her shares of DiMera. Chad attempted to stealthily do it behind Gabi's back, but Gabi outsmarted him and sent Eli Grant, her head of security instead. Chad was confident that Kristen wouldn't sell to an outsider. To his surprise, Kristen showed up in Salem, and told Chad she was considering selling to Gabi even after Chad told he was talking to Stefano.
Chad and Abigail eventually got tired of Gabi and moved into the DiMera gatehouse where they made a shocking discovery: They found a portrait of Steve that resembled Stefano's. Chad and Abigail knew Kristen had actually seen Stefano and went to talk to Kristen, bringing the portrait with them.
Kristen denied that Stefano looked like Steve, but it turned out she was lying as Chad and Abigail found a man that looked like Steve attacking Marlena. When Chad restrained him, Abigail noticed he wasn't wearing his eyepatch. The man then told Chad to let him go, and referred to him as son.
Chad realized he was finally coming face to face with the man he had been talking to, and doubted it was really Stefano. "Steve" procured the Phoenix ring from his pocket and informed Chad that this was his birthright. Stefano asked Chad to help him take control of DiMera back, but Abigail reminded Chad that his family was with her and their children, so Chad refused Stefano's proposal.
Stefano drew his gun on Abigail and Chad got between them. Stefano lashed out at Abigail for murdering Andre and sleeping with EJ, telling Chad she didn't deserve his loyalty. He called Abigail names, which angered Chad. Stefano decided to let Abigail live for now and went to leave. Chad tried to stop Stefano, resulting in Stefano getting shot as they struggled over the gun. Chad asked Abigail to call 911, but neither of them had a phone. Stefano got up, knocked Chad out, and locked them in the warehouse.
As it turns out, Chad and Abigail weren't locked up with Marlena, but with Hattie Adams. Hattie proceeded to tell them all about how Stefano's essence had been transferred into Steve. Chad refused to acknowledge that man as his father and mourned the passing of his real one. Abigail comforted him and they were soon rescued.
Chad and Abigail attended Gabi and Eli's wedding where they learned how Gabi had forced Lani to break up with Eli by rigging Julie's pacemaker to explode via an app on her phone. Gabi did this to hurt Lani for accidentally killing Stefan. Gabi was arrested and Chad gloated to her over the fact that she had been fired as the CEO of DiMera.
As Chad returned Stefano's portrait to the mansion, he read a letter that had been delivered to him. Unbeknownst to Chad, Stefano had drugged Chad's drink. After Chad read the letter, he fell under Stefano's mind control and wore the phoenix ring that Stefano provided for him in the envelope. Chad proceeded to push Abby away while doing his father's bidding by trying to secure control of DiMera Enterprises for him.
On Stefano's orders, Chad summoned Tony and Kristen to Stefano's mansion for his wedding to Marlena. Chad forced his reluctant siblings to stay and share in their father's happiness. John, Brady, Abby, and Tony's wife Anna DiMera all showed up and Stefano was defeated while Abigail kissed Chad, freeing him from Stefano's control, and Chad removed the ring.
Before Stefano was vanquish for good, he apologized to Chad for brainwashing him, and said that he was the best of the DiMera's, and he admired that even though he didn't quite understand it. Tony and Chad then destroyed the microchip that had Stefano's essence in it.
Chad regained his position as CEO after Li Shin officially fired Gabi, but Gabi proclaimed she was suing DiMera. Soon after, Gabi made the claim that Stefan was alive, and Abigail started suffering from hallucinations. Abigail was sent away to Florida for treatment, and Chad befriended Gwen Riczchech.
As it turns out, the man who Gabi thought was Stefan was really his twin brother
Jake Lambert
. Jake and Gwen moved into the DiMera mansion, and Chad used Gwen to keep an eye on Gabi, who had sought Jake as an ally in her power play.
Critical
TV Source Magazine labeled Deidrick a fan favorite and described the character of Chad as "one of the soaps' most popular younger characters of the late '00s." Stephanie Sloane of Soap Opera Digest commented that Chad's paternity seemed to envelope the series, but applauded the writers for "wisely" connecting him to the DiMera clan. Sloane also disagreed with how long the story took to play out. She praised Deidrick for Chad's very brief interactions with his future family members, Stefano, Kate and EJ. Nelson Branco of TV Guide Canada refers to Deidrick's performance in May 2011 as "infectious." In June 2011, Deidrick ranked at #3 along with costar, Chandler Massey in the "Top Young Actors to Watch" category. In 2012, Deidrick earned an Emmy pre-nomination in the Outstanding Younger Actor category for his portrayal of Chad. Michael Fairman applauded Deidrick for his portrayal of Chad in January 2013 when the character took revenge on Gabi and Nick, by revealing that Nick is not the father of her baby. The ratings also spiked for the episode, giving the series its highest ratings in two years.
Omar Nobles praised Deidrick's portrayal and stated: "Deidrick's enduring charm and emotional performances helped turn the tide in favor of the one-time bad boy" which would lead to his popularity. Upon the announcement of Deidrick's departure, Michael Fairman described the actor as "one of the best young actors on daytime." Jamey Giddens said "As much as I'm going to miss the tall, drink of DiMera, I can't say I blame Deidrick." Giddens attributed the decision to Chad's dramatic decline in screen time following Burnett's departure. Though sad about Deidrick's departure, Nobles said the actor had a great "future ahead of him." Fairman praised Deidrick for his portrayal of Chad's final scenes which aired on October 30, 2013.
Relationships
Prior to the announcement about the gay story line fans and critics alike pushed for a romantic pairing between Chad and Will due to the chemistry between the actors. Errol Lewis of Soap Opera Network explained that the two would have great potential as a romantic pairing, due to their heritage alone; with Chad being a DiMera, and Will being a Brady, would solidify the pairing as "star-crossed lovers" because of the long-standing feud between their families being staple within the series for so long. Despite both characters being involved in romantic pairings with females at the time, the pairing had already established a large fan base. The two, however, remain friends even when Will does turn out to be gay. The pairing is referred to by fans by their portmanteau "Chill." Despite the joke between costars, fans immediately began pushing for the pairing. Deidrick said he would be open to the potential pairing if the writers were to go in that direction. In June 2011, the duo ranked at #2 in the "Top Dream Couples" category on TV Guide Canada's "Soapgeist". Critics praised the writers for maintaining Chad and Will's friendship, and developing his friendship with Sonny despite both characters being gay. However, fans also pushed for a Sonny/Chad pairing after Chad defends him to a gay bully in September 2011. In response Smith jokingly shot down the idea and said that Chad is a little too tall for Sonny. Greg Hernandez said it was Chad's friendship with Will and Sonny that endeared him to the character. Fans also spoke out when Chad's friendship with Will and Sonny started taking a back seat to other story lines.
The onscreen pairing of Chad and Abigail became very popular among fans and garnered the squish name, "Chabby". Jamey Giddens enjoyed Abigail and Chad's new dynamic displayed in their snooping around Cameron. Giddens said that while he wasn't a fan of their initial romance, "Abby and Chad's scenes were fun, and made me wish I could see more".
Personal Possessions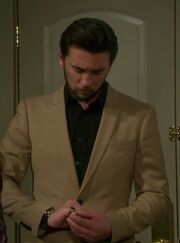 "Phoenix Ring": The Ring was his father Stefano's most iconic possession. It was once worn by his father and his half-brother Andre. A gold ring with a black flat square on top. It is embodied with a Phoenix, and said to be the reason why Stefano keeps coming back to life. It is also said that Stefano doesn't need it to rise from the ashes. Andre also wears the ring, and it can apparently bring him back to life as well, since he is the son of the Phoenix. This was briefly contradicted in 2007 when Andre was revealed to be posing as Tony (who was assumed to be Stefano's son), and therefore was Stefano's nephew, this is corrected in 2015 when Andre was revealed to be Stefano's son, and he wore the ring from Stefano's "final death" in 2016 to his own death in 2018. In June 2018, Kate gave Chad the ring and told him to accept his birth right as the new Phoenix, who will rise from the ashes like Stefano and Andre had so many times. However, on January 8, 2019, Chad gave up the ring as he realized he was becoming a monster and losing his sense of right and wrong. Kate kept the ring until Stefano returned to Salem in Steve Johnson's body, and he now wears the ring again. Stefano later passed the ring onto Chad, officially naming Chad as his successor. After drugging Chad and making him susceptible to his influence, Stefano instructed Chad to wear the ring and Chad dutifully did.
Gallery
References