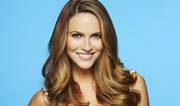 Terrina Chrishell Stause born July 21, 1981 and professionally known as Chrishell Stause) is an American actress, best known for her television roles as Amanda Dillon on All My Children and Jordan Ridgeway on Days of Our Lives.
Life and careerEdit
Stause was born in Draffenville, Kentucky. She attended Murray State University, from which she received her B.A. in Theater in 2003. She is of Japanese, Spanish, and other European descent.
Stause is best known for her portrayal of Amanda Dillon in the ABC soap opera All My Children, a role she began on May 4, 2005 when the character returned to Pine Valley after a five-year absence. The role of Amanda was previously portrayed by Alexis Manta. The soap was cancelled and ended on September 23, 2011, and later Stause guest-starred in the second season of the Dana Delany series Body of Proof. She also was a member of improvisational troupe The Groundlings in Los Angeles.
In April 2013, it was announced that Stause had joined the cast of NBC soap Days of Our Lives. Her character, Jordan, first appeared in Salem on August 15, 2013. On October 24, 2014, it was announced that Stause would be leaving the series in 2015. It 2015, she appeared in a guest spot on the ABC prime time soapy drama, Mistresses.
Stause was engaged to Matthew Morrison from December 9, 2006 to 2007. As of 2014, Stause is dating Justin Hartley.