We're Getting Mutants in the MCU - The Loop
Play Sound
Daniel DiMera

Days of our Lives
Portrayed by
Unknown Child Actor (one episode in 2012)
Current status
Former; Mentioned but one episode guest
Duration
2012
First appearance
October 5, 2012
Last appearance
October 5,2012
Cause/reason
Stillborn
Profile
Fullname
Daniel Rafael DiMera
Namesake(s)
Daniel Jonas
Rafe Hernandez
Gender
Male
Born
October 5,2012
Died
October 5,2012
Cause of death
Stillbirth
Residence
Salem, Illinois
Daniel Rafael DiMera is a character from the soap opera Days of Our Lives. He was the son of Nicole Walker and EJ DiMera.
Daniel DiMera Is stillborn due to Nicole having him premature on October 5,2012.He named after his mother Nicole best friends and his godfathers the late doctor Daniel Jonas and Salem police commissioner Rafe Hernandez .
background
Daniel was conceived when his parents E.J. and Nicole made love before their wedding anniversary and went through a separation because his father EJ slept with Sami when they were "grieving" his half-brother Johnny and his father was with Sami Brady the mother of his two half-siblings had A ONS and Nicole and along with Rafe found out about the ONS and Nicole had Rafe Hernandez help her pretend he was Daniel father to throw E.J. off and protect her son Rafe agreed to it given he did the same to Grace DiMera back when Sami thought Grace was her daughter and wanted to keep E.J. from his daughter but due to a baby switch his mother Nicole did with Dr.Baker it turn out Grace wasn't Sami daughter But Mia McCormick and his uncle Chad DiMera daughter and his half-sister Sydney DiMera was Sami's daughter with his father E.J. from 2008-2009.
His mother Nicole started to have a crush on Dr. Daniel Jonas and was falling for Rafe Hernandez at the sametime but unfortunately Daniel was dating Jennifer Horton at the time and Nicole grew jealous of their relationship and used her pregnancy to win him over but it didn't end well as Rafe became the rebound guy and the two became a couple.
His father E.J. Believing Rafe was the father throughtout the pregnancy and was kept in the dark about everything.
his mother Nicole was involved in a earthquake and was pregnant at the time was able to survived it and stayed pregnant with him during a fundraiser honoring his aunt late Lexie Carver .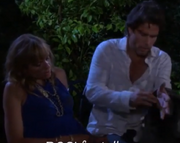 His mother Nicole and Rafe broke up after the earthquake because she and Daniel grew close together after the experience they had and Nicole planned to name her son Daniel after him and he was thrilled and overjoyed to have a child named after him the news didn't settle well with Jennifer who thinks Nicole is obsessed with Daniel.
His Mother Nicole and Jennifer started feuding over Daniel over the couple months.
Daniel DiMera is the tenth grandchild of Stefano DiMera and unfortunately the seventh deceased grandchild.
Storylines
Pregnant Nicole went into a ultrasound appointment and doctor found no heartbeat leaving pregnant Nicole sad Pregnant Nicole had a breakdown and falls to the floor in pain and grief after looking at the baby sruff she see Daniel help Jennifer who wrist is hurt and escapes the hospital with her discharge papers and is seeing with Billie Reed telling Pregnant Nicole show glowing and is due anyday now then leaves as pregnant Nicole cries.

Pregnant Nicole and Jennifer got into a fight around the staircase as the two settleout their differences over Daniel but then tragedy strikes as pregnant Nicole lost her balance and falls down the the staircase as Jennifer watches in fear and shock then pregnant Nicole is unconscious at the bottom of the staircase where Rafe and Daniel find her there as Jennifer is caught up stairs making everyone think she did it.
On October 5,2012, Daniel Rafael DiMera is born off-screen where his declared stillborn when his was born and Nicole got to hold him with Rafe present by her side when they decided to name the baby middle name after him and Rafe was thankful for the time he spend with Nicole and her stillborn Daniel when E.J. arrives at the hospital and overheard Nicole and Rafe saying E.J. can't find out about his child then Rafe left to grief over the lose of Nicole stillborn son Daniel and E.J. wanted to take custody of the child with Justin Kiriakis helps but unfortunately found out the child died and E.J.called Justin back.saying doesn't need his help with custody now that the child died.
His father E.J. goes into his mother Nicole hospital room and E.J. finds.out she had a son and said Jennifer killed her son and E.J. was very sad and then E.J. record everything Nicole Was saying on his cell phone and E.J.Find out about Rafe pretending to be his son Daniel father his was angry and upset that Nicole kept his son Daniel from him but also told him he would never denied a child that was his and he loved that child no matter what and then Daniel parents grief together as he made a promise Jennifer going to pay as Nicole at the time was on drugs the whole entire time she was talking to E.J.and passed out asleep soon after E.J. left.
E.J. started to get into a fight with Rafe when he went to Sami with grief and they make out and E.J. then start talk about how Rafe wanted to take his daughter Sydney away from now his son Daniel too as Sami was surprise by the news she didn't believe it and was helping Rafe cope with lose of the child then E.J.said why are you helping him,he didn't lose a child,a son which Sami was in denial until she told E.J.this Nicole she good at lying look at what happened to Sydney and E.J. said that no excuse and Sami demanded he leave but he pretends to leave but has the recording to prove he was Nicole stillborn son Daniel father which he plays and Sami was in disbelief when she hears it and Rafe knew the gig was up and finally confess his part of the scheme and Sami hated him for it and consoled to E.J. who grieving the lose of his son and Sami was angry as E.J.
Nicole Wakes Up and See her best friend Brady and tells him you were there for me when I lost my daughter and now your here when I lost my son the two grieve together for her son not before finding out E.J. was in the hospital room and was very scared that E.J. know the baby boy was his and feared he go after Jennifer or Rafe.
After Nicole left the hospital she became suicidal over her stillborn son Daniel death and almost killed herself in front of the town residents but is stopped and hospitalized.
After months passes and Jennifer was to blame for the death of Nicole stillborn son Daniel due to the fall down the stairs and Daniel and Jennifer broke up because if it and Daniel grew close to Nicole.
Everyone found out Nicole was lied about being pushed down the down the stairs by Jennifer and she also confessed that her son was already Stillborn before the fall down the stairs and was just getting back at Jennifer because she was in a relationship with Daniel that made her use her stillborn son Daniel death to frame Jennifer and Jennifer look like a totally bad guy and after the reveal Jennifer daughter Abigail Deveraux Flew in a rage Got into a fight with Nicole over the scheme.
Post-reveal Nicole became suicidal again and this time over losing her relationship with Daniel over stillborn son Daniel death scheme and is stopped again.
Since her stillborn son Daniel death she became a born again Christian and worked for Eric Brady church as his assistant and Sami didn't like the idea at first but then came to accepted Because of her brother Eric.