David Grant
[[

|240px]]
Days of our Lives
Portrayed by
Unknown Baby
Current status
Former; Recurring
Duration
2018
First appearance
2018
Last appearance
2018
Cause/reason
Died
Profile
Gender
Male
Died
June 19, 2018
Cause of death
Stillbirth
Residence
Salem, Illinois (at time of death)
David Abraham Grant is a fictional character from the soap opera Days of Our Lives.
David is the baby that Lani Price and Eli Grant lost.
Background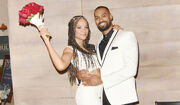 Lani ran into Eli, and confided in him. Eli was furious, and during the conversation he revealed he had fallen for her a long time ago. To suppress their pain Eli and Lani ended up sleeping together. Lani was filled with regret, but Eli felt there was nothing wrong only to find out later that Gabi had stayed with JJ because JJ had been planning to commit suicide.
In January 10, 2018; Lani discovers she is pregnant with Eli's baby and considers abortion without letting Eli and JJ know, only confiding in Kayla Brady about the child not being JJ's. Later, JJ finds out about her pregnancy, thinking the baby is his and convinces her not to abort the child. She keeps the truth from JJ about the baby not being his, but confesses to Eli about the baby being his after his mother Valerie Grant threatens her to.
Storyline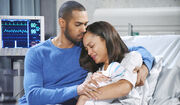 Gabi learns about Eli and Lani's fling and threatens to our Lani unless she helps clear her for murdering Andre DiMera. At Gabi's trial, JJ learned the truth and stormed out in a fit of rage. Lani goes into premature labor and ends up having a c-section due to the placentia ruptured and unfortunately the baby oxygen was cutting off and was declared stillborn when he was born and Eli told Lani their son was stillborn and didn't make it and Lani was heartbroken with grief and anger.
When they hold their stillborn son they decide to name him David Abraham Grant after his paternal great-grandfather David Martin and paternal grandfather David Banning and maternal adopted grandfather Abe Carver.
Lani and Eli grieved their son David everyday and grew closer together and they are now currently married and gave David two full siblings twins Carver Grant and Jules Grant.