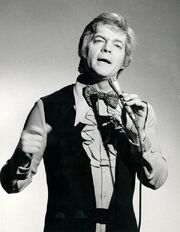 Doug's Place was a lounge originally owned by Doug Williams and Addie Horton . Originally called Sergio's, Addie bought the place for Doug as a wedding present. He sang there while Addie played hostess.
After Addie died, Doug eventually had the place remodeled and continued to perform there. He often sang Oh, You Beautiful Doll to his and Addie's daughter, Hope. At one point, Doug's Place suffered hard times when he lost his liquor license and eventually the club. Julie bought back the club and turned it into Doug's Coffee House. Later, Doug's Coffee House closed and he eventually opened a casino in an old mansion by the lake. The house was originally the Chisholm mansion and Julie helped redecorate it as the new Doug's Place. Over the years since, Doug's Place was known variously as Blondie's and Wings. The new Doug's Place became more important when Stefano arrived in town and set his sites on it. Stefano forced Liz Chandler, Tony's then wife, to spy on Doug for him.
It wasn't long before Julie stumbled on a secret room attached to a tunnel that connected Doug's Place to the DiMera Mansion! In this hidden chamber, they found Horton and Brady family trees, a detailed history of Anderson Manufacturing, aerial shots of Salem and a photo of their friend Robert LeClair stuffing money into a sack. Robert had been making deposits to a Swiss bank account for Stuart Whyland, money he had stolen from the hospital.
Doug and Julie duplicated the coded geological maps they'd also found and contacted the map-maker's wife, Mitzi Matuso. She thought her husband's suicide was really murder. Doug and Julie pretended to separate so he could lead Mitzi on to get more information. But she and a cousin planned to get Doug's money and the goods under Doug's Place for themselves. Apparently, Mr. Matuso had told Stuart there were titanium deposits under the place. Stuart lied to Stefano and killed Matuso, wanting the mineral money for himself. It turned out there was no titanium.
It later turned out that Melissa Horton's boyfriend, Oliver Martin, had helped build the secret passage when the mansion belonged to Stuart Whyland. Oliver used the secret room to spy on the DiMeras.