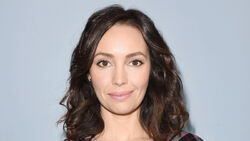 Emily Roya O'Brien (born 28 May 1985) is an English three-time Daytime Emmy-nominated actress and writer who is known for her five-year series regular role of Jana Hawkes Fisher on The Young and the Restless from 2006–2011. She also portrayed Julia in the 2014 film Pernicious and provided the voices of Camille in League Of Legends, and Y'shtola in Final Fantasy XIV: A Realm Reborn. Emily also voiced Gamora in Guardians of the Galaxy: The Telltale Series and Special Agent Iman Avesta in the 2017 video game Batman: The Enemy Within. In 2018, she became part of the main cast of the animated film Dagon Troll World Chronicles. She also voiced Amelie and young Bridget Strand in the 2019 game Death Stranding.
In 2020, she was cast in the role of Gwen Rizczech on the soap opera Days of Our Lives.
Community content is available under
CC-BY-SA
unless otherwise noted.