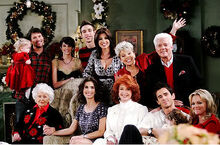 The Horton family are an upper middle class Anglo-Saxon Christian family living in the town of Salem. Traditionally a family of doctors, the Hortons have branched out to include lawyers, journalists, police officers, and more. Key family members include Alice, Tom, Mickey, Julie, Hope, Jennifer, Lucas, Will, Shawn, Ciara, Abby and J.J.. The Hortons have been at the center of Days of Our Lives since its debut in 1965.
Family Tree
First generation
Second generation
Third generation
Fourth generation
Fifth generation
Sixth generation
Seventh Generation
David Grant † (deceased, 2018)
Carver Grant
Jules Grant
Horton House
The Horton house (545 Sycamore Street) belonged to Tom and Alice Horton, and continued to be occupied long after their passing. It is currently owned by their granddaughter Jennifer Horton. Jennifer briefly left town, so her husband Jack Deveraux and his daughter Gwen Rizczech and friend Xander Kiriakis currently live there a long with Doug and Julie Williams.
Horton Town Square
In 2011, Horton Town Square was created to honour the late Tom and Alice Horton. It was marked by a plaque of the two that said "Horton Town Square" and "In Loving Memory". The square had tables and chairs placed in the centre and was surrounded by various small businesses, most notably GabiChic. The town's Inn, that existed prior to the creation of the Square, was also incorporated into the Square.
Outside of Salem's core families, the square was loved by the entire town as seen when Paulina Price got the permits to tear down the Square and replace it with her own project Price Town. The citizens if Salem were furious and blamed Mayor Abe Carver, pelting him with eggs.