John Black
Drake Hogestyn As John Black
Days of our Lives
Portrayed by
Robert Poynton (1985–1986)
Drake Hogestyn (1986–Present)
Current status
Present; Contract
Duration
1985–2009, 2011–present
First appearance
November 18, 1985
Created by
Sheri Anderson, Thom Racina and Leah Laiman
Introduced by
Betty Corday and Al Rabin (1985)
Ken Corday, Noel Maxam and Greg Meng (2011)
Profile
Alias(es)
John Robicheaux
Ryan Brady
Forrest Alamain
John Stevens
Father John
The Pawn (1985–86)
Roman Brady (1986–91)
John Black DiMera (2008)
Gender
Male
Born
1958
Age
61
Occupation
Mercenary
Businessman
Policeman
Spy
Private Investigator
Residence
715 Pinewood Avenue Salem, Illinois
John Black is a character from the soap opera Days of Our Lives portrayed by Drake Hogestyn since 1986, with a break in between from January 2009 to September 2011. John was created by script writers Sheri Anderson, Thom Racina and Leah Laiman as The Pawn in 1985 and introduced by executive producers Betty Corday and Al Rabin. John becomes one of Days of Our Lives' most popular characters when he is revealed to be the presumed dead Roman Brady (Wayne Northrop) with plastic surgery and amnesia.
However, Northrop's return in 1991 led to Hogestyn's Roman being retcon into the entirely separate character of John Black, which also establishes the super couple pairing of John and Marlena, due to John's affair with Roman's wife, Marlena Evans (Deidre Hall). During the time in which he believes he is Roman, John picks up the mantle of Roman's feud with the notorious international criminal, terrorist, and assassin Stefano DiMera (Joseph Mascolo). John and Stefano's feud is central to the character's history as Stefano is partly responsible for John's memory loss. Their lives are further intertwined in 2008 when the two are falsely led to believe they are half brothers -- a story that was later disproved.
Hogestyn's portrayal has made him one of daytime's most popular and recognizable stars. Hogestyn was attributed with helping the series out of its ratings slump in the 1980s. He was often featured in soap opera magazines such as Soap Opera Digest and Soap Opera Weekly.
Creation and casting
On January 24, 1986, daytime new comer and former minor league baseball player, Drake Hogestyn joined (step)the cast as The Pawn without his bandages, who would later assume the alias John Black. As The Pawn (Glen Vincent, then Robert Poynton) was introduced onscreen in November 1985, the casting department at Days of Our Lives had been searching for an older actor to portray The Pawn when Hog
estyn wondered into the NBC casting offices to meet with Doris Sabbagh, the head of the casting department at Columbia Pictures about a guest spot on Crazy Like a Fox. Instead, Sabbagh brought Hogestyn in to audition for Days. Hogestyn later admitted that he didn't know anything about the role and he thought he had auditioned for ABC's One Life to Live. Hogestyn was a fan of daytime soaps and his agent had passed on several soap roles "but Drake wanted this one." He watched some episodes and then went to the audition. Though everyone seemed to love him, Hogestyn almost missed out on the role because he was so young. However, it was his screen test with Deidre Hall that put Hogestyn over the top. Hogestyn was chosen out of five other actors and signed a three year contract.
Drake Hogestyn as Roman, with Deidre Hall's Marlena on the cover of Soap Opera Digest in 1986. By the time John is revealed to be Roman in May 1986, Drake Hogestyn had grown quite attached to the character of John. He said "One of the things I'm concerned about now is that it's going to be sad to put John Black to bed. I've had a lot of fun and it's been a stretch for me as an actor." He continued, "I had a chance to be very creative and take chances." Then Hogestyn was suddenly forced to take the character in another direction to see how viewers would react. "But I don't think they'll totally close the door on John Black" Hogestyn suspected. A year later, though he was happy with Roman, Hogestyn said he initially wanted to find success in his own role instead of a recast. The actor later admitted that he never thought of himself as a recast "because I played five months as John Black before they told me I was Roman." During an interview in 1990, Hogestyn said he hoped Northrop could someday return as Roman. "Then you could start a whole new character out of that complication."
In the summer of 1991, it was reported that Wayne Northrop and Deidre Hall were in talks to return to the series and reprise their respective roles as Roman and Marlena, leaving many to wonder what would become of Hogestyn's Roman. It was later revealed that Hogestyn's Roman was actually John Black all along, and Northrop was the "real" Roman. Hogestyn attributed the plot twist two the "producers' own brilliance" despite him suggesting the storyline a year earlier. He also appreciated the decision from a business perspective. When asked about the possibility of being Roman again if/when Northrop inevitably vacated the role -- as the return was expected to be short term -- Hogestyn said "I think I'd like to stay John Black because I've already been Roman and I wasn't him." Supervising executive producer Al Rabin said "This is a story that we've wanted to tell for a long time." Rabin promised that the plot would not affect Hogestyn's future with Days who at the time was locked into a four year contract. The producer also shot down speculation that the story would take a page from the prime time soap Dallas in which Patrick Duffy's Bobby Ewing was killed off in season 8 and revealed to be alive in season 10 discounting all of season 9 as a dream. To avoid confusion during production, the two men were referenced in the script by number -- Hogestyn being Roman II (John). Over the course of six months, the story explores all avenues most significantly, the effects on Roman and Marlena's twins Eric and Samantha who had been raised by Roman II for most of their lives. In 2002 Hogestyn commented on the retcon: "This is daytime television, and you never know where the story is going to take you."[
Such a development would be unique to Days of Our Lives. And exactly 20 years later, One Life to Live would do the same thing with Trevor St. John's very popular portrayal of Todd Manning -- a role that was originated by Roger Howarth who was equally as popular -- if not more popular. Ironically, a theory about the Days plot where Roman II turned out to be Roman I's long lost twin brother actually factored into the One Life to Live story in 2011.
Characterization
John was said to be inspired by Jason Bourne. His past has been the driving force of many stories. At one point, it was believed he had been a priest. He had been adopted by the Alamain family, and both and he Lawrence Alamain believed they were biological siblings. In 2003, John believed he was the son of Daphne DiMera, making him half-brothers with the villainous Tony DiMera (who was really Andre DiMera). John believed this until 2008 when a dying Colleen Brady claimed John was her son with Santo DiMera, making him a half-brother to his archnemesis Stefano DiMera. This was changed in 2014 where John learned the real Ryan had passed away years ago.
John was introduced as the mysterious pawn, and later put down roots by forming a relationships with Marlena Evans and Isabella Toscano, and conceiving a child with both of them (Belle and Brady Black. In 2014, it was revealed he had a fling with Tori Narita, and was the father of Paul Narita. He later gained a granddaughter through Belle, Claire Brady and a grandson through Brady Tate Black, who is currently in the custody of his mother Theresa Donovan. John is the archnemeis of Stefano DiMera, and has been a romantic rival of both Roman Brady and Andre DiMera. He is close friends with Steve Johnson.
In 2008, John was killed in a hit in run and revived and brainwashed by Stefano on New Years Eve. After Stefano was put into catatonic state and John believed he was Stefano's half-brother, the lawyer gave control of Stefano's estate to John, and he started a new chapter of his life as John Black DiMera. He became involved in a drug war with Philip Kiriakis and became involved with Ava Vitali until she left town. Stefano came out of his coma soon, and though John wanted to fight to keep control of his empire, he gave it up when he realized a part of him still loved Marlena. John resolved to regain his memories, and he and Stefano started to form a bond. John's therapist, Charlotte, wanted revenge on Marlena and she lied to John about the breakthroughs he was having very under hynosis. John fully regained his memories after being paralyzed from the waist down while protecting Marlena from Charlotte.
Relationships
Hogestyn always hoped his character would be paired with Marlena Evans (Deidre Hall) -- even when his character's identity is in question. Even viewers began to echo his sentiments -- no matter who John Black turned out to be, he and Marlena were meant to be. When Deidre Hall left the series in 1987 and Marlena is killed off, it took quite some for the producers to pair John with another woman. "I get the impression they're trying to keep a low profile because of Deidre's departure." Hogestyn was warned that he wouldn't be getting much story. "I was told I was going to be virtually non-existent" at least until Roman could grieve properly. Though it was difficult wait, Hogestyn understood why the writers chose to put his character in the background. "You can't rush from one love story right into the next" he said. Soap Opera Stars magazine later reported that the show runners weren't sure if Hogestyn would work without Hall and there were plans to write his character out. "Roman's big goodbye scene was nearly in the works." However, after losing several high profile stars after including Hall, and Peter Reckell and Kristian Alfonso as super couple Bo and Hope, the network knew they couldn't afford to lose Hogestyn as well. Hogestyn viewed John and Marlena's relationship as a "classic love." It is "the perfect relationship" he said. Hogestyn appreciated that the relationship showed viewers that such a love is possible. When asked about a recast of Marlena instead of a new love interest, Hogestyn admitted that he didn't think viewers would accept it.
Finally trusting that Hogestyn was popular enough to hold his own, the writers introduced a new love interest for him. John/Roman was next paired with Diana Colville played by General Hospital superstar, Genie Francis. Hogestyn revealed that the writers had given the duo much more creative input to establish a more fun dynamic. There weren't any plans to pair Roman/John with Diana but their interactions helped the story write itself. The character of Diana also had a romance with Mike Horton (Michael T. Weiss) and a failed engagement to Victor Kiriakis (John Aniston) and was even considered as a love interest for a returning Bo Brady (Reckell). However, Hogestyn's chemistry with Francis "just couldn't be denied." It is actually John who kidnaps Diana before she marries Victor. While there was initial backlash from staunch Marlena fans fearing John and Diana had developed too soon, majority of viewers quickly became fans of the new pairing not long after their first few scenes together. The duo had really strong scenes from the very beginning. "That was an accident" Hogestyn said. Despite it being seeming too soon, the network ordered the producers to capitalize on the fan reaction. "Genie and I worked hard from day one to make Diana and Roman work" Hogestyn explained. The duo also injected humor into their scenes whenever they could. "That added a nice, little touch to our romance." John/Roman initially tries to keep Diana at arms length because he fears getting so close to another woman, the way he got with Marlena. However, Diana's near death experience is a "turning point in their relationship." Diana and John/Roman are recognized as a super couple in their own right. When Francis leaves the series in 1989, Hogestyn finds himself on the back burner once again.
The character was next paired with Yvette DuPrés (Lori Hallier) who is also involved with his rival, Victor Kiriakis. John/Roman keeps Yvette "at arm's length." However Hogestyn considered the romance to be a "relationship of convenience." It provides the opportunity for John/Roman to stick it to Victor "and at the same time have some fun." However, insisted that the romance could never live up to his previous two pairings. Hogestyn was surprised by the abrupt ending of John/Roman's romance with Yvette. He really enjoyed working opposite Lori Hallier. "She was very conscientious about wanting to work... working scenes out. That was so refreshing for me." John's short lived romance with Yvette seems to be a precursor to his next great love story. In early 1990, Hogestyn was informed that his character's next great love story was in the works. John/Roman was next paired with Isabella Toscano (Staci Greason) -- the illegitimate daughter of Victor Kiriakis. Hogestyn enjoyed working opposite the newcomer. "She reminds me of me when I first started on the show... I had no soap opera experience, and my energy was boundless."
Storylines
In January 2014, Hope tells Brady that John has discovered that he is not, after all, the son of Colleen Brady and Santo DiMera. The orphanage where he was supposedly reared misled a desperate Colleen into believing that John was her son, when in reality the real Ryan Brady had died. Hence, John's ancestry is once again unknown.
In January 2016, John learned that his birth name was John Robicheaux, and that he was born in the early 1950s in Baton Rouge, Louisiana, the son of Tim and Maude Robicheaux. Tim was a farmer and war hero who died during the Korean War. Maude was unable to care for her newborn child alone, so she allowed a wealthy neighboring family to adopt him, but when that couple was killed in a car accident, he was put up for adoption again, and this time adopted by the wealthy and powerful European Alamain family. When the Alamains' other son, Lawrence, almost allowed John to drown, the Alamains realized that Lawrence posed a threat to their adopted son, so they faked his death and sent him to live in a series of American boarding schools. John eventually ended up at a school in Vermont called Winterthorne, which turned out to be a front for a training center for assassins, run by a heretofore unknown agency. A Soviet defector named Petrov was an instructor at Winterthorne, and as he eventually became a henchman for Stefano DiMera, it is not a stretch to presume that it was Petrov who was responsible for bringing John into Stefano's fold.
In February 2016, Stefano's body was found in an abandoned warehouse, and on March 1st, John joined in a celebration that took place at the Brady Pub where everyone reminisced about Stefano's crimes against them, and bid their mortal enemy goodbye. That same month, John came face to face with Tim Robicheaux. Tim explained he had bought John from the Alamains and planned to make him into an elite assassin. Petrov had worked for Tim, and later betrayed Tim, and handed John over to Stefano. Tim kidnapped Paul and tried to brainwash him, but John broke free and back up arrived. Tim was arrested, but he committed suicide by biting on a cyanide capsule. John, Steve, and Paul started their own PI business, and used it to try and find Tate after he had been kidnapped.
In September 2016, Orpheus escaped from prison. He showed up at the Kiriakis mansion, and shot John in the shoulder. John recovered and set about finding and capturing Orpheus. John found Orpheus and his partner, Clyde Weston, about to attack Kate, Marlena, and Claire. John shot Orpheus, but he and Clyde made their escape. Orpheus captured Joey Johnson and Claire, and Clyde shot Abe during a press conference. Claire escaped with Joey help, and Joey was later rescued. Andre lured Clyde into a trap, and he was recaptured, and Orpheus other partner, Xander Kiriakis fled town. Orpheus set up bombs all over Salem, and detonated them, cabins several injuries. John surrendered himself at Orpheus's demands, and Orpheus was about to execute him when Steve got the drop on him. Orpheus was shot in the shoulder, and taken into custody where he committed suicide and tried to shoot Marlena, but died before he could. However, Orpheus faked his death and returned on October 31st. Disguised as a magician. He captured Marlena and Kayla, and locked them in coffins that he set on fire. With Andre's help, John and Steve found Marlena and Kayla in time, and Orpheus died for good after being fatally shot.
In January 2017, it was revealed that John was on a mission for the ISA. He returned to Salem later in the year to visit Brady after he had been shot by Xander. John left town again, and shortly after returning again, Paul asked John to help him find evidence that Sonny didn't kill Deimos Kiriakis. Paul and John headed to Greece to interrogate Xander, who was now in prison, but he wasn't much help. While John was gone, Hattie Adams, a woman who had gotten plastic surgery to look like Marlena, had Marlena committed to Bayview sanitarium, and posed as Marlena. When John came home, "Marlena" broke up with John because he was always gone. John became suspicious when he received a desperate call from Marlena for help. John follows Hattie, and found Marlena, but Hattie locked them into the room together. John was then taken away by orderlies and put in a a straitjacket in a cell beside Marlena. John and Marlena got out of their straitjacket and formed a plan to escape. The plan backfired and they were both scheduled for ECT. While in the waiting room, they saw Andre being dragged in. Andre started throwing accusations against Marlena, and Marlena explained to him that Hattie has been impersonating her. After realizing the truth, Andre tried to convince the orderlies to let them go, but he was soon dragged away while John asked the orderlies to listen to Andre. John and Marlena were almost given ECT when Paul and Roman arrived, and stopped the procedure.
In September 2017, Ben Weston crashed the double wedding that Paul would marry Sonny in. Ben proclaimed Will was alive, which caused Sonny to put off marrying Paul. Paul convinced John to help him dig up Will's grave, but they were stopped by Sami, who returned to Salem upon hearing the news that Will might be alive. John went to Memphis along with Marlena, Sami, Paul, and Sonny. They discovered that Susan, aided by Dr. Rolf, was behind Will's revival, and that he believed he was EJ because he had amnesia. Will agreed to returned to Salem once Susan realized what she had done, and let him go.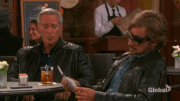 In January 2018, Chad approaches John to help investigate the hacking into DiMera Enterprises. John found out that it was an inside job and informed Chad. While he and Marlena were on a double date with Steve and Kayla, John went to get them more drinks and then poured a vial of liquid into one of them. Roman later approached John and asked him to track down the source of the anonymous letter that Anna had received that claimed that Andre had killed Tony. While John and Steve discussed the letter, and how it could implicate Anna in Andre's murder, John poured some more liquid into Steve's drink when he looked away. John spoke on the phone to someone, and was angry that they were making him poison Steve. His contact met with him and gave him another vial of poison, and ruthlessly told him he didn't care how upset John was and that he had to finish Steve. John ended up breaking the vial in frustration, and was given another one by the contact, who said their boss, Pamela Van Dam, wanted John to finish Steve off.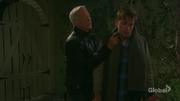 Will confronted John and let him know he knew he was poisoning Steve. John held a gun on Will and forced him into the DiMera Mausoleum. Paul tracked them down, and John appeared to shoot them both. John left the mausoleum and went to the hospital where he tried to give Steve a fatal dose, but Tripp walked in. John left, and returned to the Mausoleum where he ran into
Billie Reed
, and they discussed how they had to kill Steve.
John went to the hospital to give Steve the injection, but Steve woke up and caught him. Kayla and Marlena came in. John confessed that he had been poisoning Steve and that Pamela had ordered it because of Joey confessing to killing Ava when Pamela he originally helped Steve cover it up. Pamela's job was at risk and she wanted Steve killed. John and Billie had procured an antidote and Billie had what they needed to neutralize Pamela as a threat. Pamela attempted to kidnap Tripp and Ciara, but died during a struggle where Tripp jabbed a syringe into her.
Steve forgave John, and understood why he did it, but Kayla had a hard time finding forgiveness especially when it was revealed that Steve's eyesight had been damaged by the poison and he was slowly going blind. Steve cheered John up with a round of darts that he still won, despite his deteriorating eyesight. Eventually, Steve's eye sight got the point where he had to lose his iconic eye patch, wear sunglasses, and carry around a retractable walking stick.
John and Paul went to rescue Chloe from the clutches of Mateo, who had kidnapped Chloe. Lucas had hired them to find out who had Chloe. Once they arrived, they were held at gunpoint by Mateo and his men. Mateo threatened to shoot Paul, and John desperately pleaded for his son's life, but then Chloe stabbed Mateo in the back, killing him. John and Paul subdued Mateo's men in the confusion and brought Chloe safely back to Salem.
Gallery
Community content is available under
CC-BY-SA
unless otherwise noted.