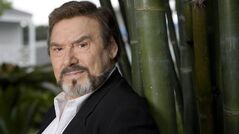 Joseph Mascolo (March 13, 1929 – December 8, 2016)[1] was widely known for playing Stefano DiMera, the greatest villain to have appeared in the soap genre. He entered the role when the character originated in 1982 on the Days of our Lives. A gifted musician and dramatic actor, during his long career, Joseph has acted in numerous motion pictures and television series.
Early life
Mascolo was born and raised in West Hartford, Connecticut. His parents were immigrants from Italy, Peter Mascolo (1901 – 2008) and Anna Mascolo (née DeTuccio) (1910 – 2010), who were really fortunate to have made it to their 80th wedding anniversary shortly before his father died. He attended the University of Miami and then the United States Military Academy. He was originally training in Classical Music.[2]
Career
Joseph appeared in the 1978 film Jaws 2 as a member of the city council who confronted Chief Brody (Roy Scheider) when the Chief brought forth the underwater photograph of what he believed was another shark. He also played a police detective in the Burt Reynolds feature Sharky's Machine.
Personal life and death
Mascolo married Rose Maimone in 1953. Together they had a son named Peter. Maimone died in 1986. In 2005, he married his second wife, Patricia Schultz. In January 2016, Mascolo told Soap Opera Digest that he had suffered from a stroke in the spring of 2015. "During my rehab, I thought this would be a good time for Stefano to leave."
Mascolo died on December 8, 2016, in Santa Clarita, California at the age of 87 after years of battling Alzheimer's disease. He was survived by his wife, Patricia Schultz-Mascolo, his son Peter, his step-daughter Laura, five grandchildren, and three great-grandchildren.
Gallery
References
External links
Community content is available under
CC-BY-SA
unless otherwise noted.