Kristian-Joy Alfonso (born September 5, 1963) is an American actress, former figure skater and fashion model. She is best known for playing Hope Williams, which she has played since 1983 on the NBC dramatic serial Days of Our Lives.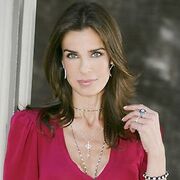 Early career
She began her career as a figure skater and gold medal champion at the Junior Olympics. At the age of 13, a devastating tobogganing accident ended her skating career and Alfonso began modeling. By the time she was 15 she had appeared on the cover of over 30 magazines, including Vogue and Harper's Bazaar. She was first seen on TV, playing opposite Rock Hudson in the TV movie The Starmaker in 1981.
Her career took off in April 1983 when she started playing Hope Williams on the soap opera Days of Our Lives. During that time, her character fell in love with, and married, Bo Brady (Peter Reckell).
Alfonso left the show in April 1987 for a two-year stint on the night time soap opera Falcon Crest as Pilar Ortega for its last two seasons. She returned to Days briefly from April to July 1990; this return culminated in the entire town of Salem believing that Hope had died. In 1993 she starred alongside Dolph Lundgren in the film Joshua Tree in which she played a cop abducted by an innocent convict on the run.
Return to Days of our Lives
She returned to the show for a third time in May 1994 as "Gina," an amnesiac who looked a lot like Hope. She ended up being Hope, but not before a drawn-out storyline involving evil Stefano DiMera (Joseph Mascolo) brainwashing Hope into believing she was Princess Gina Von Amberg.
She also played in Season 6 of Friends in an episode titled "The One That Could Have Been, Part 1" as Hope Brady from Days of Our Lives. Alfonso gained her start with the talent show TALENT AMERICA held in NYNY. From there she was picked up by a modeling agency in New York. She later was a frequent Judge for the competition. She was in her very early teens at this time and considered a face model for the agency. Career ups and downs lead her back to a more permanent position with Days of Our Lives, where she has recently re-signed for two more years.
Other credits
Alfonso's other film and television credits include Joshua Tree, MacGyver, Blindfold: Acts of Obsession, Full House, Burke's Law, Murder, She Wrote, Melrose Place, Baywatch, Amazing Stories, Love Stories, and Who's The Boss?.
Community content is available under
CC-BY-SA
unless otherwise noted.