A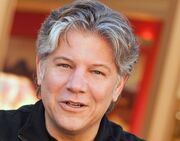 Adam Scott was played by Randy Reinholz in 1989.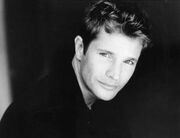 Alan Brand was played by Brian Lane Green from 1987-88.
Alexander Kiriakis was portrayed by Jonathan Thornton.
Alfred Jericho was played by Steve Eastin from 1989-90. Jericho was a crooked ISA agent who was involved with the Reverend Saul Taylor. The two of them had burned many black churches in the south and also fenced stolen goods through Saul's traveling revival camp.
Jericho learned that the ISA was onto him, and he even kidnapped his old friend Shane Donovan and staged his death in an explosion. Shane was really alive but was being held hostage by Jericho. Steve Johnson and Gail Carson were sent in to find Shane and nail Jericho. Jericho panicked and shot Saul Taylor in case he thought about talking. Later Shane escaped and he and Jericho duked it out on a clifftop, and when a bomb went off on the mountain they were on Shane and Jericho fell over the clifftop, both were thought dead.
Arthur Downey was played by John Calvin from 1989-1990.
B
C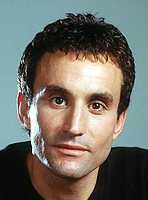 Cal Winters was played by Wortham Krimmer from 1989-90.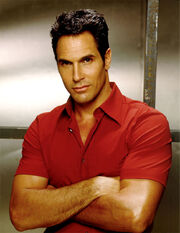 Carlo was played by Don Diamont from 1984-85. He was a family friend of Liz Chandler and her business manager. He and Liz were on the plane that Andre DiMera caused to crash land on Stefano DiMera's island. When they returned to Salem, Neil Curtis thought Carlo and Liz were having an affair, and stormed out. Liz got drunk, and Carlo took advantage of her, making love to her while she was drunk. Neil came home, saw them together, and filed for divorce.
When Neil and Liz were on the verge on reconciling, Carlo revealed Neil's past to Liz. Neil was formerly known as Allan Jackson and had his debt paid off by a mob associate named Mario. Allan and Mario worked for the mob, but eventually turned states evidence, and spent some time in prison. Mario died in prison, while Allan was released and given a new identity: Neil Curtis. Carlo was Mario's son, and sought to avenge his death. During a scuffle with Neil, Neil accidentally shot Carlo with his own gun and Carlo died.
Chief Tarrington was played by Ron Barker from 1987-92. He was Shane's ISA superior, who handed down assignments to him.
D
Delia Abernathy was a DiMera henchmen that played a pivotal role during the Salem Slasher storyline. She worked very closely with Andre and Stefano, posing as Tony's housekeeper. With Andre, she held the real Tony DiMera captive for months and helped Andre carry out his killing's.
Diane Parker is a childhood friend of Bo Brady's and former prostitute. She pretended to be Bo's girlfriend in order to keep Hope Williams from getting too close to him while he was investigating the dangerous Salem Slasher.
E
Earl was the twin brother of Duke Johnson.
Ed was played by Steve Nave from 1983-88.
Edith was played by Darlene Conley in 1983.
Ellen Hawk, played by Pamela Brull, is the mother of Benjy Hawk.
Emma Donovan was played by Jane Windsor from May 6, 1985 to December 31, 1986.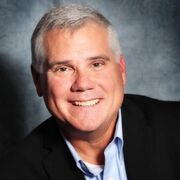 Ernesto Toscano was played by three actors: Terrance Beasor (1989), Charles Cioffi (1990), and Eric Mason (1990).
F
Faith Taylor was played by Melinda Clarke from 1989-90. Faith Taylor is the daughter of Reverend Saul Taylor. She came to Salem with her father's revival camp which was set up outside of Salem. Faith striked up a friendship with Doctor Marcus Hunter after she was taken to the hospital when her father's revival tent collapsed and she was struck by a beam, which left her temporarily blinded. However her father Saul objected to her friendship with Marcus for some reason and asked her to stay away from him. Later Faith learned that her father was responsible for the death of Marcus' parents. After her father was killed Marcus offered to let Faith stay with him. She soon met and fell in love with Scott Banning. Faith had an incredible voice and Scott, who had recently left a position at a record production company, became Faith's manager and got her a job singing at Wings. In 1990 a vicious storm hit Salem and left Faith paralyzed. Eve Donovan, who was in love with Faith's current boyfriend Scott, plotted to keep the two of them apart. Eve brought Scott's shadowy record producing scams and secrets to Faith's attention in hopes that it would cause problems. Eve's plan failed miserable. Faith walked again and when Scott was accepted to medical school, Faith and Scott left Salem.
Played by Larry Poindexter off and on since 1984. Often seen during funerals and weddings in Salem. Father Louis was prominently featured when Eric Brady joined the church as a priest. He took over for Father Matt (due the actor's passing) as Eric's friend and confident as he battled his demons. He hasn't been seen since Eric was sent to prison for causing the accident that killed Daniel Jonas, but he is set to return in late 2016.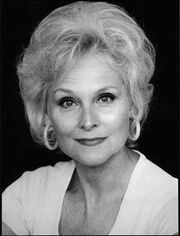 Foxy Humdinger was a Madam, friend to Doug Williams and rival to Julie Williams. After Doug's heart attack in 1984, Doug developed a fondness for the exuberant Foxy. Julie's jealousy got the better of her and even though Doug's loyalties to her never faltered, the two women were at each other's throats while trying to win Doug's affections.
G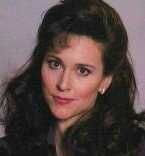 Gabrielle Pascal, played by Karen Moncrieff from 1987-1988, is the mother of Eve Donovan, and grandmother of Paige Larson. She worked as an ISA agent with Shane, and was his ex-partner. Gabrielle came to Salem, and posed as Shane's current lover to throw Victor Kiriakis off Shane's trail, while he investigated him While in Salem, Gabrielle was reunited with her long lost daughter Eve. Gabrielle wanted her, Shane, and Eve to be a family (something Eve also wanted) and moved into the guest house of the Donovan mansion after her daughter was attacked and her private life as a stripper was exposed Gabrille was also attacked, but she survived. Gabrielle eventually left town after realizing Shane would never be with her.
Gail Carson, played by Patrice Chanel in 1989, was sent to Salem on an ISA mission to stake out Reverend Saul Taylor's revival camp.
Glenn was played by Rob Estes from 1986-87. Glenn was a High School jock, and Jennifer's boyfriend. Glenn was pressured by his team mates and his coach into doing steroids, but Glenn refused. When he tried to reveal his coach to the police his girlfriend Jennifer Horton accidentally tipped his coach off to the plan. Glenn was lead into a trap by his coach, but was eventually rescued by Jennifer and her friend Frankie. Glenn's pressure on Jen to have sex forced Jen to leave Glenn. Glenn disappeared from Salem in 1987.
H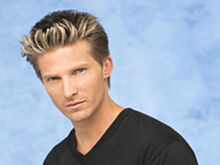 Harris Michaels was played by Steve Burton in 1988. Harris went to school with Eve Donovan. Harris', Jake, and their friends knew Eve used to be a prostitute so Jake made a bet to see who could score with her first. Eve never liked any of Jake's friends, but she did like his friend Harris Michael. Harris decided to take Jake up on his bet.
Harris and Eve went out on many dates, and Jake began to care for Eve. However, Eve soon learned what Harris was after, and she attempted to kill herself on sleeping pills. By that time Harris had fallen in love with her, but their romance wasn't meant to be. Though he tried to apologize, Even never forgave him.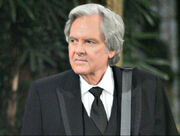 He has been played by Ron Leath since 1987.
Howie was played by Stanley Brock from 1983-86. Howie Hoffstedder was a lovable character who provided comic relief. Howie helped Bo escape with Hope during Hope's marriage to Larry Welch by dressing up in Hope's gown and fooling Larry until he lifted Howie's veil. His dog was also the groom in one of Salem's most memorable weddings when he married Calliope's French poodle.
I
Ian Griffith was played Harrison Douglas in 1985, and Darby Hinton from March 27, 1985-March 5, 1986.
J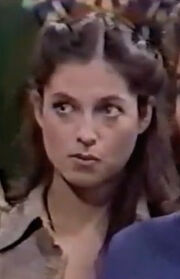 Jane was a friend of Hope Williams. She was a troubled girl that was desperate for acceptance and resorted to manipulation to get Hope to like her. Before Bo and Hope became an item, Hope had a crush on Bo's older brother Roman. Jane schemed to get Hope and Roman alone together by sending Hope off to deliver a fishing rod to Roman while she occupied Marlena with a bogus suicide attempt.
Janey was portrayed by Candy Milo in 1985. Janey was brought to Salem on 1985 and only stayed for a short while. She was an aspiring singer that worked closely with Liz Chandler and her younger brother Todd Chandler.
Jasmine was played by Jolina Collins from 1984-85.
Jerry Pulaski was played by Jason Culp in 1989.
Johnnie Jean "J.J." Bagwood was played by Patty Johns from 1989-1990.
Joey was played by Merritt Yohnka from 1984-90.
Jonah Carver was played by Bumper Robinson from 1987–88, and again from 1990–91.
K
Kate was played by Elinor Donahue from 1984-86.
Kevin was played by Eric Schiff in 1985.
L
Larry Atwood was played by Fred Beir from 1977-1978.
Lars was played by Ken Jezek from 1986-87. Lars was Britta's brother, who came to Salem to be with his sister in 1986. Lars opened his own dance company, and made Melissa his performing partner. The two fell in love, and began an affair. However, Melissa wouldn't leave her husband Pete for Lars, because at the time Pete was paralyzed. In 1987 Melissa hurt her leg, and tried to hide the injury from Lars. She was successful in hiding the truth from him, but when she hurt it again Lars found out. Melissa would never dance again, Lars quickly left her and moved his company elsewhere.
Lavinia was played by Diana Webster from 1985-86. Levina "Peachie" Peach came to Salem in 1985. She was Shane's old ISA mentor and friend, and had been assigned to help him take down Victor Kiriakis. Peachie posed undercover as Shane's maid. Peachie appeared many times over the years to help out Shane and Kimberly when she could. In 1991 Peachie returned to Salem, but she was sick with a deadly virus. A mysterious virus was killing off ISA agents left and right and Peachie came to Salem to ask for Shane's help.
Luke was played by Stephen Anthony Henry from 1986-88.
M
Madeline was played by Sue Rihr, was the brief wife of Eugene Bradford, who he only married so he could get his inheritance at the insistence of his mother. Eventually, Eugene divorced Madeline, so he could marry Calliope Jones.
Marcus Hunter was played by Richard Biggs from 1987-1992.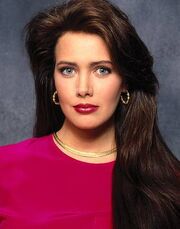 Marina Toscano was played by Hunter Tylo from 1989-1990, and Bettina Rae in 1990 flashbacks.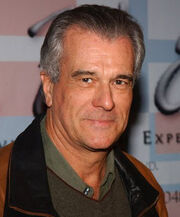 Maxwell Hathaway, played by Tom Hallick in 1984, was the adoptive father of Megan Hathaway. When he and Megan came to Salem in 1984. Maxwell wanted to buy out Anderson's Manufacturing from Alex Marshall, and tried to destroy him financially. Maxwell was the leader of a group called "The Cartel" that wanted Larry Welch to become mayor. He orchestrated Bo Brady's arrest, and tried to blackmail Hope Brady into marrying Larry. He was eventually killed by Andre DiMera.
Maxwell Jarvis is a fictional character from the NBC soap opera Days of Our Lives portrayed by Charles Bateman From 1980-81. Maxwell was a business associate of Alex Marshall.
Dr Mitch Kauffman was played by Philip Levien from 1986-87.
Monty Dolan was played by Jay Robinson from 1988-89. Monty was the father of the Ramirez children, but was an alcoholic who was never around to support his wife or raise his children. When his wife Rosa was put on life support he knew she didn't want to be left living by a machine, so he pulled the plug. His daughter April found out he did it and took the wrap for him. When it was eventually learned that Monty pulled the plug he wasn't sent to jail because he was old and his health was poor.
N
Nick was played by Mick Regan in 1986.
Nico was played by Lorenzo Caccialanza on and off from 1988–91, 1999–2000, 2002–03, 2005–06. Nico was Victor Kiriakis' goon, servant, and bodyguard.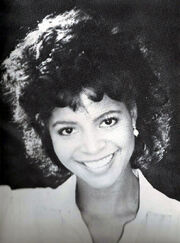 Nikki Wade was an early love interest for Abe Carver, and was also played by Renee Jones. She first appeared July 13, 1982 and last appeared in 1983. Nikki Wade was hired to a secretary for the Salem Police Department. She appeared to be a normal, average girl, but actually came from an extremely wealthy and respected family. She developed a relationship with Abe Carver, however they eventually ended things after Abe stood her up at a debutante ball to go on a drug bust. The two had a drawn out argument over not ever knowing what the other was doing.
O
Olivia was played by Amy Yasbeck from 1986-87. In his years with the ISA Roman I worked with a man named Orpheus. While on assignment Orpheus' wife came to warn them they were in danger, and Roman I accidentally shot her, think she was an enemy. Orpheus and his sister in law Olivia plotted revenge against Roman.
Orpheus kidnapped Marlena, but the ISA managed to get her back. Orpheus was using her to get John/Roman II to help him locate some stolen bonds. When she was rescued Orpheus was furious. In December of 1986 Orpheus faked Marlena's death by planting a bomb in Roman and Marlena's house. In reality Marlena was alive and well in Stockholm.
Olivia came to Salem and was supposed to make John/Roman II fall in love with her, and then when John/Roman II betrayed Marlena they would reveal she was still alive. However, something unexpected happened, Olivia fell for John/Roman II. John/Roman II learned Marlena was being held in Stockholm, and with the help of Shane, Bo, Kayla, and Patch they searched for her. John/Roman II confronted Orpheus, and when Orpheus shot at John/Roman II Olivia took the bullet for him, and died. John/Roman II shot and killed Orpheus, but Orpheus had the last laugh. Marlena was already aboard a plane, which crashed as John/Roman II and the others watched. No body was found, and Marlena was thought dead.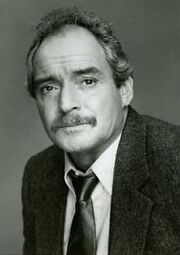 Orion Hawk was played by Sandy McPeak in 1988. He is the father of Ellen Hawk, who had Benjy Hawk with Stefano DiMera. Orion was a King Fu master, who worked for Stefano, and trained John Black and Drew Donovan in martial arts. Orion first appeared in John Black's visions of his past. Orion had trained John in the martial arts, which Stefano used for his own purpose to turn John into a killing assassin on command. Eventually Orion returned to Salem to take his grandson, Benjy, away with him where they could live in peace.
P
|-|Paul Stewart= Paul was played by Robert S. Woods from 1986-87.
Phillip Coleville was the owner of the Spectator, and father to Diana Coleville. Upon his death in 1988 Phillip left his entire fortune to his daughter Diana.
Q
R
Rebecca Downey was played by Tracy Collis from Septembed 1989 - February 1990.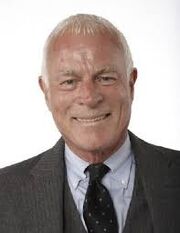 Richard Cates was played by Rod Arrants from May 9, 1985 to October 22, 1985.
S
Sasha was played by Yvette Nipar in 1987.
Reverend Saul Taylor was played by James Hampton in 1989. Saul Taylor was a traveling reverend who along with his daughter Faith Taylor preached the word of God. Saul however had a dark and shady past he didn't want anyone to discover. Years ago Saul was responsible for numerous black church burnings in the south with a man named Jericho. One of those churches was blown up, and though Saul thought it was empty it really was full which Jericho knew. Among those inside the church were the parents of Marcus Hunter, who's father was a civil rights activist who was Jericho's target. Jericho tried to kill the young Marcus Hunter, who fled from the church. Marcus however escaped and was sent to an orphanage. Years later Saul would meet up with Marcus Hunter in Salem, who remembered very little about his past. His old partner Jericho also returned and threatened to his shady past if he didn't keep his daughter Faith away from Marcus Hunter. When Steve Johnson infiltrated Saul's camp a desperate Jericho shot and killed Saul to keep him from revealing anything about his past.
Serena Colville was played by Valerie Karasek from 1987-88.Serena was married to Phillip Coleville, and was the mother of Diana. Serena was after a mysterious computer disk that Victor was also after. When she beat Victor to the disk he vowed revenge on her. After she got the disk she began to mine a valuable mineral that the disk gave the location to. When Roman II/John Black and Diana began to see each other she tried to kill him. Roman II/John Black survived and arrested Serena, who he later learned was Diana's mother. After Phillip Coleville was killed Serena and Victor Kiriakis began plotting to steal the Coleville fortune from Diana. Their first attempt at getting the fortune was to trick Diana into marrying Victor, but it was thwarted when Roman Brady II/John Black rescued Diana from Victor's clutches. There second attempt was to make it seem like Serena had been kidnapped and Diana was to turn over her fortune to set her mother free. This attempt was also thwarted when Diana's assets were frozen and Diana was kidnapped by a terrorist group. Diana was rescued, and learned the horrible truth about what her mother had done to her.
Sunny Chandler was portrayed by Sandy Elliott in 1980, and by Jody Gibson in 1984. She was the wife of Kellam Chandler, and he eventually killed her.
T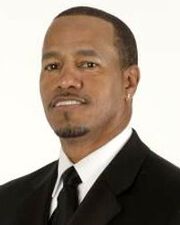 Theo Carver, played by Rusty Cundieff in 1984, was the brother Of Abe Carver. Abe's Son Theo Carver II was named after him.
Trent Davis were neighbors with Jennifer Horton. Jack Deveraux were always suspicious about Trent's interest of Jennifer. The reason that Trent moved in next door to Jennifer was because Peter Blake paid him to kidnap Jennifer and take her to the island.
U
V
Vanessa Walker was played by Joyce Little inn 1988.
Vanessa Van Kessler, played by Sally Kemp from 1983-1987, is Eugene Bradford's mother. Eugune's great-grandfather, Reginald Bradford's, will stated that Euguene's inheritance would be released to him if he were to marry someone Vanessa approved of. Euguene was in love with Calliope Jones, but Vanessa did not approve of her, so he ended up marrying Madeline Rutherford. Eugene eventually found a way to obtain his inherit and also marry Calliope.
W
X
Y
Yvette was played by Lori Hallier from 1989-90.
Z
See Also
Community content is available under
CC-BY-SA
unless otherwise noted.