Here are a list of Days of Our Lives characters that appeared in the 1990s. For other characters listed by decade, see List Of Minor Characters (2020s), List Of Minor Characters (2010s), List of Minor Characters (1970s), List Of Minor Characters (1980s), List Of Minor Characters (2000s), and List of Minor Characters (1960s).For characters that are mentioned, see List Of Characters That Are Mentioned.
Alan Harris
History
Alan Harris was played by Paul Kersey from 1993-95. Alan came to Salem as Lucas' old buddy from West Point. Alan became infatuated with Carrie and even tried to rape her at Green Mountain Lodge. However, once Alan learned that Carrie had lost her virginity to Austin, Alan decided to go after Carrie's sister Sami. Alan dated Sami and eventually raped her. When Sami finally came forward, with this fact, Lucas and Carrie came up with a plan to trap Alan. Carrie attempted to trick Alan into admitting that he raped Sami. Carrie went to his apartment, but was shocked when she found a shrine to her in Alan's bathroom. Carrie saw a ski mask and realized that Alan was the person of attempted to rape her at Green Mountain Lodge. Sami learned what her sister was attempting to do and she raced to Alan's apartment. Alan took both Sami and Carrie hostage, but Austin and the police managed to save them. A rape trial followed. In an attempt to make Sami look like a liar, the defense made Carrie admit that her sister had lied about many things in the past. Alan was found not guilty and Sami vowed to destroy Carrie's relationship with Austin.
After a good amount of time had past, Alan showed back up to get his revenge on Sami. Alan had a gun and intended to rape Sami again. Alan and Sami fought on the docks and Sami managed to get the gun from Alan. Sami shot Alan in the crotch, which mimed him for life. Lucas managed to get Alan drunk in the hospital and got Alan to admit to raping Sami and many other woman. Alan was sent to prison.
Ali McIntyre
History
Ali McIntyre was played by Lisa Linde from 1998-99. Ali worked as a Nurse at University Hospital and dates Mike Horton.
Benjamin Reardon
History
Benjamin was born to Wendy Reardon in the back of a taxicab. Al-thought his father is unknown, he has always considered Jonah Carver to be his father, since Jonah has been in his life since he was a baby. Benjamin suddenly disappeared from the scene in 1997, never to be seen again.
Brian Scofield
History
Brian Scofield was played by Robert Mailhouse from 1990-92. Brian Scofield was the elder son of Vern Scofield. Brian was a detective with the Salem P.D. and his first case was the murder of Emilio Ramirez. Brian eventually broke off his engagement with Madeline Armstrong when he fell in love with Melissa Anderson Jannings.
In 1991, Brian found himself investigating Nick Corelli's murder as well. Brian & Melissa, Eve & Frankie, and Jack & Jen boarded a theme train on which Johnny Corelli had stashed the weapon that was used to kill his brother Nick. When they found the weapon, Johnny Corelli detached the car they were in and it rolled down a mountain pass and derailed into a cold forest. The couples split up and all tried to find their way out of the valley they found themselves trapped in. Eve eventually split away from Frankie and met up with a young woman named Molly Brinker. Molly drew Eve a map and Eve lead the party to a safe location and took the credit on her own. A helicopter retrieved the stranded Salemites, but Eve was seriously injured when she fell from the helicopter ladder. She lived and was treated like a star in Salem until Molly showed up and pushed Eve off of her heroine pedestal.
Later, Melissa confessed to Brian that she had pushed Emilio out of the Alamain window to his death. Melissa was not charged because it was in self defense, but Brian couldn't trust her any longer and they broke up. Melissa eventually left town.
Brian became involved with Ginger Dawson and eventually left Salem with her, her daughter Molly, and Molly's boyfriend Tanner (Brian's brother).
Carol Michaels
History
Carol Michaels was played by Siena Goines in 1997.
Chip Lakin
History
Dr Chip Lakin was played by Jay Pickett from 1991-92.
Chuck
History
Chuck was played by Paul Strickland from 1990-99.
Claire McIntyre
Danielle Stevens
History
Danielle Stevens was played by Deborah Moore in 1992. Danielle was in Europe when she recognized the eyes of a former lover in a picture of John Black in a Salem Newspaper. Though his face was different, the eyes were his. Danielle flew to Salem to see John and she told him that his name was John Stevens and he was her husband, and she had a matching wolf ring like the one John had in his satchel. John began to have dreams about an art thief named Romulus. John learned that Romulus was a European art thief and he feared he was Romulus. Danielle told John that he was actually trying to track down Romulus and she said that the information he gathered about the case was locked in a safe deposit box in Switzerland.
John and Danielle flew to Switzerland and checked out the safe deposit box, which contained a woman's locket. While in Switzerland, Romulus struck again. When John knew exactly how the crime was pulled off, the Swiss police arrested him for being Romulus. Back in Salem, Isabella managed to read the "John Black File" that Victor had given to Lawrence. Isabella realized that John was not Romulus, Danielle was. John was released and allow Danielle to escape the authorities. Before leaving, Danielle told John that they weren't married but were very much in love, until he realized she was Romulus.
Debra Thomas
Dimitri
History
Dimitri was played by Michael O'Connor from 1991-92.
Domingo Salazar
History
Domingo Salazar was played by Geno Silva in 1991.
Eliana
History
Eliana was played by Anna Werner from 1996-2003.
Father Francis Baker
History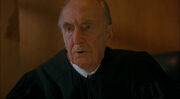 Father Francis Baker was played by Eric Christmas from 1995-96. Father Francis was the priest who trained John Black in becoming a priest. John went to Father Francis to seek answers about his past and Father Francis showed John a picture of himself as a priest. Father Francis began to fear that Satan had come to Salem because of some ancient scrolls he was translating as well as eerie incidents. Father Francis eventually realized that Marlena Evans Brady had become possessed by Satan.
In 1995, John, Father Francis, Kristen DiMera, and Caroline Brady all worked to help exorcise Marlena. Marlena tricked Stefano into untying her from her bed, where John had bound her, and she promptly threw him off her penthouse terrace. Stefano lived, but he was paralyzed and suffered from amnesia. Abe Carver and Pat Hamilton wanted to arrest Marlena for her attempted murder, but when they came face to face with her supernatural powers they realized that Marlena was not responsible for her actions. In an attempt to break John's faith, his late wife Isabella appeared. However, John realized this wasn't his Isabella and she promptly transformed into a demon. Eventually Marlena died and a funeral was to be held for her. John refused to believe that Marlena was dead and he carried her dead body to the church altar where God brought her back to life and rid her of the demon.
Later that year, Tony DiMera confessed to Father Francis that he was going to frame John Black for his own murder. Father Francis searched for a way to break the oath of the confessional, but was confronted by Tony DiMera when Tony learned what he was trying. Father Francis had a heart attack when Tony wouldn't give him his blood pressure pills. Tony also paid Father Francis a visit in the hospital and cut of Father Francis' oxygen, which caused him to fall into a coma. Father Francis remains in his coma somewhere in Salem University Hospital.
Franco Kelley †
History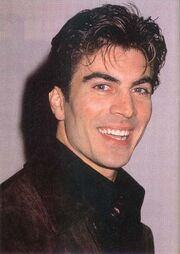 Franco Kelley was played by Victor Alfieri from 1996-1998. Franco first appeared as a model hired by Basic Black. Franco had been hired by Kate Roberts to break up Bo Brady's marriage to Hope Brady, so her daughter Billie Reed could be with him. When he couldn't, Franco conned Sami Brady into marrying him to escape his mob past. Kate told Sami the truth just before the wedding, and Sami shouted that he was going to kill Franco. Franco was then found dead, and Sami was accused by the murder. Sami was almost executed via lethal injection, but Lucas busted in amd confessed to Franco's murder. Sami was cleared of all charges and Lucas was never punished for Franco's murder.
Gabriel
History
Gabriel was played by Marl Colson in 1995 and December 3rd, 2021. Gabriel is an angel sent by God by to give John Black advice on how to deal with The Devil posessing Marlena Evans. Gabriel reappeared seveal years when Marlena was repossessed. He stopped by the cabin where Ben Weston and his wife Ciara Brady were helping "Marlena" hide.
Gregory Lacost
History
Gregory Lacost was played by Clayton Landey from 1990-92.
Gretchen Lindquist
History
Gretchen Lindquist was played by Bonnie Burroughs in 1991.
Henri Von Leuschner
History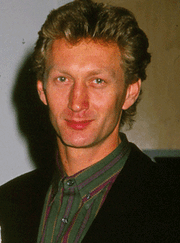 Henri Von Leuschner was played by Ivan G'Vera in 1990, who would return to the show a couple of years in the recurring role of Ivan Marais.
Henri was the father of Katarina Von Leuschner and Francois Von Leuschner and was only seen in flashbacks. He was also the grandfather of Nicholas Alamain and Melanie Jonas.}
Henri died sometime in the 80s, leaving Francois (who took the name Frankie Donner as an alias) an orphan. He befriended Max Becker and they both were adopted by Shawn and Caroline Brady. Katarina would later take the name Carly Manning.
Howard 'Hawk' Hawkins
History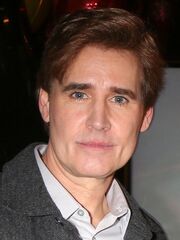 Howard 'Hawk' Hawkins was played by J. Eddie Peck from 1991-92. Hawk overheard Jack and Jennifer Deveraux discussing their money while on their honeymoon. Hawk followed them to Salem and pulled of a scam. cash and he followed them back to Salem. Hawk, along with his partner Desiree, convinced Jack and Jen that Desiree could tell the future. While Hawk was at their place one day he claimed to have thrown his back out at Jen and Jack's place. Fearing a lawsuit, Jack allowed Hawk to move into their penthouse. Meanwhile, Desiree told Jack that the FBI was coming for him, which caused Jack to go on the run. Hawk then managed to get his hands on Jack's money and forced Jack to flee Salem. While Jack was gone, Jennifer had to use her trust fund to save the Spectator from going under. In the meantime, Hawk contacted Alston Hawkins, his father/uncle (?), to come to Salem and help him get away with Jack's money. Hawk also planned to take Jennifer with him. Hawk eventually realized that Jen would never love him and he planned to leave town. Before he could, Jack conned Hawk into admitting that he stole his money. Hawk was arrested, along with Alston Hawkins, and they were sent to jail.
Jason Welles
History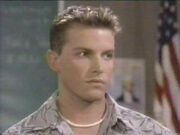 Jason Welles was played by Aaron Van Wagner from 1999–2002, and again in 2007. He is a classmate of Belle, Shawn, Chloe, Jan and others. In November 2019 it was announced that Jason will appear on
Days of Our Lives: The Digital Series
.
Jesse Lombard
History
Jessie was the son of Stella Lombard and lived with his mother and abusive step-father, Roger Lombard. Jesse was arrested by Roman Brady in 1992 for owning a handgun. Carrie met Jesse and was attracted to him, but they soon became friends. Both Jessie and Carrie wanted to move out of their current homes and decided to rent an apartment together. When Jesse's mother, Stella, was killed, Jesse decided to leave Salem.
Jill Stevens
History
Jill Stevens was played by Sarah Aldrich from 1996-97. Bo ran across Jill Stevens on the pier, and she had been badly beaten. Jill described the man to Bo and he becomes convinced that Franco was the man who beat her. Bo and Hope both end up investigating Franco, who is acting suspicious, but it turned out that Franco was planning an engagement party for them. Hope felt like a fool, but Bo still refused to trust Franco. Franco and Hope went to Santa Rosa for a modeling job. Franco managed to sabotage the pluming in his room, so he was forced to share "The Room of Eternal Love" with Hope. Bo came to Santa Rosa to surprise Hope, but instead he found Franco and Hope in bed together. Later he learned that it was all very innocent. However, Bo found a wrench in Franco's room and suspects it was more than innocent. Jill continues to be beat up and the man she described to Bo fits Franco's description, but Jill claimed the man who was attacking her had very blue eyes.
Billie returned home in the fall of 1996 and moved into the Kiriakis Mansion. Billie began to date Franco, which upset Bo. Bo insisted Franco is dangerous, but Hope accused him of being jealous. When the four go out on a double date to Smith Island, a friend of Franco's was found dead by Billie. Bo was positive that Franco was guilty. Franco attempted to frame the dead man for beating Jill by putting blue contacts in the body while it is at the morgue, but Bo learned the man was in prison when Jill was beaten the first few times. Hope becomes fed up with Bo's obsession with Franco and claimed he was using it to avoid his feelings for Billie. Hope told Bo that she couldn't marry him if he still had feelings for Billie.
Bo and Hope were supposed to marry in November of 96, but other people had other plans for them. Billie, depressed about the wedding, went to Smith Island. Jill Stevens came to see Bo and she had been badly beaten again. She told Bo that the man who beat her was heading out to Smith Island. Bo knew Billie was out there, so he went to the island on the night before his wedding to Hope. Franco was out there waiting and managed to let Bo's boat loose. Franco took the last ferry back to the mainland and left Bo and Billie stranded on the island. Bo attempted to swim to the mainland, but he ended up passing out in the cold water. Billie rescued him and brought him back to the cabin. Billie stripped Bo of his clothes and used her own body heat to warm him. The next morning, Hope asked Franco to take her out to Smith Island and found Bo and Billie asleep in front of a fire. Hope returned to Salem and told everyone that the wedding was off. Bo blamed Franco, but Hope refused to believe him.
Jill was beaten up once again and this time she fingered Franco. Bo arrested Franco and brought him in, but Jill had vanished. Without a witness, Bo had no way of holding Franco. Later, Jill was brought into the ER as a Jane Doe. She had been beaten badly and was unconscious. Billie saw Jill and took pity and visited her often. Eventually, Billie learned that the Jane Doe is the woman Bo was looking for. Billie considered not telling Bo about her, but in the end she told him. After she recovered, Jill told Bo she's ready to ID her attacker. Bo brought Franco in, but Jill claimed her attacker wasn't in the lineup. Later, Franco visited Jill and paid her a huge some of money to leave town.
J.L. King
History
J.L. King was played by Matt Battaglia in 1997. J.L. King was a drug runner who landed himself in trouble with the Salem PD when they had evidence on him that could put him away. King searched for a crooked cop on the force who could help him, and ended up falling into the Salem PD's undercover operation.
Bo Brady was demoted to a beat cop to make an undercover operation possible. Bo added to his own credibility when he became drunk one night and gambled away the Fancy Face. Hope returned to Salem and Shawn D. and her moved into Alice's house. Later, the Fancy Face was burned to nothing in a fire, preventing Bo from trying to buy the boat back. Acting as a beat cop, Bo patrolled the docks and came across a man who claimed to have lost everything in a poker game. Bo let the man go, but noticed that he drop a huge wad of cash. Bo pocketed the cash and was then told by J.L. King's goon, Max, that J.L. King wanted to see him.
J.L. King had Bo picking up the cash on tape and he blackmailed Bo into stealing the evidence the D.A. had on him from Abe. Bo met with Abe later and told him the plan to trap J.L. King worked. Bo tells Abe what he has to do and Abe informs Bo that he can't help Bo at all, he really had to sneak into the station and steal the evidence. Bo eventually stole the evidence and returned it to J.L. King. Billie became concerned about Bo's involvement with J.L. King and hid in King's office during a meeting between Bo and Kind. J.L. King found her and almost killed both her and Bo, but Bo claimed that Billie was his lover and she was just being nosey, but she could be trusted.
Later, Bo met with Abe and they decided to put Billie into a witness protection program. Billie was about to leave town, but felt something was wrong and went to J.L. King's office. Bo was with King and King was just about to kill Bo because Billie was missing and he feared Bo was double-crossing him. Billie stopped King from Killing Bo by claiming they had a fight and she ran off. Unfortunately, J.L. already had Max plant a bomb at the Horton house, but Bo managed to diffuse it.
Bo moved in with Billie to make their relationship look real. When Shawn D. walked in on a drug deal at school, he was shot by the dealer. Shawn D. was rushed to the hospital and was okay. J.L. King became worried about Bo's feelings for Hope and surprised him with an engagement ring that he was to give Billie. Bo had no choice but to propose to Billie, who accepted. Bo is hell bent on vengeance and learns that the guy who shot Shawn D., Viper, worked for J.L. King. Viper, however, refused to talk and was later killed by Max. Hope was angry with Bo, who wouldn't do anything about the drug problem, so she set out to bring down the drug ring herself. Hope learned about a drug shipment and tried to bust it.
Unfortunately, the bust failed and the shipment was called off, which ruined Bo's one chance to nail King. Hope further became a problem when she saw Billie with Max, who was a known drug dealer. Hope suspected that Billie was back on drugs. While at the Horton house, Billie dropped some drugs that Max had given her at the Snake Pit. Later, a cop came over to question Shawn D. about his shooting. The cop found the pills and thought they were Shawn D's, but Billie interjected and said they were hers. Billie was arrested and while in jail she was stabbed by someone working for King. J.L. King warned Bo that if he betrayed him, Hope and Billie would both die.
Bo and Billie were sent to Rome to pick up a drug shipment for J.L. King. Bo and Billie were unaware that Hope and Franco were also in Rome. J.L. King and Max came to Rome and decided to surprise Bo and Billie by arranging a wedding for them. Upon learning that Hope was also in Rome, J.L. King arranged for Hope and Franco to act as Bo and Billie's witnesses. Bo and Billie were married on Bo met up with an Interpol agent about busting King. Unfortunately, the agent was dirty and exposed Bo and Billie to King. King had Bo and Billie kidnapped and brought aboard a ship and planned to kill them and dump their bodies overboard. Aboard J.L. King's boat, Billie managed to jump overboard and return with the Rome Police. J.L. King and Mac were both busted.
Max got out of jail and kidnapped Billie. He pumped her full of drugs because he thought that nobody would believe a junkie in court when she testified against J.L. King. Billie's mother, Kate Roberts, became concerned about Billie when she hadn't heard from her. Bo also became concerned and went back to Rome to look for Billie. After Max had gotten Billie hooked back on drugs he let her go and told her the name of some clubs where she could score some drugs. Eventually, Max was recaptured.
Max and J.L. King were brought back to the US to stand trial. The police force tried to turn Max against King in order for a reduced sentence, but he refused. When Hope came into the station, Max decided to get back at Billie by ruining her reputation. Max told Hope that Billie was a junkie again.
Joey Kiriakis
Jude St. Clair †
History
Jude St. Clair was played by Jeff Griggs from 1995-96. Jude StClair ran Peter's club, the Blue Moon. After hours the Blue Moon changed from a normal nightclub into a club which ran drugs and provided exotic dancers as entertainment. With his upcoming wedding to Jennifer Deveraux, Peter Blake decided to rid himself of all criminal activities. Peter planned to turn the Blue Moon over to Jude StClair and ordered him to get rid of any and all evidence that linked him to the club. Hope Williams Brady posed as a bartender at the club in an undercover operation in hope of busting Jude StClair and his associates. Jude took a liking to Hope, having no idea she was a cop, and asked her to perform as a stripper. Not wanting to blow her cover, Hope began a striptease show when Bo burst into the club and provided her a reason to stop her show. Hope was ordered by Bo to give up the undercover operation, which not only angered Hope, but it angered Jude because he had developed a thing for Hope. Jude's attempt to get anywhere with Hope are doused when Peter orders Jude to search for dirt on Jack. Jude's search takes him to The Meadows where he learns that Jack Deveraux and Laura Horton were lovers. Jude went to Aramid to tell Peter the news and to get some money. Peter gave Jude the deed to the Blue Moon, but Jude drops it at a pavilion where Peter and Jen were to be married. Jack finds the deed and reads it, but Jude knocks him out and also knocks over a lantern, which causes the pavilion to go up in flames. Later, Peter pays Jude off with a matchbook that contains the numbers to a bank account in the Cayman Islands. Jude attempts to leave Aramid, but he is found by Jen. Jude kidnaps her and ties her up in an abandoned warehouse. Jude is spotted in the woods by Jack, but he gets away when Jude warns him that he has Jennifer. Jen manages to escape and she takes the matchbook with her. Jude is furious that he has lost everything, but then he sees Hope in Aramid. When Jude gets violent with her, Hope puts out his eye. Jude was forced to hide in a cabin and tend to his eye, but he was spotted again by Jack. Jen eventually stumbled upon Jude and he took her hostage. Jude swore to Jen that he didn't kill Tony, but she refused to believe him. Jen managed to escape, but she took the matchbook that Peter had written the bank account number on. Jude was furious, but later he found Hope Brady buried in an avalanche. Hope was alive and he took her back to a cabin he was hiding in and nursed her back to health. Bo Brady decides to go search for Hope in the mountains of Aramid one last time. Bo takes flight in a helicopter and upon hearing it nearby, Hope starts a fire in the cabin that Jude is holding her in. Bo goes searching for the cabin, but is lost in a snowstorm. Jennifer Blake, Peter Blake, Jack Deveraux, and Mike Horton come looking for Bo and eventually find him. Bo escapes his sickbed and finds Hope, who has escaped from Jude. Jude shows up and shoots Bo, hitting him in the arm. Peter and Jack show up as well and Jack witnesses Peter shoot Jude St. Clair in cold blood. Peter claims he was defending himself and everyone else believes it. They all return to Salem shortly after.
Karen Bader
History
Dr Karen Bader was played by Tammy Tavares from 1995-96, and 1998-2003, and again from 2005-06.
Kurt Schwengel
History
Kurt is Princess Gina's devoted manservant. He lives with her in the castle keeping her presence there a secret. Kurt has lost the use of one leg and walks with a limp. He was played by Matthew Mahaney from 1999 to 2000.
Leopold Alamain †
History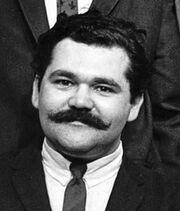 Leopold Alamian, played by Avery Schrieber from October 24-December 4 1990, was the father of Lawrence Alamain, and the adoptive father of Forrest Alamain.
Leopold and his wife Philomena raised Lawrence and adopted a son that they named Forrest Alamain, who was later presumed dead after drowning in a pool. Philomena eventually passed away as well, leaving Leopold a widower. When Lawrence used the alias of James fell in love with Katarina Von Lesuchner, and they were engaged to be married, Leopold hosted their wedding. Katarina discovered Lawrence lied about his name and ran away.
In 1991, Leopold discovered Lawrence was holding Jennifer Horton, her grandmother Alice Horton, Jack Deveraux, and Katarina's brother Francois, who was known as Frankie Brady.Leopold disagreed with his son's actions and helped the captives escape, but Leopold had a fatal heart attack from the stress and died soon after.
Lisa
History
Lisa was played by Lisa Williams from 1992-2004, and again from 2006-07.
Logan "Parrot Man" Michaels
History
Logan "Parrot Man" Michaels was played by Barry Cutler from 1995-96. The Parrot man was a regular at the Red Dragon Inn in Aremid. He kept a dead stuffed Parrot with him, which is why he was referred to as the Parrot Man. Logan, his real name, knew much about the Woman in White and about Lexie Carver's real parents. He also had an annoying habit of speaking in rhymes.
Lucille
History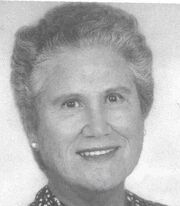 Lucille was played by Elsa Raven. She was a mysterious old woman and the caretaker of Ms. Faversham, an eccentric old woman living in Lugano. Lucille had her own hidden agenda, and retrieved a mysterious comb from a shopkeeper. She was noticed by John Black and Hope Brady, who followed her back home. Ms. Faversham recognized Hope as her old friend Princess Gina Von Amberg. Ms. Faversham started telling Hope all about Gina until Lucille decided that Ms. Faversham needed rest. Hope wanted to talk to Ms. Faversham some more, but Lucille wouldn't have it.
Lucille became more irritated by Hope's presence, and when she attended a party that Ms. Faversham hosted, Lucille drugged her drink to bring the party to an end. Lucille eventually exposed "Princess Gina" as a fraud by showing Ms. Faversham Hope's passport. Hope confessed she wasn't sure about who she was, and Ms. Faversham suggested that Hope was really Princess Gina, but made to believe she was Hope.
Marie
History
Marie was played by Harris Kendall from 1993-2003.
Mary Brooke
History
Mary Brooke was played by Nancy Parsons in 1996.
Mary Moira Banks
History
Sister Mary Moira Banks was played by
Eileen Davidson
from 1997 to 1998, and again on November 21st, 2017. She is one of four quadruplets and the sister of
Susan Banks
, Thomas Banks, and the deceased Penelope Kent.
On November 21st 2017, Mary visited Susan in the hospital, and acknowledged what's she did to Will Horton, and his family was wrong, but maintains she has a good heart unlike Kristen DiMera.
Max
History
Max was played by Reed Rudy from 1997-98.
Patty
History
Patty was played by Jacee Jule from 1997-2004.
Penelope Kent †
History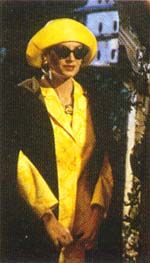 Penelope Kent was played by Eileen Davidson in 1998. She was one of four quadruplets and the sister of
Susan Banks
, Sister Mary Moira Banks, and Thomas Banks. Penelope was given up for adoption, and had her teeth fixed by an orthodontist when she became an actress. Penelope was dying of an inoperable brain tumour and came to Salem to meet Susan. Penelope looked identical to Susan's nemesis
Kristen DiMera
, and agreed to help Susan. She was killed by Edmund Crumbs, who assumed she was Kristen.
Roberto Barelli
History
Roberto Barelli was played by Francesco Romano from 1998–99, and again from 2000–01.
Roger Lombard
History
Roger Lombard was played by Mark Drexler in 1992. Roger Lombard was an abusive step-father and husband who hit Kimberly Brady while driving drunk. After getting out of jail on bail, Roger was counseled by Dr. Marlena Evans Brady. Roger eventually cleaned his act up and fell in love with Marlena. Though he denied it to his wife Stella, he eventually realized he did love Marlena. When Stella was killed after being hit by a truck, Roger left Salem.
Sarah
History
Sarah was played by Kristi McDaniel from 1995-96.
Stella Lombard †
History
Stella Lombard was played by Elaine Bromka in 1992. Stella Lombard was the mother of Jesse Lombard and AnOlderBoy Lombard. She was married to Roger Lombard, who was an abusive alcoholic. In 1992, Stella's husband Roger hit Kimberly Brady while driving drunk. Roger, Stella, and Jesse all went to family counseling with Marlena, but Stella was insanely jealous of Marlena. Roger fell in love with Marlena and Stella was convinced that Marlena was planning on stealing her husband. Stella kidnapped Marlena when she was supposed to be going out of town on a business trip and she trapped her in a pit at an abandoned warehouse. Marlena was held down there for weeks. When the police realized something was wrong, Stella decided to flee town. Knowing that the entire warehouse was going to be demolished, Stella decided to let the police know where Marlena was. However when she tried to call them from a pay-phone, a truck swerved off the road and hit her. Stella died in the hospital trying to tell her son about Marlena.
Taylor McCall
History
Taylor McCall was played by J. Cynthia Brooks from 1992-93.
Thomas Banks
History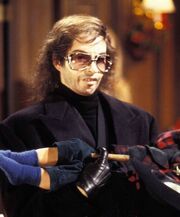 Thomas Banks was played by
Eileen Davidson
from 1997 to 1998. He is one of four quadruplets and the brother of
Susan Banks
, Sister Mary Moira Banks, and the deceased Penelope Kent.
Tim Rollins
History
Tim Rollins was played by Brian Heidik from 1992-93.
Travis Malloy
History
Travis Malloy was played by Braden Matthews in 1997.
Victor Kiriakis II
Wendy Reardon
History
Wendy Reardon was played by Tammy Townsend from 1994-96. Wendy Reardon came to Salem as a teenage run-away who was also pregnant. Wendy soon gave birth to her son, Benjamin, and Austin Reed and Jonah Carver delivered him. Wendy fell in love with Jonah, but Jonah wouldn't fall for Wendy for some time. Wendy stayed in the background as Jonah dated Nurse Lynn and then became infatuated with his sister-in-law, Lexie Carver. Eventually, Jonah hooked up with Wendy and the two fell in love. Wendy was very secretive about her baby's father, but before anything could happen, the characters of Wendy and Benjamin faded away.
See Also