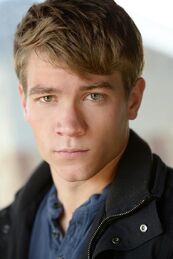 Lucas Brentley Adams was born in Sherman, Texas to Brent and Shari Adams. He has two older sisters, Audrie Adams Farris and Brittnie Adams. At age 2, Lucas moved to what he calls his hometown of Bells, Texas. After Lucas graduated from High School at age 17, he moved to Los Angeles to fulfill his dream of becoming an actor. With his drive and natural talent, Lucas has enjoyed some early success and looks forward to more opportunities in his future.
He portrayed in True Blood as Lou in 2014.
He is known for his role as Josh Willcox on Disney's Liv and Maddie.
He will play Tripp Johnson, the thought to be dead son of Steve Johnson (Stephen Nichols) and Ava Vitali (Tamara Braun) in 2017.