Martino Vitali
Days Of Our Lives
Portrayed by
Joe Penny
Current status
Former; Recurring
Duration
2008
First appearance
May 2, 2008
Last appearance
May 15, 2008
Cause/reason
Died
Introduced by
Ken Corday and Edward J. Scott (2008)
Profile
Gender
Male
Died
May 15, 2008
Cause of death
Shot and killed by Bo Brady
Occupation
Mob Boss
Businessman
Residence
Salem, Illinois (at time of death)
Martino Vitali is a character from the soap opera Days of Our Lives, portrayed by Joe Penny from May 2, 2008 to May 15 2008. He is the father of Ava Vitali and the grandfather of Tripp Dalton and Charlie Dale. He is also the great-grandfather of Henry Horton.
Background
Martino had previous business dealings with Stefano DiMera in the past, and at one point he met Kate Roberts during her time working with Stefano. After Ava saw Martino kill her mother, Martino had Ava locked in her room and drugged, so she wouldn't remember.
Martino didn't approve of Ava's relationship with Steve Johnson, and after Steve disappeared on their wedding day; it was revealed that Ava was pregnant. Martino let Ava carry the baby to the term, but then sold the baby on the blackmarket.
Martino got Ava involved with one of his men, Jimmy Giacomo, and that led to the birth of his second grandson: Charlie. Unlike his first grandson, Martino was thrilled to that Charlie was born, and hopes that Ava could form a new family with Jimmy and Charlie.
However, Ava refused to acknowledge Charlie as her son, and eventually Jimmy stopped taking Charlie to see Ava, but the other members of the Vitali family apparently still had contact with Charlie.
Storylines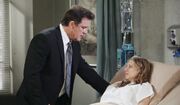 Martino visited Ava after she was arrested and hospitalized for her crimes. It was revealed that the drugs she had taken was responsible for her rash behavior and actions. Bo Brady held Martino responsibly for the death of Shawn Brady, he assaulted him, and then tried to arrest him. Martino also attempted to rekindle his relationship with Kate.
The doctor that was treating Ava was eventually found at the bottom of the river, and during a confrontation, at the Brady Pub, Angelo revealed to Ava that her father was drugging her. With the drugs out of her system, Ava eventually remember Martino had her mother killed and assaulted him. Martino went to pull a gun on Ava, but Bo Brady shot and killed Martino.
In 2016, Ava revealed the existence of their son, and asked Steve to help her find him. They were told the baby had died, but Steve later found their son named Tripp Dalton.