Jurassic World: Dominion Dominates Fandom Wikis - The Loop
Play Sound
Nicholas Alamain
Days of our Lives
Portrayed by
Erik von Detten (1992-93)
Victor Webster (1999-2000)
Jackson Davis (2011; voiceover)
Cody Longo (2011)
Current status
Former; Regular
Duration
1992–93, 1999–2000, 2011
First appearance
1992
Last appearance
September 22, 2011
Cause/reason
Left Town
Created by
Richard J. Allen and Beth Milstein
Profile
Fullname
Nicholas James Alamain
Nickname(s)
Nikki
Gender
Male
Born
April 8, 1982
Age
36
Occupation
Former executive at Titan Publishing
Residence
Europe
Nicholas Alamain is a character from the soap opera Days of Our Lives, portrayed by Erik von Detten from (1992-93),Victor Webster from (1999-2000), Jackson Davis in (2011; voice-over) And Cody Longo in (2011).
Storylines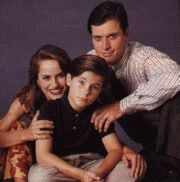 Nikki Alamain was brought to Salem by his adopted mother Vivian Alamain, whom he called Aunt Vivian. Nikki was fond of Vivian and his cousin Lawrence, whom he new nothing about. Nikki quickly became best friends with Bo Brady's son, Shawn Douglas Brady. In 1992 Nikki saw his Aunt Vivian fighting with Lisanne Gardner. Vivian was on the floor and he believed Lisanne was hurting her. Nikki pushed Lisanne, who fell and struck her head on a stone cat. Lisanne died, but Nikki never knew he killed Lisanne. Nikki wasn't prosecuted because he had not meant to kill her. Nikki learned that Carly Manning was his mom in 1993. At first he refused to have anything to do with her, but he eventually came around. Nikki decided that he would rather have his parents together and he set out to break up Bo and Carly. In 1993 Nikki believed that his mother had died, but he was overjoyed when she returned to him. Nikki, Carly, and Lawrence all left Salem near the end of 1993.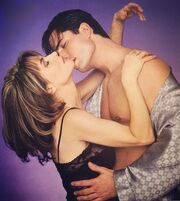 In July 1999 Nikki returned to Salem to be with his Aunt Vivian who was pretending to be dying to get revenge on Stefano DiMera. Nikki helped her while helping himself to Kate Roberts. He fell in love with Kate, but despite becoming his lover, she wasn't ready to make a commitment to him. He left town again after she turned him down for the last time.
In March 2011, Carly overheard Vivian talking to Nicholas. She tried to contact Nicholas, but he refused to have anything to do with her because she killed his father. In August of 2011, Nicholas returned to Salem to see Carly in rehab, and he apologized for the way he treated her. He also met his half-sister, Melanie Jonas. In September 2011, Nicholas and Carly let Salem for Europe, and Melanie joined them a year later.