Nick Fallon
Days of Our Lives
Portrayed by
Blake Berris
Current status
Former; Regular
Duration
2006–09, 2012–14
First appearance
November 7, 2006
Last appearance
May 12, 2014
Cause/reason
Died
Created by
Hogan Sheffer
Meg Kelly
Introduced by
Ken Corday
Stephen Wyman
Profile
Fullname
Nicholas Fallon
Nickname(s)
Nick
Alias(es)
Lonely Splicer (online screen name)
Gender
Male
Cause of death
Shot three times by Gabi Hernandez
Residence
Kiriakis Mansion,
13201 Glen Oaks Drive,
Salem, Illinois (formerly)
Nicholas "Nick" Fallon is a character from the soap opera Days of Our Lives, portrayed by Blake Berris from 2006-2009, and again from 2012-2014. Nick is the son of Joshua Fallon and Jessica Blake, daughter of Marie Horton and the granddaughter of Alice Horton.
Berris' first run as Nick had him as socially awkward nerd, who was an on and off love interest for Chelsea Brady (Rachel Melvin), and best friends with Max Brady (Darin Brooks). Berris exited the show in January 2009 when Nick was sent to prison for murdering Trent Robbins (Roscoe Born).
In mid 2012, amidst the change of new writers, Berris was announced to be returning to the show. He appeared onscreen in August 2012, and this time was a love interest for Gabi Hernandez (Camila Banus). This time around, Nick was portrayed as more of an antagonist than the protagonist he had previously became. Berris exited the show again, and seemingly for good, when Nick was killed off in May 2014.
Storylines
Nick Fallon came to Salem in 2006 to help out with the case of Steve and Kayla Johnson, who had been poisoned while at Salem University Hospital. Nick developed feelings for Chelsea Benson, and stuck around in Salem. Chelsea seemed to have no feelings for Nick, but accepted him as a friend. Nick used the online alias of "Lonely Splicer" to get to know Chelsea better, but Chelsea found out and severed ties with Nick just as she had started to develop feelings for him. Hurt and rejected, Nick ended having a drunken tryst with Chelsea's mother Billie Reed. Chelsea was ready to forgive Nick when she found out he slept with her mother, and was furious with them. Nick and Chelsea eventually reconciled and slept together.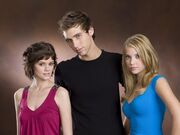 While in Salem, Nick became friends with Max Brady and Stephanie Johnson. He also became close with his cousin Abigail Deveraux. Nick ended up being blackmailed by Willow Stark, who tried to frame Chelsea for an arson that she had committed. Nick stole the hairbrush that Willow had used to frame Chelsea, and Willow used it to blackmail Nick for money. Nick and Willow struggled over the brush, and Willow died when she hit her head on a rock. Soon after, Chelsea and Stephanie started working as flight attendants at Touch the Sky Airlines under Nick's cousin Jeremy Horton. Chelsea started flirting with Jeremy's business partner Jett Carver, and Nick became jealous and insecure.
Nick took a job working at the DNA lab at Salem University Hosptal. Kate Roberts blackmailed Nick into changing Sami Brady's paternity test to say that EJ DiMera was the father instead of her son Lucas Roberts. Nick eventually felt guilty and went to tell Sami and Lucas the truth, inadvertently intercepting a bomb that Wilhelm Rolf had planted on André DiMera's orders. Nick suffered a head injury when the bomb exploded. He flew to Vegas where he got into a fight with Chelsea, go drunk, and married a woman named China Lee. The next morning, China Lee was arrested and jailed for a couple of weeks and Nick was given custody of her two boys.
When Touch the Sky Airlines went under because of it's illegal activities, Jeremy crashed at Nick's place. Jeremy took off eventually, and Nick learned that China Lee was really Cassandra Arvin and had been assigned to protect the boys by their father, who was a former foreign dignitary. A man that worked for their father came to collect them, and Nick said goodbye to the boys. Nick and Chelsea's relationship came to an end in the Summer of 2008 when she developed feelings for Dr. Daniel Jonas. Nick accepted the break up and wished Chelsea well.
Nick took a new job as an Associate Professor at Salem U and began working on a grant proposal for an alternative energy source. He got the grant and worked as an apprentice under the Dean of the physics department, Trent Robbins. Nick soon discovered Max taking an odd interest in his work. He realized Max had changed some of his work, and felt Max deserved most of the credit. Nick tried to get Max to pursue college courses that would help him hone his skills at physics, but Max refused because he didn't want to interact with Trent. Nick also noticed Max becoming hostile and temperamental around Trent, which led to them arguing.

Max and Stephanie eventually told Nick that Trent was Max's father, who had abused him as a child. Max explained that Trent had a photo of a young woman that could he his sister. Nick agreed to help Max, and swiped Trent's cell phone, so Max could track down this woman named Melanie Layton. While Max and Stephanie went to Paris to look for his sister, Nick stayed in Salem to distract Trent, but went to Paris when he learned Melanie was a video blogger named "Premier Party Girl".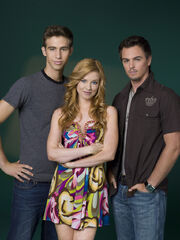 Nick went to France, and found Melanie first. Melanie was street smart and feisty, so Nick quickly developed a crush on her. Nick followed Melanie to a party where a man named Claude tried to force himself on her. Nick was shot in the shoulder while rescuing her, and learned Trent had a gambling addiction, so he would pimp Melanie out to pay it off. Nick was furious and made his displeasure towards Trent no secret. Nick got drunk and ended up in jail after punching Daniel Jonas. Maggie and Chelsea were worried about Nick, but he said he was fine. In truth, Nick has become addicted to the pain killers.
Trent was murdered after being stabbed in the back, and Caroline Brady was the primary suspect at first. Melanie became frightened that she may have killed Trent because she remembered confronting him at the cemetery with a knife and then seeing him with the knife in her back. Melanie also started receiving threatening messages saying they saw her in the cemetery and know what she did. Melanie turned to Nick for comfort and confided in him. Nick promised to protect her, but he was the one who was sending her the messages because he had been the one who killed Trent. Nick had arrived at the cemetery just after Trent accidentally knocked Melanie unconscious during their struggle. He picked up the knife and stabbed Trent in the back when he went over to check on Melanie.
Melanie discovered Nick has written the threatening messages, so Nick apologized and said she had killed Trent. He convinced Melanie to run away to Las Vegas and get married, so he wouldn't be forced to testify against her. The night before they left for Vegas, Melanie remembered being vaguely conscious and seeing Trent leaning over before being stabbed and then saw Nick standing over her. Melanie got Nick to admit that he killed Trent, and the police arrived to arrest Nick and save Melanie. Nick finished the alternative fuels project while in jail, and signed over his share of it to Melanie as an apology. Nick was sentenced on January 14, 2009 and represented by
EJ DiMera
. Max, Stephanie, Melanie, and
Maggie Horton
all testified on Nick's behalf with Melanie asking for leniency. Nick was sentenced to eighteen months in prison with the possibility of being paroled after twelve months.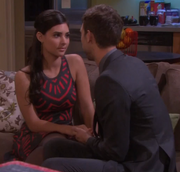 In August 2012, Nick was finally up for parole. Melanie was called to testify, and though Nick was hopeful, he didn't expect Melanie to help him after what he did to her. Melanie was apprehensive at first, but came to Nick's parole hearing, and said she was fine if he was granted parole. Nick was released from prison, but he had to stay in Salem for a year, and live with a family member. Nick moved in with Maggie, and Caroline offered him a job since he had written to her while he was in prison, and she had long since forgiven him for letting her initially take the rap for Trent's murder.
While working at the pub, Nick met Gabi Hernandez, and they soon started dating. Melanie's fiancée, Chad DiMera didn't like or trust Nick, and when he saw Nick with Melanie's scarf after she dropped it, he assumed Nick had done something with Melanie. Chad viscously assaulted Nick, and Gabi broke it up. She took Nick to the hospital, and confessed that Chad didn't like her either after she hired someone to stalk her and then kept quiet when he blackmailed her.
Nick went to Chad and made a deal with him: He would leave Gabi alone, and Nick wouldn't tell the police that Chad had assaulted him. Melanie found out about Chad's secrets and left town. Nick looked forward to a happy future with Gabi, but it soon became clear that his time in prison had changed him, and made him more guarded and unforgiving. Nick didn't approve of his cousin Will Horton being gay, and didn't want to associate with him and his boyfriend Sonny Kiriakis.
One day, Gabi fainted while working, and Nick rushed her to the hospital where she found out she was three months pregnant. Nick knew the baby wasn't his, and accused Gabi if sleeping with Chad. Gabi admitted she slept with Will while he was still coming to terms with the fact that he was gay. Nick asked Gabi to marry him and let everyone believe he was the father of Gabi. Gabi agreed, and they got Will to agree with the plan as well.
Nick and Gabi focused on their wedding with Sami Brady as the wedding planner. Meanwhile, a bitter and angry Chad found out about Gabi's secret, and exposed her as being pregnant, but Chad miscalculated, not knowing Will was the father, and inadvertently put him in the spot when Will was forced to admit he was the father. Sami got angry with Gabi, and Gabi's brother Rafe Hernandez lashed out at Will.
Nick feared his plans to keep Will out of the baby's life would fall apart, but then he overheard Will arguing with his father Lucas Horton. Lucas said he took the blame and went to prison for Will. Nick did some investigating and found out way back in 2007 that Will had been the one shot EJ in the back, and not Lucas. Nick discovered the police still had the evidence, and hatched a plan. He had papers drawn up, and waited until Gabi got into an argument with Sami and had labor pains.
Nick used Sami's temper as the excuse even though Kayla said it had been the pains had been caused dehydration, and presented the papers and to Will. Nick told Will what he knew, and reminded him that he would also take Lucas, Hope Brady, Roman Brady and others who knew the truth and covered it up. Lucas, Sami, E.J, and Sonny tried to get Will not to sign over his rights to Nick, but Will reluctantly signed the papers.
Nick asked Gabi to marry him, and they were married two days later in the Horton living. Sami and Sonny broke into Nick's room to destroy the evidence he had against Will. They and stole some of his USB drives, and while searching through the drives with E.J. and Will, E.J. found a file titled "Mad World" and copied it onto his own computer. The file contained the formula to a new anti-aging product that Mad World was launching. Nick finally admitted that his real problem was that Will was gay and that he didn't think he should be a father. Nick also claimed that the baby would be better off it Will and his whole family would stay away, which crushed Will.
Nick set about planning his happy life with Gabi and her baby, but Nick's former cell mate, Vargas, was released on March 15, 2013. Vargas and Nick had made a deal in prison and Vargas was ready to collect on that deal. Nick worked some scheme that turned a small amount of money into a large amount of money for Vargas in a short amount of time. Nick never told Gabi about what happened, nor about the enemies he had made in prison.
When Gabi was nine months pregnant, one of Nick's prison mates, Jensen, was released on a technicality. Jensen went right after Nick, but he mistook Rafe for Nick and brutally beat Rafe with a pipe, leaving Rafe in a coma. Gabi was crushed. But Jensen wasn't done. Jensen finally caught up with Nick in the Horton Town Square when he was with Gabi. Jensen kidnapped them both and took them to an warehouse on Smith Island where he tied them up and pulled a gun on them. Will and Sonny had witnessed the confrontation and followed the three of them to the cabin. Will and Sonny were able to rescue Gabi. Sonny left with Gabi while Will stayed behind to untie Nick.
Nick told Will to leave him, but Will kept trying to rescue Nick. When Jensen returned to the cabin, Will hid and heard Jensen confess to raping Nick in prison. When Jensen pulled a gun on Nick, Will jumped out and whacked Jensen with a wrench. Jensen and Will struggled, and the gun went off, injuring Will. Hope and the police arrived, and Hope fatally shot Jensen. Will was taken to the hospital, and made it through surgery successfully, but Nick was far from recovered.
Nick knew that he had to start telling people that he was raped in prison. He told Maggie, then Gabi. When he told Gabi he also confessed that he tried to burry everything that had happened to him and use her and her baby to start a perfect life. While he did truly care about her, he wasn't honest with her about his intentions. He also said that the rape had made him homophobic, even though neither he nor Jensen was gay, and Nick was horrible to Will and Sonny. Gabi still wanted to work things out, but Nick thought an annulment was best, and Gabi reluctantly agreed.
Shortly after, Kate found out that DiMera Enterprises had a copy of the Mad World anti-aging formula. She fired Nick, citing breach of contract due to security issues. Nick accepted her decision, but gave Kate a new formula that he'd been working on while under contract with Mad World. He claimed that it would top the file that E.J. stole. With no job, Nick went back to Vargas to ask if he wanted to go into business together. It was believed that they acted as bookies for horse racing bets. When Vargas got arrested on drug charges, he went back to prison, and their business ended. Nick continued to do some work for Mad World on a consultant basis.
As Nick's parole came to an end, he reached out to Gabi to see if their relationship could be revived. She and Nick slept together, and Nick assumed that this meant they were on their way to reconciliation. Nick was surprised when Gabi told him that she wasn't ready for anything and just wanted to be friends.
Nick believed that if Gabi was away from Salem she'd see that they belonged together. He applied for and accepted a job offer in New York City. Then, he began sending out her resume to modeling agencies in New York. One of them called Gabi and offered her a lucrative contract if she'd move to New York. Gabi told Nick about the contract and he encouraged her to do what was best for her and consider it a great opportunity. Gabi first decided to take the job, but then after talking to Sami and Will, she changed her mind and told Nick that she'd made a mistake and wasn't taking the job.
Nick was upset and begged Gabi to take it. He let it slip that she couldn't turn this down after how hard he'd worked to set things up for the three of them. Gabi asked him what he was talking about and he confessed to sending out her resume for her. Gabi was furious and accused Nick of playing God with her life. Nick pleaded with her to understand. They were having this conversation in the middle of the town square and people began to stare, including Kate Roberts, who overheard the whole fight. Gabi told Nick that she wanted nothing to do with him and stormed off. Nick chased after her, and Kate chased after both of them.
Nick followed Gabi into the woods around town and continued to beg her for another chance. While trying to get away, Gabi tripped and fell on the ground. Nick jumped on top of her and starting kissing her. Thinking that he was going to rape her, Gabi grabbed a rock and hit Nick in the side of the head. Nick collapsed next to her and Gabi made her way out from under him. Kate arrived and saw an unconscious Nick and Gabi in tears. Sami, whom Kate had texted to meet her, arrived shortly after. Sami checked Nick for a pulse and couldn't find one. Kate noticed that the river wasn't far from the spot and suggested that they just throw Nick's body into the river. Sami agreed to help because Gabi was the mother of Will's baby.
Gabi was hysterical over the events that just happened, but agreed that this was the right thing to do. The three women dragged Nick to the river and pushed him in. Just as he hit the water, Nick woke up and grasped at them for help. The three woman panicked, and let Nick go, assuming that he would drown and die. They agreed to keep all of the events of the night a secret. In the subsequent days, Gabi and Sami had visions of an injured Nick haunting their dreams.
On the day of Arianna's christening, An alive Nick showed up at the church, much to the shock of Gabi, Sami, and Kate. Nick had a scar on the side of his head from where Gabi had hit him with the rock, but otherwise didn't seem to remember the events of that night. Nick claimed that he was there to see Hope, but Sami and Kate were suspicious. Their suspicions were confirmed when Nick let it slip that Kate and Sami had tried to kill him. The women were furious to hear that he had been faking memory loss the previous few weeks and suspicious of why he didn't blame Gabi as well. Nick insisted that the two of them had manipulated Gabi. Nick explained that he was able to hold onto a branch in the river and a man named Percy Ruggles, who was bird watching by the river, pulled him to safety.
Percy insisted that Nick call the police, but Nick told Percy that he would make it worth his while if he didn't involve the police, so Percy agreed. Percy had also taken pictures of the women throwing Nick's body into the river, which he sold to Nick. Nick used the pictures to blackmail Kate into giving him a job at Mad World and hired Percy as his assistant. Nick insisted to Gabi that he didn't go to the police because he just wanted a fresh start. Gabi believed him. But Sami and Kate didn't buy his story at all.
Slowly, Nick started to show his true colors to other people. He blackmailed E.J. and Abigail with photos of their affair. He manipulated Will and Sonny by threatening to send Sami, Kate, and Gabi to jail. He found a lawyer for Gabi and urged her to sign custody papers that would only allow Will to see Arianna every other weekend. He got into a physical altercation with Abigail's new friend, Ben, who had stepped in to protect Abigail when Nick grabbed her arm. Everyone seemed to be growing tired of Nick. The only person who still believed in him was Julie. She had a heart-to-heart with him one night about how she used to cause trouble too, and was angry with the world, but was then given another chance. She urged Nick to get professional help and embrace the second chance he'd been given. Tearfully, Nick thanked her, and agreed to have dinner with her later. Nick left a message for Marlena, asking her to set him up with some mental health care.
As Nick was leaving the message, he was shot three times. Nick stumbled to the square and collapsed in Julie's arms where he died soon after. Hope led the investigation to find his shooter, and it was revealed that Gabi had overheard Nick's threats to Sonny, retrieved a gun from the closet, and shot Nick to death. Gabi turned herself into the police and plead guilty, getting a sixteen year prison sentence.
In May 9, 2014, Nick was shot and killed by an unknown assailant. Not many mourned for him in fact, only Hope, Julie and Maggie truly mourned for Nick as he had been a nightmare for everyone in Salem, not even Abigail, who was once close to her cousin, was able to mourn him, as she finally realized he was a complete bastard who got exactly what he deserved.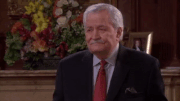 On May 12, Julie and Maggie made sure Nick's body would reach his parents outside of Salem, back east. Jennifer offered her the idea of making some sort of memorial for Nick, but Maggie knew no one in Salem would come to pay their respects, given he's been a nightmare to many people in town. Overjoyed over Nick's death, Victor Kiriakis secretly toasted to himself "May we rest in peace, knowing that he's rotting in hell".
All of Nick's plan to ruin Gabi and Ari's lives ended with his death and Will had equal custody of Ari with Gabi once more. On May 30, 2014, it was revealed that Gabi Hernandez shot Nick because he was planning to make sure all of Ari's loved ones wouldn't be around her. After her confession, Hope agreed with everyone that Nick was a horrible person but he didn't deserve to die. In the end, Nick died heartbroken for he was killed by the woman he loved... in his own demented way. Gabi was sentenced to prison but she was released a year and a half later, much to Julie's dismay. Julie never forgave Gabi for killing Nick as in recent years, she has proven herself to be the certifiable sociopath Julie had always bantered about.
Gallery
Community content is available under
CC-BY-SA
unless otherwise noted.