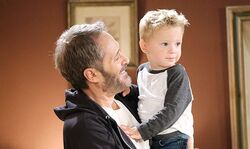 The Orpheus family is a family that first debuted in 1987 but rose to prominence in the year 2020. They are headed by Orpheus, whose real name is unknown. The family's matriarch, Rebecca, was accidentally killed when her two children were young children, by Roman Brady. The family is closely affiliated with the Weston family.
Orpheus became estranged from his two children: Zoey Burge and Christian Maddox, because of his many criminal activities; though, they both still loved their father. By 2020, he had reconnected with the two of them, though he presumably still can't see Zoey's son. In May 2020, Christian was sentenced to prison after murdering his son, David's mother, Jordan Ridgeway. However, in June 10, Zoey managed to win custody over her nephew, after a long heated battle against Rafe Hernandez. She left Salem with him that very same day.
Months later, Christian was put in Bayview after he nearly hanged himself during his time in solitary confinement. He has shown improvements during his recovery at the hospital. On Halloween 2020, Orpheus plotted to get his son of prison to reunite him with his son. Christian got out but helped John Black and Marlena Evans in capturing his own father, right before he made his own escape to parts unknown. However, he was later arrested for kidnapping Ciara in 2021.
First generation
Second generation
Third generation
Fourth generation
Orpheus

Rebecca (pre-1979-1979; dissolved by death) (deceased)
Fifth generation
Sixth generation
Other Relatives
Olivia - Rebecca's sister