Jurassic World: Dominion Dominates Fandom Wikis - The Loop
Play Sound
Sami Brady
Days of our Lives
Portrayed by
Alison Sweeney (1993–2015, 2017–present)
Dan Wells (2005)
Current status
Present; Recurring
Duration
1984–1992, 1993–2015, 2017–present
First appearance
October 19, 1984
Created by
Margaret DePriest, Sheri Anderson and Thom Racina
Introduced by
Betty Corday and Al Rabin
Profile
Fullname
Samantha Gene Brady DiMera
Nickname(s)
Sami
Hurricane Sami
Alias(es)
Stan (male alter ego)
Colleen (witness protection)
Sami Reed
Sami Walker
Sami Roberts
Sami Hernandez
Namesake(s)
Samantha Evans
Eugene Bradford
Gender
Female
Born
October 19, 1977 (onscreen October 19, 1984)
Age
43
Occupation
Film

consultant
Receptionist
Businesswoman
Housewife
Director of Imaging

Residence
Los Angeles (formerly)
Salem, Illinois (formerly)
Italy
Samantha "Sami" Gene Brady DiMera is a character from the soap opera Days of Our Lives, portrayed by Alison Sweeney.
Background
The character was born on-screen during the episode dated October 19, 1984, and her birth date was later SORASed to October 19, 1977. Introduced by then head writer Margaret DePriest, Sami has been portrayed by Sweeney since January 22, 1993. Sami is known for her failed relationships with men, her children and her manipulative trouble-making ways. She has been described as vindictive and the girl "you love to hate".
In April 2015, it was announced that Sweeney would reprise the role of Sami in honor of the soap's fiftieth anniversary celebration.
Sweeney also made a number of appearance's from 2017-2019.
In December 2019, it was announced that Sweeney would return to the series in 2020, first airing on July 14.
Sami is reunited with her husband EJ the father of her two children Johnny DiMera and Sydney DiMera In 2018.
Sami has becomes a grandmother twice to two grandchildren Arianna via her son Will born in May of 2013 and Henry Horton via her daughter Allie born in the Summer of 2020 both Will and Allie are by Her Ex-husband Lucas.
Relationships
Sami is known for her relationships and many "failed trips to the altar". Janet Di Lauro of About.com said "No matter, Sami's always been a character who's fun to watch and root for as she's searched for her soul mate, time and time again." As a teenager, she developed a crush on Austin Reed (Austin Peck), but was "devastated" when he began dating her sister Carrie Brady (Christie Clark). She worked with Austin's brother Lucas to break up the couple. She ended up having a one night stand with Lucas. Di Lauro said Sami's most "diabolical plot" was drugging Austin to have sex with her, which was "the start of an elaborate scheme" where she ended up pregnant and named Austin as the father, although Lucas was the actual father. The truth was eventually revealed and Austin, after nearly marrying Sami without loving her, reunited with Carrie.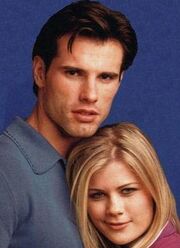 A bitter custody battle ensued between Lucas and Sami, who had a "love/hate" relationship over the years. Of the pairing, Sweeney said "their past is such a deep relationship and ultimately a friendship and a trust that they have with each other." They ended up marrying, but it was "permanently ended" when EJ entered the picture. EJ, the son of longtime Crime lord Stefano DiMera, developed an obsession with Sami, and ended up controversially "raping" her. Sami became pregnant and gave birth to twins; her daughter's father is Lucas, and son's paternity belonged to EJ. EJ had asked Sami for sex to save Lucas' life, while he was trapped and nearly died. This led to a sham wedding between EJ and Sami, in exchange for the DiMeras ending the fifty-year family feud between the Brady family. Although she initially hated him, the couple ended up in a "night of passion" resulting in another pregnancy. Of whether EJ or Lucas was Sami's "true love," Sweeney said "I personally think Sami and Lucas truly love each other, but obviously a lot has gone on between them that has pushed them apart. Right now, they are writing Sami more focusing on EJ." She also said that she enjoyed working with Scott, and called him "enchanting." Of working with Dattilo, Sweeney said "I am definitely a long-standing Luca fan and I miss working with Bryan every day. He is so fun! I was in a scene the other day and looking around, like he and I have such a history together, for some inside joke and he wasn't on the set. It's just strange when I don't get to work with him all the time."
TV Guide's Nelson Branco named Lucas and Sami one of soap's greatest super-couples, and said "For years all this couple could think of was breaking up Austin and Carrie, until one magical day, partners-in-crime and cohorts Sami and Lucas realized they were in love with each other! Now as Days' reigning super couple, they face the evil wrath of EJ and his family, The DiMeras. Will Sami marry EJ, the man who raped her to end this family feud forever — and will Lucas be able to forgive her?" Despite this, the couple divorced and despite minor reunions since, haven't been a couple. James Scott said "They're not really re-visiting it. They have never done it. I think it's about time, frankly. There is a good opportunity for story there. Alison Sweeney (Sami) and I work very well together. It's sort of a fairy tale. They don't play it so much now, but the Brady's and the DiMeras have a history." Scott also noted that EJ and Sami "love each other" but not necessarily in a romantic way. On-Air On-Soaps said "legions of fans are waiting for their beloved EJami duo to finally start a full-blown romance ... something that has been teased, and teased, and teased for years." Her romances with Lucas and EJ have been popular with viewers, who call the pairings 'Lumi' and 'Ejami.'
Upon Lucas' return to Days of our Lives in 2012, a poll ran by Soap Opera Digest revealed that majority of fans wanted Lucas and Sami back together. While in the Witness Protection Program while pregnant with her second child with EJ, Sami fell in love with her body guard Rafe. When asked who out of Lucas, EJ or Rafe should be with Sami, Sweeney said "You can't ask that," because "that is one topic I am now scared to talk about because you say one thing and the fans get all kinds of crazy on you." She said that it's so interesting to see how Sami has "grown and changed" and feels that the "relationship with Rafe is definitely a different one from the way she's been in the past." Fans refer to Sami and Rafe as 'Safe'. Sweeney said that it's been fun getting "to know Galen" and said "We have fun working together, and it's nice. It's a new, different storyline for Sami."
Sami is reunited with her husband EJ DiMera after believing he died in 2014 right next to her and is later revealed that EJ not so dead adopted sister Kristen kept EJ alive and took him hostage as a plot for revenge and Sami returned to Salem for her mother Marlena and step-father John wedding only to exposed Kristen really alive and was pretending to be EJ mother Susan and Sami held Kristen at gunpoint demanding where was EJ and Kristen later confess after Sami brother Eric caused her to miss fire on their mother Marlena leaving their mother to be rushed to the hospital and Eric agreed to help Sami look for EJ only to discover Nicole was there around town where was EJ as Sami and Eric with Nicole trying recover EJ that Nicole ended up presumed dead herself but really Kristen held her hostage with daughter Holly leaving Eric heartbroken and Sami is finally reunited with EJ who covered in bandages and was comatose throughout his kidnapping and Sami with EJ mother Susan was always present at his bedside and Sami didn't want Susan to kill EJ so they agree to put him in living center where he's recovering with their children Johnny and Sydney watching over him and where Sami spend all her off-screen time since her departure then returned to her see that her brother Eric is married to alive Nicole and the two fight over her daughter Allie's pregnancy.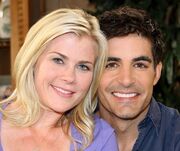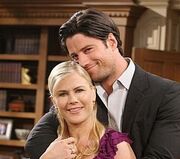 Children
Sami is mother to four children: Will Horton, Johnny DiMera, Allie Horton, Sydney DiMera, and believed that Grace Brady was her daughter as well. Grace had been switched at birth with Sydney. Grace has since died and Sydney returned to Sami to raise. Janet Di Lauro of About.com said "While Sami wouldn't exactly be called lucky at love, let's face it, most of her couplings have been wildly dysfunctional, her romances have produced four beautiful children: Will, Allie, Johnny and Sydney."
By 2009, Will was 16 years old; Sweeney said "It's sort of overwhelming to me sometimes to realize my character has a sixteen-year-old," considering she started working on Days of our Lives at 16, but she enjoys the dynamics between Will and Sami. In 2012, Sami and Lucas' son Will came out as gay. While Lucas was accepting, Sami was initially "responsible for the other point of view," according to Dattilo. Sweeney said viewers can expect Sami to "have a traditional Sami reaction," because it's "such a vulnerable moment." Sweeney explained that Sami thinks it's because of her, and "She has to sort through all of those feelings and talk to lots of people in Salem about it." She added "Sami loves her son so much, but she just always seems to say the wrong thing. She always puts her foot in her mouth."
Storylines
Gallery
DAYS Villain Ranks
Main Article: DAYS Villain Ranks