Savannah Wilder
Days of our Lives
Portrayed by
Shannon Tweed
Current status
Former; Regular
Duration
1985-86
First appearance
1985
Last appearance
1986
Cause/reason
In Prison
Profile
Gender
Female
Occupation
Worked for Victor and was a crime boss
Savannah Wilder is a character from the soap opera Days of Our Lives, portrayed by Shannon Tweed From 1985-86.
Storylines
Savannah Wilder first came to Salem in 1985, and impressed Alex Marshall with her business sense. Savannah was a crime a boss and owned a shady video making business. She wanted to shoot a video of Liz Chandler, and have her brother and Savannah's former associate, Todd Chandler direct it. Todd advised Liz not to star in Savannah's movie, which was actually a porno.
Theo Carver and Bo Brady investigated Savannah's video business because he believes the murder of his best friend, Danny Grant, was tied to Savannah's video business. Savannah hired a one eyed man named Patch to kill Bo and Theo, who discovered Savannah was shipping pornography and believed they had stumbled upon an illegal pornography ring, but the porn was actually a cover for Savannah's heroin smuggling ring. Hope Brady foiled a drug exchange that Patch organized, and Savannah informed her boss Victor Kiriakis of what happened.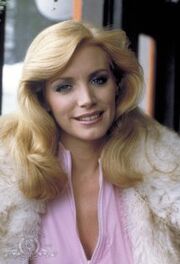 Savannah became romantically involved with Chris Kositchek, and continued her heroin business. With the help of her police informant, Richard Cates, Savannah was able to move the drugs before the police could find them, but the drugs were eventually found when Richard's true allegiance was discovered. Victor warned Savannah not to fail him again.
Chris became wise to Savannah's criminal ways, and followed her to Miami where she, Patch, and Victor were arrested and sent to prison. Victor got himself and his cohorts out of prison by blackmailing Larry Welch to take the fall. Victor knew Larry had caused the death of Stefano DiMera's daughter, Megan Hathaway, and would rather go to prison then face Stefano's wrath, who was just as dangerous, if not more dangerous than Victor.
After being released from prison, Savannah attempted to reform, so she could be with Chris, but Chris dumped Savannah anyways, so she returned to worked for Victor. Savannah and Todd were injured in a car crash. Todd died, but Savannah was saved through surgery. Savannah saw that Chris was growing closer with Marlena Evans, and on Alex's suggestion, hired a man to attack Marlena, so she could pretend to be the hero. The plan backfired, and Savannah was stabbed, but saved by Mike Horton. Chris found out what Savannah had done and he dumped her for good.