We're Getting Mutants in the MCU - The Loop
Play Sound
Shane Donovan
Days of our Lives
Portrayed by
Charles Shaughnessy
Joseph Mascolo (disguised as Stefano DiMera)
Steve Hart (body double as Stefano)
Current status
Former; Regular
Duration
1984–92, 2002, 2010, 2012–13, 2016–17, 2021
First appearance
July 31, 1984
Last appearance
September 10, 2021 (Beyond Salem)
Created by
Margaret DePriest and Sheri Anderson
Introduced by
Betty Corday and Al Rabin
Profile
Alias(es)
Stefano DiMera (2017)
Gender
Male
Occupation
Retired ISA Agent
Residence
Los Angeles, California
Shane Donovan is a character from the soap opera Days of Our Lives, portrayed by Charles Shaughnessy. He is an agent of the ISA and husband to Kimberly Brady. Donovan and Brady were a supercouple.
Storylines
Shane Donovan arrived in Salem in 1984. He was tasked by the ISA to investigate Stefano DiMera's illegal activities and posed as Larry Welch's butler. Shane learned Stefano had acquired two of the three prisms that Larry's father had designed. Later that same year, Shane learned Stefano was about to acquire the final prism through a Russian ice skating troop that had come to Salem. Bo Brady and Hope Brady got the prism, but it ended uo imbedded in the ice rink after a scuffle with Stefano's men.
In 1985, Shane went with Kimberly Brady, Bo, and Hope to stop the terrorist known as the Dragon from assassinating Lady Joanne. Bo and Hope managed to trap the Dragon in the tower of London, but he escaped and headed to the US. Shane learned the Dragon was his old friend the Duke of Earl and he later fell to his death during a scuffle with Shane. Shane and Kim fell in love, but Kim started suffering from temporary blindness and Shane learned his wife Emma Donovan was alive. Emma had been kidnapped and brainwashed by the Dragon. Shane and Emma officially divorced, so he could he with Kim.
Shane purchased a mansion that would be called  the Donovan Manor, complete with a secret ISA room. Shane's ISA mentor and friend Levina "Peachie" Peaches came to Salem, and posed as Shane's housekeeper. Shane and Peachie were tasked with taking down
Victor Kiriakis
. In 1985, Kimberly came to possess a roll of film that contained some prints to a treasure that Stefano and Victor were both after. While in Miami, Shane, Bo, Hope, and Kim set out to destroy Victor's plan. Victor had Shane imprisoned, but Kim slept with Victor to spare his life. Shane escaped, and saved Bo and Hope, who were trapped with an explosive to kill them. Victor and his accomplices
Savannah Wilder
and
Steve Johnson
were arrested for being apart of Salem's crime syndicate. They were all released when Victor blackmailed Larry Welch with the knowledge that he had accidentally killed Stefano's daughter
Megan Hathaway
. Shane and Kim became engaged, but then Kim discovered she was pregnant and feared that Victor could be the father. She hid this fact from Shane, who eventually overheard her confess her fears, and he broke up with her.
When Hope was kidnapped by Larry Welch, Shane returned to Salem in the Winter to help find her. Shane left town again after Hope was found and brought home.
Shane later returned in 2010 and was revealed to have been held prisoner in a South American prison while on assignment with the ISA. Shane escaped with the help of Rafe and both returned to Salem in time for Alice Horton's funeral. Shane reconnected with Kimberly, who was in town for Alice's memorial service, and admitted that he wanted his future with her and the family and not with the ISA. Shane and Kimberly reunited and moved to LA to be together as a family.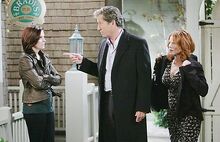 In 2012, Jeannie Donovan came to town now going by her middle name of Theresa. Theresa was a trouble maker and addicted to drugs. She ended up overdosing and Shane and Kim came to Salem to see her. They worried about Theresa and wondered if they should leave her in Salem.
In 2015, Shane had a health condition and Eve and Paige left Salem to visit him. In November 2016, Shane and Kim returned to Salem to warn Theresa about her ex-boyfriend Mateo. They tried to get her to run, but Theresa wanted to help Shane bring Mateo down, so she could eventually come home to her family. To do this, Theresa pretended to get back together with Mateo. Shane also met with his friends, and said he would do whatever he could to help clear Hope of Stefano's murder.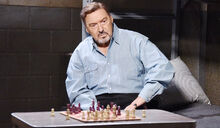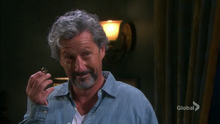 In December 2016, Shane said they have reason to believe Stefano is still alive and faked his death. After discovering the body buried in Stefano's grave was not Stefano, a team composed of Marlena, Rafe, Steve, and
Paul Narita
left to find Stefano. They finally caught Stefano on February 8, but he escaped on February 9. On February 10, it was revealed that Shane had posed as Stefano, so they could get Hope out of prison. Shane and Steve felt sure their plan had worked and that the real Stefano was dead and buried. As Shane was going over footage, Steve laughed at the notion that "Stefano" was feeding pigeons. Shane laughed that it was cute, but added that it wasn't him. Steve was shocked, and Shane reiterated that that wasn't him. Steve thought Shane was joking, but Shane said he never went to that park and he never fed any pigeons. Steve started to worry and told Shane that they both know Stefano is dead and there just happens to be someone out there who looks like him. Shane sarcastically scoffed that he believed that too.
Gallery