Stefano DiMera
Days of Our Lives
Portrayed by
Joseph Mascolo
(1982–85, 1988, 1993–2001, 2007–16 [Shane posed as Stefano in 2017])
Con Covert (1984)
James Russell
(1984; Stefano's voice)
Frank Fata (1991)
Unnamed actor
(2006; while Stefano was in a coma)
Davide Shiavone
(2007; flashbacks as Young Stefano)
Luca Bovelli
(2012; flashbacks as Young Stefano)
Stephen Nichols
(2019–20; A.I. in Steve's body)
Current status
Deceased (organic form)
Inactive (A.I form)
Duration
1982–83, 1984–85, 1988, 1991, 1993–2001, 2006–17, 2019–20
First appearance
January 18, 1982
Last appearance
April 2020
Cause/reason
Died (organic form)
Inactive (A.I form)
Created by
Pat Falken Smith
Profile
Nickname(s)
The Stefmeister (by Bart)
The Devil (by All of Salem)
Steffy (by Gina)
Stevano (by Gabi while in Steve's body)
Alias(es)
The Phoenix (iconic title)
The Most Evil Man In Salem
The Seventh Son of the Seventh Son
Rudolpho Meradi
Serge Anatol (as conductor)
Mrs. Lafferty (disguised)
Joseph M. Wagner (as disguised doctor)
Elvis Presley (posed as)
Mrs. Venable (disguised)
Steve Johnson (A.I. in Steve's body)
Namesake(s)
Stefan DiMera
Gender
Male
Born
March 13, 1929
Died
2018
Age
87 (organic form)
64
(A.I form in Steve Johnson's body)
Cause of death
Natural causes (organic form)
Destroyed by fire (A.I. chip)
Occupation
Crime Lord (formerly)
CEO of DiMera Enterprises (formerly)
Owner of 49% of Titan Industries (formerly)
Title
He considers himself as The King or Phoenix
Residence
Salem, Illinois (formerly)
Davide Schiavone as Young Stefano DiMera
Stefano DiMera also known as The Phoenix is a character from the soap opera, Days of Our Lives. He is portrayed by Joseph Mascolo (1982-85, 1988, 1993-2001, 2007-17). He was also briefly portrayed by Con Covert in 1984 and Frank Fata for a few episodes in December of 1991. James Russel did his voice in 1984, while David Schiavone and Luca Bovelli played a younger version of the character in flashbacks in 2007 and 2012 respectively. Stephen Nichols embodied the character as Steve Johnson when he was implanted with Stefano's A.I. Some fans call him "Stevano". Stefano is one of the most recognizable figures in daytime television and is considered to be one of, if not the greatest villain in television history to ever grace the screens of Daytime TV.
Stefano first entered the show as a wealthy European businessman who relocated to Salem, and gradually revealed substantial ties to organized crime, both at home and abroad. Over the years Stefano's character has fluctuated between that of a crime lord (both on local and international scales), political terrorist, ruthless business tycoon, and loving (albeit heavy-handed) family man. Soap Opera Digest named him the all-time best villain. Throughout his 34 year run, Stefano becomes a blue print for what villains in daytime can be.
Background
He is the son of Santo DiMera and the patriarch of the DiMera family. He's been said to be the seventh son, implying six older siblings and claimed to have had a sister. However, they have never been seen or mentioned by name. In 2008, it was revealed he had a half-brother named Ryan, conceived through an affair Santo had with Colleen Brady. Ryan was thought to have been John Black, but it was later revealed that the real Ryan had passed away years ago. Stefano DiMera is the father of Renee DuMonde, Megan Hathaway, Benjy Hawk, Lexie Carver (nee Brooks), EJ DiMera and Chad DiMera and the stepfather an adoptive father of Tony DiMera; he also raised an adopted Peter Blake and Kristen DiMera and for a while the Gemini twins Rex and Cassie Brady. He had a nephew (later retconned to be his son), Andre DiMera, who through plastic surgery became identical in appearance to Antony. In 2010, it was revealed that he has a son named Chad DiMera, and in 2018, it was revealed he had another son named Stefan DiMera, conceived during the 80s. Both Stefano and Tony mentioned three unnamed sons in the early '80s, and Stefano once told Renee of a daughter named Vanessa he hadn't seen in years; none of these children of Stefano's were ever seen on-screen or mentioned again however. He was the father-in-law to Anna DiMera, Sonja Hawk and Sami Brady. Now he is the father-in-law to Abigail Deveraux DiMera , Gabi Hernandez and Kate Roberts.

Stefano was most recently married to, and divorced from, Kate Roberts. He is also the ex-husband of Vivian Alamain. It was said during a dialogue with Lee DuMonde that he had other wives, though they were never named.
Stefano has had fifteen grandchildren total throughout the Days of our lives series more then any other character known to this day.Stefano currently has seven living grandchildren and eight deceased grandchildren.
Stefano first set of grandchildren:
Stefano has seven grandsons:
Stefano has six granddaughters:
Stefano Has A total of eleven step-grandchilden through his late children marriages.
Stefano has five step-grandsons:

Stefano has six step-granddaughters:

Stefano first entered the show as an organized crime kingpin. Throughout the years, he has become more Gothic, especially through his firm belief that he will never die. According to Stefano, he is like a Phoenix, and he will always rise from the ashes to his former glory and power. He is the seventh son of the seventh son; as a 300 year-old DiMera family legend dictates, such a son will never die. He certainly has proven this time and time again. Stefano has "died" thirteen times, coming back stronger than ever each time. Because of this, he holds the record in Salem for the most faked deaths. The only character to ever strike fear into Stefano's heart was Marlena Evans when she possessed by 'The Devil'.
In 2016, Stefano was thought to have been killed off for good due to the actor's failing health. Stefano succumbed to gunshot wounds, inflicted by Hope Brady, because she thought he was responsible for the kidnapping, and death of her longtime love, Bo Brady. Afterward, many of Stefano's "victims" got together to celebrate his death, and remember all of the pain he inflicted on the residents of Salem, especially to the Brady's, Blacks, and Horton's. While they were celebrating his death, his son Chad had a special vision of him urging him to live his life the way he wants, and not to follow in his footsteps, or the legacy of the DiMera name. He also appeared in a few more visions.
On December 27, according to Shane Donovan, the ISA located a man who bears a strong resemblance to Stefano's description in Prague, Eastern Europe. The picture that he showed to the Salem P.D. is very vague yet the man in it bears a strong resemblance to Stefano. There are also rumours that he is building a power base in Eastern Europe and is most likely the one who took a lot of assets and money from DiMera Enterprises. It is later revealed that the body that was buried in Stefano's grave isn't him and so it is very likely that the Phoenix has risen from the ashes once again.
In February 9, 2017, Mascolo reprised his role for one episode when the Brady's' and their allies succeed in capturing Stefano, and putting him behind bars. But soon he disappears from his cell without a possible explanation, never to be seen again. However it turns out Shane was posing as Stefano in a master plan to get Hope out of prison, and for all intense of purposes, Hope really did kill Stefano. But soon while Steve and Shane were watching the footage on a security feed, Shane believes he sees Stefano on a security feed, and the scene is left purposely ambiguous as to whether or not Stefano is still out there?!!!
A perfect final farewell to Joe Mascolo, who died a few months after he shot his final scenes, the gifted actor who portrayed him for more than 35 years!!! Bravo, Joe Mascolo!!!
Because of the ambiguity of Stefano's fate, the show sometimes treats him as if he were really dead, and sometimes as if he were still alive. Shane and Steve decided that even if Stefano were really alive, he is powerless as a frail old man on the run. During Andre's funeral, the DiMera family expected Stefano to show up to pay to his respects to his eldest son. Kristen mentioned that she saw Stefano, but admitted she wasn't sure if it was really him or just a hallucination.
In March 2017, Stefano's iconic portrait is still seen to be hanging on the wall of the foyer in the DiMera mansion, and characters talk to the portrait as if they were actually talking to Stefano. His legacy is currently being helmed by his surviving children, Chad, Kristen and Tony DiMera.
In October 2019, Dr. Rolf implied to Hope that Stefano had in fact risen from the grave, after stating that Stefano had outwitted Hope after she sought what Rolf saw as 'unjustified vengeance' by shooting him in 2016; he also commented that Hope would not be so lucky, suggesting that Rolf was working on Stefano's orders to get revenge for Hope's attempted murder of him despite Stefano's provoking. The same month, Vivian went on the run after being exposed for attempting to murder Kate. She asked Rolf if Stefano could hide her, and despite not wanting to discuss Stefano, Rolf again implied he was alive but would not want to help Vivian. Vivian later confronted Kristen about Stefano's possible resurrection, but Kristen refused to discuss it. A few days before the Time Jump, Rolf gets a call and then glances at Stefano's portrait in shock, implying it is Stefano calling Rolf.
On November 12, 2019 (November 12, 2020, thanks to the Time Jump), Gina is seen talking to man that is wearing the Phoenix ring, the man's face isn't seen, but she refers to him as "Steffy", which is Gina's nickname for Stefano. The man is also seen smoking as well as corresponding with Chad, who also tells Abigail he has been communicating with Stefano and is absolutely sure it is him. On November 26, 2019; it is revealed that Stefano has returned in Steve Johnson's body. On December 2, 2019; Dr. Rolf explains that Stefano is in fact dead, the victim of Hope Brady's bullet. However, he did survive but was still weakened from all of his ailments, so before he truly died, Rolf transferred Stefano's "essence" - his memories, beliefs, and personality traits - into a computer chip which he has since implanted in Steve Johnson's neck, effectively turning Steve into "the new Stefano" (much as he also did with "Gina's essence" and Hope). Rolf did this to get revenge on the enemies of "the great Stefano" and return Salem to his reign of terror.
As "Stevano", Stefano wanted to reclaim control of his empire and his obsession with Marlena had returned. He also sporadically posed as Steve until his identity was revealed. He brainwashed Chad to take back DiMera and had a chip placed in Marlena that made her susceptible to his advances. Stefano's reign of terror ended when he threatened Tony and lost his eye to Anna's shoes. Stefano was helpless in the hospital where Kayla could remove the chip at her discretion, so Stefano apologized to his children and said good bye to them as it appeared that with the AI chip removed, the Phoenix would never rise again. Tony and Chad then destroy the chip by setting it on fire and reducing it to ashes. As Chad notes this, Tony also notes what is said about ashes, and then Stefano's portrait is shown; subtly implying that perhaps the Phoenix may yet somehow someway rise again one day.
Rolf attempted to revive Stefano even in the form of a clone baby, but ultimately failed and focused his efforts on Stefano's children instead. He gave Kristen and Chad a framed photo of them with Stefano, and later outed Gwen Rizczech as the one drugging Abigail. A year later, he would create an antidote to help Sarah Horton, who believed she was Renee DuMonde. Despite being untested, Rolf swore on Stefano's grave it would work.
When EJ returned to town in 2021, he continued the family tradition of speaking to Stefano's portrait. Stefano's greatest sin would also come back to haunt Salem when The Devil returned to Salem to possess Marlena, and would eventually possess Stefan's grandson Johnny. The Devil would then speak to Stefano's portrait and was implied to even have some respect for him. When Sarah thought she was Renee, she also greeted Stefano's portrait as if she was the real Renee.
In November 2021, Stefano was revealed to be buried in the DiMera crypt with the rest of the DiMera's. He has a giant coffin in the middle of the room. On April 8 2022; likely, though unconfirmed, due to Joe Mascolo's passing, Johnny was instead visited by André on behalf of the devil, despite the fact that Stefano was also likely in Hell, and serving the devil like André was.
Storylines
In early February, 1982, Tony DiMera went to Rome, Italy, to visit his powerful father, Stefano, who was making plans for coming to Salem to move the DiMera business and build a family there. Stefano had asked Tony to bring slides of the life and people of Salem. Tony had recently held a gala at his home which he had secretly taped for his father. Viewing the images from this party, Stefano got to know the good people of Salem before he arrived, acquiring a great advantage over them. However, he also wanted to see the female scenery. While watching the video, two women stood out to Stefano: Dr. Marlena Evans and Julie Williams. Marlena, Stefano thought, would make a great addition to the DiMera family as a bride to Tony. He believed her to be a great choice to give birth to a future DiMera heir. Stefano wanted Julie for himself, despite the fact that she was married. A third woman, Kayla Brady, also caught their eye and they believed her to be very valuable in the future, although Tony warned Stefano that her brother was a captain in the police force.
This thing of value that Stefano desired was an ancient talisman named the Baka. The Baka was a curious wooden artifact that had been the subject of a great animosity between two families, the DiMeras and the Bradford's, which were connected through a marriage in the late 18th century. On one face, the Baka showed the Bradford Family crest; on the other, a rising Phoenix. According to legend, the Baka held negative power for the Bradford's, and positive power for the DiMeras. For 200 years, the Bradford's had held onto the Baka in order to keep the DiMeras from taking advantage of its power...that is until Stefano stole it from Reginald Bradford. Somehow, the Baka was stolen from Stefano and fell back into Reginald's hands, who gave it to Eugene shortly before his death. In addition to all of this, the Baka was also the centerpiece in one of Stefano's most dastardly plans.
After having André steal the Baka, Stefano used it to build a bomb. He planned to have André kill Marlena during a nationally-televised concert; if the plan did not work, his backup plan was to set off a bomb at the concert hall which could only be defused using the Baka. While André busied himself organizing the charity concert which would benefit a new psychiatric wing for the hospital, Stefano busied himself by trying to drive Eugene insane. He had Delia telephone Eugene incessantly pretending to be his deceased wife Bonnie. Delia also created phantom projections of Eugene's other dead wife, Trista. Though the plan originally worked, Eugene soon realized that he was being duped. Meanwhile, Stefano managed to capture Roman and hold him captive. He had shot Roman, and he fell off a cliff, and seemed to be dead.
But dead he was not. Stefano was residing in a secret location on his yacht, carefully planning a way to retrieve three valuable prisms that were in the possession of Maxwell and Megan Hathaway. The prisms, he said, would cure his brain tumor. Although Stefano had faked his death, he was really suffering from an inoperable brain tumor. During this time, Megan Hathaway was revealed to be Stefano's daughter, not Maxwell's. That is why she had no problem when Maxwell was killed. In the end, the prism remained lost in the Louisiana bayou after an alligator ate it. The prisms were of great importance to Stefano. They were not ordinary crystals. When the prisms were together and held underneath a laser, they revealed coded instructions to several breakthroughs in technology and science; one of these breakthroughs was how to operate on Stefano's type of tumor. The prisms had been designed by an American, but Communist, scientist named Victor Chorvat, and were part of a Soviet plot called the Triad Experiment.
Meanwhile, Stefano felt a little melancholy. He had enjoyed Roman as an adversary. Now, with him being out of commission, Stefano missed the thrill of the hunt. He soon realized that he had an enemy as clever and as cunning as Roman—Marlena! He convinced one of his henchmen, Jimmy Porterfield, to get involved in Marlena's life. Jimmy soon decided to introduce Marlena to his godmother, Mrs. Lafferty. What Marlena did not know was that Mrs. Lafferty was Stefano in disguise! He had dressed up as an elderly woman to further examine his opponent. And a worthy opponent she was. Unbeknownst to Stefano, Marlena and Eugene had discovered information about the Triad Experiment...and the location of his compound in Venezuela. The Triad Experiment was moving along very well. A Soviet named Bronski successfully managed to smuggle the last prism out of the Soviet Union through an ice-skating troupe. Soon after, however, Megan died; she was electrocuted in a hot tub at Chris Kositchek's gym, The Body Connection. Stefano was unaware of the fact that Larry had accidentally killed his daughter; he also di dn't know of the explosive nature of the last prism. Apparently, Victor Chorvat had devised it so that it would explode if its ice covering was melted as revenge against America. Stefano was devastated by the loss of his "golden girl," and vowed revenge on the person who had killed her. He attended Megan's funeral dressed as Mrs. Lafferty and quietly grieved his daughter's passing. Having lost another child, Stefano decided it was time to begin anew. He decided to kidnap the newborn twins Samantha and Eric Brady and raise them as DiMeras. He also wanted to kidnap Marlena so that she could be a mother to the children, and a wife to him. Stefano was able to kidnap the children and took them to his hideout in Caracas and kept them in a nursery. Stefano was unaware that Bo Brady went to rescue the children. Of course, he still needed to cure that pesky tumor.
In February 1985, the ice-skating troupe that had the prism arrived in Salem, to perform a show at the Salem Civic Center. But those darn Brady's got in the way of Stefano's plans once again. Hope had managed to infiltrate the ice-skating troupe and joined the team. She had the prism sewn on her costume's headpiece, but she didn't get out in time and had to go out on the ice with it on her head. Stefano knew, however, and he ordered another flunky, Sonia Romanov, to retrieve the crystal from Hope. After Sonia got it, she and Stefano made their way to the rafters above the ice rink. Just as they were going to escape through the roof and catch their helicopter, Marlena appeared brandishing a gun. He did not think that Marlena was a real threat; he simply told her to put down the gun and come along with him so that she could be reunited with her kids. "My kids are safe at home in their beds," she told him. Amidst tears, Marlena refused to let herself be a victim to Stefano again. "You're never going to hurt anyone again," she said, and shot Stefano in the stomach. Stefano dropped the prism when he was shot. The prism, in turn, fell on some oily rags and began a raging fire below them. Stefano then lost his balance; he grabbed Marlena intending to take her with him, but she was saved by Bo. Stefano fell off the catwalk and into the flames below. After the fire was put out, a charred body was found among the ashes. It was burned beyond recognition, but everyone assumed that the body was Stefano's.
In late 1988, Stefano returned to wreak havoc once again. This time, he wanted his son back. As it turned out, Stefano was the father of a young deaf boy who had been staying with Steve & Kayla Johnson, Benjy Hawk. Stefano sent his operative Iago to Salem to achieve this goal. Iago just happened to be Shane Donovan's twin brother, Drew. While Drew unsuccessfully tried to take possession of Benjy (and killed his mother, Ellen Hawk), Stefano also hatched a plan to take revenge on Roman and the Brady's. It seems that during the year that Stefano had Roman in his possession, he had programmed him to be the ultimate assassin, with the help of a Karate master named Orion Hawk (who happened to be Benjy's grandfather), and had commanded him to do various crimes. Only one word could trigger Roman's killer tendencies: "pagoda." Actually, even just the picture of a pagoda would put Roman in a trance. Now, Stefano was messing with Roman's head by sending him pictures of pagodas and making him believe that he'd murdered Ellen. Also, Stefano sent many clues to make Roman and Diana believe that Marlena, who had been presumed dead the year before, was really alive. His plans quickly turned more dastardly.
On Halloween night, Stefano ordered Carrie to be kidnapped. He took her to his island in the Bahamas and held her prisoner along with Orion, who had tried to sabotage his plans to kidnap Benjy. Stefano sent Roman an anonymous note asking to exchange children, but Stefano didn't plan on ever returning Carrie. Stefano was endeared with the girl and wanted to raise her as his own daughter. Stefano finally kidnapped Benjy, who loved him very much, and managed to lure Roman, Diana, Shane, Kim, Steve and Kayla to his island. Having captured all of his enemies, Stefano treated his guests to a Thanksgiving Dinner, during which he revealed everything: while Roman had worked for him, Stefano had ordered him to kill a powerful enemy but Roman botched up the hit. Roman had blown up the building in which Stefano's enemy was, unaware of the fact that Benjy had been in the building. It was for this reason that Benjy was deaf, and why Stefano wanted revenge. Also, it came to light that during the time that Roman was presumed dead, Shane had known all along that he was alive and in Stefano's possession. Shane and the ISA had the chance to retrieve Roman, but instead retrieved Drew, who had also been in Stefano's possession. This obviously caused great animosity among the family. Stefano then put Roman under a Pagoda spell and ordered him to kill everyone present. Diana was able to make Roman snap out of it. Roman then went after Stefano, and the two met atop the very cliff they'd been standing on 4 years earlier. This time, the struggled that ensued sent Stefano off the cliff. Barely hanging from the edge, Stefano warned Roman that Milo, his henchman, would shoot Diana if he didn't help him back up. Roman reluctantly helped Stefano, and the ruse continued. Stefano continued to taunt Roman and finally put him under another trance, this time to shoot Diana. However, the trances had a weaker effect on Roman every time he went under, and so Diana was able to bring him out of it. However, Diana became separated from Roman in the moments after this, and Stefano was able to kidnap her, making it seem like she had died in an explosion. Stefano continued to taunt Roman after he returned to Salem, and finally lured him to his hideout outside of the city. There, he told him that he could have either Marlena or Diana; Roman was convinced that Marlena was dead and that this was all a game, and chose Diana. At this point, Benjy, who had stowed away in Roman's car and had been witness to everything, finally believed what everyone had told him: his father was a bad man. Benjy told Stefano this. Stefano, his plans dashed and hated by his own son, decided to escape aboard his helicopter.
In late 1991, Stefano briefly reappeared inside a Mayan temple in Chichen Itzá to reveal himself as the mastermind behind Marlena Evans' 5-year disappearance and the return of the true Roman Brady, the one that had fallen off the cliff in 1984, making the Roman Brady who came to Salem as the Pawn, John Black, an impostor, one of Stefano's assassins. Stefano had kept both the real Roman and Marlena comatose in the Caribbean island of San Cristobal for years, and had released them in the Fall of 1991. For weeks, Stefano had been luring the two Romans and Marlena to Mexico. Both Romans had information stored inside of them regarding the Landen Case, an ISA case involving hidden Mayan codices that were of extreme value. Together, the two Romans discovered the secret location of the codices. At that moment, Stefano revealed himself and made Roman the impostor (John) a proposition: in exchange for the codices, Stefano would give him a valise containing information about his true identity. John accepted, but as the exchange was being made there was a struggle. A gun went off shooting Stefano and causing him to fall in the fire, seemingly killed.
In October 1993, Stefano returned to Salem. But for the first time, he was powerless. Following a stroke due to a brain tumor, he remained feeble and in a wheelchair. This time around, Stefano was revealed to have two more children, Peter and Kristen Blake. Although they were not his biological children, Stefano had raised them. For his security, Peter hired Curtis Reed (abusive ex-husband of Kate Roberts, and father to Austin & Billie Reed), a hitman on Stefano's payroll, to bring Stefano to Salem. However, Curtis took advantage of the situation and kidnapped Stefano, taking him to Smith Island. In a desolate cabin, Curtis taunted Stefano about how powerful he had once been and how helpless he was now. Finally, Curtis contacted Kristen Blake to work out a ransom. Meeting her on a rainy night, Curtis demanded an exorbitant amount of money that Kristen did not have. But instead of money, he settled for her expensive jewelry. This humiliating act more than angered Stefano, and promised himself to avenge this atrocity. Later, Stefano struggled with Curtis Reed and shot him. Stefano planted the gun on Billie Reed and let her take the rap.
Note: From here on out until the 2007 reveal, whenever Tony's name is mentioned, it is actually Andre DiMera posing as Tony
Tony DiMera returned to Salem to marry his fiancee, Kristen Blake (recent revelations indicate this was most likely Andre, impersonating Tony). Stefano told Kristen that before he died, he wanted to see them marry. Kristen agreed to marry Tony, even though she loved John Black. However, Kristen left Tony at the altar to help John Black find Marlena and Roman's daughter, Belle. Stefano realized that in order for Kristen to marry Tony, he would have to discredit John in her eyes. Stefano did some investigating and thanks to a stolen diary of Sami Brady's, Stefano learned that John was really Belle's father. Stefano took this information to Roman. Sami eventually admitted that she had switched the paternity test results. Stefano's plan worked and Kristen despised John.
Tony and Kristen were about to marry when John showed up at the wedding, claiming that he had evidence linking Stefano to Curtis Reed's murder. When Stefano hopped in a car and drove off, John shot at the tires. Stefano had planned it so his car would go off the road and he would be "killed" in the crash. Kristen, blaming John for her father's death, married Tony on February 18, 1994. Tony learned later that Stefano was alive, but he kept it a secret because he feared Kristen would leave him.
In late February, Tony made Stefano leave Salem, so he traveled to Maison Blanche. From there, he sent John puzzle pieces. There were a total of 3 puzzle pieces, which together formed a picture of a window and a column. John knew that Stefano was taunting him, and tried to find out more about the house in the picture. After learning that the place was Maison Blanche, John went to New Orleans to visit it. When he arrived he was taken prisoner by Stefano and his hench woman Celeste.

Stefano chained John up in the basement and planned to re-brainwash him. Celeste, who liked John, told him that everything he needed to save himself was in his cell. After searching the cell, John found a block that had Johnny Black, 1984 inscribed on it. Behind the block John found a necklace with a crucifix and a prayer on a piece of paper. Using a recording of John's voice, Stefano lured Marlena to New Orleans as well. When she arrived, Celeste knocked her out with ether and locked her up with John. Stefano was planning on erasing John's memory, so Marlena tried to prevent him from doing it with a strip show. Stefano also forced Marlena to call Roman and tell him that she was on vacation with John Black. Meanwhile, Celeste became jealous of Marlena because she knew that Stefano was in love with her. Later that year, Kristen, Tony, Peter, Jen, Bo, and Billie all came to Maison Blanche for a charity event Kristen held.

Billie saw a woman who looked like Bo's dead wife Hope, but nobody would believe her. Hope was at Maison Blanche, but she was called Gina by Stefano and Celeste. Roman also showed up, but to arrest Peter Blake for trafficking drugs in one of his clubs. A jealous Celeste leaked gas into the cell where John and Marlena were being held and started a fire. Roman managed to rescue them. John came out and shocked both Kristen and Tony, who were horrified to see John in shackles. Kristen looked up and screamed when she spotted her dead father, Stefano. Tony ran back into the house to try and retrieve his father's computer, which contained a file on John's past. Maison Blanche burst into flames. Tony got the computer, but went blind in the process. Stefano slipped away with Hope, but John managed to catch up with Stefano and rescued Hope. Bo and Billie were shocked when they saw Hope, but Hope claimed to be a woman named Gina.
Stefano returned to Salem in late 1994. Stefano knew of Mike Horton's involvement with a woman in the mid-east who tricked him into transporting arms. He blackmailed Mike into providing him with the key-code to Marlena's apartment. Stefano rented the apartment next to her and built a secret passage between the two through Marlena's armoir. Stefano began visiting Marlena in the nights, but he wore a mask to hide his identity. Stefano started slipping Marlena some powerful drugs that shattered her mind, and led to her being possessed by the devil.
Stefano wasn't aware of this and continued to endeavour to make Marlena his. Even after the devil attacked Stefano through Marlena, he still refused to believe it. Stefano and Celeste saw Marlena enjoying the church fire that had Tony, Kristen, and John trapped inside. Stefano had Marlena kidnapped while she was in the hospital since her possession left her sick and weak. However, Stefano was forced to eventually face the facts and let Marlena be rescued and taken back ti Salem.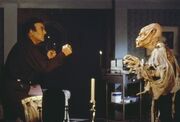 In 1995, John, Father Francis, Kristen Blake, and Caroline Brady all worked to help exorcise Marlena. Marlena tricked Stefano into untying her from her bed, where John had bound her, and she promptly threw him off her penthouse terrace. Stefano lived, but he was paralyzed and suffered from amnesia. Abe Carver and Pat Hamilton wanted to arrest Marlena for her attempted murder, but when they came face to face with her supernatural powers they realized that Marlena was not responsible for her actions. After being exorcised, Marlena felt extremely guilty about what she had done under the demon's possession. Marlena felt especially bad for Stefano, who was paralyzed and amnesiac. Marlena took it upon herself to help Stefano regain the use of his legs and she invited him to live with her. As Marlena worked with Stefano, Stefano began to fall in love with Marlena.
In December 1995, Tony DiMera was shot and killed and John Black was arrested for his murder, a murder that Tony himself framed John for. Stefano and Marlena went to Aremid. Marlena went to be with John and Stefano went to say goodbye to Tony. Marlena continued to council Stefano in Aremid as 1996 began. Stefano began having faint memories from his past. Stefano recalled giving gifts to a beautiful woman, who continued to reject him. Stefano also found himself attracted to Marlena. One night while out in a rain storm, Stefano was struck by lightning. Celeste found him and took him back to the Blake House. Mike feared that Stefano could have regained his memory after being hit by lightning, but Stefano claimed he remembered nothing. However, Stefano remembered everything.
Unfortunately, the Woman in White left Tony's diary behind in the Blake House when she was forced to hide as Celeste was bringing Stefano in out of the storm. Stefano tries to persuade Marlena to go away with him, but when she declined his offer he realized it was because of John. Stefano decided that he must rid himself of John somehow, and he realized his trial was the perfect way to do it. Later, Stefano uncovered Tony's Diary from the Woman in White's secret room and he vowed to never let anyone know the truth.
John Black's trial resumed in 1996 and Peter Blake put Kristen Blake on the stand. Kristen admitted to the court that she believed that John killed her husband, Tony DiMera. John was sentenced to death because Stefano blackmailed the judge. The death sentence was to be carried out immediately. On the night of John's execution, Stefano dined with Marlena Brady at the Blake House. Marlena managed to get Tony's diary and give it to the Woman in White. The Woman in White dropped it on the way to the courthouse, but Jack Deveraux found it and got it there in time to save John from the gas chamber.
Meanwhile, Marlena told Stefano that she knows he ordered John's death sentence and she hates him. Stefano abducted Marlena and tried to make his getaway, but Celeste followed him and demands he take her too. Stefano refused, so Celeste tells him that Lexie is his daughter, in hopes of staying with him. Stefano escaped with Marlena into some underground tunnels below Aremid. Lexie tried to reason with her father, but he and Marlena are lost in a cave in. Stefano managed to escape to the ocean, but John rescued Marlena. Stefano escapes via helicopter and vowed to return for Marlena.

Stefano returned to Salem like he vowed. He arranged for Jonah Carver to return to Medical School to please his daughter, Lexie. Stefano contacted Kristen and asked her to help him kidnap Marlena. Kristen refused to at first, but after learning that John loved Marlena more she agreed to help. Kristen gave Stefano the plane number that Rachel and Marlena would be flying to San Francisco on. Stefano told Kristen that he would return her mother to her later. Unfortunately, the police got tipped off that Stefano was back in town and his plan to kidnap Marlena was foiled. Stefano forced Vivian and Ivan to help him flee Salem.
Marlena and Rachel made plans for another trip and Marlena gave Kristen a list she was to obey. Kristen was not to sleep with John and she was not to wear his engagement ring. Stefano arranged for himself to be captured, so it appeared that Marlena and Rachel were safe to fly to San Francisco. After their plane took off, John learned that the man they captured was wearing a latex mask. Upon searching the DiMera Mansion they found Rachel Blake bound and gagged. Stefano, disguised as Rachel, had snuck onboard the plane with Marlena. Stefano faked a plane crash which convinced Salem that Marlena and Stefano had both died.
Stefano took Marlena to some caverns below Paris which he ruled as King and he intended to make her his queen. Marlena became deeply depressed and a doctor told Stefano that if she wasn't cheered up soon she could die. Stefano produced a set of goggles that allowed the person wearing them to view people who were dear to them. Marlena was able to see John and her children though these goggles. However, Stefano learned that the other set of goggles he had left in Salem were being used and realized John was the one using them. In the Paris underground, Marlena began to write things in a daily journal. Stefano planted a bomb in the warehouse where the second set of goggles were in order to kill John. The plan failed, but Stefano convinced Marlena that John died in the explosion. Stefano agrees to let Marlena out of the cage and takes her to a street carnival where they are spotted by Vivian and Ivan. Upon learning John was in Paris, Stefano sent a forged fax from John to Kristen and Rachel asking them to come to Paris.
John realized that Stefano is holding Marlena prisoner in the Paris underground. To lure him out, John set up a huge ball, where Marie Antoinette's crown would be displayed. John knew that Stefano would try to steal it for his "Queen" Marlena. John also knew that if Stefano follows the game, Marlena would show up wearing a gold gown. Unfortunately, Stefano anticipated this. Stefano took Marlena to the ball, but he arranged for many women to be dressed exactly like Marlena. John, Kristen, Abe, Lexie, and John's French cop friend Renee combed the ball looking for Marlena and each had a mini TV set that was hooked up to many cameras at the ball. Marlena and Kristen came face to face and they argued. Marlena ran off and eventually found John. Unfortunately, Stefano stabbed John with a needle and drug him off while Kristen watched. Stefano also managed to steal the crown by having someone impersonate Renee.
In the Paris Underground, Stefano put John on trial for his crimes against him. John was found guilty and was sentenced to be executed by beheading. Marlena attempted to stop the execution, but failed. Luckily, Vivian and Ivan were searching for Stefano and managed to free John from the guillotine he was in. John and Marlena ran for the tunnels and Stefano pursued them. Kristen decided to find the Paris Underground to try and save John and her mother, Rachel, insisted on going. An explosion in the underground buried Kristen and Rachel, but Abe and Lexie managed to save them. They all searched for John and Lexie. When the found him, John had a gun and was holding it on Stefano. Marlena was hurt during the explosion and John gave his gun to Rachel to hold on Stefano so he could carry Marlena. Stefano managed to escape and Rachel followed him. Rachel and Stefano ended up near a gas tank. Rachel, knowing the consequences, shot at Stefano. The tank exploded and Stefano and Rachel were presumed dead.
Stefano, who was very alive, returned to Salem and learned about Peter and Jennifer's troubles. Stefano revealed himself to Peter and promised to help him get Jennifer. He also learned about Kristen and John and promised to help Kristen keep John. from Peter. Peter, following Stefano's advice, was planning on kidnapping Jen. Stefano also told Kristen that she should try and marry John as soon as she can. He also blackmailed Kristen's doctor into keeping quiet about the fact that she isn't pregnant.
Stefano brought Susan Banks, a pregnant woman, to Salem. With a blond wig and false teeth, Susan looks exactly like Kristen. Susan agreed to impersonate Kristen when needed and to give her baby to Kristen, in exchange for a large sum of money. Meanwhile, Marlena began to become more and more suspicious of Kristen and even told Laura Horton that if she didn't know any better, she'd say Kristen wasn't pregnant.
Daniel Scott showed up at the Blake house to find Peter and extort more money out of him. Unfortunately, Daniel ran into Stefano. The two argued and Daniel backed into a large window and fell to his death from the 2nd story. Salem gathered for Peter's funeral. After the funeral, Laura saw Kristen adjusting her pregnancy pad when she thought nobody was looking. Laura ran back into the church to tell Marlena, but she ended up coming face to face with Stefano and Peter. Stefano revealed that the body in the casket was Daniel Scott, with a latex mask of Peter on. Stefano kidnapped Laura and took both her and Peter to the Blake house. Peter was very ill still and he forced Laura to care for him. Kristen eventually stumbled upon both Laura and Peter. Stefano wanted to take Laura with her when he and Peter left the country, but Kristen and Peter asked if there was another way to solve the problem. Stefano eventually had one of his scientists zap Laura's mind with a laser that would remove her memory for the last few days. Stefano placed Laura out in Salem park on a bench and he and Peter skipped town.
Outside of Salem, Stefano continued to plot. He hired Nurse Lynn Burke to be Laura Horton's caretaker and to feed her pills which would keep Laura from remembering the truth about Peter and Kristen. He also helped Kristen to try and control Susan Banks, who had become obsessed with John Black and her own child she was to give up. Stefano had a secret room built in the DiMera Mansion where Kristen was to hide Susan. However, things went wrong and Marlena Evans was put into the secret room after she learned the truth about Kristen. Kristen called Stefano and told her that Marlena was locked in the room and awaiting him. Stefano returned to Salem and forced Vivian and Ivan to help him kidnap Marlena. Meanwhile, Susan planned an Elvis themed wedding for herself and John, which Kristen and Marlena were forced to watch from the secret room. Desperate to stop the wedding, Kristen tried to dig through the wall and ended up hitting a gas line, which knocked Kristen and Marlena unconscious.
Stefano showed up dressed as a waiter and was planning to escape with Marlena. Unfortunately, Laura showed up, still wearing her pajamas from the hospital, and accused Kristen, who was really Susan, of kidnapping Marlena. Laura slapped Susan and her fake teeth landed in Vivian's glass of champagne. Susan confessed everything and John managed to save Kristen and Marlena from the secret room, both had passed out. Stefano fled the party.
Soon after Susan and John's wedding came to a halt, John arranged for Marlena, Lexie, and Laura Horton to all have a relaxing day at the Salem Spa. Stefano snuck in and almost kidnapped Marlena, but Lexie saw him and ratted him out. Stefano escaped, but Marlena was saved.
John planned an engagement party for Marlena at the Penthouse Grill. Kristen, Vivian, and Ivan crashed the party and when Kristen heard John propose to Marlena, she lost it. Kristen went out to the ledge and threatened to jump, but John talked her down. Stefano was also at the party and planned to kidnap Marlena, but Kristen ruined his chance and he was furious with her.
John and Marlena planned to marry in July of 97, but Kristen and Stefano brought the wedding to a halt when Kristen showed up at the wedding with Marlena's dead ex-husband, Roman. Later, John and Marlena learned from Shane that Roman claimed to be dead because he really was dying of a deadly virus and didn't want his family to watch him suffer. Kristen convinced John and Marlena that Roman would be the most comfortable living in the DiMera mansion. Roman refused to stay in the hospital and accepted Kristen's offer. Kristen further caused problems by telling Roman that she and John were married and Marlena never became involved with anyone else after he left Salem.
Stefano allowed himself to be captured and then told John that only he had the cure for Roman. John didn't want to believe him, but it seemed there was no other way to save Roman. John, with Lexie and eventually Abe's help, broke Stefano out of jail. John and Stefano speed to the airfield where John's plane awaited them. Kristen managed to convince John and Stefano to let her come along. Marlena also wanted to go, but John said she should remain behind because this could be a trap. However, Hope decided to tag along to keep an eye on Kristen. Stefano was furious when John found Hope stowed away and wanted to return to Salem and leave her behind, but they couldn't because they would be captured for sure. John, Hope, Stefano, and Kristen all traveled to a jungle compound where they were introduced to Dr. Wilhelm Rolf, the man working on the cure for Roman. Dr. Rolf recognized Hope, but Stefano managed to warn him not to say anything to Hope. Hope ended up breaking into a storage room, which infuriated him because there were things, including a table, in that room that could jog her memory from the missing four years of her life. Stefano promptly locked the room up with a high tech lock. When Dr. Rolf finally finished the cure, the vial containing the cure was dropped and it was lost.
Dr. Rolf and Stefano tell John and Hope that the only way to make another cure is for someone to brave the jungle and the natives and retrieve a special orchid. John and Hope volunteer to find the orchid. Hope and John found the orchid and John put it in his backpack, but a native knocked John off a cliff and Hope, Kristen, and Stefano thought he was killed. John's backpack was recovered, but the orchid was missing. Hope managed to find some of the orchid's seeds and Rolf made a cure using them. As they were about to return to Salem, John showed up alive, but was poisoned by a native's dart. John was cured and they all flew back to Salem. On the way back, their plane crashed in the Bermuda triangle, but they managed to return to Salem with the cure. John, Hope, Stefano, and Kristen showed up at the hospital with the cure just as Marlena was about to marry Roman, because it was his dying wish. The cure was administered to Roman and Stefano was granted a pardon for his crimes. Stefano's cure began to fail, which Stefano knew would happen. Stefano said that the only way to save Roman was to donate his own blood, mix it with some other drugs, and give it to Roman. Stefano had also suffered from the disease Roman had and he had been saved in a similar manner. However, Stefano only agreed to do this if Marlena would forgive him and be his friend. Stefano announced that he wanted to become a respected citizen of Salem, secretly it was all a part of his master plan. Marlena reluctantly agreed and gave the second cure to Roman, which worked.
Jennifer Deveraux Blake confronted Stefano and told him that he would need the Horton's to back him if he wanted to become a respected citizen of Salem. Jennifer warned him that if any harm came to Jack then he would not have the Horton's' backing. Stefano called T.C. and told him not to harm Jack Deveraux. Unfortunately, Travis and T.C. had pinned Jack under a press, which would smash his head flat. Luckily, T.C. and Travis stopped the press in time before it killed Jack. Jack realized that someone wanted him alive and realized that T.C. must be on Peter or Stefano's payroll.
Stefano finally admitted that Peter was alive, but he claimed he didn't know where he was. Meanwhile, Peter recovered from his shooting on a jungle island. When he was well, he paid Trent Davis to kidnap Jennifer Horton and they were to meet at the Grand Canyon. Unfortunately, Peter was bitten by a mosquito in the jungle and contacted Jungle Madness, a strange disease that slowly drives a person mad, yet also gives them incredible strength and fits of violence. Stefano contacted Peter and told him that he needed medication and told him to go to the island compound where Dr. Rolf could give him some pills. Peter acquired the pills, but got into a fight with Dr. Rolf, who wouldn't let Peter leave till he was cured. Peter lost the pills in a battle with Dr. Rolf and he flew off in Rolf's airplane.
Kristen became somewhat crazy and thought that if she could get Elvis back, John may be able to love her again. Kristen goes to Susan and tells her that the only way the baby can be protected from Stefano is if she raised him. Celeste and Marlena soon learn that Stefano is the father of Susan's child, but Stefano refuses to acknowledge it. Later, Marlena hears Kristen talking to a woman about getting her son back. Kristen lured Susan over to the DiMera mansion and drugged her with spiked eggnog. She then tricked Susan into signing away all legal rights over little Elvis to her. Kristen, disguised herself as Susan, and then kidnapped little Elvis. When Susan confronted Kristen, Kristen had the legal documents that proved the child was now hers. Susan almost attempted to kill herself, but John stopped her before she could jump into the icy Salem River. Susan went to get her brother, Thomas (the third triplet), to help her steal back little Elvis. However, Sister Mary Moira stopped Thomas before he could do anything sinful to Kristen. When Stefano learned what Kristen had done he was outraged and helped John steal back little Elvis and return him to Susan. Kristen took Susan to court, but Susan, John, and Marlena double crossed her. John delayed Kristen and Susan pretended to be Kristen at the courthouse and said what she did was wrong and withdrew the legal agreement Susan had signed. When Kristen learned what they had done to her she was furious. John arranged for Susan and Little Elvis to leave the country safely and live in peace. Marlena and John said goodbye to Susan and watched her leave. Stefano arrives at the airport after Susan has left. Stefano vowed to John that he would find his son again. In 1997, Celeste was drawn to Jonsey's townhouse because she was sure that Peter Blake was hiding there. However, Celeste was shocked when Kristen answered the door. Celeste barged her way in and got into a fight with Kristen. Kristen was hiding the syringe behind her that contained the cure for Jungle Madness, but Stefano warned her it would give a healthy person the Jungle Madness Disease. Kristen and Celeste ended up falling onto the floor and Kristen accidentally, without Celeste's knowledge, injected her with the Virus. Stefano was furious with Kristen not only disowned her, but told her that when he got Elvis back she would not get near the child, let alone raise it.
Peter returned to the DiMera Mansion after he lost Jack and Jen in the Grand Canyon and Stefano helped him try to locate Jen and get a cure for his jungle madness. Stefano came up with the idea of planting a listening device on Laura, who they suspected knew where Jack and Jen were. Jack and Jen were hiding in a circus, which eventually came to Salem. Peter managed to tip the FBI off to Jack's whereabouts and he attempted to kidnap Jennifer. Jen got away and speed off in a car, which crashed and she was presumed to have died. Jack was let out of jail to attend Jen's funeral. Laura slipped out of the church to find Kristen and make her pay. Peter showed up with a shotgun and started shooting.
Suddenly, Jen's spirit rose from her coffin. Jen convinced Peter to turn himself in. Jack was released from prison immediately. Jack and Abby returned home to find Jen standing in their home. Jen explained that her death and her resurrection were faked by the people at the circus. Jen told him that Jasper was supposed to tell them all, but Jen wasn't aware that Jasper was in a coma. Jack, Jen, and Abbey all went to the Brady Pub and they celebrated the fact that Jen was alive. Later, Jasper came out of his coma. Peter was taken to jail and Stefano gave him the cure for his jungle madness. Peter asked Stefano if he was going to break him out, but Stefano told him that he couldn't do that because it would ruin his new reputation as an upstanding citizen of Salem. However, Stefano did manage to get Peter placed in a white-collar- crime prison instead and he would be up for parole in a few years.
While Stefano was busy helping Peter, he did not realize what Kristen was planning behind his back. Kristen planned on leaving town and moved out of the DiMera Mansion. She moved into the Blake house and planned to sell Susan into white slavery. Kristen kidnapped Sister Mary Moira and called Susan. She told Susan that she was to fly to Salem immediately and wear a white dress. She was to bring the baby or her sister would be murdered. Susan showed up at the house and talked with Kristen. Kristen offered Susan a soda, and Susan accepted because she thought there was no way she could drug a canned soda. However, she was wrong. Kristen asked where Elvis was and Susan said she left him in England. Susan got into an argument with Kristen and threatened to kill her with a letter opener. Susan eventually passed out from the drugs and Kristen made her getaway, dressed as Susan. Susan, was kidnapped by the man and taken to a palace were she was to be the latest harem girl for "The Supreme Leader".
Kristen, disguised as Susan, was about to fly off to England when Abe and Roman found her. Susan had phoned them earlier and reported that Kristen had kidnapped her sister. Sister Mary had been rescued and they came to the airport to catch Kristen. Suddenly, Abe received a phone call from John and Marlena. Kristen Blake was found dead at the Blake House and they told "Susan" that she couldn't leave town just yet. Abe and Roman took "Susan" into the station for questioning. "Susan" claimed to never have been at the house. Suddenly, Edmund burst into Abe's office. Edmund introduced himself as Susan's fiancee. Edmund asked if "Susan" was being arrested and Abe said no. Later, Edmund proposed to "Susan" and Kristen had no choice to accept. Kristen feared that Susan was the person who died in the pool and that she would be charged with her murder if anyone learned she wasn't really Susan.
Kristen kept pretending to be Susan and let Salem think that Kristen was dead. A funeral for Kristen was held at St. Luke's and all of Salem attended. Laura attended, wearing a bright red outfit. During the service, Laura recalled going to the Blake House the day of Jen's funeral and shooting at Kristen. Later, Stefano stood up and publicly slandered everyone in the room and blamed them all for Kristen's suicide.
Stefano got so worked up that he had a heart attack, but Lexie saved him. Stefano was rushed to the hospital. At the hospital, Stefano learned that Kristen's death had been reopened by the police and that Laura was the number one suspect. Stefano told this to Laura, who was shocked and also frightened. Later, Marlena Evans confronted Laura with the bottle of Placida from the Blake House and asked her if she killed Kristen. Laura said no and was appalled by her best friend's accusation.
Stefano went to the cemetery after being released from the hospital and told Kristen's grave how sorry he was that he was angry with her and if he had a second chance he'd let her raise his son. Kristen, just happened to be at the cemetery, disguised as Susan, and she revealed herself to Stefano. Kristen begged Stefano to help her escape town, but Stefano told her if she left now it would make "Susan" look guilty. Later, Kristen learns that Susan was no longer a suspect and was free to leave. Kristen planned on skipping town when Edmund surprised her by bringing Violet and Elvis to Salem. Kristen attempted to drug Violet and sneak off with Baby Elvis. Unfortunately, John found her and brought her to the Penthouse Grill, where Edmund had arranged a surprised wedding. In order not to blow her cover, Kristen married Edmund. After the wedding, Kristen wanted to leave Salem immediately, but Elvis came down with an ear infection and couldn't fly. Kristen, still pretending to be Susan, rushed to the airport for her honeymoon and hoped to beat Edmund to the plane and leave without him. Kristen met up with Stefano at the plane and they hugged as Kristen was about to leave. Suddenly, Edmund showed up and accused Stefano of attempting to deceive "Susan" Stefano left and "Susan" and Edmund boarded the plane.
Stefano went to the Blake House to make sure there was no evidence that could indicate Susan was the person who was killed, not Kristen. Upon searching, Stefano found a picture of Edmund and Susan and on the back was a note from Susan to Edmund. Stefano then realized that Edmund had killed Susan, and now he was alone with Kristen. Stefano feared what Edmund would do to Kristen. Stefano called Kristen, who had learned that Edmund was the killer. Kristen told Stefano that she would escape Edmund once their plane landed.
Meanwhile, Susan escaped her island prison and hired a pilot to fly her to Bermuda where she surprised both Kristen and Edmund. Susan exposed Kristen and both Kristen and Edmund were confused as to who was killed in the pool. Right then Susan realized that Penelope had been killed. Susan to Edmund and Susan about her forth sister, Penelope Kent, who came to Salem to help her. Edmund admitted to killing her, but Susan says she knows it was an accident and that Penelope was dying anyways. To get revenge on Kristen, Susan arranged for her to be sent back to the island prison where she had sent her to. Susan, Elvis, and Edmund live in England and Susan periodically checks in with Stefano, pretending to be Kristen so his suspicions aren't aroused.
After Stefano was hospitalized when he had a heart attack at Kristen Blake's funeral, Hope decided to use Stefano's stay in the hospital to search out what happened to her during the four missing years of her life. Bo convinced Hope to let him help her and they broke into Jonesy's townhouse. There, Hope saw a picture of a painting which she recognized. Bo and Hope had to split when Bart, Stefano's henchman, showed up. Hope confronted Stefano about her past and Stefano told her the same old story, he found her in New Orleans and cared for her for four years while she underwent painful surgeries. Hope didn't believe Stefano and went to Celeste. Celeste told Hope she couldn't help her because she was only with Hope a few weeks before John rescued her. After Hope left, Celeste sent her a box of possessions Hope had while at Maison Blanche. Later, Stefano visited Celeste and ordered her to tell Hope that she was with her for four years at Maison Blanche. Celeste went to Hope and told her this and she said she lied before because she didn't want Hope to remember that she underwent many surgeries over the four years and they were very painful. Celeste also tried to retrieve the package she sent Hope, but Hope opened it in front of Celeste. Inside were a lipstick container, a silver comb, and a silver compact with a G on it. Hope asked Celeste why she would have these things if her face was scarred for four years. Celeste admitted she lied about being with her because Stefano forced her to. Celeste also suggested that Hope drop her search because Stefano would be furious if he learned she was searching for her past.
Stefano went to Jonesy's townhouse, which in reality was his, to get some cash from a secret hiding place. Unfortunately, the cash was gone. Stefano feared that Jonesy had used it, but he was happy to see that his art treasures and a mysterious freezer in the basement were untouched. Stefano owned the townhouse and everything in it, but Jonesy had been assigned to guard it. Later, Stefano saw some of his art treasures in a pawn shop. Stefano sent Bart out to find Jonesy and soon learned that Jonesy was dead.
Stefano soon went to see Kate Roberts, who knew why he had come to see her. Stefano inherited Kristen's 49% share of Titan. Kate offered to buy the shares from Stefano, but he refused to sell and wanted to remain an investor. Kate and Stefano had a past. Stefano had found Kate when she was a call girl and was responsible for turning her into the business woman she was today.
Vivian decided to host a party at her new townhouse and invited Stefano. Vivian told Ivan that if she could get Stefano on her side, she could take over Titan. To finance her new lifestyle, Vivian began selling some of Jonesy's art treasures. Stefano accepted because he was interested to see where Vivian was staying. Stefano showed up at Vivian's party with Kate. Stefano was shocked to learn that Vivian was living in his townhouse and selling his art treasures. After the party, Kate made a call to a friend about the townhouse because he used to own it. Kate learned that he lost the house to Stefano DiMera. Upon confronting him, Stefano told Kate that the townhouse and the treasures were his, but she must keep it a secret. Stefano said that there was a problem with the IRS and taxes on all the treasures, so he had loaned them to Jonesy.
Stefano decided to empty out the contents of his freezer before Vivian found it. At the same time, Vivian became curious as to what is in her basement. Vivian eventually got down into the basement and found the freezer, but Stefano knocked her out. When she came to, Stefano told her that he found her down here unconscious. Bart, Stefano's henchman, showed up in a radioactive suit and told Vivian there was a chemical explosion and everyone had to evacuate the house until it could be cleaned out. Vivian and Ivan left and Stefano and Bart emptied the freezer.
Vivian decided that the best way to start out her company was to snag Titan's two top authors, a pair of sex therapists. Vivian managed to lure them away from Titan, which enraged Kate. Kate asked Stefano for help and he told her that Vivian would not be a problem for much longer.
Stefano's treasures were legally Vivian's now, but he wanted them back. Stefano schemed to have Vivian declared legally incompetent and then he would swoop in and regain his treasures when he gains power of attorney over Vivian. This time they would be his legally. Dr. Rolf returned to Salem and Stefano asked him to prepare a potion that would knock Vivian out, but would keep her from remembering what happened to her. Stefano invited Vivian over for dinner and then drugged her. Once she was out, Dr. Rolf implanted a device in Vivian's tooth which would alter Vivian's mood as Stefano wished. However, Dr. Rolf told Stefano that he had to be careful with the mood altering device because it would tire Vivian out if overused and could be dangerous to her if he put her in one mood without normalizing her first. Vivian almost died during the surgery, but managed to make it. Ivan and Celeste showed up when Vivian didn't return home and Vivian was acting very odd, Stefano had put her into an up mode. Celeste and Ivan took Vivian home, but she wanted to dance and kept them out all night.
Stefano had a run in with Hope, who questioned him about her past again. Stefano refused to talk and went home. Dr. Rolf told Stefano that there is no way Hope will remember her past. Stefano hoped so because it would be disastrous if Hope learned what she did for him as Gina.
Stefano began to use his device to make Vivian act irrational in public. Celeste and Ivan were convinced that Stefano was behind Vivian's mood swings.
In 1999, Stefano DiMera had activated the microchip in Hope's neck and transformed her into his art thief accomplice Princess Gina Von Amberg. Princess Gina once had a passionate affair with her partner in crime John Black. Stefano had erased John's memory by implanting a microchip in his neck. John is in love with Marlena and they had a daughter Belle but John was unaware of his past as Stefano's mercenary and Princess Gina's lover. Once Hope's transformation was complete, she had no interest in Bo. She was only interested in pursuing John, the love of Gina's life. Once again, Bo and Hope became estranged due to Stefano's mind control.
In that year, John and Marlena traveled to Hawaii for a much deserved honeymoon vacation, but they did not count on Gina/Hope's interference. John spotted a drowning woman and swam out to sea to rescue her, but he was kidnapped and held captive on board Gina's submarine. Gina/Hope brainwashed John into his former identity and the two made passionate love on board the submarine. After John returned to shore, Gina/Hope then made love to Stefano. Because of the microchip in his neck, John recalled nothing of his love making with Gina and resumed his life with Marlena and their teenage daughter Belle.
Soon after, Hope was locked in a Parisian castle with her nemesis Stefano while the real Princess Gina took over Hope's identity. During her time in captivity, Hope discovered that she was pregnant. Because Hope's recent Gina memories had been erased by the latest satellite transmission, Hope had no idea that she was estranged from Bo and slept with John and Stefano. John's microchip began to malfunction and he recalled his love affair with Gina/Hope on board the submarine, but kept his newfound knowledge a secret from Marlena.
In 2000, Hope and Stefano were rescued from captivity and Bo and Hope enjoyed a much awaited reunion.
Bo realized that he could not be the father of the baby, since the couple was estranged during Hope's time as Princess Gina. He decided to keep this knowledge a secret from Hope in an effort to put aside the past and concentrate on his family. Bo and Hope's son Shawn was delighted at the news of a new baby and looked forward to having a brother/sister as well as having the bond between his parents solidified. Meanwhile, both John and Stefano began to worry about the paternity of Hope's baby. If John had fathered Hope's baby, his marriage to Marlena could suffer. If Stefano was exposed as the father, he could be arrested and sent to prison for good. John sought Stefano's help in making sure that Hope would never recall her time as Princess Gina. Stefano replied that John had the ability as a surgeon and could remove the microchip from Hope's neck himself. Secretly, Stefano planned on bringing back John as his mercenary.
Rolf's pregnant and drunken niece Marlo arrived in Salem. Coincidentally, Marlo was at about the same stage of her pregnancy as Hope was. Stefano decided to mastermind an elaborate baby switching scheme so that he could hide the paternity of Hope's baby. He enlisted Rolf and Bart's help in making sure that Marlo and Hopes' babies would be switched at birth. Meanwhile, Abe and Lexie had been trying for months to conceive a baby the natural way so gave up and decided that they would adopt. Stefano then encouraged Abe and Lexie to adopt Marlo's baby. Despite some reservations, Abe and Lexie both agreed. However, Stefano and Rolf both got more than they bargained for and found it impossible to keep Marlo under control. On several occasions, Stefano caught Marlo drinking alcohol. Stefano and Rolf even had to lock Marlo in the secret room to stop her from drinking.
On the same day that Hope went into labor, Rolf injected Marlo with a drug that would make her go into labor so that the two women would give birth at the same time. At the Salem University Hospital, Bo and Hope had a quick wedding with their son Shawn as a witness before the baby was born. Hope gave birth to her son JT and Marlo gave birth to Abe and Lexie's adoptive son Isaac. The two baby boys were then taken into their cribs in the maternity ward. Disguised as a female doctor, Rolf entered into the room and switched the bracelets on JT and Isaac. Although both bracelets looked no different to begin with, they magically changed names, thanks to the special name tags that Rolf invented. The nurses believed that they made a mistake and placed the babies in their 'right' cribs. Bo overheard this mix-up and thought nothing of it. He also noticed that JT looked a little different than he did when Hope first gave birth, but didn't make anything of it.
Bo, Hope and Shawn were devastated to discover that JT was suffering fetal alcohol syndrome. Hope blamed herself for 'her' son's condition, since she had been drinking and smoking during her time as Princess Gina. Hope feels that the baby is rejecting her. Hope and Bo rush the baby to the hospital after it loses consciousness. Stefano tries to get DNA sample out of Isaac while john tries to get a DNA sample out of little Johnny. Isaac was a perfectly healthy baby, which Bo thought was odd considering that Marlo was a drunk. Lexie brought baby Isaac over to Hope's house. They place the two babies in bassinets out back. John arrives and mistakes Isaac for Johnny. Johnny gets rushed to the hospital once again. As hope spent time with Isaac she notices that he does things that Shawn use to do when he was a baby.
As Bo leaves to Ireland Johnny goes back into the hospital. Baby Johnny dies. But the doctors get him to start breathing again. That's when Hope and Lexie decide to have the babies baptized. That's when Johnny became JT. Bo, Hope and Shawn's love and nurturing helped to pull JT through the health crises that he faced.
Although Bo realized that JT could not have been his son, he still bonded with him and loved him like his own. Hope believes that Stefano could be JT's father. And she is afraid he might try to kidnap him.
Marlo continued to cause trouble for Stefano and Rolf. During an argument, Rolf lost his temper and pushed Marlo down the stairs. He then snapped her neck on his knee to ensure that she was dead and then disposed of the body in the river. Lexie had found out about Marlo's death, but Stefano convinced her to keep quiet about what she knew. If the press was to ever find out, Lexie and Abe could lose their son Isaac. Despite her reservations, Lexie complied with Stefano's request and kept her knowledge of Marlo's death a secret, although she felt guilty about lying to everybody, including her husband Abe. For the first time, Lexie resorted to dishonesty, but would do anything to make sure that she could keep Isaac.
Stefano and John worked at getting a blood sample to find out the true paternity of 'Hope's' baby. Stefano was forced to manipulate the results, since he was the only one who knew about the baby switch.
John then dropped a bombshell on his wife Marlena that could shatter their marriage forever - he announced that he is the father of Hope's baby! Although Marlena was shocked by John's announcement, she eventually forgave John and realized that both he and Hope were under Stefano's complete control. John also admitted to Hope that he fathered her baby. John, Marlena and Hope decided to keep 'JT's true paternity a secret from Bo, although they felt guilty about leaving him in the dark. Stefano and Rolf noticed a woman working at Hudson Diner who bore an uncanny resemblance to Marlena. Stefano decided to use Hattie as part of his plan to have his mercenary John back. He planned to kidnap Marlena and replace her with Hattie. With Marlena out of the picture, Stefano could work on John and transform him back into the mercenary that he once knew. Rolf disguised himself as a plastic surgeon named Dr. Steiner and convinced Hattie to have surgery so that she can look more like Marlena. After several operations, including Rolf's dentistry, Hattie began to look like a carbon copy of Marlena Evans. At the same time, Hattie began to fall for Marlena's ex-husband Roman Brady. When Marlena encountered Hattie in Salem Place, she experienced flashbacks of her twin sister Samantha, who had been killed by the Salem Strangler years ago. Marlena was astounded by Hattie's resemblance to Samantha. Hattie would later play an important role in the baby switch story line.
On New Years Eve of 2000/2001, Bo and Hope exchanged vows at a beautiful wedding ceremony. During the reception, some of the guests went ice skating on the frozen lake.
Belle, Shawn, Phillip and Chloe found a dead corpse holding on to the mysterious can that they found last summer when they built Mimi's new house. Lexie was horrified to discover that the body belonged to Marlo. She feared that if the body was identified, she could lose her adoptive son Isaac. A distraught Lexie sought out Stefano and begged for his help in covering up Marlo's death. Rolf and Bart stole Marlo's body from the morgue and dissolved it in a vat of acid. Hattie saw the body in the foyer of the DiMera mansion, but Dr. Steiner/Rolf covered up by claiming that she only saw an old Halloween prop.
Unfortunately, the Salem PD was able to draw a sketch of the dead woman and identified the body. A man named Glen Reiber read the news report on Marlo's death and decided to travel to Salem. It turns out that Glen was Marlo's ex-boyfriend and could be the father of her baby. Abe and Lexie took a trip to Green Mountain lodge where they met Glen and his wife Barb. Glen and Barb explained their situation to Abe and Lexie and the two realized that Glen could be Isaac's biological father. Lexie did not tell Glen and Barb that she and Abe adopted Marlo's baby and she manipulated the couple, trying to convince them to concentrate on having a baby on their own. Abe was shocked by Lexie's manipulation and began to suspect that Stefano was having an evil influence on his wife.
When Glen found out that Abe and Lexie adopted Marlo's baby, they ordered a DNA test to find out his true paternity. Because Lexie did not know about the baby switch, she decided to take matters into her own hands and arranged for the test results to be rigged. Lexie enlisted Brandon's help in switching the results of the DNA test to make it seem that Glen is not Isaac's father. Since JT was having a medical check up on the same day, Brandon decided to swap Isaac and JT's blood samples! Lexie and Brandon were both horrified to learn that Glen is really JT's biological father. Lexie confronted Stefano about the test results and realized that the babies had been switched at birth. Lexie decided to keep her knowledge of the baby switch a secret so that she and Abe would not lose Isaac.
Stefano ordered Rolf and Bart to rig explosives at the East side lab to foil Glen and Barb's search into Isaac's paternity. Rolf decided to set additional bombs at a lab near Tuscany, the power plant and the Salem Bridge.
Many of Salem's residents dined at Tuscany that evening, including Bo, Hope, John, Marlena, Victor, Nicole, Phillip, Chloe, Nancy and Craig. Marlena and Hope got into a heated argument about JT's paternity. Lexie overheard the argument and realized that JT is not Bo's son. Suddenly, an explosion ripped through Tuscany and injured Lexie. In mercenary mode, John rescued Lexie and took her to the hospital. Nancy Wesley overheard Lexie having a nightmare about the baby switch and became suspicious. Stefano threatened Nancy into keeping silent and she agreed. She even kept her suspicions and Stefano's threat a secret from her husband Craig to avoid Stefano's wrath.
Because of the power plant explosion, Belle and Shawn were trapped in the elevator to Marlena and John's penthouse. This caused Belle to suffer an anxiety attack because of her claustrophobia. Brady fell on top of the elevator trying to rescue Shawn and Belle. John rescued Brady and released Shawn and Belle from the elevator.
Jennifer baby sat JT that night and drove him home, with JT in Isaac's baby capsule. Jennifer drove along the Salem bridge, just as it exploded, placing the two in great danger. Jack managed to rescue Jennifer from the car, but JT's baby capsule fell into the river. Glen and Barb spotted the baby capsule with Isaac's name on it and assumed they had found Isaac. Glen and Barb decided to kidnap him, mistaking JT for Isaac. Phillip and Chloe spent some time alone near the river, where they carved their initials on a tree. Chloe had spotted a couple taking the baby, but did not recognize him as JT. Glen took a DNA sample from 'Isaac' and sent it to a remote lab for testing. Jennifer became hysterical over JT's disappearance and Jack tried to get through to her, telling her that the accident was not her fault. Hope on the other hand attacked Jennifer and told her that she wished she had never returned to Salem.
When Chloe found out about JT's disappearance, she flashed back to the couple taking the baby from the river and immediately told Bo and Hope what she saw. Bo figured out that Glen and Barb had kidnapped JT and mistaken him for Isaac. After seeing a news report on JT's disappearance, Glen and Barb realized that they took JT, having mistaken him for Isaac. Bo, Hope and Shawn were relieved when Glen and Barb returned JT safely to them. Hope gave Jennifer a humble apology for her behavior and the two resumed their close friendship. Hope also decided to mend fences with Marlena after the fight they had at Tuscany. Although Lexie recovered from her injuries, she continued to keep her knowledge of the baby switch a secret from everybody, even her husband Abe.
Glen and Barb demanded DNA testing for Isaac but Lexie had no concerns, since she knew very well that Glen is not Isaac's father. Meanwhile, the test that was done out of town on JT when he was kidnapped by Glen and Barb had arrived on the Reibers' doorstep. Barb was shocked when she learned that Glen is really JT's father and figures out the truth behind the baby switch. Because Barb wanted her and Glen to concentrate on having a baby of her own, she decided to throw out the test results and keep Glen in the dark.
Dr. Rolf/Steiner and Stefano continued with their plan to transform Hattie into Marlena. Hattie's began to have a nightmare about the body she found in the foyer of the DiMera mansion. In her dream, she was dancing with Rolf and all of a sudden, he morphed into the dead corpse that she saw. Hattie's conscience prevailed and she informed Roman about the body. Hattie's confession finally gave the Salem PD a reason to lock up Stefano DiMera for good.
Knowing that he was in trouble with the law, Stefano tried to convince Lexie to leave town with him and she agreed, but regretted having to leave Abe behind. The Salem PD surrounded the DiMera mansion and Stefano held Lexie hostage. Stefano and John had a face-off in one of the secret passageways in the DiMera mansion. Lexie overheard their argument and realized that John was the father of Hope's baby. After a heated struggle, Stefano fled from the DiMera mansion and skipped town. Lexie, Rolf and Bart were left to take over the reins of the DiMera empire in Salem.
Lexie demanded that she and Abe move into the DiMera mansion together, although Abe was against the idea. Lexie took delight in taking over the DiMera mansion, ordering the household staff around and even playing with Stefano's chess board! Bart addressed Lexie as Ms. DiMera and she replied, "It's Mrs. Carver you idiot!!" Bart felt right at home, since that is what Stefano often called him. Abe was disgusted by what he saw of Lexie's behavior and their marriage was heading for trouble. Tony Dimera returned a year later with ashes that were said to be that of Stefano's citing he had died out of town. Two years later, however, he claimed that he had killed Stefano so he could cure his own blood disorder.
In December 2006, however, John and Marlena found Stefano in an Italian hospital and confronted him, trying to learn why he had sent a young man named EJ to Salem. His face obscured within an oxygen tent, Stefano revealed that EJ is his son, Elvis, by Susan Banks.
In late February 2007, EJ relocated Stefano to a secret location in Salem, where he received a kidney transplant from John. He was then moved back to Italy. The burnt remains of Maison Blanche, Stefano's mansion located in Louisiana, was found, partially destroyed by a hurricane. Stefano's health was revealed to be rapidly declining, and that the DiMeras need the stem cells from Sami's unborn child in order to save his life.
As it would appear in an old letter written in Italian, the Brady/DiMera feud began when Stefano's father, Santo, had Colleen Brady taken away from him. This is a complete recon of events, as the feud began when Roman Brady pursued Stefano for his criminal activities.
When Stefano returned in June 2007, he was quasi-kidnapped by EJ and Sami in an ambulance, and driven away from the DiMera Mansion for a time, as the two saw it as the only means in which they could speak to Stefano without interference from Tony, Bart, or Dr. Rolf. When Stefano came to, still groggy from whatever medication he's been on, he mistook Sami for Colleen, taking both Elvis and Sami by surprise. Stefano quickly came to his senses, and Sami and EJ's hopes of a cease-fire were quickly tarnished when Stefano cryptically told them that this was not possible until all the wrongs of the past had been righted. He told EJ and Sami that Grampa Shawn knew about all the wrongs and they should ask him about them. Tony's attorney was able to get the ambulance to turn around, and Stefano arrived home just as John and Lucas showed up, looking for Sami. Stefano and John had a conversation, in which Stefano reminded John that John was his favorite pawn. When asked by Stefano about Marlena, John told him that she was looking forward to a dance on his grave. He told Sami the only way to end the feud, between the two families, would be to marry EJ and raise the child as a DiMera.
It has recently been discovered that Stefano's daughter Lexie was alive but kept hidden in a tunnel that ran from Doug's place to the DiMera mansion along with a bomb hidden in a music box that exploded when Bo and Hope accidentally set it off. When questioned about it Stefano claimed he had nothing to do with it. He then chastised Tony for acting without his knowledge or consent, to which Tony responded by claiming he had to it to protect the family. Stefano was angry and told Tony to get his act together. Tony informed his father that he'd sacrificed his friends, his social standing and his entire life in Salem to carry out Stefano's wishes to exterminate the Brady's and told Stefano "If you don't finish the Brady's, I will."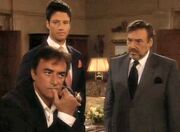 Stefano responded by calling a family meeting, which consisted of Tony, EJ and Celeste (who arrived in place of Lexie. She openly blamed the DiMera family for her daughter's imprisonment and refused to allow Stefano near her). Bart and Dr. Rolf, long-time servants of the DiMera family, were also present. Stefano placed a photo of Colleen Brady (an exact duplicate of her great-niece Sami) in public view and told the story of her love affair with his father Santo. He claims that Colleen was murdered by a member of her own family. He then informed his bickering sons that order needed to be restored in the family, and asked Tony and EJ to put their differences aside and embrace as brothers. The two reluctantly obey him. After telling Celeste to leave Stefano orders Tony to follow her and dismisses the family servants from the room so he can share yet another secret with his youngest son EJ. He pulls out an old picture of his father Santo. EJ looks like his grandfather, Santo DiMera.
Flashbacks revealed that Stefano and Shawn Brady had met as kids and became friends while Santo and Colleen had fallen in love. Ultimately, Stefano let slip to Shawn that Santo had lied about his wife being dead. When Shawn told Colleen the news, she ran away, and presumably committed suicide by jumping off of a cliff. Santo died of a broken heart and made Stefano promise he would get revenge on the Brady's
Tony and Stefano soon learned that Anna was back in town, and working with the Brady's. Tony and Anna arranged to meet for dinner, so he could get information out of her. Stefano was worried, but went to bed and left it in Tony's hands. Stefano later went downstairs and found Tony, Anna, and Bart asleep on the couch. Stefano questioned Hope as to why she was there, and Steve, pretending to be under Stefano's control said they were together. Stefano permitted them both to leave, and then woke Tony up. Stefano and Tony discovered the letters were missing, but Stefano wasn't too concerned
Stefano had Tony and EJ work together to acquire the stem cells. Tony later called Stefano, and said he had to kill EJ, which angered Stefano as he had told Tony to teach EJ a lesson, and not to kill him. Tony defended his actions, but Steve dropped by, and said that EJ was still alive. After he left, Stefano told Tony he had done irreparable damage to the family because EJ will never trust them again. After Tony was hospitalized for falling off of a rooftop, Stefano and Rolf went to visit him. EJ came in and taunted Tony, who he had learned was really Andre. Stefano didn't seem surprised, and EJ realized he knew the whole time. Stefano was offended that EJ seemed to think he couldn't tell the difference between his son and his nephew.
The real Tony soon came into the room, and Stefano was shocked to see Tony after all these years. Tony declared that Stefano's reign of terror was over, and Roman dropped by to inform Stefano that Andre would be headed off to prison. After Roman left, Stefano asked Andre if he had left their surprise where he had asked him to. Andre said he had and it was set to go off with a bang. The surprise, being a bomb, placed in some flowers. The explosion knocked everyone unconscious, and Stefano had Bart kidnap Sami. Stefano, Bart, and Rolf took flight on a private plane. EJ tried to get in touch with Stefano, and convince him not harvest the stem cells from his children. Stefano asked why should he listen to a son, who sides with his enemy. However, Rolf did some tests, and determined that Sami wasn't carrying his grandchildren, so they dropped Sami off a motel.
Andre stabbed Roman, and a furious Sami stormed into the mansion, and held Stefano, EJ, and Bart at gunpoint. Stefano stood up out of his wheelchair, and placed his chest to the barrel of the gun. He challenged Sami to shoot him, but Lucas and Marlena showed up. EJ got the gun away, and Stefano ordered him to finish them off. Instead, EJ told them to leave, and Stefano berated him for showing weakness. Stefano later woke up to find Tony trying to take the key to ending the feud. Stefano gave Bart the key, and told him to protect at all costs, before going back to sleep since Tony had drugged him. When Stefano awoke again, he found Andre kneeling by Bart, who was bleeding to death. Stefano thought Tony has harmed Bart, but Tony said it was someone who looked like him. Stefano accused Andre, who cried that it was an accident. Stefano called for Rolf, and begged for Bart to hold on. Rolf came in, and Stefano ordered him to do something. Rolf said if was too late, and Stefano asked Bart what he did with the key. Bart only had a chance to to say he took care of it, before he died.
Stefano cried over Bart's death, and Andre came back after chasing after Tony. Stefano snapped that Andre had killed Bart, and let Tony get away with the key. Andre said he doesn't think Tony has the key because he was asking Bart for it. Stefano said Bart said he took care of if, so they realized Bart either had the key on him, or hid it somewhere. Stefano sent Andre to look for it, and continued to mourn Bart. Kate came by the mansion, and Stefano told her about Bart's death. Kate gave her condolences, and asked for his help. Stefano raged that she had hadn't visited him, so Kate went to leave. Stefano asked her to stay, and they shared a kiss, and then went upstairs. Stefano came back to find Tony and John at the mansion. The key was recovered, and Tony asked Stefano to end the feud. Stefano refused, and John said they will find out what the key opens, and put Stefano in jail.
Stefano's health continued to deteriorate and he was eventually hospitalized. EJ managed to persuade Stefano to help lure Andre into a trap, but Andre turned the tables and for away. Rolf had Benny's liver removed, so he could transplant it into Stefano. As Stefano was being wheeled down the hall, Steve approached Stefano and pretended to be all friendly with him. Then Steve suddenly pulled out a knife and stabbed Stefano to death, but it was all a ruse to lure Andre out of hiding. Tony faked a reconciliation with Stefano, so he could get close to him and inject him with something that made him appear to be dead. The knife had a retractable blade and the blood was fake.
At Stefano's fake funeral, Benjy shot Stefano three times, but he was protected by a bullet proof vest. Stefano soon awoke and was enraged to learn how he was being used. The plan failed, and Rolf took Stefano home after Stefano had Rolf leave Andre a message, warning him. EJ and Sami got the portfolio that Andre had stolen back, and arranged a meeting with Stefano about his contents. Stefano said that Sami had to marry EJ to end the feud between their families. Steve kidnapped Stefano and held him at gunpoint when he found that Andre had murdered Benjy.
Steve demanded Andre bring Roman, who he had kidnapped by, to the TV Station. Andre did what Steve asked, but angered Stefano when he revealed that he had killed EJ and Sami. Stefano revealed that he planned to hand everything over to EJ, which enraged Andre. Andre captured Hope, and Stefano demanded he let her go, but Andre refused to listen to him. Kayla convinced Stefano not to press charges against Steve because Benjy was his friend. Stefano agreed not to in memory of Benjy.
Andre was put on life support after falling off the roof while trying to escape with Hope. Stefano blamed himself for how Andre had turned out, and decided to take him to Italy. Shawn interrupted Stefano, who revealed that he had told him the truth about his mother being alive on purpose, so Colleen would break up with Santo. Shawn was furious about Stefano's manipulations and after he left, Stefano muttered "if only you knew Shawn" to himself.
Andre died when his life support system was turned off. Stefano accused Shawn of the crime, but evidence revealed that Andre had turned it off himself. Soon after, John was hit by a car and killed. The hit had been arranged by Andre before his death, when Sami agree to marry EJ. Stefano showed up at John's funeral and Marlena screamed at him to get out.
EJ was shot in the back at his wedding to Sami, and paralyzed from the waist down. Stefano ordered the Brady's to find the shooter. With the feud seemingly over, Stefano took the time to bond with Johnny DiMera, his newborn grandson. However, Stefano also had Rolf working on something in a laboratory in the basement. On New Years Eve, Rolf injected a mysterious being with something that brought it to life.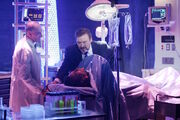 As it turns out, Rolf had brought John back to life, and Stefano had him brainwashed to become his Pawn and Perfect solider. Stefano's plan was to send John to kill a mysterious enemy of his. When Lucas was arrested for shooting EJ, Stefano sent his goon Carmine to kill him. EJ got himself arrested, so he could help Lucas, believing him going to prison was punishment enough.
John broke out one night, and Stefano and Rolf went looking for him before one of John's loved ones saw him. John got the jump on him, and started strangling Rolf until Stefano ordered John to let him go. EJ eventually discovered John in the basement, and told the Brady's John was alive. Roman and Bo got a warrant to search the mansion, and Marlena found John, resulting Stefano and Rolf getting arrested.
At the Salem PD, Stefano was locked in an adjacent cell to Lucas. Stefano had a salad delivered to him, which was against prison regulations. Lucas protested, but Stefano just mocked him. Afternoon Lucas wasn't taken to the visitor's room; Stefano found a cell phone wrapped in a plastic bag, and used it to call EJ. Stefano told his son that he forgave him, and wanted to see him. Stefano told EJ he had a driver that will take EJ to see him, but EJ ran, worried that Stefano would have him killed for betraying him.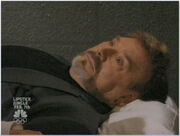 Marlena drugged Stefano, and as Stefano rested in his cell, Marlena visited him, pretending to care about his health. In actuality, Marlena wanted be alone with Stefano, so she could inject him with a cocktail that would put him in a catatonic state, he he could still see and hear everything around it. Marlena described it as being a "prisoner in your own body". Once Marlena was sure Stefano couldn't expose her, she called the guard and said that Stefano had a stroke.
Stefano was hospitalized, and Lexie tried to figure out what was wrong with Stefano, but when she couldn't, Alexis called EJ and Tony to help them decide what to do for Stefano. Stefano hoped his children would find a way to help him, but instead, they all agreed it would be best to send Stefano to an out of state facility.
John later visited Stefano, and revealed that his enemy, a very much alive Colleen Brady was his mother, and that Santo was his father, making him Stefano's half-brother. John said he didn't kill Colleen, and she died surrounded by her family. He also said that he had inherited Stefano's empire, and said that as he takes over Stefano's affairs, it will eventually be like he her existed. Stefano laughed that the new John will hurt his loved ones so much that they might have preferred he had stayed dead.
In August 2008, Stefano showed signs of coming out of his coma, and he was transported to Salem Hospital. When Stefano could speak, he revealed that he had heard everything around him. As such, Tony and EJ did their best to placate Stefano, but Stefano filled the hospital with a hallucinogenic gas, and made his escape. He also had Marlena injected with the same drug she had used him, so she would feel what he felt. Stefano and Rolf went underground, but eventually came back to the mansion as John, Tony, and EJ argued who would run the DiMera Empire.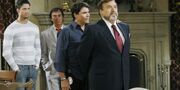 Stefano was arrested, but has Mayor Anthony Marino on his payroll, and the Salem PD was forced to let Stefano go. It was election season in Salem, and Stefano was bankrolling Marino's campaign like he always did. Abe decided to run against Marino, and Stefano told Marino that he could humiliate Abe in whatever he wanted, but to leave Lexie out of it. Marino ended up humiliating Abe and Lexie, and Stefano ended his partnership with Marino.
In order to win Marlena back, John handed over the mansion to Stefano and told him he was giving up, so he could win Marlena back. Stefano also reconciled with EJ and Tony. Tony was accidentally killed during a fight with Phillip Kiriakis and Stefano vowed revenge. He arranged to have Phillip shot during EJ and Nicole's wedding. So he had an alibi, but Victor knew better.
Stefano began feeling sick and feared Victor was poisoning him. He went to the hospital and Lexie diagnosed him with Diabetes. Stefano planned to leave town to take care of his Diagnosis, but Victor guys grabbed him and held him hostage. Victor told EJ he had 24 hours to sign over DiMera Enterprises to him or he would let Stefano die, but Stefano was eventually rescued and EJ and Phillip agreed to a truce.
Stefano revealed to Nicole that he knew Sydney was really Sami and EJ's daughter but agreed to keep quiet because he didn't want Sami and EJ to get back together. When Dr. Richard Baker was blackmailing Nicole, Stefano send his guys to kill him and frame Rafe Hernandez for the crime.
Stefano agreed to help Kate eliminate all evidence that she had poisoned Chloe Lane if she agreed to marry him. Kate reluctantly agreed and they married at Chez Rouge. Stefano fell ill while having dinner with Kate and was rushed to the hospital. Shortly after he was released, he learned that Rafe was close to exposing Nicole, so he tried to have his guy kill him, but EJ saved Rafe.
EJ soon found out that Stefano knew the truth and turned his back on him. When Sydney was kidnapped, everyone blamed Stefano but he maintained he was innocent. It was revealed that Anna DiMera had kidnapped Sydney on EJ's orders so he could get revenge on everyone. Stefano found out the truth and used it to blackmail EJ in to moving back into the mansion with Sami and their children
Madeline Peterson-Woods, a former prostitute that worked for Stefano, now an esteemed judge, threatened Kate and Stefano into staying away from her son Chad. Worried that Madeline would expose their secret, Stefano and Kate broke into Madeline's safety deposit box to neutralize her. During this time, Stefano and Will Horton had become close and Will was going to intern at DiMera Enterprises, but Stefano didn't want Chad to intern with Will.
When Madeline died from falling down the stairs, Stefano found himself defending Lexie as Madeline's husband, D.A Charles Woods berated Lexie when they couldn't save Madeline. Stefano also couldn't believe that Charles could turn his back so easily on Chad. Stefano felt pity for Chad and, after being convinced by Kate, agreed to give Chad an internship at DiMera Enterprises.
On the day of EJ and Sami's wedding, Rafe revealed he truth to Sami and she and promptly called off the wedding and left the mansion. In a drunken haze, EJ said the would take the kids and leave the country, but Kate overheard him and told Sami. Sami found EJ passed out on the bed with a gun beside him and she shot him in the head. EJ made a fully recovery and he and Nicole teamed up to blackmail Sami into giving him sole custody of their kids.
Kate also anonymously mailed Chad his birth certificate that said Stefano was his father. Chad confronted Stefano, demanding a DNA test. Stefano agreed and was delighted to learn Chad was his son, but Chad didn't want anything to do with Stefano. Stefano eventually learned of Kate's deception and they separated.
Jealous that Johnny and Sydney were getting closer to Rafe, Stefano and EJ had the real Rafe kidnapped and hired a man, given plastic surgery to look like Rafe, to break Rafe and Sami up. Around this time, Chad was coming around and accepting his DiMera relatives.
EJ was currently slated to remarry Nicole, but found himself more attracted to Nicole's sister Taylor Walker. Stefano warned EJ about the consequences this attraction could have on him. Things got more complicated when the Walker sister's sailing mother Fay moved in, so she could spend her last remaining moments with her daughters. Fay accidentally overheard EJ and Stefano congratulating the Fake Rafe for a job well done. Fake Rafe ended up killing Fay to keep her quiet and EJ was wracked with guilt, so Stefano reminded him of what he stood to lose of the truth came out.
Eventually, the real Rafe escaped he insane asylum Stefano had placed in him, and helped Sami take down his doppelganger. Stefano and EJ were implicated and arrested. Law enforcement was confident that they could finally put Stefano and EJ away, especially once they convinced the Fake Rafe to testify against them. Unfortunately, some prisoners that Rafe had put away thought the Fake Rafe was him and they killed him, meaning Salem PD had nothing on Stefano and EJ and had to let them go.
When Brady found out that one of EJ's employees had killed Arianna, he blamed EJ and assaulted him in a drunken rage. EJ survived the beating and Stefano was determined to find out who was responsible and his brought him into conflict with Victor.
Eventually, Stefano and Victor decided to end the war for the sake of their families, but Stefano had a man on stand by in case Victor wasn't sincere. The man believed Victor was going to out a gun just as Maggie Horton located the men. The bullet hit Maggie and Victor believed Stefano had tricked him.
Though he was mad at Stefano, he agreed not to retaliate when Maggie begged him not to. EJ raged at Stefano and he had an diabetic attack. Chad was concerned about his father and was dismayed when EJ refused to help him. Kate and Chad helped Stefano recover. Brady retaliated and Chad was shot in the shoulder. Afterwards, Chad decided to cut ties with Stefano and EJ for his own safety, and moved out of the DiMera Mansion.
With the creation of Horton Town Square in honor of Tom and Alice Horton, Bo and Hope soon discovered that Alice and Stefano each had a secret about the other. They had locked both secrets away, and Bo and Hope convinced Stefano to help them unlock the box, so they could find out the secrets.
Turns out, Stefano's secret was that and John and Hope were married and never got divorced, so they headed to Alamainia to get divorced. Stefano followed them, but before he left, he opened Alice's letter to him and was startled to learn EJ wasn't really his son. Stefano kidnapped John brainwashed them to become Princess Gina and the Pawn. Stefano ordered them to steal an artifact, but the two escaped Stefano's mind control and returned to Salem
John and Hope have the coin they found to the ISA and Stefano was furious. Stefano had one half of a mysterious coin that his father had given to him. He was determined to find the other half. Stefano issued an attack on Marlena, and she, John, Bo, and Hope were transferred to a safe house. Their guard was Stefano's double agent and when he ordered them to be dealt with, he agent blew up the Safe House.
A plan was hatched to set up Stefano for an illegal arms deal so they could finally get him. They apprehended Stefano, but he maintained his cool. They were forced to let him go when it was revealed he was working for the ISA to help catch the guys selling illegal arms to the Americans and had gained immunity for all his crimes.
While in Alamania, Stefano decided to test Kate's loyalty. He had a package containing a picture of Marlena shipped to Kate. Kate believed Stefano's obsession with Marlena had returned and when she couldn't get a hold of him, she slept with Ian McAllister. Stefano was heartbroken and got revenge by taking Kate's business and giving it to Sami
Stefano began pushing EJ away without telling him why, but EJ eventually discovered the truth and begged Stefano not to disown him, but Stefano told him Chad would take over the DiMera legacy and asked EJ not to say anything yet.
Around the same time, Lexie discovered she had terminal cancer and It was believed that the tumor was caused by the gasses for when Andre had trapped her in the tunnels. EJ and Abe blamed Stefano for Lexi's illness and even Stefano blamed himself, but Lexie forgave Stefano and told him she loved him.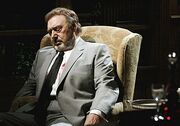 On a dark stormy night, Stefano's enemies all came to the mansion and confronted him at gunpoint. After they all left, someone snuck into the mansion and took a gun off the table. Stefano didn't hear them because he was listening to opera. The assailant fired at Stefano while he was sitting in a chair facing the fireplace. Stefano was found dead the next morning and EJ became the prime suspect when it became known that he wasn't Stefano's son.
As the evidence piled up against EJ, he and Sami prepared to leave Salem together, but he was kidnapped by Ian and taken to a room where it was revealed that Stefano was alive the whole time. Ian had kidnapped Stefano and killed a body double to fake Stefano's death, so he could torture him for information. Ian had the other half of the coin Stefano wanted and wanted Stefano's half. Ian's rational was that his mother had been involved with Santo, and Santo had been like a father to him. He also revealed he had faked Alice's letter and EJ and Stefano really were father and son. EJ escape his bound and knocked Ian out. Stefano was taken to the hospital, but soon disappeared.
With the DiMera family in shambles, Stefano sought out Kristen to return to Salem and bring the family back together. He also had Kristen give Kate divorce papers. Kate went to see Stefano and tried to get him to change his mind, but Stefano was adamant about the divorce and Kate reluctantly signed the papers. On Christmas, Stefano greeted his children through webcam.
When Stefano returned, he brought his new girlfriend Cecily with him. Stefano and EJ talked about what had went on between them and reconciled. This was a ruse on EJ's sort who was secretly working with Justin Kiriakis to take DiMera Enterprises from Stefano.
Stefano was shocked when Kate accused him of attacking Rafe because they are together. Jealous, Stefano gave his Bernardi, a dirty cop in his payroll, a fancy razor and told him "to cut it off" but Bernardi was shot and killed by Sami. In the meantime, EJ made his move and successfully ousted Stefano as head of DiMera Enterprises and kicked him out of the mansion, but Sami was arrested and put on trial for murder, especially since the cops couldn't find the razor.
When it looked like Sami was going down for murder, Stefano made his move and revealed he had the razor. EJ told Stefano that he would give him back DiMera Enterprises, but Stefano also wanted EJ and Chad to live in the mansion, and be loyal sons to him.
As EJ and Sami's engagement party, Chad was shot by Barnardi's vengeful widow and everyone told Stefano he was at fault and set things in motion. Stefano realized they were right and told God that of he saved Chad's life, he would be a better man. Chad survived the surgery, but needed additional surgery in Boston, so Stefano accompanied him to Boston.
When Stefano returned to Salem, he stopped by Rafe's apartment and apologized for the Bernardi incident. Much to Sami's surprise, Stefano also apologized to Sami for almost sending her to prison, but Sami refused to accept the apology. The Brady's tried to use Stefano's new morals to get him to give up Kristen, but Stefano refused to betray his daughter.
Marlena asked Stefano for a chance to speak to Dr. Chyka. Stefano was skeptic, but allowed Marlena to talk with Chyka, as long as she didn't try to locate him. The laptop Marlena used detected Marlena's efforts to track down Chyka and Stefano ended the conversation, berated Marlena for deceiving him, and kicked her out of the mansion.
Chad had made Kate promise to have dinner with Stefano and hear him out. Stefano mostly let Kate tell him off for his actions, and she refused to reconcile with him. Stefano tried to woo Kate with a diamond ring, which she kept even though he refused to give Stefano another chance. Before leaving town again, Stefano warned EJ about the consequences if his affair with Abigail Deveraux was exposed.
While Stefano was out of Salem, Kate and Sami formed a plan to steal DiMera Enterprises from him. Kate worked to gain Stefano's trust, while she and Sami dug up evidence that Stefano and EJ had committed tax evasion. Sami married EJ, and had him arrested on his wedding day. Stefano was on his way back to Salem when he learned that there was a warrant out for his arrest. Stefano made Kate his proxy and EJ made Sami his proxy. Kate and Sami then persuaded the board members to vote them as Co-CEO's of DiMera Enterprises. Stefano was furious when he learned what Sami and Kate had done and vowed revenge.
When Kristen was apprehended and brought back to Salem, Stefano found A new formula that could bring John out of the coma he was in. Kristen was able to get Eric to drop the charges in exchange for the formula, which was administered and brought John out of his coma. Stefano was all set to return to Salem, when Rafe found some new evidence, courtesy of EJ, so Stefano was forced to stay away.
Chad returned to Salem, and went after EJ for sleeping with Abigail. Chad's loyalty was in question because while he told Kate he wanted Stefano to never return to Salem since he didn't keeo his promise to change, he also informed Stefano that he told Kate everything she wanted to hear while calling him an old fool in private.
As Kristen celebrated her freedom, Stefano warned her not to let her guard down, and sent Kristen a picture of Susan to remind her of that. Kristen was irritated with Stefano for showing her that picture, and said was getting bad vibes. Stefano joked that she sounded like Celeste, and Kristen told Stefano it was his fault for showing her Susan's picture.
Stefano asked Kristen to get his will from the mansion, but when Kristen went to the mansion, she ran into Susan. Stefano called Kristen and heard Susan screaming. Stefano wanted to know what that infernal rakcet was, and Kristen said it was Susan. Stefano was shocked that Susan was in Salem, and yelled at her to get out of his house. Stefano apologized to Kristen, and said he'll have his men make sure Susan leaves town.
Stefano and EJ were supposed to be working together against Sami and Kate, but he questioned his son's loyalty when EJ got back together with Sami. EJ assured Stefano he is working to restore everything he lost, and warns Stefano not to go after Sami. Stefano wonders if that is a challenge. Later, Stefano learns from Chad that EJ was the one who gave Rafe the evidence against him. EJ later calls Stefano and says that Victor says he is working to undermine him. Stefano calls Victor a lying since he doesn't want to undermine EJ; he wants to destory him.

EJ assures Stefano everything is going to according to plan, but Stefano tells EJ he knows he gave him the evidence against Rafe and says his son's betryal is far worse than what Sami and Kate did. Stefano tells EJ no more mies, so EJ admits he did after Stefano threatened Sami. Stefano rages at EJ for betraying him for Sami, and insults her. Stefano says that at least he has one loyal son left, and EJ questions if Stefano is disowninf him. Stefano tells EJ he is no longer his son and hangs up.
Stefano was devastated to learn that EJ was dead the next time he phoned and Sami answered it. Stefano called Kristen and had her inject EJ with something, and then steal his body from the morgue. Stefano had a urn of ashes sent to Sami and vows that she would never find out those ashes weren't EJ's.
Stefano and Chad worked together to dethrone Kate as CEO of DiMera Enterprises, and Stefano was reinstated. Stefano told Chad that he would have to earn his way up, and learn the ropes to one day succeed Stefano as CEO. Stefano also managed to get the charges against him dropped, which allowed him to stay in Salem permanently.
When Kristen was presumed dead during a fight with Marlena, Stefano had her kidnapped and taken to the DiMera castle. He planned to push her through the same window that Kristen fell through. Chad phoned Stefano, and said if he murdered Marlena, then Stefano would lose Chad forever. Stefano relented and returned Marlena to Salem.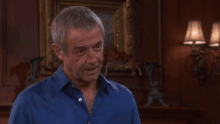 After Stefano returned to Salem, he was visited by Clyde Weston whom he saw as nothing more than a "hilly billy simpleton". Clyde secretly places a bug in the DiMera house, soon Stefano orders him to leave and Stefano's henchman take Clyde out.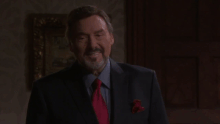 Stefano meets with Victor about Clyde. Victor reveals to Stefano his past dealings with Clyde and assures Stefano that Clyde is a serious threat to both of them and their families. Stefano and Victor agree to work together against Clyde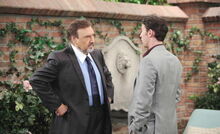 When Chad and Abby slept together, Stefano made it no secret that he knew. He pushed for Abby and Chad to get together. Chad questioned Stefano's strange interest, but he said he only wanted his son to be happy. Chad didn't believe Stefano, and got him to admit his real motive. Stefano wanted control of the land that Abby had inherited from her recently deceased nanny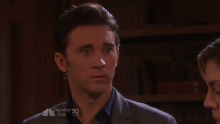 Chad decided to push Abby away, not wanting her to be a pawn in Stefano's schemes. Stefano was furious with Chad for defying him, but when he realized Chad couldn't stay away from Abby, he continued to push Chad with Abby. Chad eventually told Abby the whole truth about Stefano's plans in front of Stefano, and Abby said she and Ben were having a baby. Chad wished her well, and left. Stefano and Chad argued, and Stefano disowned Chad.
When Chad was accused of murdering Serena Mason, Stefano offered to help Chad if he got back together with Abby, so he could get the island. Chad refused Stefano's help, and later accused Stefano of setting him up. Stefano denied involvement, and the stress caused him to have a heart attack. Chad initially thought Stefano was faking, but realized the heart attack was real, and called the ambulance.
Andre returned to Salem to help Stefano, who is revealed to be his biological father, and he also helps Chad escape custody but Chad doesn't even know who he is. Andre gives Chad a cellphone that can't be tracked and helps him escape the dock house before the police come. Due to his illness, Stefano mostly steps back and lets Andre handle his businesses. After Chad slips into a coma, Stefano visits Chad in the hospital and encourages him to fight. He encounters Sami and they have a tense stand off with Sami blaming Stefano for Will's death.
Stefano and Andre plot to have Aiden kill Hope to pay them back but Aiden decides to do it as the necktie killer, so Chad can also be freed. Aiden temporarily backs out of the plan and offers to get Chad off on an insanity plea. Stefano rages that Chad is not insane, and Andre has a henchmen take Stefano out of the room. Stefano and Andre attended the Bicentennial celebration to wish Hope all the best, but they were subtly saying goodbye to her.
Stefano and Andre waited for news, and learned that Aiden has been killed during a struggle with Bo; however, it was enough to cast reasonable doubt on Chad and he was released. Stefano was glad to have Chad back home, but Chad told Stefano that Andre had visited him in the hospital and said it would be better off for the family if he stayed in the coma or died. Rather than deal with it, Stefano ordered Andre to take him to his room.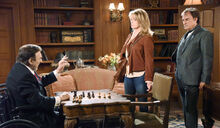 Marlena barged into the DiMera mansion, and stated ranting about Andre kidnapping Sami. Andre claimed Marlena was talking crazy, and Stefano told Marlena that he will deal with it. After Marlena left, Stefano demanded Andre tell him what is going on. Andre told Stefano he has no idea what Marlena was talking about and assured him he would deal with it.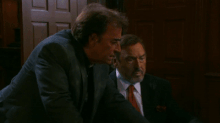 Stefano was furious when he discovered Sami had stolen all his money, and suspicious of Andre's determination to get the money back, noting it was out of character for him. Andre assured Stefano he just wants to help him. Andre had a few run ins with Bell, who had returned to Salem and was separated from Shawn. Andre decided the best course of action would be to have Chad seduce Belle into telling them where Sami hid the DiMera fortune.
Stefano told Chad his birthright was gone, and Chad said Sami was just doing what EJ wanted her to do. Stefano asked if he is going to help them, but Chad said he didn't feel motivated. Andre returned and Stefano asked if he found Sami. Andre said he found Belle newly single and in need of a new man.
Andre later had Stefano brought to the basement and said Chad would do what they wanted. Stefano complained that Andre was brainwashing him. Andre said he was doing it for the family, but Stefano still didn't like the fact that Andre was using Chad like this.
Abigail confronted Andre and Stefano, saying she knows they did something to Chad. Andre denies doing anything to Chad, who walks in and says he masks his own decisions. He asked to speak to Abigail alone, so Andre takes Stefano out of the room.
Stefano spoke with their investigator, and noted he was no closer to finding the money. Stefano wondered if the money would ever be found, and admitted to Andre that he was beginning to wonder if this was the end of the road for the DiMera's. Andre encouraged Stefano not to give up, and wondered why he was acting like this. Stefano sighed that he was just tired.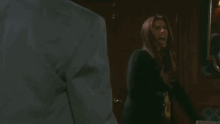 Hope accused Stefano of being responsible for Bo's kidnapping and subsequent death from a brain tumor. Stefano laughed off Hope's accusations, and taunted her about how she and Bo were inferior to him. Stefano confessed to everything she accused him of, but claimed that it was a false confession. He continued to taunt Hope about how she was weak and couldn't kill him. Hope drew Bo's gun and pointed it at Stefano, but then lowered it. Stefano stood out of his wheelchair and continued to taunt Hope about Bo, causing Hope to finally snap and shoot Stefano in the chest. Stefano laughed at her and Hope shot him again. Stefano fell back into his wheelchair, and as he fell, his hand scattered the chess pieces on his chess board. Stefano lay motionless as Hope shot him again, declaring he will never hurt her family again.
Rafe showed up at the mansion to find Hope kneeling on the floor by Stefano's bullet-riddled body, crying. Hope admitted that she shot Stefano, and Rafe confirmed he was dead. Rafe agreed to protect Hope, and put a bag over Stefano's body. He and Hope did their best to remove all evidence that could implicate her. Hope briefly picked up a photo of Stefano, but put it down. She and Rafe attempted to reset the chess board the way Stefano had it, so know one would suspect a thing. They wheeled Stefano out of the mansion and went down to the pier to disposed of his body in an old abandoned building, scheduled to be demolished. When they were done, Hope declared that the Phoenix will never rise again. Rafe sent a text to Chad and Andre from Stefano's phone, claiming Hope had figured what he had done. Hope had nightmares about killing Stefano, and Andre eventually found a hand that had Stefano's ring on it, but was unable to recover it before the building collapsed. Andre took Stefano's ring to proof to Chad that he was murdered, and started wearing it after a brief stint in prison when was framed for Stefano's murder.
On March 1, 2016, Stefano's spirit appears to Chad at the DiMera mansion. Chad laments about his tumultuous relationship with Stefano and admits that Stefano was the most terrifying person he has ever met but that EJ and Andre were a close second. Both admit that Lexie was the best of all the DiMeras. Chad admits that although he rejected the type of man Stefano was, he always wanted to make Stefano proud and feels like a pale imitation of Stefano. Chad asks what happened to Stefano explaining he doesn't know who to be or how to move on. Stefano tells Chad he thought his crimes and schemes were all a game but now he is paying for it in ways he never thought possible and he will continue to pay for all eternity. Stefano tells Chad he is a good boy and to be the man he wants to be because nothing is stopping him now. Chad cries and hugs Stefano good-bye.
On March 2, 2016; Stefano's enemies gathered at the Brady Pub to celebrate his death as well as reminiscent about all the pain he caused. Abe and Kate were the only ones who said something positive. She noted that Stefano was always good to Theo, and that he loved his family, but also wanted to control them. He reminiscent how Stefano's family was corrupted by him, even Lexie, who saw the good in him. Kate said she was gregarious to Stefano for helping her all those years ago to take care of Lucas. John decisd to toast to Stefano and thank him for testing them and making them stranger. As everyone was leaving, Stefano's spirit appears to Hope at the Brady pub with an evil laugh. On May 20, Chad has a dream that Stefano is at the mansion. Stefano advises him to let go of Abby to protect his son, but Chad refuses.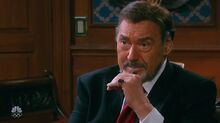 On June 8, Stefano appears to Hope and told her she is no better than he is. Hope said Stefano was a monster, but she admitted she had no right to take his life. Hope tells Stefano she can promise she will look out for Chad, and Stefano says he will hold her to that, before vanishing. On July, Stefano appears to Chad to warn him not to trust Andre.
On October 31, Andre exposed Hope publicly for killing Stefano. Hope plead guilty and was sentenced to twenty five years in prison in November 2016. Rafe and Shawn worked to find a way to get Hope out of prison. They asked Chad for access to Stefano's personal computer, and found an email from Stefano's doctor that revealed he was already dying of a terminal illness when Hope killed him, and likely forged the evidence that pointed to him as the one who held Bo captive and tortured him, so Hope would be motivated to kill him. When that wasn't enough, Stefano intentionally mocked her and Bo, until she killed him.

On December 27, according to Shane Donovan, the ISA located a man who bears a strong resemblance to Stefano's description in Prague, Eastern Europe. The picture that he showed to the Salem P.D. is very vague yet the man in it bears a strong resemblance to Stefano. There are also rumours that he is building a power base in Eastern Europe and is most likely the one who took a lot of assets and money from DiMera Enterprises. It is later revealed that the body that was buried in Stefano's grave isn't him and so it is very likely that the Phoenix has risen from the ashes once again.
On January 5 2017; Rafe, Steve, Marlena, Paul have set out to locate Stefano, if he's still alive, and to exonerate Hope and get her out of prison. Steve met with Agent Reznik, who speculated that Stefano was in the middle of an arms deal. and set up a meeting. Marlena and Paul tracked down who they thought was Stefano, but Anna was also in Prague and she tried to shoot at "Stefano", who fled. Later on, Carrie and Austin arrive to get Anna and Marlena out of trouble after they were arrested, while the rest of the gang arranged an arms deal meeting with Stefano, they believe they got the upper hand on him for they think he spent all his money on the arms deal he has set up.
The gang arrived at the location of the meeting, and Stefano arrived in a limo and he was about to come out till Anna started took a shot and hit Steve. Stefano fled but in the process he dropped a key to a safety deposit box. Rafe recovered it and the rest of the gang believe they have the upper hand on Stefano.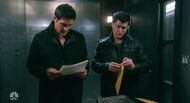 He and Paul track down the bank where the box is, and an employee identifies Stefano as the owner, but says he used a different name: Serge Anatol. It's one of Stefano's aliases. They open the safety deposit box and inside they find bank statements and a chess piece - the Queen, a symbol of his legendary obsession towards Marlena. Rafe begins to think Stefano's playing with them. They find property deeds to two local properties for a Rudolpho Meradi. Another alias. When the homes turn out to be a dead end, the ISA threatens to pull the plug on the manhunt.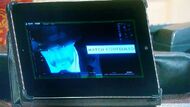 On January 27, in the hotel in Prague, Rafe's on edge still and complains that Shane's late. "Time is of the essence." Shane arrives. Everyone's happy to see him. He tells them Stefano's been at one of the houses they've been surveilling. Shane shows everyone a photo taken yesterday of the man they suspect is Stefano. The ISA will be making the call as to when the arrest goes down. Rafe bitches, asking "When? Today? Tomorrow?" Shane takes off and Steve suggests they take him down now, instead of waiting for the ISA to sign off on the lead. Marlena suggests she put herself out there as bait.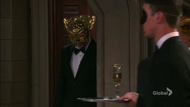 On January 31, Marlena wants to be bait in order to capture Stefano. After some convincing, Rafe, Steve, and Kayla agree. "Let the games begin," Marlena says. Paul worries this is a catastrophe waiting to happen and can't go ahead unless he calls his father first. Marlena takes him aside and convinces him that they need to do this for the 'greater good' of every human in Salem. He gives in but refuses to let her out of his sight. Later, Rafe has gone out and returns with a flyer for an invitation only masquerade ball. They agree Stefano would be drawn to it. Rafe contacted the ISA and was told one of Stefano's aliases, Mr. Meradi, is on the list. They got an invite. In some alley, some kid gives Mr. Meradi his invitation to the ball.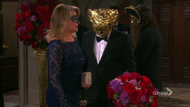 On February 7, the Masquerade Ball began and all the players were on the lookout for Stefano, who finally arrived at midnight on February 8. Stefano approached Marlena and then the lights went out. In the chaos and confusion, Stefano attempted to flee, but was stopped by Rafe and Steve, and finally apprehended.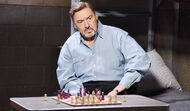 On February 9, at the police station in Prague, Rafe calls Shawn to tell him that they caught Stefano. Steve says he hasn't spoken a word since he's been captured. Marlena has a lot to say to Stefano. Steve says he won't talk back. She's fine with that. Anna walks in with Tony's urn and wants a crack at Stefano, too.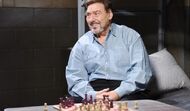 Marlena lets Anna talk to Stefano first. Anna goes to his cell and shows Stefano what she has left of Tony. His urn. Stefano laughs. She goes on about how he came between her and her love every time he could. Stefano chuckles again and shakes his head. She yells at him to say something but he doesn't. She recounts that everyone in his family is dead and Stefano frowns. She's happy that someday she'll see Tony in heaven. "But you. You're headed straight for hell." She goes and Stefano sneers. Anna returns and Carrie hugs her. Anna didn't get what she wanted. Rafe mutters, "He heard you." Anna was satisfied just seeing him in a cell. She cries a little. Kayla finds this all so surreal. She's waiting for the other shoe to drop. Steve reassures her. Stefano is done. "The Phoenix doesn't have it in him to rise from the ashes one more time."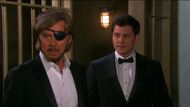 Marlena visits Stefano. He seems surprised to see her. Marlena has realized that his fear is what makes him tick. She knows he'll hate prison. Marlena gloats that Hope will be home and Steve and Kayla will remarry. "And me, I'm going home to John, the great love of my life." Stefano looks mildly annoyed. She gives him the queen from a chess set and says, "Checkmate," before leaving him alone, teary-eyed. Later, Rafe heads to the cells to taunt Stefano. Rafe's happiest for the Brady's. Maybe when Sami finds out Stefano's going to remain behind bars, she can finally come out of hiding and come home. He mocks Stefano for gloating a grieving woman into putting a bullet in him. "You lost," he says.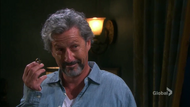 Elsewhere, everyone leaves as John calls Marlena and learns Stefano is in jail. Later, Steve goes to see Stefano but he has disappeared from his cell without a single trace! On February 10, it was revealed that Shane was posing as Stefano in order to get Hope out of prison. On February 11, it is revealed that Stefano really did die when Hope shot him, and all of Stefano's activity had been orchestrated by Shane. They had replaced Stefano's body with a different one before Rafe had the DNA test ordered.
Stefano is dead...right?
Steve: What? Aw, that's pretty cute. Stefano feeding the pigeons.
Shane: Yeah, real cute. Except it's not me.
Steve: Come on, dude. If this is your idea of a joke, it's not funny. That's you feeding the pigeons.
Shane: I'm telling you, Steve, I never went to this park. And I sure as hell never fed any pigeons.
Steve: Seriously?
Shane: This isn't me
Steve: Okay, so the ISA followed another guy, some random doppelganger. Shane, we both know where Stefano is. We dropped the body in the grave ourselves. This guy just happens to look like him. Just a coincidence.
Shane: Yeah. And I believe that too.

Steve and Shane fearfully wonders if Stefano is still out there somewhere?!!!

Upon returning to Salem, Steve and Shane looked forward to Hope being exonerated for Stefano's murder, but Steve said they have to live with the fact that Hope tried to kill Stefano. Shane says that Stefano goaded Hope into it, and basically killed himself. Steve liked the sound of that, and adds that now Stefano is a fugitive wondering the world and waiting to die. Steve says know one will fear Stefano anymore, and that's how it should be. Shane reaffirms that the Phoenix is history. In actuality

Soon news of Stefano's assumed survival spread throughout Salem, and Hope was released From prison. Chad hoped to never to see Stefano again, and Andre was initially angry that Stefano survived because it meant that Stefano let him go to prison, but quickly got over his anger, and still held Hope responsible for trying to kill Stefano. Stefano's portrait continued to hang in the foyer of the DiMera mansion. When Chad was trying to acquire a cursed amulet, Andre told Chad the story of how Stefano tried to acquire that same amulet, but gave up after the man sent to retrieve it was in a boating accident.

On July 20, while babysitting Thomas DiMera, Andre told his nephew about his grandfather Stefano; about how brilliant he was in chess. Thomas picked the king piece, which impressed him, for it shows that Thomas is a true DiMera. Furthermore, he confesses to his nephew on how he feels that Stefano is watching them now and also wonders if he will ever see his father again. After an argument with Kate, Andre laments to Stefano's portrait that he has tried to be kind to Kate because of her affection for Chad, and in deference to him, but she has pushed him too far. The night before Chad and Abby, Andre tells Stefano's portrait that would be proud that Chad is marrying the women of his dreams, and wonders why Stefano won't be there to see it.

On November 21, 2017, Stefano's thought to be dead daughter Kristen is revealed to be alive and well in Memphis, Tennessee. She secretly slips into Will Horton's bedroom at Susan's home. Laughing to herself, she taunts the thought of Susan tricking Will into believing he was EJ, when she could have had the real EJ the entire time. Revealing that EJ is alive. Indicating Stefano was able to save his son from death three years ago, when he had Kristen inject EJ with a mysterious drug that somehow revived him.

On 2018 New Years Eve, Stefano's ex Vivian Alamain returned to Salem to Chad and Abigail's New Years Eve Party "Black Tie Affair" at Doug's Place and revealed her new found son with Stefano, Stefan Octavius DiMera. Stefano never knew he existed. Stefan was conceived when Stefano was posing as Rudolpho Meradi and seduced her to steal her ruby. She believed her baby was stillborn. However between 2016-17, Stefan learned of his mother's true identity. Stefan revealed he was the new CEO of DiMera Enterprises and he plans to embrace his birth right as the head of the DiMera family. It was soon revealed to everyone that Stefan is even more sick and twisted than his father ever was, for he is obsessed with his brother's wife's alter "Gabby", a woman that doesn't even exist.

In January 2018, André was murdered by an unknown assailant (later revealed to be Abigail), and at his funeral, the family expected Stefano to show up. Kate inherited the ring as Andre's widow and later gave it to Chad, who wore it for a few months before giving it up because he believed wearing the ring made him like his father and brother.

In August 2018, Kristen revealed to Sami during John and Marlena's wedding that EJ is truly alive as she was responsible for his supposed resurrection. In November, Sami found EJ in a warehouse that was controlled by Dr. Rolf and Kristen. She and Susan took EJ back to LA to be with the kids. There was all a door marked with the initials "S.D", implying that Stefano could have died and Kristen was currently trying to revive him. In June 2019, Xander revealed that Kristen has insisted on taking care of "S.D" and "A.D", wondering if "S.D." stood for Stefano DiMera since no one knew where he really disappeared to.

In November 12, Stefano's new granddaughter Charlotte DiMera was born.

In the Summer of 2019, Kristen returned to Salem to plot to take over her father's company as she believes Stefan is unfit and that she's the true new Phoenix. Rolf also returned to Salem and got revenge in Hope for shooting Stefano by turning her back into Princess Gina, though he adamantly believed that the Phoenix had outsmarted her and rose from the ashes. He also had Stefano's portrait stolen from the mansion and relocated to a warehouse that served as his and Gina's base. Rolf believed that Stefano and Gina could rule Salem together, thigh he didn't seem to be sure he would ever hear from his boss again until he received a mysterious phone call that caused him to glance at Stefano's portrait in shock.
Still alive, but greatly weakened by his ailments; Stefano remained a patient in the warehouse as Kristen and Dr. Rolf worked feverishly to save his life. Stefano was behind the door marked by his initials and almost died from the injuries he suffered when the warehouse caught fire in November 2018. Rolf then worked to keep Stefano alive and had Steve Johnson kidnapped. Rolf distilled everything that was Stefano, essentially his essence, and had it put into a microchip that he then implanted it into Steve.
In Steve's body, Stefano sent Kayla signed divorce papers and only send a card when Steve's sister Adrienne died. Stefano returned to Salem and hid out with Hope (who Rolf had brainwashed into believing she was Princess Gina), and Gina started to work on a new portrait for Stefano that reflected his new look.
Sometime after returning to Salem, Stefano contacted Kate and called her to the warehouse. She was shocked to see him with Steve's face, and was hesitant to believe it was really Stefano even after he told her the dose of insulin she gave him. It wasn't until Stefano kissed her neck the way she liked that she realized it was really him. She wondered what Stefano wanted from her and he did he wanted an ally: her passion and her strength.
Kate said that she couldn't be seen with Steve, but Stefano said she would be a silent partner and could continue with her current life while working with him on the side. He promised her she would become a powerful force to be reckon with again in return for helping him. Kate also gave Stefano's ring back to him, who put it on his finger and said it was back where it belongs. Stefano also revealed that Hope was Gina to Kate as part of their alliance.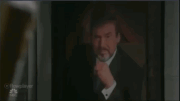 On November 12, 2020; Gina is in the warehouse painting and conversing with Stefano, who is sitting in a chair by his old portrait while they talk about their plan to break up John and Marlena, so they can each have them. Stefano sits quietly in the chair as Gina paints his portrait, and Gina notices he has been quiet since they talked about Marlena. Stefano has a laptop in front of him that he has been using to communicate with Chad, in his plot to remove Gabi Hernandez from DiMera for good.
Abigail gets involved and challenges Stefano to meet with Chad. Stefano agrees on one condition, which is later revealed to be a chess match. In the meantime, Gina goes to see John, and Stefano texts her whole she is there. "Stefano" and Chad start their chess match, and Gina returns while she resumes painting his new portrait. While talking with Stefano, she suddenly notices he is in checkmate. Gina worries now that "Stefano" lost the chess match and wonders what he is going to do.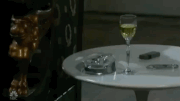 Gina forbids Stefano from seeing Chad, saying it will jeopardize everything they worked for and will also lead them to both go to prison. "Stefano" seethes in anger, and messages Chad while Gina is gone. He sends Rolf instead, but temporarily leaves the warehouse before returning. On Thanksgiving, Stefano sends Chad a text, wishing him a happy thanksgiving. Gina finishes up the portrait, and shows shows it to Stefano, who is still struggling with the idea that he is now in Steve's body.
Stefano got up from the chair and examined the portrait, saying it'll have to do. Gina took offence to that, but Stefano clarified that he was stop struggling with the fact that he now have Steve Johnson's body and face. Stefano looked at his old portrait and said it was the face of a man who runs his world and knows it. Gina told him his body had betrayed him, and Stefano said he survived the bullets Hope put him. Gina agreed, but noted that he still had diabetes and cancer. Stefano grumbled that he didn't need to be reminded.
Stefano continued to complain about having Steve's body, saying there had to be alternatives, but Gina flirtatiously assured him it was a good fit. Gina advises Stefano to look at having Steve's body as a victory since he has also permanently separated Steve from his loved ones.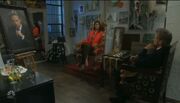 She recounts how Steve was anxious to clear his name and get back to his loved ones, but that was when Stefano made his move and had Steve imprisoned while he prepared for his transformation. She added it was a stroke of genius for him to just send a card instead of showing him at
Adrienne Johnson
's funeral as as Jayla divorce papers. Stefano said that if this was to be his his new body, he had to make absolutely sure that Kayla had believed Steve had abandoned her.
Gina was irritated about Stefano's thing for Marlena, calling her judgemental. Stefano told Gina to watch how she talks about his queen, reminding her that they both want the same thing. Gina poured them both a drink that Stefano deduced the ingredients of. He talked about how he had devised a new plan while she was with John.
Gina wonders what the plan was and Stefano said they may break the law. Gina said it was a good thing she was the commissioner, a job she and Stefano made sure she had. Gina talked shout how Sami had stolen half of his fortune and Stefano lamented how she was another thorn in his side since she won't let him anywhere near EJ, and claimed EJ needed him.
Gina asked about the plan again, and Stefano assured her that it would break up John and Marlena, so he could have his queen and she could have the leftovers. Stefano picked up a pawn from his chessboard and showed it to Gina, who grabbed it, saying she would gladly take John.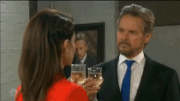 Stefano took down his old portrait and put the new one up; saying that if this is the new him, he needs to get used to seeing his face. Gina agreed with him and told Stefano they should make a toast. Poured them both a drink and they toasted to getting what they want as Stefano said it was good to be back.
Stefano informs Gina that Kristen is about to become a nun and plans to give her shares of DiMera to the church. Gina says they can't let that happen, and Stefano agrees, saying they will stop her. He gets in touch with Chad and tells him what Kristen is planning to do. Abigail calls Gina and says she wants to discuss Eve's case with "Gina". Gina wonders why since Eve has been in prison for months. Stefano tells Gina she has to go to make sure she is in control, and laments that it is a lesson he has tried to impart on Chad.
Stefano continues to ask for updates and feels sure that he will have the shares soon. Kate informs Stefano that Chad is lying and he was actually outwitted by the current CEO Gabi Hernandez. She wonders what Stefano will do and Stefano says nothing that she needs to worry about. Stefano's texts Chad and asks why he has been lying to his father. Chad responds that he didn't lie and Stefano says he knows that Gabi outwitted him and that he is still in Salem. Chad says he said he was in the process of figuring it out and asks to hear his vice. Stefano's responds with that he will be in touch. When Gina returns, she complains at how nosy Abigail is. Stefano tells her that Chad lied to him and he is sure it is because of Abigail, saying they may have to get rid of her permanently if she continues to be a nuisance.
Gina calls Stefano in a panic when Chad and Abigail summon an analyst to uncover who pushed Jennifer. While he is doing it in private, Stefano calls him and threatens to expose that he paid off the college to get his son in. He orders him to swap the Gina's image with Rolf's. Gina returns in a panic as Stefano is playing chess and she realizes what he did for her. She worries about Rolf and Stefano says Rolf will gave to take one for the team. She worries that Rolf will talk and Stefano says that Rolf would swallow another cyanide capsule for them.
Stefano called Rolf to the warehouse and informed him of what he did. Rolf said he had no illusion of his standing and said he was merely a pawn in the Phoenix game. Stefano had a plan to get Rolf out of town, but then Chad contacted Stefano and demanded he help bring Rolf to justice, or Chad would disown him. This troubled Stefano, but he still allowed Rolf to leave town. Rafe showed up the warehouse, and Stefano did while Gina stalled Rafe. She quickly got Stefano out and he called Kate, asking her to hide him. Kate said she was staying at the Brady Pub and Stefano complained about it, but ultimately agreed and thanked Kate.
When Stefano and Kate arrived, they saw Kayla and
Justin Kiriakis
there. Stefano hid from Kayla and Justin and Kate sneaked him in through the back. Stefano woke up in Kate's bed, but then Roman knocked on the door, so Kate gave Stefano his clothes and had him hide. Stefano's chortled at the idea of Kate having to explain to Roman what she was doing with Steve and Kate threatened to rat Stefano out, so he hid. After Roman left, Kate told Stefano he couldn't stay there any longer. Stefano was reading when Marlena came to the door to talk to Kate. Stefano's almost greeted Marlena, but thought better of it and hid instead.
Stefano wanted to give Marlena a broach, and Kate said she would be helping Roman at the hospital as he is playing Santa. Stefano jokes about her and Roman being together, and Kate says they aren't together, but this is very important. She mentions all of the Hospital staff will be there, and Stefano wonders if that includes Marlena. Kate says it does, but warns Stefano not to go anywhere near the hospital or try anything. Stefano steals Roman's Santa suit and heads to the hospital where he handed out gifts to the children and slipped the broach into Marlena's purse.
Kayla was there and noticed the person playing Santa resembled Steve when he was playing Santa. Realizing it was Steve's body under the suit, Kayla chased Stefano around the hospital and cornered him until Kate faked an emergency that Kayla had to attend to. Kate was furious with Stefano, who snapped that no one tells him what to do. He angrily removed the beard and hat and raged that he was sick of hiding in another body and it was time for him to get what was his.
Stefano returns to Kate's room and removes the Santa outfit just in time for Hattie to walk in. Stefano thought it was Marlena at first, and Hattie recognized him as Steve. Stefano almost revealed himself by saying he wasn't Steve, and then Hattie said she wasn't Marlena. Kate arrived and helped Stefano convince Hattie that Steve got a fake eye and was undercover and on a mission, so Hattie couldn't say anything less she be tried for treason.
Stefano prayed that Hattie keeps quiet. Kate joked abo his prayer being answered, and Stefano asked why not. Kate told Stefano he never would have been this careless before. Stefano insisted he had to get close to Marlena. Kate wonders if Stefano for the broach to Marlena, and he confirms he did. Kate asks Stefano to focus on regaining his company and to leave John and Marlena alone. Stefano asked why she is protective over Marlena. Kate says Marlena is her friend, but Stefano thinks she is jealous.
The two get into a huge argument and Kate snaps that she wants to regain her seat at the table. Stefano yells that she doesn't care about Marlena and just wants power, so get off her high horse. Kate snaps that this isn't worth it and goes to call Marlena and tell her everything. Stefano roars with laughter, saying if she does, she will be ostracized. Kate relents and asks Stefano again to not pursue Marlena. Stefano vows he will have everything he wants. Kate tells Stefano he'll have to sleep in the floor and not to crawl into the bed again. Stefano says he has to make a body move before New Years Eve tomorrow.
Stefano and Gina return to their hideout and Stefano blames her for failing to stop Rafe's investigation. Gina says that Steve's DNA was found in the cigar Stefano was smoking. Gina handed Stefano an eyepatch and said he could move around better if he pretended to be Steve. As Stefano and Gina got ready to attend Doug and Julie's New Years Eve Party, they contemplated revealing their truth selves, but after a coin toss, decided against it. Stefano wore the eyepatch and left his ring in the warehouse.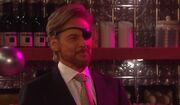 Stefano went public and pretended to be Steve. He said he wasn't back for Kayla, but Marlena. "Hope" clarified that she summoned "Steve" back to town when the DNA found on the cigar matched Stefano's. "Steve" assured Marlena Stefano wouldn't harm her while he is around. Kayla confronted "Steve" and said he was wearing a Santa suit in the hospital. She was sure it was him, but he didn't have an eyepatch. "Steve" denied it and said it must have been wishful thinking on her part. When questioned about leads on Stefano, "Steve" said he would rather celebrate the New Year and they can talk about that tomorrow.
Alone, Gina lamented to Stefano that it was exhausting pretending to be someone else. Stefano agreed with her, but said he was enjoying seeing Kayla and Justin getting all flustered. "Steve" approaches John and Marlena, and said that Kayla now has Justin to support her, and his focus is bringing Stefano down. When John questioned "Hope" on why she would leave them out of the loop, "Steve" said that all that matters is that all the people that have battled Stefano over the years can now come together to bring him down once again.
He figures they should call it a night, and Marlena asks where "Steve" is staying. "Steve" says he was hoping he could crash with them, and John says he could crash on the couch. "Steve" accepted, adding it would be safer for Marlena. "Steve" and John celebrated the reunion of Black Patch and John called Stefano a narcissistic jerk to his face without realizing it. As John went to get some blankets, "Steve" assured Marlena that he will stop at nothing to keep her safe and protected, adding she was precious to him as a friend, and then hugged her.
The next day, Stefano bemoaned his current situation. Gina called him, and they began talking about how Stefano planned to move in on Marlena. Hattie overheard the conservation and enquired about it. Stefano said that he was talking about how he planned to protect Marlena. Hattie wondered why he chose to reveal himself, and "Steve" said he had to since Stefano was getting closer. Hattie asked what she could do to help keep Marlena safe, and Stefano said she could move out. He suggested she could move into the Brady Pub and be his eyes and hears there. Hattie was thrilled that she wasn't be kicked off the team, and Stefano assured her she was an integral part.
As Stefano contemplates making his move on Marlena, Kayla shows up and demands to know what happened to him. She takes out a photo and asks what happened to the man in the photo. Stefano bellows that, that man is gone, and he is in love with another woman. Kayla is horrified and wants to know who it is. Stefano snaps that it doesn't matter now that she is with Justin. Kayla leaves in tears, and John confronts "Steve" about what he said. Stefano lies and says he only said that to get Kayla to back off. He asks John to keep his secret, but John says he can't lie to Marlena.
Stefano leaves a message for Gina, saying that she is right and that they need to hurry up with their plans before someone figures them out. He turns around and sees Jack standing there. "Steve" lies and says he was talking about the search for Rolf. Jack says he doesn't care and lashes at "Steve" for abandoning them and not showing up for Adrienne's funeral. Stefano shoots back that Jack should know a both abandonment as he didn't tell his wife and kids where he was.
Jack tears up, and says he had no choice, but said that "Steve" knew who he was when he signed those divorce papers. Jack said that Kayla didn't want a divorce; she just wanted him to come to his senses. "Steve" yells that Kayla is with Justin and says they are happy, and he is okay with that. "Steve" goes on to say that their only connection are their three children, which confused Jack since Steve and Kayla only have two kids.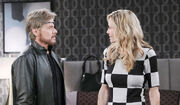 After Jack leaves, Stefano goes to visit Kristen. Kristen is shocked to see "Steve Johnson", and wonders what he wants. Stefano pretends to be Steve and acts like he has gone to Kristen, looking for info about Stefano. Kristen snaps that all Stefano seems to care about is the shares, so he can go to hell. "Steve" enquires about Kristen's relationship with Stefano, and Kristen starts to wonder why "Steve" is so interested in her and Stefano's relationship.
"Steve" says it is because they share a familia connection. He tells Kristen that he is her father, but Kristen assumes that "Steve" is saying he is her birth father. Kristen yells at "Steve" to get out, and Stefano screams that he not Steve Johnson, and says he is Stefano DiMera. Kristen stops, and Stefano rips off the eye patch, and grabs Kristen, telling her to look at him as he makes the face that Stefano made when angry.
Kristen laughs and thinks "Steve" is playing some sick jokes or undercover at the ISA. Stefano asks that if she can show up as Nicole Walker why can't he return as Steve Johnson. Stefano insists it is him, and that Rolf saved him and allowed him to rise again. Kristen laughs that Rolf is talented, but finds it hard to believe, and starts looking for a mask to rip off.
Stefano tells her to go ahead and look, but she won't find a mask. Kristen says it's not just his face, but it's his whole body that looks different. Kristen laughs if she expects him to believe that Rolf implanted Stefano's brain into Steve's body. Stefano shrugs that he doesn't like being in Steve's body, and takes the ring out of his pocket, saying that the Phoenix has indeed risen again.
Kristen stares at the ring and tells "Steve" that it proves nothing, and that he could have stolen her father's ring from Kate. Kristen demands he gets out, but Stefano says he isn't going anywhere. Kristen goes to call security, and Stefano asks why this is so hard to believe since this was her idea. Kristen asks what he means by that, and Stefano reminds her that she asked Rolf to save his life. He reminds her of the warehouse in Memphis and that he was behind the door marked "S.D." when the fire broke out.
Stefano says Rolf got him out, and Kristen said why Rolf didn't tell her, and she had assumed he had died in the fire. Stefano says he forbade it since she already mourned him, and he didn't want her to go through that again incase he actually died. Kristen asked why he reached out to Chad instead of her. Stefano says he knew that would upset her, but said he was weak from the treatments, and even after the transfer was successful, he was still weak. By the time, he was trying enough to contact her, he learned that she had miscarried his grandchild.
Stefano teared up as he grasps her hands and told her how sorry he was that happened. Kristen cried that she lost her baby. Stefano said that when he went to reach out to her, she was at convent. Kristen cried that she was lost. Stefano assures her that her father was here, and told Kirsten to come home where she belongs. Stefano told Kristen that they are like the Phoenix and rise again and are stronger for it. He says they can do this together, and Kristen says doesn't know what to be believe. Stevano says she knows in her heart it is really him: Kristen cries and begs more proof. Stefano calls her "his beautiful daughter" in Intalian. Kristen cried and says that is what he said when she was a little girl. Stefano says is still his little girl, and Kristen cries, happily embracing her father.
The reunion is interrupted by Abigail, who arrived to talk to Kristen about Stefano. Kristen asks Stefano if he wants her to get rid of Abigail. Stefano says that if Abigail wants to talk, then let's talk. Kristen helps him out the eye patch back on, and Stefano removes his ring. Abigail is surprised to see her "uncle Steve" there. "Steve" says he went to talk to Kristen about Stefano since he was helping to look for him. Kristen says that Stefano was here and standing where "Steve" is, making Stefano worry.
Abigail asks Kristen if Stefano talked to Kristen about selling her shares. Kristen said that he did, and "Steve" adds that she probably sold him the shares being his dutiful daughter. Kristen said she hadn't yet, and looked Stefano right in the eye, adding that she wasn't sure if she could trust him. Kristen then says they just missed him and that he will be leaving town for who knows how long.
Abigail asks if they talked about Rolf, and "Steve" asks Abigail if she thinks Rolf has something to do with Jennifer's fall. Abigail said she did and if she can prove it, Chad'll be done with Stefano for good. "Steve" cautions Abigail to tread carefully when handling her father in-law-. After Abigail left, Kristen bursts into laugher as Stefano furiously demanded to know why she scared him like that. Kristen laughs that she was just having some fun.
Stefano says she has a cruel bone as he puts the ring back on, and Kristen says she learned at the feet of the master, before adding that she is no longer a student and wants him to know she can be a force to be reckon with. Stefano questions if Kristen is threatened. Kristen kisses her father's ring, and says she would never go against him unless he gave her reason to. She says she wants Brady back, and Stefano agrees to help her, adding that he feels the same way about Marlena, and that they may be able to help each other.
Gina calls Stefano to meet with her at the Salem PD. She rush into Rafe, who is happy to see "Steve", and Stefano pretends to be happy to see Rafe as they embrace. "Steve" tells Rafe that "Hope" called him back to help track down Stefano. Stefano then enters Gina's office where she berates him for not keeping up his end of the deal and says Marlena has to die. Stefano roars with laughter, and Gina sneers about pushing Marlena over a balancing after luring her for drinks. She goes to call Marlena, but Stefano grabs her wrist and threatens to kill her. Gina sneers that she has his attention now.
Stefano says his efforts at DiMera have been haltered due to Kristen's stubbornness. Stefano tells Gina about his meeting with Kristen and assures her that she is loyal and has already provided cover for them by saying that Stefano has left the country, so they have more breathing room to think. He then comes up with an idea and says that John has to die. Gina says that is out of the question, and Stefano says that John and Marlena just die. Gina says he has gone mad, but Stefano suggests she let him explain. Gina ultimately agrees with Stefano's plan, though notes that it is risky if it fails. Stefano says he has faith that it won't fail, and the two head to John and Marlena's penthouse.
"Steve" and "Hope" visited John and Marlena, and "Steve" suggested he and John go out of town and look for Stefano. While away, Stefano has to listen to John insult him while on the phone to Marlena, causing him to break a glass in anger and almost attack John with a shard of glass. After John left the room, Stefano angrily declared he was tired of waiting and it was time for him to get what is his.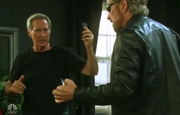 Gina and Stefano talk, and he admits he almost killed John, but promises that John will be hers just as Marlena will be his. Stefano heads down to the lobby, and tells John he has a lead on Stefano. John says he does as well and tells "Steve" to turn around. Stefano does so and is shocked to come face to face with Tony and Anna.
Tony and Anna sit down with "Steve" and John. Tony wants to help them find Stefano. "Steve" tells Tony he is sure he won't betray Stefano, but Tony says he has no more loyalty to him. He reveals Stefano contacted him asking for his shares, but when he refused a meeting, Tony got suspicious. Anna starts going on a tirade about Stefano, tearing him down, which causes "Steve" to snap at her. John and Tony are confused while Anna is offended. "Steve" can barely keep his anger in check even as he tried to correct himself.
John goes through "Steve's" bag and finds Stefano's ring. He asks him what he is doing with the ring and "Steve" says he got the ring from Kate and figured they could use it as part of their trap since the ring meant so much to Stefano. "Steve" and John go to a warehouse where they are cornered by Rolf at gun point. Rolf shoots "Steve", who pretends to be dead. Then, when John has his back turned, Stefano knocks John out.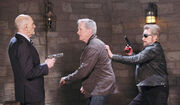 Stefano gloats over his fallen enemy and commends Rolf did his work. Rolf admits he was hesitant to shoot, but Stefano says he came through as always. Rolf wonders why Stefano doesn't kill John, and that way Marlena will be his for sure. Stefano admits Rolf has a point, but in the end, honours his deal with Gina and has John imprisoned as he returns to Salem and pretends to rescue Marlena, who is tied up in the warehouse. "Steve" tells Marlena that Stefano killed John, and that John's final request was for Steve to take care of Marlena. Marlena cries on "Steve" shoulder, devastated.
Stefano texts Rolf and says it's not easy to get Marlena to believe that John is dead, but he plan to give her a king instead of a pawn. Rolf texts back that he will let him know when it is done, and Stefano smiles. "Steve" shows Marlena photos of John after he had been "shot", and Marlena wonders why he would snap those photos. "Steve" said he needed proof, so she would believe him. "Steve" promises to always be there for her and kisses her.
Marlena is shocked and asks "Steve" what he's doing. She says Kayla is her fiend and that she can't do this to her. Stefano reveals himself, taking off the patch, and putting on his ring. Marlena is shocked and says that she can't be with a man as evil as Stefano. She reminds him that he locked her in a cage. Stefano says she might have been more receptive if she wasn't loyal to his pawn. Marlena says John wasn't a pawn, and Stefano talks about a life of bliss with him. Marlena then kisses Stefano back and starts taking off his clothes, but then says she canny do this to Roman, and Stefano realizes that Marlena is really Hattie.
Hattie reveals to Stefano that Kate told her everything. Stefano wondered why Kate would betray him after what he promised her. Hattie suggests that maybe friendship was more important to Kate. Hattie explains that Marlena and John are together, and they will out Stefano, and send him to prison. Hattie gloats that while Stefano is in jail, she wants him to think about the people who put him there. Stefano growls are Hattie to enjoy her victory because she just signed her death warrant. He then attacks Hattie, strangling her.
Chad and Abigail arrive and pull Stefano off of Hattie. Abigail asks "Steve" what happened to his eyepatch. Stefano tells Chad to let go of him and calls him his son. Chad is stunned and has a hard time believing it. Stefano takes out his ring and says to Chad that this is his birthright. He encourages Chad to join in him taking back DiMera, but Abigail tells Stefano that Chad can't trust him since he all he does is lie to Chad. Stefano tells her that this is between him and his son. Abigail tells Chad that she, Thomas, and Charlotte are his family. Chad says Abigail is right. Stefano tells Chad that he can turn his back on him after all these years, and says that if he thinks he is going to come quietly, then he doesn't know him very well.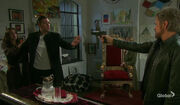 Stefano pulls out a gun and aims it at Abigail, who begs him bro to do this. Stefano tells him that she as been a thorn in his side since she married Chad, and he would be doing Chad a favour by killing her. Hattie cowers behind the throne and tells Stefano that he really is a monster. Stefano snaps at Hattie to be quiet.
Chad asks Stefano if he is going to shoot the mother of his grandchildren, and Stefano says he admires Chad's loyalty if only Abigail deserved it after murdering Andre and having sex with EJ. He starts calling Abigail derogatory names and Chad tells him that's enough. Stefano decides to let Abigail love for now as he wants to turn his attention to getting Marlena.
As he goes to leave, Chad runs up and grabs him. They struggle over the gun and Stefano is shot in the struggle. Stefano falls to the ground and Chad checks on him. Hattie talks about finishing him off, but Abigail says not now chad asks Abigail to call 911, but they both left their phones in the car. Stefano gets up and hits Chad over the head. He pulls the door shut, locking them in.
Stefano goes to Kayla's office where he poses as Steve and convinces her to patch him up while brushing off Kayla's feelings of pain and abandonment. He explains that Stefano kidnapped John and shot him when Kayla says she thought he was John. After getting patched up, "Steve" thanks Kayla and says he needs another favour from her.
"Steve" told Kayla that he needed somewhere to hide and not to let anyone know he was here while he planned his next move against Stefano. He said he was the only one who could defeat Stefano while everyone was save. Kayla eventually agreed after Stefano called her "sweetness", which is what Steve always called Kayla. After Kayla left the room briefly, Stefano deleted a voice message that Roman had left for her.
.
Kayla took "Steve" to a warehouse where she continuously cared for his wounds while continuing to tell "him" how much he hurt her. Stefano did his best to feign an apology and compassion for ho she felt, even calling her sweetness multiple times, which eventually angered Kayla, who told him he had no right to a call her that, so "Steve" apologized.
Stefano gets finished with a call from Rolf, thanking him for the provisions. Kayla thinks Justin is worried about her, and Stefano snaps at her to stop talking about Justin. Kayla says Justin is wonderful and asks why "Steve" cares. Stefano says he doesn't and that he is bored. Kayla is tired of his cruelty and says he is in love with another woman. "Steve" admits it's true, and Kayla cries that today is their wedding anniversary, but "Steve" argues that it doesn't matter since they aren't married anymore.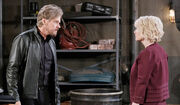 Kayla demands to know the woman's name, so Stefano admits it is Marlena. Kayla can't believe it since John is his best friend. Stefano says that John isn't worthy of Marlena, and refers to John as a lowly pawn while calling Marlena a queen. Kayla says he is talking like a crazy person and then realizes he is talking like Stefano DiMera. Stefano removes the eye patch and declares that he IS Stefano. Stefano puts his Phoenix ring back on and says he has risen from the ashes.
Kayla finds it hard to believe, and Stefano says Rolf transplanted his consciousness into Steve's body. Kayla has trouble processing and continued to believe he is Steve, but Stefano insists that he is who he is, and Kayla wonders when this happened. Stefano says last year, and Kayla realizes that that's why he has been so cruel to her, and Stefano adds that that's why Steve missed his sister's funeral. Kayla asks "Steve" to stop talking like he is someone, but Stefano declares that he is only Stefano.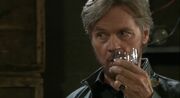 Stefano pours himself a drink and Kayla tries to get though to Steve, but Stefano laughs and says nice try, but says that her Stephen Johnson is dead. He raises his glass and declares a toast to the one and only Stefano DiMera: Long live the king, and takes a drink. Stefano asks if she would like a drink, and Kayla says that she is leaving because he has gone mad and needs professional help. Stefano grabs Kayla's arm, and she says she will scream. Stefano tells her that no one will hear her and says he is a wanted man, and she provides and excellent bargaining chip, so she isn't going anywhere.
Stefano went to see Justin, who grabbed him and demanded to know where Kayla is. He looks into Steve's eyes and begged him, but Stefano's reminded him who he was talking to and demanded Juston let him go. Stefano assured Justin that Kayla was unharmed and said he had no plans to harm her since she was more useful to him. He showed her proof of Kayla holding a newspaper with the current date. Justin asked what Stefano wanted and he said he wanted ten million dollars. Justin said Victor would never give one of his worst enemies money, but Stefano said he would do it for Justin since Justin loves Kayla. Stefano promised he would disappear with Steve's body, so he and Kayla can be together.
Stefano then went to the mansion where he drugged Chad's drink. He then left the Phoenix Ring in an envelope with some notes for Chad to read. He hid and listened as Chad put his old portrait back on the wall and wondered aloud to it why Stefano wouldn't turn himself in. When Chad left the room, Stefano emerged from his hiding spot and said he isn't ready to give up not when he is close to getting everything he wants. Stefano continues to hide and spy on Chad until the next day when he appeared ready to reveal himself, but Gabi arrives where she and Chad argue.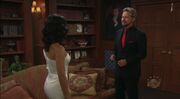 After Chad leaves, Stefano emerges and confronts Gabi. He compliments her on her idea to implant an exploding pacemaker in Julie and tells her he once had Rolf put a chip in Vivian's tooth to control her. Gabi says he should have thrown off a cliff. Stefano notes that there is no love lost there, and Gabi says she hates her and blames her for Stefan's death. Stefano laments that he regrets that he never got to know his son, but says he prefers to look forward and keep his eye on the prize.
Gabi suggested they could team up, but Stefano refused, saying she may have fooled Stefan, but not him. He accuses Gabi of seducing Stefan for revenge, but Gabi says she loved Stefan. Stefano refuses to let her run DiMera and Gabi says that Chad is weak, and that Kristen wasn't really his daughter, and that she is crazy. Stefano snaps at her for insulting his children and says she may have married into his family, but he won't let her get the mansion or his company. Gabi nervously stammers that Stefano is just an essence and refuses to back down. Stefano tells her not to cross him if she doesn't want to be reunited with Stefan forever, and then leaves.
Stefano goes back to see Justin, who tells him he got the ten million. Stefano says he needs him to do one more thing and demands Marlena in exchange for Kayla. Justin is furious with Stefano, but he insists those are his terms. Stefano leaves and returns to the warehouse just in time to stop Kayla from escaping. Rolf secures Kayla, and she and Stefano argue about his alleged love for Marlena, which Kayla thinks is sick and calls obsession. Kayla says Marlena will never love Stefano and Rolf suggests he could modify Marlena's mind to make her fall in love with Stefano more easily.
Justin and Marlena showed up at the warehouse for the switch, but started stalling since it was a trap for Stefano. Stefano got impatient and held a knife to Kayla's throat. He then forced her up at gun point, And demands Marlena again. While all this is going on, Chad reads the note Stefano left for him, which talks about how the death of some of his children has taught Stefano that his children are the future. He then talks about Andre being gone, and his tumultuous relationship with him, saying they always agreed that family was the most important thing. Chad was then brainwashed to be Stefano's loyal servant and heard his father's voice in his head.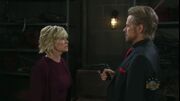 Chad approached Stefano's portrait and imagined it giving his orders. Stefano's voice instructed Chad to put the ring on and he dutifully did. Back at the warehouse, Justin gets in between Marlena and Stefano. At the same time, Kate told Chad the authorities would soon apprehend Stefano and forcibly turn him back into Steve, Stefano's voice demands Chad to tell Kate that is never going to happen. At the warehouse, Kayla got in between Stefano and Justin and tried to get through to Steve, but Stefano told her it was no use and that Steve was gone. Justin used the distraction to try and take down Stefano. They struggled over the gun and Stefano knocked Justin out. He then grabbed Marlena and fled. They found Rolf with John out, and Stefano's contemplated killing John, but was forced to flee.
Stefano and Rolf took Marlena to the DiMera gatehouse, who told Stefano she would never he his. Stefano assured her that after Rolf's procedure, she would fall in love with him. Marlena told Stefano the real him would want to dominate her instead of making her an obedient slave. She called the version of him in Steve a cheap copy that pales in comparison to the real Stefano. Stefano kept his composure and remained undeterred by Marlena's words. Meanwhile, Stefano's voice guided Chad to Gabi's hospital room where he instructed him to kill her, so he could have DiMera all to himself. Chad was stopped by Rafe coming into the room. He then went to the gatehouse where he stopped Marlena from leaving and Rolf injected the microchip into his neck.
Stefano sat with Marlena, and wondered what he must do to make her his. Rolf suggested that Stefano remind her of the good times they had. Stefano asked Rolf to stand back, and as Marlena woke up, he told Marlena of how she cared for him after he was pushed off the balcony and paralyzed. Marlena asked who would do such a terrible thing? and Stefano said it didn't matter, but she cared for him and now he wanted to return the favour. Marlena asked for John, and Rolf advised Stefano to be patient and to keep reminding Marlena of what they shared. Marlena asked for some water, and as Rolf and Stefano got her water, he said he needs something more. Rolf gave Stefano a book that he once gave to Marlena, and she read to him from.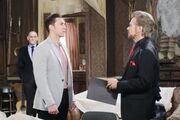 Stefano read Marlena her favourite passage from the book, but she still asked for John. Stefano helped Marlena up, so she could get some fresh air, and then snapped at Rolf, saying it was a failure. Rolf assured Stefano that Marlena will eventually forget about John if he keeps reminding her of all the good times they shared. Chad showed up, having secured Kate's shares. Stefano was pleased with Chad and said that, once they have Kristen's, they will have the majority. He tells Chad to kill Kate, who seems stunned by the order. Stefano asks if that's a problem and repeats that nothing is more important then family. Chad says it will be done, and Stefano tells him to do it now.
Stefano goes to the mansion to speak with Chad. Chad is surprised to see Stefano as he thought he and Marlena would have left by now. Stefano admits that though Marlena is receptive to his advances, she still asks for John. Chad is surprised the brainwashing isn't working and Stefano tells Chad that it isn't brainwashing; he just made Marlena more receptive to him. Stefano expresses his disappointment to Chad, saying he thought he understood nothing was more important than "La Familia". Chad apologizes, and Stefano wonders why Gabi and Kate are still alive. Chad explains Rafe caught him trying to kill Gabi and he always gets interrupted when trying to kill Kate.
Chad explains that Rolf was captured and he had to make sure that he stayed loyal. Stefano says there is no one more loyal than Rolf. Chad tells Stefano how he convinced Rolf to remove Gina's microchip from Hope as a distraction. Chad says he hopes Stevano approves, and Stefano admits he is impressed, saying Gina had served her purpose, and no longer had a role to play. Stefano orders Chad to gather his children together, but to exclude EJ for now since he didn't want to deal with Sami. Stefano also orders Chad to finish Gabi and Kate off as soon as possible.
At his new hideout, Stefano is playing chess when a disoriented Marlena walks in. Marlena says homage dreamt of John, and Stefano tells her she belongs with him now. Marlena says she likes the place. Stefano explains he rebuilt Maison Blanche in Salem, and says it is where they will reclaims their love. Stefano gives Marlena a Cereus Cactus, which is also known as the queen of the night. He says it is a symbol of his patience waiting for her and goes to kiss her.
Marlena develops a headache and Stefano messages her. He asks her to help host a party with him and his children, and Marlena asks if John will be there. Stefano tells at Marlena to forget about John, and then apologizes. Marlena says she needs to get back to John and then passes out. When she wakes up, Stefano calls her his queen, and she calls him her king.
Stefano is glad to hear that Marlena has called him her king. He says that his son taking care of unwanted guests, namely Kate and Gabi. Marlena is shocked and tells Stefano he can't kill Kate since he loves her. Stefano says she betrayed him with Ian McAllister. Marlena forbids him from killing Kate since she is her friend. Stefano reminds Marlena that Kate helps Gina's return a secret, and encourages her to live in the present. Stefano and Marlena start dancing, but she says she can't do this and runs off.
The next morning, Stefano is playing chess when Marlena walks into the room. Stefano gets up and tells Marlena that he missed her, but he didn't want to wake her. Marlena said that she had a hard time sleeping as someone was on her mind. Stefano assumed it was John, but Marlena said it was Kate and Gabi. She refused to let Stefano kill them and threatened to walk away from him for good if he killed them.
Stefano relented and phoned Chad. He told Chad they had other matters to attend to, and ordered him to make sure she got the family together. Stefano told him he would not tolerate any more failures. Stefano proposed to Marlena, and she accepted. Stefano was thrilled to see Kristen and Tony. He apologized to Tony for not revealing himself in Prague. Kristen and Tony wondered what's the family meeting was about Stefano said they were attending his wedding to Marlena much to Tony and Kristen's shock.
Tony refused to believe Marlena would marry Stefano of her own free will and accused Stefano and Rolf of brainwashing her. Kristen and Tony were even more stunned that at Chad's docile compliance and Tony realized Stefano had also brainwashed Chad. Stefano said Chad is now his favourite son, who will perform the ceremony. Kristen and Tony refused to be involved, and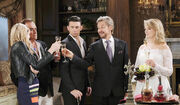 Stefano said he was disappointed, but not surprised. He turned to Kristen and said she refused him when he asked for her help. He then turned to Tony and said that he was ruled by his wife. Kristen went to call the police, but Chad pulled a gun on them and demanded they give him their cellphones. Tony and Kristen did so, and witnessed Chad marry Stefano and Marlena. Stefano then took his bride upstairs to consummate their marriage.
As Stefano and Marlena were in the throes of their lovemaking, she had to get up. John burst and started attacking Stefano, eventually holding him at gunpoint, but Marlena knocked John out from behind. They heard gunfire, and Stefano wanted to see what was going on, but wanted to finish John off first. Marlena said she would do it, and Stefano went back to the main room where he found Brady had been shot.
Tony explained to Stefano that Chad was going to shoot Kristen. Stefano asked if that was true, and Chad said she sold them out. Brady said she didn't, and Tony told Stefano that he thought he wanted them to come together as a family. Stefano said he did and toon the gun from Chad. Kristen talked Stefano into letting them treat Brady, so Stefano had Chad take Kirsten and Brady upstairs, so he could be treated.
Alone, Tony told Stefano that he wouldn't get rid of John if he thought he would win Marlena over. Stefano said Marlena was going to kill John, Tony told him that he can't expect her to do that, and Stefano said she volunteered. Tony told Stefano that Marlena kills John, it will destroy her. Tony apologized to his father before deciding that someone has to stop this insanity. Stefano held a gun to Tony and threatened to kill him if he moved.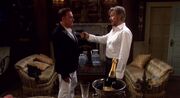 Stunned, Tony told Stefano he may be ruthless, but he wouldn't shoot his own son if he really were Stefano. Stefano apologizes when Anna shows up, and raises her high heel. She brings it down just as Stefano turns around and he screams in agonizing pain.
Anna's heels injures one of Stefano's eyes, causing him to fall to his knees, and clutch his eye in pain. Anna is remorseful for taking out Steve's eye, but Stefano screams he is Stefano DiMera and tries to strangle Anna. Tony restrains Stefano and threatens to take out his other eye if he touches his wife again.
Stefano collapses on the couch as Chad comes downstairs, and learns what happened. He draw his gun on Anna, but Abigail comes into the room. Tony asks his father not to let Chad shoot his wife. Abigail talks Chad into helping Stefano, and gives him a cloth to put pressure on the eye. Chad drops the gun and Abigail grabs it to keep him at bay.
John comes downstairs and Stefano is stunned that his "wife" didn't finish him off. John mocks Stefano for failing to completely woo Marlena. Kristen comes downstairs and helps Stefano as John continues to mock him and force Chad away from him. Tony and Kristen get Stefano up and help him out of the room as John declares it is over forever, and Stefano just chuckles.
Stefano is admitted to the hospital where he is handcuffed to his hospital bed. Kayla calls him Steve, and Stefano groggily yells that he is Stefano DiMera. Kayla tells him someone is here to see him. Stefano hopes it is Marlena, but it is Rolf. Rolf is stunned to see Stefano is missing an eye, and says he can fix it. Stefano asks why he is here, and Rolf says he came to see how he was and to beg his forgiveness.
Stefano wonders what Rolf is taking about, and Rolf asks for a moment alone. Kayla grants them that, and warns Rolf the police are outside. Once Kayla is gone, Rolf tells Stefano that he removed the microchip. Stefano is furious and demands to know why he did it. Rolf says John made it sound like he Stefano close to death, and Stefano called Rolf an idiot, saying he was tricked. Rolf apologizes and asks what he can do to ask it up. Stefano snaps that he can't, but he may be able to do something.
After Stefano tells Rolf what he wants him to do, he tells him to make sure he succeeds. Rolf assures his boss that he won't let him down. Kayla comes back, and tells Stefano that Marlena is awake. Stefano is relieved, and Kayla tells him she is with John, mocking that she is sorry if it spoils his day. Stefano says Marlena will be his again one day. Kayla says she'll let him think that, and then tells Rolf she wants him to remove the chip from Steve.
Kayla says she wants to schedule the surgery first thing tomorrow, and thinks eight o'clock. Rolf starts laughing, and says he has no intention of doing it. He tells Kayla she can threaten him, and do her worse, but she will never get him to destroy the one man that has supported him, and made his dreams a reality. Kayla snaps that he can't do that, but Stefano chimes in and says he can, so Steve will be his body for the rest of his life.
Alone in his room, Stefano thinks to himself that he hasn't lost yet, and that he still has more moves left to play. Kayla returns and goes to heck Stefano's eye. Stefano snaps at her to get away from him and says he won't let her or anyone else touch him in this hospital. He yells at Kayla to get out of his sight.
Kayla informs Stefano that she will be doing the surgery herself. Stefano protests that she can't, but Kayla says she can and hands him him a court order, giving her the power to make all of his medical decisions. Stefano explains that it is a risky procedure and that she could kill Steve. Kayla says she knows Steve would take that chance and goes get ready.
Stefano asks her to wait, and Kayla says she isn't changing her mind. Stefano asks she grant him one final request: to see his children. Tony, Kristen, and Chad all show up at the hospital. Stefano thanks them for coming alone. and apologizes to them
Kristen asks if he just expects them to forgive him. Chad thinks Stefano has a plan to escape and wants their help, but he refuses. Stefano says he isn't escaping and has called them here to say goodbye. Stefano says he knows they hate him, but they also love him. He apologizes to Tony for trying to kill him and stranding him in that deserted island. He also admits that he admires how much Anna loves him and way she will do to protect him.
Stefano addresses Chad, saying he has to resort to brainwashing him because he knows how good he is. Stefano says he doesn't understand it, but he admires and envies it. He turns to Kristen and tells her she is most like him even though she isn't his biological daughter. Kristen admits that was true in the past, but she had changed after having and losing a child. Kayla comes in and says it is time.
Stefano is taken out to the lobby, and addresses his family one last time. He says that they must never forget that they are DiMera's, and while they may wants to renounce who they are because of him, they must never forget they are stronger together. He says they came together to defeat him and takes some comfort knowing he brought them together. Stefano tells his children that he loves when with all his heart before being wheeled away.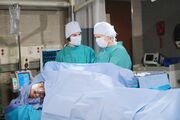 Stefano was put under, so Kayla and Sarah could work on removing the microchip from Steve's brain. Kayla noticed the microchip was deploy imbedded in the tissue of the brain and feared she could kill Steve, so she decided to sew him up and try again later. Unfortunately, Rolf had set the microchip to self-destruct had anyone tried to remove it. Sarah suggested they cut the chip's power source off, which would mean cutting out a chunk of Steve's brain. Nevertheless, Kayla decided to do it and removed the microchip that contained Stefano's AI, neutralizing him as a threat forever.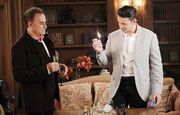 In a deleted scene, Tony and Chad discuss what to do with Stefano's AI chip. Chad wants to destroy it, but Tony points out that the chip made Steve act so much like Stefano that it was like he was really there. Tony asks his brother if he is prepared to kill their father. Chad rationalizes that no one lives forever, and Stefano's physical body is clearly gone. Chad admits he has accepted the death of Stefano DiMera, and Tony admits his reasoning is sound, but adds that they still have to talk to Kristen. Tony suggests putting the chip in a safe, but Chad thinks that is inviting trouble.
They ultimately decide to destroy the chip by lighting it on fire. Tony asks Chad if he wants to say a few words. When Chad doesn't, Tony says he believe that awhile Stefano did horrible things, he thinks he truly did them for love. Chas then sets fire to the chip, reducing it to ashes. Chad says ashes are all that is left, and Tony notes what is said about ashes, subtly implying that the Phoenix may rise again one day.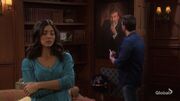 Shortly after Steve was freed from Stefano's control, a man that looked just like Stefan, who called himself Jake Lambert, showed up in Salem. Gabi saw him and was convinced he was Stefan back from the dead, but Jake denied it and didn't even know who she was. Gabi promised to Stefano's portrait that she would bring his son home, and it was later revealed that Jake was Stefan's twin brother. Jake followed Gabi back to the mansion, and saw Stefano's portrait, asking if that was his father and Gabi confirmed it was.
Jake and Gwen Rizczech moved into the mansion where Jake took a liking to being involved in business while Gwen secretly plotted against Abigail with Rolf's help. She told Stefano's portrait that she heard he liked parties and it was a shame he would miss this one. Not long after, Rolf escaped from prison and snuck into the mansion where he greeted Stefano's portrait and said he was looking forward to seeing him again in the flesh. Rolf demanded the microchip from Chad, and was devastated when Chad told him he destroyed it. Rolf planned to avenge Stefano by killing Chad, who made Rolf unsure of what to do when he claimed Stefano would return.
Chad managed to capture Rolf, and left Gwen to guard him. Rolf got his freedom by blackmailing Gwen into letting him go. Rolf went to the hospital and held Kayla at gunpoint. His next plan  was to bring Stefano back to life in the form of a clone baby that he would force Kayla to carry to term. However, he was stopped by Steve and sent back to prison.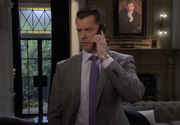 In December, Rolf gave Kristen and Chad each a photo of them with Stefano. Chad lamented that this was after he beat Stefano at chess, and Tony jokingly said he was surprised Stefano still spoke to Chad after. In June 2021, EJ returned to Salem to be with Sami. He greeted Stefano's portrait and told it that it's been a long time, but as he always said, it's good to be back. Tony and EJ caught up and spoke of Stefano's twin sons with Vivian Alamain, wondering what he was thinking procreating with her. Jake was in charge of DiMera, and Tony felt EJ should be in charge. After Tony convinced EJ to have Jake removed, he told Stefano's portrait that he thinks they have the old EJ back.
In August, Johnny returned to Salem as a young man. EJ was hopeful to have Johnny work at DiMera with him, knowing it was what Stefano would want. EJ lamented how much Stefano loved his "little Giovanni". When Johnny met Chanel Dupree, he introduced himself and also noted that his grandfather used to call him Giovanni. Chanel took a liking to the name and Giovanni and occasionally used it for a bit. When Johnny brought Chanel to the mansion, she saw Stefano's portrait and noted he looked like a man you don't mess with. Johnny agreed, and said other people feared him, but he didn't.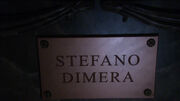 In October, a gold plate with Stefano's name was shown on a coffin in the middle of the room in the DiMera Mausoleum. It is unknown if the coffin is empty or if Stefano's body was somehow preserved and brought to Salem. The devil returned to Salem and repossessed Marlena. It locked John and Susan Banks in the crypt for a bit before they managed to escaped.
When EJ stubbornly refused to forgive Sami for cheating on him even though he has cheated as well, Susan scoffed that he was talking like his father. The Brady's all banned together and exorcised the devil from Marlena, but then the devil posessed Johnny, and promised Stefano's portrait that his little Giovanni would
make him proud.
Stefano's Grand Finale (2016)
Joe Mascolo Days' Tribute
Daytime Emmy 2017 Tribute
Abilities
Weaknesses
Henchmen
Name
Storyline
Missions
Status
Gina Von Amberg
Hope's past/art/Gina and John affair
copied famous paintings and helped Stefano replace the originals with fakes
Died of lung cancer and gunshot wound in Salem; lives on in a microchip implanted in Hope's mind that can be used to turn her back into Gina.
John Black
various
worked with Princess Gina on Stefano's schemes
Still in Salem.
Mai Chin
Salem Slasher Story-line
Andre DiMera
various
Impersonated Tony
Framed Roman Brady as the Salem Slasher
Terrorized The citizens of Salem
Died in 2018 from blunt force trauma after being hit in the head by Abigail.
Tony DiMera
Stefano's arrival
Spied on the Brady family for Stefano
Alive after being resurrected in 2018.
Delia Abernathy
1982-84
Stefano DiMera's maid and henchwoman
helped Andre DiMera escape to London.
Silvan Hodak
1983
Attempted to kill Roman Brady at his wedding to Marlena in 1983 (he was a tailor at the tuxedo shop).
Ilya Petrov
Ridgecrest (1983)
The Three Prisms (1984-1985)
helped keep Marlena Evans and Liz Chandler hostage at Ridgecrest
held Gene Bradford, Tony DiMera, and Anna DiMera hostage
Shot Bo Brady
Left Shane Donovan to die with a bomb nearby
Brought the Pawn (John Black) to Salem.
Unknown.
Alex Marshall
1982-83
Killed Tim Casey, a police officer, in an effort to scare Roman
Plotted to kill Alice Horton
Sent to prison after burning down the Salem Inn to collect the insurance money in 1987.
Nurse Honeycutt
The Three Prisms (1984-85)
Took care of Sami and Eric Brady when Stefano had them kidnapped
Lied in court about Marlena, seeking revenge, when she was on trial for the death of Stefano in 1985
Kept Daphne DiMera under control.
Jimmy Porterfield
The Three Prisms (1984-85)
Helped Stefano kidnap Marlena and the twins after befriending Marlena
Lied in court about Marlena, seeking revenge, when she was on trial for the death of Stefano in 1985
Tried to kill Bo Brady.
Mackenzie
The Three Prisms (1984-85)
Posed as Marlena's bodyguard, while actually infiltrating her house and allowing the twins to be kidnapped.
Maxwell Hathaway
The Three Prisms (1984-85)
Killed by Andre DiMera.
Sonia Romanov
The Three Prisms (1984-1985)
Helped Stefano find the third prism
Killed by the Dragon.
Anna DiMera
Left town in 2018
Drew Donovan (lago)
Stefano's Return/The Island (1988)
Laid false clues for Stefano about Marlena being alive to play with Roman and Diana's minds
In hiding with his wife.
Milo
Stefano's Return/The Island (1988)
Captured Roman Brady and Diana Colville on Stefano's island
Last seen on Stefano's island.
Jeremiah Brown
Stefano's Return/The Island (1988)
Assassin for Stefano who was trained along with Roman Brady (John Black) and Drew Donovan... planned to kill many of those on the island
Was killed by Drew.
Orion Hawk
Stefano's Return/The Island (1988)
Trained Roman Brady/John Black in martial arts years earlier
Left Salem with Benjy to Europe in 1990. Died in the mid 2000s
Domingo Salazar
The Tale of Two Romans (1991)
Guided John and Marlena through San Christabel
Held Roman and John at gunpoint in Mexico
Was taken to the ISA headquarter and later sent to prison.
Curtis Reed (Brown)
Hired by Peter Blake to kill John Black, but failed and blackmailed Kristen Blake for money
Killed by Stefano.
Celeste Perrault
Maison Blanche (1994)
Held John prisoner at Maison Blanche
helped keep Hope at Maison Blanche
Left Town
Peter Blake
Temporary "Insanity": Peter poisons Laura into insanity (1994)
Arranged to medicate Laura Horton to make her think she was going insane
Last known to still be in prison
Bart Biederbecke
All DiMera related stories from 1997-2007
Spied on Vivian Alamain and Lexie Carver for Stefano
Aided Andre DiMera in the Melaswen plot
Tried to kill Sami Brady
Abducted Sami Brady
Swallowed the key to ending the feud
Died loyally in 2007 after accidentally being stabbed by Andre.
Wilhelm Rolf
Various
Perhaps Stefano's most faithful and longest-lasting henchman, Dr. Rolf usually served as Stefano's right-hand man and personal physician and scientist.
Currently in prison
Steve Johnson
The DiMera's Return (2006-07)
Stevano (2019-)
Brainwashed to work for Stefano
Host for the AI microchip of Stefano DiMera.
Had Stefano's AI removed and is back to being normal.
Chad DiMera
Stevano (2020)
Brainwashed to carry out Stefano's bidding
Alive and freed Stefano's control
The following list is a timeline of Stefano's fake "deaths"; he either faked them himself, was presumed dead, or was reported dead by others.
In 1983, on March 9th, a stroke. It was later revealed a fake heart attack, and the date is mentioned as March 8.
In 1984, his car plunged into the icy waters of Salem's harbor during a police chase.
In 1985, Marlena shot him, and he fell from a catwalk as the building caught fire (he also had a brain tumor).
In 1991, on December 5th, he was presumed to have died in another fire and cave collapse.
In 1994, his car erupted into a fireball after being shot at by John.
In 1994, he drowned near Maison Blanche.
In 1996, he died in a plane explosion.
In 1996, he was blown up and buried under collapsing tunnel during a confrontation with Rachel Blake. This was his last depicted "death" until 2007.
In 2002, André DiMera (posing as Tony) claimed that his uncle had died from injuries sustained from a car crash in Monte Carlo.
In 2004, when Marlena and the presumed-dead Salem Stalker victims found a blackened, unrecognizable corpse on Melaswen, André (posing as Tony) claimed it was Stefano. André said he had killed Stefano by draining his blood so André could cure his own blood disease.
In 2007, his death was faked once again. As a setup by the Salem P.D., Steven "Patch" Johnson appeared to stab Stefano to death, but he was drugged and a fake funeral was set up to lure André.
In 2012, Stefano DiMera was shot dead from behind after several characters confronted him about his crimes. On August 16, Ian McAllister claimed to have killed Stefano and on August 20, Ian admitted to EJ that he killed Stefano and planned to frame EJ for the murder. On August 21, it was revealed that Stefano was not killed. Ian used an impostor that looked like him named Paolo. He faked the letter that said EJ was not Stefano's son and faked their blood types in the hospital.
In 2016, on January 12, 2016, Stefano was shot three times by Hope because of his alleged involvement in Bo's death.
In 2018, Kristen believed he died in a warehouse fire in November.
In 2019, Stefano physically died of natural causes, but had his AI transferred into Steve Johnson's body via microchip.
In 2020 (T.J., 2021) Stefano's consciousness which had previously been implanted into Steve Johnson through a microchip, was removed. The microchip was destroyed by Tony and Chad. Stefano had been physically dead since 2016, and this marked the death of his consciousness.
Notable Possessions
Second Portrait: When in control of Steve's body, Gina painted Stefano a new portrait for his new likeness. This required for Stefano to sit in the same chair and wear the same suit until Gina was finished. Gina drew inspiration from the old portrait and made sure it matched his old pose. Stefano struggled with the idea of replacing his old portrait as he admired his old look, saying that he had the face of a man who runs his world and knows it. He eventually relented, saying if this is the new him he better get used to seeing his face. It didn't last long up there as it had to be taken down and hidden when Rafe Hernandez stormed the hideout. It was stored in the DiMera gatehouse where it was later discovered by Chad and Abigail DiMera. After coming to the conclusion that Stefano must have changed his face, they take the portrait and talk to Kristen, who has seen Stefano. They leave the portrait at Kristen's loft, but it is later taken into evidence and after Stefano's AI is expunged from Steve's body; the portrait, along with Stefano's cigar and Gina's personal effects are turned over to Steve and Hope. Steve awakens to his Stefano-esque portrait and couldn't stand the sight of it, so he and Hope took out back and tore it apart.
Gallery
DAYS Villains Ranks
Main Article: DAYS Villain Ranks