Jurassic World: Dominion Dominates Fandom Wikis - The Loop
Play Sound
Steven Earl "Patch" Johnson is a character from the soap opera Days of Our Lives, portrayed by Stephen Nichols from June 13, 1985, to October 23, 1990, from June 9, 2006, to February 17, 2009, and again on August 28, 2015, to August 31, 2018.
On June 27, 2018 it was announced that Stephen Nichols would be leaving the show due to unsuccessful contract negotiations. His last air date was August 31, 2018.
On April 30, 2019 it was announced that Stephen Nichols will return to Days Of Our Lives as Steve. He will first appear sometime in the fall. Nichols returned in November 26, 2019 where it is revealed that Steve has Stefano's AI implanted into him. Nichols played "Stefano" until April 2020 when the AI chip was removed from Steve's brain.
Steve is the father of Stephanie and Joey Johnson with his wife Kayla Brady, and is the father of Tripp Dalton with his ex-lover, Ava Vitali. In 2020, he appeared became a grandfather to Tripp's son, Henry Horton, but it was later revealed the real father was Tripp's maternal half-brother Charlie Dale.
His closest friend is the late Bo Brady.
Storylines
Steve Johnson was born to Duke Johnson and Jo Johnson. He had one sister named Adrienne Johnson, and a brother that he wouldn't meet till years later. Duke was an alcoholic and abusive towards Steve and Adrienne. Steve served in the Merchant Marines alongside Bo Brady and they were good friends until they both fell for a woman named Britta Englund. Steve and Bo competed for her, and sometimes got violent with each other. They both went along with her when she asked them to get tattoos, and didn't know that the tattoos were a code for secret bonds she was hiding. As tensions between Steve and Bo boiled over, they got in a knife fight which ended with Steve losing his eye.
Steve and Bo went their separate ways and Steve started working for Victor Kiriakis. Steve came to Salem on Victor's orders, and he was told to get a piece of film from Kimberly Brady. The film ended up in the hands to Melissa and Pete Jannings, who went on the run when they figured out how dangerous it was. Bo and Hope Brady went off in pursuit, sure that the film would give them the evidence they needed to convict Victor for his crimes. Victor and Steve were both arrested, but they got free thanks to Victor's blackmailing Larry Welch into taking the blame.
Steve held a mysterious man covered in bandages and planned to sell him to Victor, but the man escaped. Britta came to Salem, and she and Steve started seeing each other until Britt was shot by a man, who was targeting Steve. After Britta recovered, she left hi, and Steve soon met and fell for Kayla Brady. Steve and Kayla hooked up, and then started having disturbing memories, so he became increasingly distant from her. He soon After Steve discovered that his sister Adrienne killed their father in self-defense, he decided to shield her and take the blame. All the while, Adrienne had blocked the incident from her mind, but as the memories returned, she confessed just before Steve could be sentenced for Duke's murder.
Steve got involved with Harper Deveraux by helping him to fake his death, so that he could escape while battling with Victor. Learning of the plot, Victor had the blanks in Steve's gun changed for live ones and Harper ended up in a coma after being shot by Steve. Steve grabbed Kayla, and went on the run only to be cleared of the charges while he was away.
When he returned to Salem with Kayla, things would take an unexpected turn. He and his sister had recently discovered that Jack Deveraux was their long lost brother. Because Jack was dying at the time they didn't bother him with this fact. At the same time, Kayla became Jack's nurse and he fell madly in love with her. Seeing this, Steve started to push her away so that she could spend her time with Jack and make him happy. This proved effective and Jack married Kayla, but the plan quickly collapsed after that. Steve had discovered that Harper was poisoning Kayla so he kidnapped her to save her life. Although she was already ill, she refused to believe him and ran. This was enough to spark things up between them, however, and they began an affair which they tried to shield from Jack. The affair was publicly exposed in the newspaper. Jack was crushed, raped Kayla and had Steve beaten. Steve went after him and wound up pushing him off a roof. The fall resulted in severe injuries and Jack needed a kidney transplant to live. Since Steve, as his brother, was a match, he agreed to give up a kidney for him, though only at his mother's prompting.
The nightmare wasn't over for Kayla though. Harper was on the loose and he kidnapped her and Kimberly when they realized that he was the Riverfront Knifer. Steve saved them, but Kayla was injured in the fallout and suffered from deafness and loss of speech. After a successful surgery, she could hear again and Steve asked her to marry him. They did and her speech returned just in time for her to say 'I do.' The happy couple went off to the Orient for their honeymoon. There they encountered a deaf boy named Benjy. They returned to Salem with the child but his mother soon came after them. She told them that his father was a nasty man but let them look out for him, hoping that they could protect him. She was found dead soon after. The mysterious father turned out to be the nefarious Stefano DiMera but, to ease their burden, Benjy's grandfather, Orion, arrived to take him away to live in secrecy.
Danger ended up coming at Steve and Kayla from another source soon after. Harper had escaped prison and kidnapped her once again, but Steve managed to save her and put Harper back in prison.
The next year, Steve became mixed up with Nick Corelli after he found his severely burned body. Steve hid Nick while he recovered and had to bring Kayla into the fold to help out. When Nick was sufficiently recovered, he left them but his bad luck followed him. Steve would have to come to his rescue when he needed help trying to get rid of Eddie who was trying to steal his secret fortune. When Eddie was shot in a standoff, Nick gave Steve and Kayla his mansion as a token of his thanks.
Later that year, Steve joined the ISA and was sent to track an arsonist who had been torching black churches in the south. His investigation brought him to Saul Taylor's revivalist camp, which just happened to be set up right outside Salem. After undergoing some facial surgery and getting a glass eye, he infiltrated the group under the alias of Brother Daniel Lucas. He soon discovered that Taylor was using the camp as a front for stolen goods and that he was behind many of the bombings which included an explosion that killed his best friend's parents. The investigation ended when Taylor's partner shot him and then went off a cliff during a fight.
Returning to focus his attention on Kayla, Steve found that she was expecting a child. Their happiness was complicated by the arrival of Marina Toscano, who claimed to be Steve's wife. While he had indeed married her, he had thought her long since dead, confessing to Kayla that he believed that he'd killed her during a seaboard fight. Marina made it clear that she didn't want Steve back, she just needed his help getting a key that they'd thrown into the sea. Hoping for a quick divorce, he agreed to help her and went to Italy to get the key. While there, he had to fight off Kiriakis' henchmen when they tried to get the key from him. The fight left him with a broken glass eye. Meanwhile, in Salem, Kayla had had enough of Marina putting her husband and family in danger and the pair got in a fight. Later, Marina turned up dead and Kayla became a key suspect. To make things worse, Kiriakis kidnapped her in a bid to get the key. She was released when Isabella gave the key to Victor. The couple then rushed to get married before she gave birth and she was arrested for Marina's murder during the wedding. Kayla stood trial, thanks largely to doctored evidence that Kiriakis had sent to John Black. She was convicted and gave Steve their newborn daughter, Stephanie, to raise. He hired a nanny, Kelly Parker, who, unfortunately, turned out to be quite crazy and kidnapped the child when Kayla escaped from prison. Steve and Kayla went in pursuit of her, tracking her to Australia where they were lucky enough to find Bo and Hope who helped them track her down. After getting Stephanie back, they had the additional good news that Kayla had been cleared of the murder conviction and they all returned to Salem.
Unfortunately, Harper Devereaux wasn't finished with the couple and escaped from prison once again for revenge. Harper tried to shoot Steve while he and Kayla were married, but his son, Jack, learning of the plot, stopped him and pushed him from the bell tower from which he took aim. After he plummeted to his death, the wedding continued. Now Steve decided to turn over another leaf in his life and become a police officer. While out on patrol one night, he investigated a boat where he discovered a card from Lawrence Alamain. The boat then promptly blew up and left him severely injured. He went into a coma but recovered. Fearing what he knew, Lawrence had Steve's IV poisoned. When Steve died, Lawrence then had his casket switched before it could be buried and rushed Steve's body off.
</>
Sixteen years later, Steve reappeared suffering from severe amnesia and calling himself Nick. He was discovered by Jack, who took him back to Salem, shocking Kayla by showing up at Jennifer Horton and Frankie's wedding. He had no idea who she was, but she tried her best to make him remember. After the pair was attacked by a lethal biological agent, they recuperated in the hospital but her recovery was complicated by a reaction to the antidote. Steve faked his memories in a bid to help Kayla recover, giving her the confidence to get better. She soon realized that he'd been faking and distanced herself from him. From then on, he tried hard to take back the life that he'd lost and get her back. It took a lot of effort to convince her that he was his old self again, but they eventually reunited.
The reunion was far from smooth, however. In Steve's absence from Salem, he was held by the DiMeras who tortured and brainwashed him into being one of their soldiers. As Steve began to realize this, he tried to resist and to kill the man who was controlling him: Stefano's son, EJ DiMera. This has proved difficult and EJ managed to force Steve into kidnapping John Black—so that he could steal his kidney—and in committing other illegal acts. Steve began pushing Kayla away to protect her and went in and out of mental hospitals where he was still at the mercy of EJ and his agents.
Later, Steve helped Hope Brady get out of the DiMera house by telling Stefano DiMera that they were having an affair. Stefano believed it and let Steve and Hope leave. Steve has been involved in helping end the vendetta including assisting in faking Stefano's death, but when Andre killed Benjy, Steve lost control. He kidnapped Stefano and demanded Andre bring Roman Brady—who Andre had kidnapped—to the television stations where he was holding Stefano. Andre did as Steve said and released Roman. Realizing Steve was out of his mind with grief, Stefano dropped all charges against Steve for the kidnapping, doing so to honor Benjy's memory.
Steve was then kidnapped by his old lover Ava Vitali. Steve and Kayla's baby boy, named Joe, was born prematurely. After Kayla survived being accidentally shot by Hope, she and Steve quietly left town.
As of 2014, Steve has rejoined the ISA as an undercover agent, and Kayla has returned to Salem where she serves as a doctor. They are currently estranged.
In January 12, 2016 Ava revealed to Steve that she had a son with him and that he was sold in the black-market by her father, Martino Vitali. The next day Steve told Kayla about his alleged son with Ava and on how he has considered in locating him for if the baby is truly his, he wants to make sure that he doesn't suffer a horrific childhood like he did. After Ava kidnaps Kayla, Steve is forced into working with Ava in finding her son. On February 8, it's revealed by the man who handled the adoption agency that Ava's son who was taken to that place died of pneumonia within weeks of being purchased. Ava's heart was broken and her life was shattered. The man left after offering his condolences. Steve coldly pointed out to a uncontrollably sobbed Ava, "Could have been mine...but maybe not. Either way, there's nothing tying us together now." Steve grabbed his stuff and exited the hotel room after adding that he never wanted to see Ava in Salem again. Ava sank to the floor in despair, clutching the photograph of her son against her chest as she continued weeping. In February, after having lost the only good thing she had in her life she no longer cared about her life or anyone's life for that matter, Ava returned to Salem to torment Steve and Kayla and their family. In February 26, 2016; sick of the manipulations and torments against his family, Joey, who was drunk smothered a drugged Ava in her hospital bed, killing her.
Steve willingly implicated himself in the murder. He is later exonerated for the murder thanks to ISA fabricating a story that Ava's murder was constructed by them. Steve, Kayla and Joey went on to continue with their lives, even though Joey has to live with the fact that he killed a human being in cold blood. On March, the extent of Ava's madness was revealed to Steve and Kayla when they found a secret room filled with different amount of pictures and shrines of Steve and also a picture of Kayla with the words "Gone Forever" written in blood on it. The effects of Ava's death affected Joey throughout the year, it made him do a lot of bad decisions that ended him up in the hospital. In addition, when Joey's girl-friend Jade Michaels (Gabrielle Haugh) revealed to him that she was pregnant with his baby. He was fearful of becoming a father, but through Steve's fatherly advice and love he manned up and was finally past with what happened with Ava.
On New Years Eve 2017; Joey and Jade lost their baby and he blamed himself for the miscarriage believing he deserved to lose his child after what he did to Ava last year, but in the end Steve and Kayla made him think otherwise.
In October 2016, Hope was arrested for killing Stefano. In December 2016, photo evidence of a man matching Stefano's description was seen in Prague. DNA tested on the body in Stefano's grave confirmed he was still alive. Steve was part of a small Salem party that went to Prague to find Stefano and arrest him, so Hope could be cleared of all charges. In February 2016, they apprehended Stefano at masquerade ball, but he escaped.
Steve went to a room alone where it was revealed that Shane had been posing as Stefano all along and the two had switched Stefano's body with another one, so the DNA wouldn't match. As Shane was reviewing security footage, he saw a man that resembled Stefano in the security footage. Steve joked that it was cut seeing Stefano feeding the pigeons. Shane scoffed that it was real cute, but said it wasn't him. Steve thought Shane was joking, but Shane said that he never went to the park and fed pigeons. Steve told Shane they both know Stefano is dead and that guy just happened to look like him. Shane scoffed that he believed that too, leaving them both to wonder if Stefano was still alive and out there.
When Steve and Shane returned to Salem for his and Kayla's wedding, both of them determined that Stefano was too weak to do anything and would likely never return to Salem again. They decided not to worry about and said the Phoenix wouldn't rise again. Stephanie returned to Salem for the wedding and Steve and Kayla remarried with friends and family in attendance.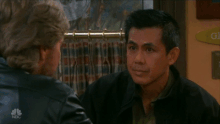 In March 8, Steve finds out from Raymond, the man he met in Jakarta last year that the baby he and Ava Vitali had is alive. Raymond tells him that a boy came to him looking for his biological parents. He went through his records and realized he was the baby Martino Vitali had given him. He has the birth certificate with Steve's name listed as the father. Raymond hasn't told the boy anything, since if he does, he'll be caught for illegally selling babies. Steve wanted to have a DNA test to confirm if the boy is his son. So Raymond told him that he is in Arizona and gave him his contact card to find him.
On March 23, in Arizona, Steve and Kayla trace Tripp to a diner. When the owner arrives with their menus, they ask after an employee of his - Tripp Dalton (Lucas Adams). The owner snaps that he no longer works there. He thinks the kid was passing out free food to his buddies. They notice the man's black eye and he admits it has to do with Tripp. He goes and Steve appears crushed. Kayla keeps up his spirits as he is worried that Tripp maybe as troubled as Ava was. Suddenly, the owner starts yelling and Tripp appears. Steve's eye widens as Tripp yells at the owner for groping Celia, another worker, and demands the money he is owed. Steve steps in and tries to broker peace but winds up hitting the owner. Tripp thanks Steve and asks who he is. He informs him that he believes he is his father.
They introduce themselves and tell him his mother Ava never told him she was pregnant. Steve tells him of how her father forced her to give Tripp up. Tripp asked more questions about his mother, as he wonders where she is. Steve promised to tell him everything after he comes with him back to Salem to have a DNA test done to prove that he is his father. Tripp agreed, and when the cops show up to arrest Tripp and Steve, Steve handled the situation.
Steve and Kayla took Tripp back to Salem where he adjusted to life in Salem whole bonding with his half-bother Joey Johnson, but not all was well when a vengeful Tripp believed Kayla had killed Ava and tried to avenge her by ruining Kayla's medical career. Joey confessed that he had killed Ava and was sentenced to prison. Kayla was mad at Tripp, but eventually came to forgive him for Steve's sake.
John started poisoning Steve and it was revealed that he had been ordered by their boss Pamela Van Damn. Pamela was fearful that her cover up to protect Joey could be exposed and wanted the entire Johnson family killed, but John convinced her to only let him kill Steve, though his plan was to slowly poison Steve to stall for time until he and Billie neutralized Pamela. Pamela ended up dying after taking Tripp and Ciara hostage, but the damage was done and Steve lost his eyesight.
Desperate for Steve to regain his sight, Kayla made a secret deal with
Stefan DiMera
(
Brandon Barash
) for Steve to get a bionic eye, but Steve was eventually arrested for espionage and Stefan was accused of using the eye to steal secrets. Steve found out the whole truth and even after he was cleared of all charges had a hard time forgiving Kayla and stayed away from Salem.
Sometime prior to November 2020, Steve was captured by Stefano's henchmen and imprisoned. Stefano then took control of Steve's body as an A.I. Sometime after, Adrienne passed say and "Steve" sent a card as well divorce papers to Kayla. Rolf implanted a synthetic eye into Steve's missing eye socket, so Stefano could have two eyes. Stefano detested then idea of being in Steve's body even when Hope (who has been brainwashed by Rolf to think she was Gina Von Amberg) started painting a new portrait for Stefano.
On November 26, Stefano is revealed as Steve as Gina completes and unveils the new portrait. Gina asks Stefano what he thinks and Stefano says it'll have to do. Gina take offence and Stefano says that he is still struggling with the idea that he has Steve's face. Stefano seemed to hate the idea of being in the body of someone who would call themselves Patch and says Steve has been a thorn in his side and now his cocky smirk adorns his face. Gina smiles at Stefano and feels him up, patting his ass, and flirtatiously saying that having Steve's body is nothing to complain about and advises him to look at this as his ultimate victory.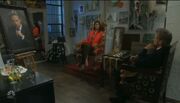 She recounts how Steve was anxious to clear his name and get back to his loved ones, but that was when Stefano made his move and had Steve imprisoned while he prepared for his transformation. She added it was a stroke of genius for him to just send a card instead of showing him at
Adrienne Johnson
's funeral with Kayla divorce papers. Stefano said that if this was to be his his new body, he had to make absolutely sure that Kayla had believed Steve had abandoned her.
Gina was irritated about Stefano's thing for Marlena, calling her judgmental. Stefano told Gina to watch how she talks about his queen, reminding her that they both want the same thing. Gina poured them both a drink that Stefano deduced the ingredients of. He talked about how he had devised a new plan while she was with John.
Gina wonders what the plan was and Stefano said they may break the law. Gina said it was a good thing she was the commissioner, a job she and Stefano made sure she had. Gina talked shout how Sami had stolen half of his fortune and Stefano lamented how she was another thorn in his side since she won't let him anywhere near EJ, and claimed EJ needed him.
Gina asked about the plan again, and Stefano assured her that it would break up John and Marlena, so he could have his queen and she could have the leftovers. Stefano picked up a pawn from his chessboard and showed it to Gina, who grabbed it, saying she would gladly take John.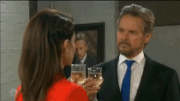 Stefano took down his old portrait and put the new one up; saying that if this is the new him, he needs to get used to seeing his face. Gina agreed with him and told Stefano they should make a toast. Poured them both a drink and they toasted to getting what they want as Stefano said it was good to be back.
Stefano informs Gina that Kristen is about to become a nun and plans to give her shares of DiMera to the church. Gina says they can't let that happen, and Stefano agrees, saying they will stop her. He gets in touch with Chad and tells him what Kristen is planning to do. Abigail calls Gina and says she wants to discuss Eve's case with "Gina". Gina wonders why since Eve has been in prison for months. Stefano tells Gina she has to go to make sure she is in control, and laments that it is a lesson he has tried to impart on Chad.
Stefano continues to ask for updates and feels sure that he will have the shares soon. Kate informs Stefano that Chad is lying and he was actually outwitted by the current CEO Gabi Hernandez. She wonders what Stefano will do and Stefano says nothing that she needs to worry about. Stefano's texts Chad and asks why he has been lying to his father. Chad responds that he didn't lie and Stefano says he knows that Gabi outwitted him and that he is still in Salem. Chad says he said he was in the process of figuring it out and asks to hear his vice. Stefano's responds with that he will be in touch. When Gina returns, she complains at how nosy Abigail is. Stefano tells her that Chad lied to him and he is sure it is because of Abigail, saying they may have to get rid of her permanently if she continues to be a nuisance.
Gina calls Stefano in a panic when Chad and Abigail summon an analyst to uncover who pushed Jennifer. While he is doing it in private, Stefano calls him and threatens to expose that he paid off the college to get his son in. He orders him to swap the Gina's image with Rolf's. Gina returns in a panic as Stefano is playing chess and she realizes what he did for her. She worries about Rolf and Stefano says Rolf will gave to take one for the team. She worries that Rolf will talk and Stefano says that Rolf would swallow another cyanide capsule for them.
Stefano called Rolf to the warehouse and informed him of what he did. Rolf said he had his illusion of his standing and said he was merely a pawn in the Phoenix game. Stefano had a plan to get Rolf out of town, but then Chad contacted Stefano and demanded he help bring Rolf to justice, or Chad would disown him. This troubled Stefano, but he still allowed Rolf to leave town.
Rafe showed up the warehouse, and Stefano did while Gina stalled Rafe. She quickly got Stefano out and he called Kate, asking her to hide him. Kate said she was staying at the Brady Pub and Stefano complained about it, but ultimately agreed and thanked Kate.
When Stefano and Kate arrived, they saw Kayla and
Justin Kiriakis
there. Stefano hid from Kayla and Justin and Kate sneaked him in through the back. Stefano woke up in Kate's bed, but then Roman knocked on the door, so Kate gave Stefano his clothes and had him hide. Stefano's chortled at the idea of Kate having to explain to Roman what she was doing with Steve and Kate threatened to rat Stefano out, so he hid. After Roman left, Kate told Stefano he couldn't stay there any longer. Stefano was reading when Marlena came to the door to talk to Kate. Stefano's almost greeted Marlena, but thought better of it and hid instead.
Stefano wanted to give Marlena a broach, and Kate said she would be helping Roman at the hospital as he is playing Santa. Stefano jokes about her and Roman being together, and Kate says they aren't together, but this is very important. She mentions all of the Hospital staff will be there, and Stefano wonders if that includes Marlena. Kate says it does, but warns Stefano not to go anywhere near the hospital or try anything. Stefano steals Roman's Santa suit and heads to the hospital where he handed out gifts to the children and slipped the broach into Marlena's purse.
Kayla was there and noticed the person playing Santa resembled Steve when he was playing Santa. Realizing it was Steve's body under the suit, Kayla chased Stefano around the hospital and cornered him until Kate faked an emergency that Kayla had to attend to. Kate was furious with Stefano, who snapped that no one tells him what to do. He angrily removed the beard and hat and raged that he was sick of hiding in another body and it was time for him to get what was his.
Stefano returns to Kate's room and removes the Santa outfit just in time for Hattie to walk in. Stefano thought it was Marlena at first, and Hattie recognized him as Steve. Stefano almost revealed himself by saying he wasn't Steve, and then Hattie said she wasn't Marlena. Kate arrived and helped Stefano convince Hattie that Steve got a fake eye and was undercover and on a mission, so Hattie couldn't say anything less she be tried for treason.
Stefano prayed that Hattie keeps quiet. Kate joked about his prayer being answered, and Stefano asked why not. Kate told Stefano he never would have been this careless before. Stefano insisted he had to get close to Marlena. Kate wonders if Stefano for the broach to Marlena, and he confirms he did. Kate asks Stefano to focus on regaining his company and to leave John and Marlena alone. Stefano asked why she is protective over Marlena. Kate says Marlena is her friend, but Stefano thinks she is jealous.
The two get into a huge argument and Kate snaps that she wants to regain her seat at the table. Stefano yells that she doesn't care about Marlena and just wants power, so get off her high horse. Kate snaps that this isn't worth it and goes to call Marlena and tell her everything. Stefano roars with laughter, saying if she does, she will be ostracized. Kate relents and asks Stefano again to not pursue Marlena. Stefano vows he will have everything he wants. Kate tells Stefano he'll have to sleep in the floor and not to crawl into the bed again. Stefano says he has to make a body move before New Years Eve tomorrow.
Stefano and Gina return to their hideout and Stefano blames her for failing to stop Rafe's investigation. Gina says that Steve's DNA was found in the cigar Stefano was smoking. Gina handed Stefano an eyepatch and said he could move around better if he pretended to be Steve. As Stefano and Gina got ready to attend Doug and Julie's New Years Eve Party, they contemplated revealing their truth selves, but after a coin toss, decided against it. Stefano wore the eyepatch and left his ring in the warehouse.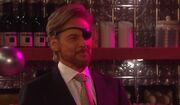 Stefano went public and pretended to be Steve. He said he wasn't back for Kayla, but Marlena. "Hope" clarified that she summoned "Steve" back to town when the DNA found on the cigar matched Stefano's. "Steve" assured Marlena Stefano wouldn't harm her while he is around. Kayla confronted "Steve" and said he was wearing a Santa suit in the hospital. She was sure it was him, but he didn't have an eyepatch. "Steve" denied it and said it must have been wishful thinking on her part. When questioned about leads on Stefano, "Steve" said he would rather celebrate the New Year and they can talk about that tomorrow.
Alone, Gina lamented to Stefano that it was exhausting pretending to be someone else. Stefano agreed with her, but said he was enjoying seeing Kayla and Justin getting all flustered. "Steve" approaches John and Marlena, and said that Kayla now has Justin to support her, and his focus is bringing Stefano down. When John questioned "Hope" on why she would leave them out of the loop, "Steve" said that all that matters is that all the people that have battled Stefano over the years can now come together to bring him down once again.
He figures they should call it a night, and Marlena asks where "Steve" is staying. "Steve" says he was hoping he could crash with them, and John says he could crash on the couch. "Steve" accepted, adding it would be safer for Marlena. "Steve" and John celebrated the reunion of Black Patch and John called Stefano a narcissistic jerk to his face without realizing it. As John went to get some blankets, "Steve" assured Marlena that he will stop at nothing to keep her safe and protected, adding she was precious to him as a friend, and then hugged her.
The next day, Stefano bemoaned his current situation. Gina called him, and they began talking about how Stefano planned to move in on Marlena. Hattie overheard the conservation and enquired about it. Stefano said that he was talking about how he planned to protect Marlena. Hattie wondered why he chose to reveal himself, and "Steve" said he had to since Stefano was getting closer. Hattie asked what she could do to help keep Marlena safe, and Stefano said she could move out. He suggested she could move into the Brady Pub and be his eyes and hears there. Hattie was thrilled that she wasn't be kicked off the team, and Stefano assured her she was an integral part.
As Stefano contemplates making his move on Marlena, Kayla shows up and demands to know what happened to him. She takes out a photo and asks what happened to the man in the photo. Stefano bellows that, that man is gone, and he is in love with another woman. Kayla is horrified and wants to know who it is. Stefano snaps that it doesn't matter now that she is with Justin. Kayla leaves in tears, and John confronts "Steve" about what he said. Stefano lies and says he only said that to get Kayla to back off. He asks John to keep his secret, but John says he can't lie to Marlena.
Stefano leaves a message for Gina, saying that she is right and that they need to hurry up with their plans before someone figures them out. He turns around and sees Jack standing there. "Steve" lies and says he was talking about the search for Rolf. Jack says he doesn't care and lashes at "Steve" for abandoning them and not showing up for Adrienne's funeral. Stefano shoots back that Jack should know a both abandonment as he didn't tell his wife and kids where he was.
Jack tears up, and says he had no choice, but said that "Steve" knew who he was when he signed those divorce papers. Jack said that Kayla didn't want a divorce; she just wanted him to come to his senses. "Steve" yells that Kayla is with Justin and says they are happy, and he is okay with that. "Steve" goes on to say that their only connection are their three children, which confused Jack since Steve and Kayla only have two kids.
After Jack leaves, Stefano goes to visit Kristen. Kristen is shocked to see "Steve Johnson", and wonders what he wants. Stefano pretends to be Steve and acts like he has gone to Kristen, looking for info about Stefano. Kristen snaps that all Stefano seems to care about is the shares, so he can go to hell. "Steve" enquirers about Kristen's relationship with Stefano, and Kristen starts to wonder why "Steve" is so interested in her and Stefano's relationship.
"Steve" says it is because they share a familiar connection. He tells Kristen that he is her father, but Kristen assumes that "Steve" is saying he is her birth father. Kristen yells at "Steve" to get out, and Stefano screams that he not Steve Johnson, and says he is Stefano DiMera. Kristen stops, and Stefano rips off the eye patch, and grabs Kristen, telling her to look at him as he makes the face that Stefano made when angry.
Kristen laughs and thinks "Steve" is playing some sick jokes or undercover at the ISA. Stefano asks that if she can show up as Nicole Walker why can't he return as Steve Johnson. Stefano insists it is him, and that Rolf saved him and allowed him to rise again. Kristen laughs that Rolf is talented, but finds it hard to believe, and starts looking for a mask to rip off.
Stefano tells her to go ahead and look, but she won't find a mask. Kristen says it's not just his face, but it's his whole body that looks different. Kristen laughs if she expects him to believe that Rolf implanted Stefano's brain into Steve's body. Stefano shrugs that he doesn't like being in Steve's body, and takes the ring out of his pocket, saying that the Phoenix has indeed risen again.
Kristen stares at the ring and tells "Steve" that it proves nothing, and that he could have stolen her father's ring from Kate. Kristen demands he gets out, but Stefano says he isn't going anywhere. Kristen goes to call security, and Stefano asks why this is so hard to believe since this was her idea. Kristen asks what he means by that, and Stefano reminds her that she asked Rolf to save his life. He reminds her of the warehouse in Memphis and that he was behind the door marked "S.D." when the fire broke out.
Stefano says Rolf got him out, and Kristen said why Rolf didn't tell her, and she had assumed he had died in the fire. Stefano says he forbade it since she already mourned him, and he didn't want her to go through that again in case he actually died. Kristen asked why he reached out to Chad instead of her. Stefano says he knew that would upset her, but said he was weak from the treatments, and even after the transfer was successful, he was still weak. By the time, he was trying enough to contact her, he learned that she had miscarried his grandchild.
Stefano teared up as he grapes her hands and told her how sorry he was that happened. Kristen cried that she lost her baby. Stefano said that when he went to reach out to her, she was at convent. Kristen cried that she was lost. Stefano assures her that her father was here, and told Kirsten to come home where she belongs. Stefano told Kristen that they are like the Phoenix and rise again. Kristen was finally convinced that this was really Stefano speaking to her.
The reunion is interrupted by Abigail, who arrived to talk to Kristen about Stefano. Kristen asks Stefano if he wants her to get rid of Abigail. Stefano says that if Abigail wants to talk, then let's talk. Kristen helps him out the eye patch back on, and Stefano removes his ring. Abigail is surprised to see her "uncle Steve" there. "Steve" says he went to talk to Kristen about Stefano since he was helping to look for him. Kristen says that Stefano was here and standing where "Steve" is, making Stefano worry.
Abigail asks Kristen if Stefano talked to Kristen about selling her shares. Kristen said that he did, and "Steve" adds that she probably sold him the shares being his dutiful daughter. Kristen said she hadn't yet, and looked Stefano right in the eye, adding that she wasn't sure if she could trust him. Kristen then says they just missed him and that he will be leaving town for who knows how long.
Abigail asks if they talked about Rolf, and "Steve" asks Abigail if she thinks Rolf has something to do with Jennifer's fall. Abigail said she did and if she can prove it, Chad'll be done with Stefano for good. "Steve" cautions Abigail to tread carefully when handling her father in-law-. After Abigail left, Kristen bursts into laugher as Stefano furiously demanded to know why she scared him like that. Kristen laughs that she was just having some fun.
Stefano says she has a cruel bone as he puts the ring back on, and Kristen says she learned at the feet of the master, before adding that she is no longer a student and wants him to know she can be a force to be reckon with. Stefano questions if Kristen is threatened. Kristen kisses her father's ring, and says she would never go against him unless he gave her reason to. She says she wants Brady back, and Stefano agrees to help her, adding that he feels the same way about Marlena, and that they may be able to help each other.
Gina calls Stefano to meet with her at the Salem PD. She rush into Rafe, who is happy to see "Steve", and Stefano pretends to be happy to see Rafe as they embrace. "Steve" tells Rafe that "Hope" called him back to help track down Stefano. Stefano then enters Gina's office where she berates him for not keeping up his end of the deal and says Marlena has to die. Stefano roars with laughter, and Gina sneers about pushing Marlena over a balancing after luring her for drinks. She goes to call Marlena, but Stefano grabs her wrist and threatens to kill her. Gina sneers that she has his attention now.
Stefano says his efforts at DiMera have been halters due to Kristen's stubbornness. Stefano tells Gina about his meeting with Kristen and assures her that she is loyal and has already provided cover for them by saying that Stefano has left the country, so they have more breathing room to think. He then comes up with an idea and says that John has to die. Gina says that is out of the question, and Stefano says that John and Marlena just die. Gina says he has gone mad, but Stefano suggests she let him explain. Gina ultimately agrees with Stefano's plan, though notes that it is risky if it fails. Stefano says he has faith that it won't fail, and the two head to John and Marlena's penthouse.
"Steve" and "Hope" visited John and Marlena, and "Steve" suggested he and John go out of town and look for Stefano. While away, Stefano has to listen to John insult him while on the phone to Marlena, causing him to break a glass in anger and almost attack John with a shard of glass. After John left the room, Stefano angrily declared he was tired of waiting and it was time for him to get what is his.
Gina and Stefano talk, and he admits he almost killed John, but promises that John will be hers just as Marlena will be his. Stefano heads down to the lobby, and tells John he has a lead on Stefano. John says he does as well and tells "Steve" to turn around. Stefano does so and is shocked to come face to face with Tony and Anna.
Tony and Anna sit down with "Steve" and John. Tony wants to help them find Stefano. "Steve" tells Tony he is sure he won't betray Stefano, but Tony says he has no more loyalty to him. He reveals Stefano contacted him asking for his shares, but when he refused a meeting, Tony got suspicious. Anna starts going on a tirade about Stefano, tearing him down, which causes "Steve" to snap at her. John and Tony are confused while Anna is offended. "Steve" can barely keep his anger in check even as he tried to correct himself.
John goes through "Steve's" bag and finds Stefano's ring. He asks him what he is doing with the ring and "Steve" says he got the ring from Kate and figured they could use it as part of their trap since the ring meant so much to Stefano. "Steve" and John go to a warehouse where they are cornered by Rolf at gun point. Rolf shoots "Steve", who pretends to be dead. Then, when John has his back turned, Stefano knocks John out.
Stefano gloats over his fallen enemy and commends Rolf for his work. Rolf admits he was hesitant to shoot, but Stefano says he came through as always. Rolf wonders why Stefano doesn't kill John, and that way Marlena will be his for sure. Stefano admits Rolf has a point, but in the end, honors his deal with Gina and has John imprisoned as he returns to Salem and pretends to rescue Marlena, who is tied up in the warehouse. "Steve" tells Marlena that Stefano killed John, and that John's final request was for Steve to take care of Marlena. Marlena cries on "Steve" shoulder, devastated.
Stefano texts Rolf and says it's not easy to get Marlena to believe that John is dead, but he plan to give her a king instead of a pawn. Rolf texts back that he will let him know when it is done, and Stefano smiles. "Steve" shows Marlena photos of John after he had been "shot", and Marlena wonders why he would snap those photos. "Steve" said he needed proof, so she would believe him. "Steve" promises to always be there for her and kisses her.
Marlena is shocked and asks "Steve" what he's doing. She says Kayla is her fiend and that she can't do this to her. Stefano reveals himself, taking off the patch, and putting on his ring. Marlena is shocked and says that she can't be with a man as evil as Stefano. She reminds him that he locked her in a cage. Stefano says she might have been more receptive if she wasn't loyal to his pawn. Marlena says John wasn't a pawn, and Stefano talks about a life of bliss with him. Marlena then kisses Stefano back and starts taking off his clothes, but then says she canny do this to Roman, and Stefano realizes that Marlena is really Hattie.
Hattie reveals to Stefano that Kate told her everything. Stefano wondered why Kate would betray him after what he promised her. Hattie suggests that maybe friendship was more important to Kate. Hattie explains that Marlena and John are together, and they will out Stefano, and send him to prison. Hattie gloats that while Stefano is in jail, she wants him to think about the people who put him there. Stefano growls are Hattie to enjoy her victory because she just signed her death warrant. He then attacks Hattie, strangling her.
Chad and Abigail arrive and pull Stefano off of Hattie. Abigail asks "Steve" what happened to his eye-patch. Stefano tells Chad to let go of him and calls him his son. Chad is stunned and has a hard time believing it. Stefano takes out his ring and says to Chad that this is his birthright. He encourages Chad to join in him taking back DiMera, but Abigail tells Stefano that Chad can't trust him since he all he does is lie to Chad. Stefano tells her that this is between him and his son. Abigail tells Chad that she, Thomas, and Charlotte are his family. Chad says Abigail is right. Stefano tells Chad that he can turn his back on him after all these years, and says that if he thinks he is going to come quietly, then he doesn't know him very well.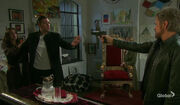 Stefano pulls out a gun and aims it at Abigail, who begs him bro to do this. Stefano tells him that she as been a thorn in his side since she married Chad, and he would be doing Chad a favour by killing her. Hattie cowers behind the throne and tells Stefano that he really is a monster. Stefano snaps at Hattie to be quiet.
Chad asks Stefano if he is going to shoot the mother of his grandchildren, and Stefano says he admires Chad's loyalty if only Abigail deserved it after murdering Andre and having sex with EJ. He starts calling Abigail derogatory names and Chad tells him that's enough. Stefano decides to let Abigail love for now as he wants to turn his attention to getting Marlena.
As he goes to leave, Chad runs up and grabs him. They struggle over the gun and Stefano is shot in the struggle. Stefano falls to the ground and Chad checks on him. Hattie talks about finishing him off, but Abigail says not now chad asks Abigail to call 911, but they both left their phones in the car. Stefano gets up and hits Chad over the head. He pulls the door shut, locking them in.
Stefano goes to Kayla's office where he poses as Steve and convinces her to patch him up while brushing off Kayla's feelings of pain and abandonment. He explains that Stefano kidnapped John and shot him when Kayla says she thought he was John. After getting patched up, "Steve" thanks Kayla and says he needs another favor from her.
"Steve" told Kayla that he needed somewhere to hide and not to let anyone know he was here while he planned his next move against Stefano. He said he was the only one who could defeat Stefano while everyone was save. Kayla eventually agreed after Stefano called her "sweetness", which is what Steve always called Kayla. After Kayla left the room briefly, Stefano deleted a voice message that Roman had left for her.
Kayla took "Steve" to a warehouse where she continuously cared for his wounds while continuing to tell "him" how much he hurt her. Stefano did his best to feign an apology and compassion for ho she felt, even calling her sweetness multiple times, which eventually angered Kayla, who told him he had no right to a call her that, so "Steve" apologized.
Stefano gets finished with a call from Rolf, thanking him for the provisions. Kayla thinks Justin is worried about her, and Stefano snaps at her to stop talking about Justin. Kayla says Justin is wonderful and asks why "Steve" cares. Stefano says he doesn't and that he is bored. Kayla is tired of his cruelty and says he is in love with another woman. "Steve" admits it's true, and Kayla cries that today is their wedding anniversary, but "Steve" argues that it doesn't matter since they aren't married anymore.
Kayla demands to know the woman's name, so Stefano admits it is Marlena. Kayla can't believe it since John is his best friend. Stefano says that John isn't worthy of Marlena, and refers to John as a lowly pawn while calling Marlena a queen. Kayla says he is talking like a crazy person and then realizes he is talking like Stefano DiMera. Stefano removes the eye patch and declares that he IS Stefano. Stefano puts his Phoenix ring back on and says he has risen from the ashes.
Kayla finds it hard to believe, and Stefano says Rolf transplanted his consciousness into Steve's body. Kayla has trouble processing and continues to believe he is Steve, but Stefano insists that he is who he is, and Kayla wonders when this happened. Stefano says last year, and Kayla realizes that that's why he has been so cruel to her, and Stefano adds that that's why Steve missed his sister's funeral. Kayla asks "Steve" to stop talking like he is someone, but Stefano declares that he is only Stefano.
Stefano pours himself a drink and declares a toast to the one true Stefano DiMera, and takes a drink, Kayla tries to talk to Steve and encourages him to fight, saying he is so strong. Stefano laughs, and tells Kayla nice try, but her Steve Johnson is dead. Stefano asks if she would like a drink, and Kayla says that she is leaving because he has gone mad and needs professional help. Stefano grabs Kayla's arm, and she says she will scream. Stefano tells her that no one will hear her and says he is a wanted man, and she provides an excellent bargaining chip, so she isn't going anywhere.
Stefano went to see Justin, who grabbed him and demanded to know where Kayla is. He looks into Steve's eyes and begged him, but Stefano's reminded him who he was talking to and demanded Juston let him go. Stefano assured Justin that Kayla was unharmed and said he had no plans to harm her since she was more useful to him. He showed her proof of Kayla holding a newspaper with the current date. Justin asked what Stefano wanted and he said he wanted ten million dollars. Justin said Victor would never give one of his worst enemies money, but Stefano said he would do it for Justin since Justin loves Kayla. Stefano promised he would disappear with Steve's body, so he and Kayla can be together.
Stefano then went to the mansion where he drugged Chad's drink. He then left the Phoenix Ring in an envelope with some notes for Chad to read. He hid and listened as Chad put his old portrait back on the wall and wondered aloud to it why Stefano wouldn't turn himself in. When Chad left the room, Stefano emerged from his hiding spot and said he isn't ready to give up not when he is close to getting everything he wants. Stefano continues to hide and spy on Chad until the next day when he appeared ready to reveal himself, but Gabi arrives where she and Chad argue.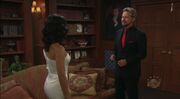 After Chad leaves, Stefano emerges and confronts Gabi. He compliments her on her idea to implant an exploding pacemaker in Julie and tells her he once had Rolf put a chip in Vivian's tooth to control her. Gabi says he should have thrown off a cliff. Stefano notes that there is no love lost there, and Gabi says she hates her and blames her for Stefan's death. Stefano laments that he regrets that he never got to know his son, but says he prefers to look forward and keep his eye on the prize.
Gabi suggested they could team up, but Stefano refused, saying she may have fooled Stefan, but not him. He accuses Gabi of seducing Stefan for revenge, but Gabi says she loved Stefan. Stefano refuses to let her run DiMera and Gabi says that Chad is weak, and that Kristen wasn't really his daughter, and that she is crazy. Stefano snaps at her for insulting his children and says she may have married into his family, but he won't let her get the mansion or his company. Gabi nervously stammers that Stefano is just an essence and refuses to back down. Stefano tells her not to cross him if she doesn't want to be reunited with Stefan forever, and then leaves.
Stefano goes back to see Justin, who tells him he got the ten million. Stefano says he needs him to do one more thing and demands Marlena in exchange for Kayla. Justin is furious with Stefano, but he insists those are his terms. Stefano leaves and returns to the warehouse just in time to stop Kayla from escaping. Rolf secures Kayla, and she and Stefano argue about his alleged love for Marlena, which Kayla thinks is sick and calls obsession. Kayla says Marlena will never love Stefano and Rolf suggests he could modify Marlena's mind to make her fall in love with Stefano more easily.
Justin and Marlena showed up at the warehouse for the switch, but started stalling since it was a trap for Stefano. Stefano got impatient and held a knife to Kayla's throat. He then forced her up at gun point, And demands Marlena again. While all this is going on, Chad reads the note Stefano left for him, which talks about how the death of some of his children has taught Stefano that his children are the future. He then talks about Andre being gone, and his tumultuous relationship with him, saying they always agreed that family was the most important thing. Chad was then brainwashed to be Stefano's loyal servant and heard his father's voice in his head.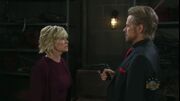 Chad approached Stefano's portrait and imagined it giving his orders. Stefano's voice instructed Chad to put the ring on and he dutifully did. Back at the warehouse, Justin gets in between Marlena and Stefano. At the same time, Kate told Chad the authorities would soon apprehend Stefano and forcibly turn him back into Steve, Stefano's voice demands Chad to tell Kate that is never going to happen. At the warehouse, Kayla got in between Stefano and Justin and tried to get through to Steve, but Stefano told her it was no use and that Steve was gone. Justin used the distraction to try and take down Stefano. They struggled over the gun and Stefano knocked Justin out. He then grabbed Marlena and fled. They found Rolf with John out, and Stefano's contemplated killing John, but was forced to flee.
Stefano and Rolf took Marlena to the DiMera gatehouse, who told Stefano she would never he his. Stefano assured her that after Rolf's procedure, she would fall in love with him. Marlena told Stefano the real him would want to dominate her instead of making her an obedient slave. She called the version of him in Steve a cheap copy that pales in comparison to the real Stefano. Stefano kept his composure and remained undeterred by Marlena's words. Meanwhile, Stefano's voice guided Chad to Gabi's hospital room where he instructed him to kill her, so he could have DiMera all to himself. Chad was stopped by Rafe coming into the room. He then went to the gatehouse where he stopped Marlena from leaving and Rolf injected the microchip into his neck.
Stefano sat with Marlena, and wondered what he must do to make her his. Rolf suggested that Stefano remind her of the good times they had. Stefano asked Rolf to stand back, and as Marlena woke up, he told Marlena of how she cared for him after he was pushed off the balcony and paralyzed. Marlena asked who would do such a terrible thing? and Stefano said it didn't matter, but she cared for him and now he wanted to return the favour. Marlena asked for John, and Rolf advised Stefano to be patient and to keep reminding Marlena of what they shared. Marlena asked for some water, and as Rolf and Stefano got her water, he said he needs something more. Rolf gave Stefano a book that he once gave to Marlena, and she read to him from.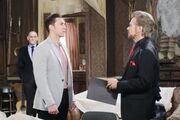 Stefano read Marlena her favourite passage from the book, but she still asked for John. Stefano helped Marlena up, so she could get some fresh air, and then snapped at Rolf, saying it was a failure. Rolf assured Stefano that Marlena will eventually forget about John if he keeps reminding her of all the good times they shared. Chad showed up, having secured Kate's shares. Stefano was pleased with Chad and said that, once they have Kristen's, they will have the majority. He tells Chad to kill Kate, who seems stunned by the order. Stefano asks if that's a problem and repeats that nothing is more important then family. Chad says it will be done, and Stefano tells him to do it now.
Stefano goes to the mansion to speak with Chad. Chad is surprised to see Stefano as he thought he and Marlena would have left by now. Stefano admits that though Marlena is receptive to his advances, she still asks for John. Chad is surprised the brainwashing isn't working and Stefano tells Chad that it isn't brainwashing; he just made Marlena more receptive to him. Stefano expresses his disappointment to Chad, saying he thought he understood nothing was more important than "La Familia". Chad apologizes, and Stefano wonders why Gabi and Kate are still alive. Chad explains Rafe caught him trying to kill Gabi and he always gets interrupted when trying to kill Kate.
Chad explains that Rolf was captured and he had to make sure that he stayed loyal. Stefano says there is no one more loyal than Rolf. Chad tells Stefano how he convinced Rolf to remove Gina's microchip from Hope as a distraction. Chad says he hopes Stevano approves, and Stefano admits he is impressed, saying Gina had served her purpose, and no longer had a role to play. Stefano orders Chad to gather his children together, but to exclude EJ for now since he didn't want to deal with Sami. Stefano also orders Chad to finish Gabi and Kate off as soon as possible.
At his new hideout, Stefano is playing chess when a disoriented Marlena walks in. Marlena says homage dreamt of John, and Stefano tells her she belongs with him now. Marlena says she likes the place. Stefano explains he rebuilt Maison Blanche in Salem, and says it is where they will reclaims their love. Stefano gives Marlena a Cereus Cactus, which is also known as the queen of the night. He says it is a symbol of his patience waiting for her and goes to kiss her.
Marlena develops a headache and Stefano messages her. He asks her to help host a party with him and his children, and Marlena asks if John will be there. Stefano tells at Marlena to forget about John, and then apologizes. Marlena says she needs to get back to John and then passes out. When she wakes up, Stefano calls her his queen, and she calls him her king.
Stefano is glad to hear that Marlena has called him her king. He says that his son taking care of unwanted guests, namely Kate and Gabi. Marlena is shocked and tells Stefano he can't kill Kate since he loves her. Stefano says she betrayed him with Ian McAllister. Marlena forbids him from killing Kate since she is her friend. Stefano reminds Marlena that Kate helps Gina's return a secret, and encourages her to live in the present. Stefano and Marlena start dancing, but she says she can't do this and runs off.
The next morning, Stefano is playing chess when Marlena walks into the room. Stefano gets up and tells Marlena that he missed her, but he didn't want to wake her. Marlena said that she had a hard time sleeping as someone was on her mind. Stefano assumed it was John, but Marlena said it was Kate and Gabi. She refused to let Stefano kill them and threatened to walk away from him for good if he killed them.
Stefano relented and phoned Chad. He told Chad they had other matters to attend to, and ordered him to make sure she got the family together. Stefano told him he would not tolerate any more failures. Stefano proposed to Marlena, and she accepted. Stefano was thrilled to see Kristen and Tony. He apologized to Tony for not revealing himself in Prague. Kristen and Tony wondered what's the family meeting was about Stefano said they were attending his wedding to Marlena much to Tony and Kristen's shock.
Tony refused to believe Marlena would marry Stefano of her own free will and accused Stefano and Rolf of brainwashing her. Kristen and Tony were even more stunned that at Chad's docile compliance and Tony realized Stefano had also brainwashed Chad. Stefano said Chad is now his favorite son, who will perform the ceremony. Kristen and Tony refused to be involved, and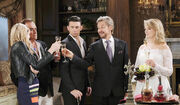 Stefano said he was disappointed, but not surprised. He turned to Kristen and said she refused him when he asked for her help. He then turned to Tony and said that he was ruled by his wife. Kristen went to call the police, but Chad pulled a gun on them and demanded they give him their cellphones. Tony and Kristen did so, and witnessed Chad marry Stefano and Marlena. Stefano then took his bride upstairs to consummate their marriage.
As Stefano and Marlena were in the throes of their lovemaking, she had to get up. John burst and started attacking Stefano, eventually holding him at gunpoint, but Marlena knocked John out from behind. They heard gunfire, and Stefano wanted to see what was going on, but wanted to finish John off first. Marlena said she would do it, and Stefano went back to the main room where he found Brady had been shot.
Tony explained to Stefano that Chad was going to shoot Kristen. Stefano asked if that was true, and Chad said she sold them out. Brady said she didn't, and Tony told Stefano that he thought he wanted them to come together as a family. Stefano said he did and toon the gun from Chad. Kristen talked Stefano into letting them treat Brady, so Stefano had Chad take Kirsten and Brady upstairs, so he could be treated.
Alone, Tony told Stefano that he wouldn't get rid of John if he thought he would win Marlena over. Stefano said Marlena was going to kill John, Tony told him that he can't expect her to do that, and Stefano said she volunteered. Tony told Stefano that Marlena kills John, it will destroy her. Tony apologized to his father before deciding that someone has to stop this insanity. Stefano held a gun to Tony and threatened to kill him if he moved.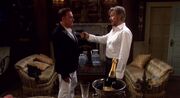 Stunned, Tony told Stefano he may be ruthless, but he wouldn't shoot his own son if he really were Stefano. Stefano apologizes when Anna shows up, and raises her high heel. She brings it down just as Stefano turns around and he screams in agonizing pain.
Anna's heels injures one of Stefano's eyes, causing him to fall to his knees, and clutch his eye in pain. Anna is remorseful for taking out Steve's eye, but Stefano screams he is Stefano DiMera and tries to strangle Anna. Tony restrains Stefano and threatens to take out his other eye if he touches his wife again.
Stefano collapses on the couch as Chad comes downstairs, and learns what happened. He draw his gun on Anna, but Abigail comes into the room. Tony asks his father not to let Chad shoot his wife. Abigail talks Chad into helping Stefano, and gives him a cloth to put pressure on the eye. Chad drops the gun and Abigail grabs it to keep him at bay.
John comes downstairs and Stefano is stunned that his "wife" didn't finish him off. John mocks Stefano for failing to completely woo Marlena. Kristen comes downstairs and helps Stefano as John continues to mock him and force Chad away from him. Tony and Kristen get Stefano up and help him out of the room as John declares it is over forever, and Stefano just chuckles.

Stefano is admitted to the hospital where he is handcuffed to his hospital bed. Kayla calls him Steve, and Stefano groggily yells that he is Stefano DiMera. Kayla tells him someone is here to see him. Stefano hopes it is Marlena, but it is Rolf. Rolf is stunned to see Stefano is missing an eye, and says he can fix it. Stefano asks why he is here, and Rolf says he came to see how he was and to beg his forgiveness.
Stefano wonders what Rolf is taking about, and Rolf asks for a moment alone. Kayla grants them that, and warns Rolf the police are outside. Once Kayla is gone, Rolf tells Stefano that he removed the microchip. Stefano is furious and demands to know why he did it. Rolf says John made it sound like he Stefano close to death, and Stefano called Rolf an idiot, saying he was tricked. Rolf apologizes and asks what he can do to ask it up. Stefano snaps that he can't, but he may be able to do something.
After Stefano tells Rolf what he wants him to do, he tells him to make sure he succeeds. Rolf assures his boss that he won't let him down. Kayla comes back, and tells Stefano that Marlena is awake. Stefano is relieved, and Kayla tells him she is with John, mocking that she is sorry if it spoils his day. Stefano says Marlena will be his again one day. Kayla says she'll let him think that, and then tells Rolf she wants him to remove the chip from Steve.
Kayla says she wants to schedule the surgery first thing tomorrow, and thinks eight o'clock. Rolf starts laughing, and says he has no intention of doing it. He tells Kayla she can threaten him, and do her worse, but she will never get him to destroy the one man that has supported him, and made his dreams a reality. Kayla snaps that he can't do that, but Stefano chimes in and says he can, so Steve will be his body for the rest of his life.
Alone in his room, Stefano thinks to himself that he hasn't lost yet, and that he still has more moves left to play. Kayla returns and goes to heck Stefano's eye. Stefano snaps at her to get away from him and says he won't let her or anyone else touch him in this hospital. He yells at Kayla to get out of his sight.
Kayla informs Stefano that she will be doing the surgery herself. Stefano protests that she can't, but Kayla says she can and hands him him a court order, giving her the power to make all of his medical decisions. Stefano explains that it is a risky procedure and that she could kill Steve. Kayla says she knows Steve would take that chance and goes get ready.
Stefano asks her to wait, and Kayla says she isn't changing her mind. Stefano asks she grant him one final request: to see his children. Tony, Kristen, and Chad all show up at the hospital. Stefano thanks them for coming alone. and apologizes to them
Kristen asks if he just expects them to forgive him. Chad thinks Stefano has a plan to escape and wants their help, but he refuses. Stefano says he isn't escaping and has called them here to say goodbye. Stefano says he knows they hate him, but they also love him. He apologizes to Tony for trying to kill him and stranding him in that deserted island. He also admits that he admires how much Anna loves him and way she will do to protect him.
Stefano addresses Chad, saying he has to resort to brainwashing him because he knows how good he is. Stefano says he doesn't understand it, but he admires and envies it. He turns to Kristen and tells her she is most like him even though she isn't his biological daughter. Kristen admits that was true in the past, but she had changed after having and losing a child. Kayla comes in and says it is time.
Stefano is taken out to the lobby, and addresses his family one last time. He says that they must never forget that they are DiMera's, and while they may wants to renounce who they are because of him, they must never forget they are stronger together. He says they came together to defeat him and takes some comfort knowing he brought them together. Stefano tells his children that he loves when with all his heart before being wheeled away.
Stefano was put under, so Kayla and Sarah could work on removing the microchip from Steve's brain. Kayla noticed the microchip was deploy embedded in the tissue of the brain and feared she could kill Steve, so she decided to sew him up and try again later. Unfortunately, Rolf had set the microchip to self-destruct had anyone tried to remove it. Sarah suggested they cut the chip's power source off, which would mean cutting out a chunk of Steve's brain. Nevertheless, Kayla decided to do it and removed the microchip that contained Stefano's AI, neutralizing him as a threat forever.
After the surgery, Kayla say vigil by Steve's bedside and waited for him to wake up. When Steve woke up, he couldn't remember who he was or where he was. Kayla asked if he knew who Stefano DiMera was, but Steve didn't remember. Kayla told him her name and said they were married once. Steve said he wanted to remember, but he can't. Marlena and John came to see Steve, and Marlena suggested hypnosis is. Steve was all for that, but try as might, he couldn't remember anything.
Kayla came back into the room and reminds Steve of their first wedding. She explains how she lost her voice, she took up sign language. She starts reciting Steve's boss to her, and Steve slowly starts to remember the vows and recite them back to her as they tearfully embrace. Steve said he remembers her, but wonders how he forgot in the first place.
Kayla doesn't think she should tell him now, but Steve persists, so Kayla relents and explains that he came back as Stefano DiMera. Steve is confused, and Kayla clarifies that it's wasn't an dilution. She brings up Rolf, and Steve groans that he thinks he knows where this is going. Kayla explains he implanted a chip that had Stefano's essence into his brain.
Steve wants to know what Stefano made him do. Kayla explains that Stefano had two goals when he came back. The first was for reclaim control of his company, but his children stopped him. She then explained that Stefano's main reason for coming back was Marlena. Steve feels guilty because even though it was Stefano's AI controlling him, he still did those things to two of his best friends.
Steve was convinced he and Kayla could be together, but Kayla revealed that she was when Justin now. Steve was shocked and wondered about Adrienne. It was the That Kayla was forced to tell Steve that Adrienne had died in a tragic car accident on Mother's Day. Steve was devastated and broke down crying as Kayla comforted him.
Unable to come to terms with what he did as "Stefano", Steve decided he had to let Kayla go and be with Justin as he felt that he let her down. Hope fame to visit Steve and told him that she can relate because of what she did as Gina. Hope hands Steve a letter from Anna where she apologizes for taking out his eye. Steve and Hope then started laughing
After being released from the hospital, Steve stayed with Hope. He awoke to a portrait of him posing as Stefano and wearing the Phoenix ring. Hope told Steve that Gina painted that portrait with her own hands, which astounded Hope as she can't draw. Steve wondered if Stefano liked the portrait. Hope said he didn't as Stefano didn't consider Steve man enough to fill his shoes. Steve was astounded by Stefano's arrogance and couldn't stand to look at the portrait anymore. Hope said she will get rid of it, but Steve suggested a better idea.
Steve and Hope took the portrait outside, along with a box that contained Stefano's cigars, Gina's lipstick and tiara. Steve stood the portrait up and punched a hole right through the face. He encouraged hope to wreck something, so Hope grabbed Gina's tiara and threw it against the wall. Steve asked Hope if that felt good, and Hope said it did even though she just destroyed an expansive piece of jewelry. Hope and Steve then focused on the portrait, tearing it apart as Hope shouted "goodbye Stefano!", until it was mostly just a frame. They started laughing and embraced each other.
Steve still had feelings for Kayla and confided in Jack about it. Justin overheard and decided to let Kayla go, and she reunited with Steve. Tripp later returned to town and Steve and Kayla were thrilled to have him back in town, but Kayla's niece Allie Horton believed Tripp had raped her, and Kayla ran four DNA tests, confirming that Tripp was the father of Allie's son Henry Horton.
Tripp denied raping Allie, and Steve was the only one who believed him. John assaulted Tripp, putting him at odds with Steve. Lucas angrily called Henry Steve's grandson, though he would deny that he was a grandfather. Things got more complicated when Ava was revealed to be alive, but she made a deal with Kayla to get the charges dropped against her in exchange for Joey being released from prison.
Steve and Kayla were thrilled to have Joey home, and Joey reconnected with Tripp. Joey refused to believe Tripp raped Allie and convinced him to stay for his welcome home dinner. Steve enjoyed spending time with both of his sons, but Kayla had wanted Tripp to move out, and he moved in with Ava.
Notable Posessions
Eye patch: Sometime prior time to his debut, Steve lost his eye in a fight with Bo Brady. He took up the alias of "Patch" when he was employed as an assassin for Victor Kiriakis. Over the years, Steve developed an attachment to his eyepatch so much so that it broke his heart when he went blind temporarily and had to abandon the patch in favour of the dark sunglasses. When dressed as Santa Claus, Steve wore a red eyepatch for the festivities. Even Stefano DiMera knew the significance of the eyepatch as he knew he would have to wear the eyepatch if he were to convince people that he was Steve.
Gallery
See Also