Victor Kiriakis I
Days of Our Lives
Portrayed by
John Aniston (1985-present)
Christos Vasilopoulos (2016; flashbacks as Younger Victor)
Current status
Present; Recurring
Duration
1985-1997, recurring 1999-2004, 2004-
First appearance
July 19, 1985
Created by
Sheri Anderson, Thom Racina and Leah Laiman
Introduced by
Betty Corday, Ken Corday and Al Rabin
Profile
Gender
Male
Born
May 18, 1935
Age
86
Occupation
Crime boss
Businessman
Drug lord
Residence
Kiriakis Mansion 13201 Glen Oaks Drive Salem, Illinois
Christos Vasilopoulos as Younger Victor
Victor Kiriakis is a character from the soap opera, Days of Our Lives, portrayed by John Aniston since 1985. His time on the show has been since 1985 with a brief story line driven absence in 2004 when his character was "killed off" but found alive on the island of Melaswen. Originally on contract, Aniston was dropped to recurring in 1997, and has stayed recurring since then, despite his steady presence on the show.
Initially brought on as a villainous crime lord, Victor has mellowed out in recent years to the point where fans accepted his relationship with fan favorite Maggie Horton after the death of her previous husband Mickey Horton, who was also a fan favorite. Victor's scenes have become fan favorites of late due to his biting sarcasm and witty one-liners, and his general desire to see family and friends safe and happy as he rounds out his twilight years.
Caroline Brady was and always will be the love of his life.
Storylines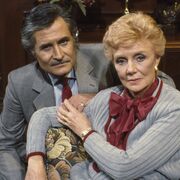 Victor Kiriakis debuted in 1985 as a crime lord and the ex-lover of
Caroline Brady
. Victor's two most known employees were his enforcer Patch (
Steve Johnson
and
Savannah Wilder
, who headed up an illegal porn distribution business. Victor, Patch, and Savannah were arrested and jailed; but Victor blackmailed
Larry Welch
over his role in the death of
Stefano DiMera
's daughter
Megan Hathaway
. When
Bo Brady
went to shoot Victor, Caroline revealed to Bo that Victor was his biological father.
In January 2008, Victor paid off Crawford Decker to leave town. In March 2008, Nicole returned to town and finalized her divorce from Victor, but she wanted money from the divorce, and hired E.J. DiMera to represent her. In August, Victor learned that Nicole was married previously to Trent Robbins, which made their marriage wasn't legal. Victor took great pleasure in the fact that Nicole would end up with nothing from the divorce. Victor was also stunned to learn Trent was Max Brady's biological father.
In March 2009, Stefano started a war with Victor because he blamed Philip for the death of his son,
Tony DiMera
. Stefano had Philip shot, and Victor retaliated by kidnapping Stefano, and holding him hostage. Stefano slipped into diabetic coma, and Victor gave him just enough insulin to keep him alive. Victor told EJ that if he didn't sign over DiMera Enterprises in forty-eight hours then he would let Stefano die. Victor didn't get his way though as EJ retaliate by kidnapping Philip's fiancee,
Stephanie Johnson
, and both Stephanie and Stefano were rescued. EJ and Philip met and soon ended the war on their father's behalf.
Victor's first attempt at finding a replacement CEO for Titan was Ian McAllister, but Ian ended up in a mental ward, after being arrested for faking Stefano's death and torturing him. In March 2015, Victor was revealed to have had another previously unmentioned deceased brother, Titus, and his nephew, Xander, was his ward and worked for him. However, Victor was harsh with Xander and treated Brady and Daniel much better than him. This caused more friction and anger on Xander's part, since Daniel wasn't even blood related. This all came to a head when Xander tried to kill Nicole and Eric Brady. Despite Victor's hatred for Nicole, Daniel loved her, so he still considered her off limits. Furious, Victor almost had Xander killed before deciding to demote him and make him the Kiriakis' gardener. This fine last long when Theresa Donovan seduced Xander, and accused him of rape. Victor knew Theresa was lying, but refused to help Xander, and let Xander be sent to prison. In January 2016, Victor's estranged brother, Deimos Kiriakis, comes to Salem. more of Victor's history is revealed, and it is revealed Victor was engaged to Helena Tasso, a woman that had looked just like Nicole. Deimos had an affair with Helena, and Helena died when she tripped and hit her head on a rock during an argument with Victor. Victor accused Deimos of murdering Helena, and sent him to prison for thirty years. Victor suffered a betrayal when he learned Deimos was blackmailing Philip into helping him get revenge on Victor, and Victor disowned Philip. Deimos drugged Maggie, and forced Victor to sign over the Kiriakis empire to him, in exchange for the cure. Victor had a heart attack during an argument with Deimos, and Nicole called an ambulance. Victor expressed gratitude to Nicole for saving his life, and warned her to stay away from Deimos. Victor and Deimos made peace after Deimos forced famous surgeon out of retirement, and Victor made a deal to let Deimos stay in control of TITAN while he and Maggie went back to live at the mansion. Victor rationalized Deimos' role in Bo's death by laying some blame on himself. The other members of the family were hesitant to accept Deimos, but slowly grew to begrudgingly trust him when Xander, Clyde, and Orpheus all broke out of prison and showed up at Brady and Theresa's wedding. Victor also made peace with Philip, but that peace didn't last long when Deimos drugged Philip to force him to tell Deimos the truth about Chloe Lane's baby. Philip left town in disgust when Victor refused to punish Deimos, but Victor told Deimos not to target another member of their family again. Victor mostly approved of Deimos' ruthless tactics since they didn't affect the family in a negative way. Victor was furious when he found out Chloe was carrying Nicole and Daniel's child, named Holly Jonas. He wanted the child to remain in his and Maggie's life since the child wasn't a part of Daniel. When Eric came back to Salem, after getting an early parole, Victor was the first in town to tell Eric he wouldn't forgive him for causing Daniel's death. When Nicole kidnapped Holly, Victor was fine with Deimos doing whatever to Nicole, but warned him not to hurt Brady or the children.
Gallery
DAYS Villain Ranks
Main Article: DAYS Villain Ranks
Community content is available under
CC-BY-SA
unless otherwise noted.