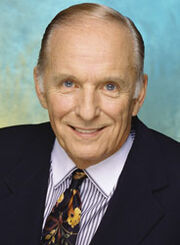 William Joseph "Bill" Bell (March 6, 1927 – April 29, 2005) was an American screenwriter and television producer, best known as the creator of the soap operas Another World, The Young and the Restless and The Bold and the Beautiful.
Days of our Lives
In 1966, he was hired as head writer of the then-struggling soap Days of Our Lives. Bell was credited with the show's initial surge of popularity. Bell changed the dynamics of soaps when he began focusing on sexuality. Formerly, soap operas did not delve into the sexual side of their romances. He intended to leave the show around 1972 when he began creating his own show The Young and the Restless, but the show sued him and he agreed to write long-term story projections for them. He remained as head writer until 1975.
Community content is available under
CC-BY-SA
unless otherwise noted.